Establishing secure connection…
Loading editor…
Preparing document…
Get And Sign International Bulk Mail Form
How It Works
Open form follow the instructions
Easily sign the form with your finger
Send filled & signed form or save
Rate form
Get And Sign International Bulk Mail Form
SignNow's web-based software is specially created to simplify the organization of workflow and enhance the process of proficient document management. Use this step-by-step guideline to fill out the International bulk mail form promptly and with ideal precision.
Tips on how to complete the International bulk mail form online:
To get started on the blank, utilize the Fill & Sign Online button or tick the preview image of the form.
The advanced tools of the editor will direct you through the editable PDF template.
Enter your official contact and identification details.
Use a check mark to indicate the choice where expected.
Double check all the fillable fields to ensure full precision.
Use the Sign Tool to add and create your electronic signature to certify the International bulk mail form.
Press Done after you fill out the document.
Now you can print, save, or share the form.
Follow the Support section or get in touch with our Support staff in case you have got any concerns.
By making use of SignNow's complete solution, you're able to execute any necessary edits to International bulk mail form, make your customized digital signature in a couple fast actions, and streamline your workflow without leaving your browser.
Video instructions and help with filling out and completing Get and Sign international bulk mail form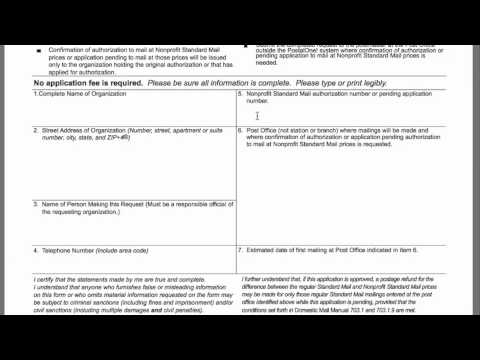 Instructions and Help about Get and Sign international bulk mail form
if you are a nonprofit organization and would like to send out bulk mail at the nonprofit rate this is the nonprofit USPS form 36:23 this form is required when we will be sending out your direct mail from our post office the final piece will have our nonprofit permit on it but this form gives us permission to mail it out on your behalf first of all in order to mail out at the nonprofit rate not only do you have to be a nonprofit organization but you do need to have applied and received authorization or pending authorization for a non-profit permit number on this form here you'll put the complete name of the organization the street address in this section needs to be the street address that was used on the original paperwork submitted when you applied for your nonprofit permit because when we verify the permit with the post office they want to make sure that address matches up this is the name of the person making the request the telephone number number five the nonprofit standard mail
FAQ
How can I apply for an internship at IIT Bombay?

Full-scale guide to internship ahead. It will take 3 minutes.During my sophomore year( 2nd Year) of studies I did a lot of research on Internships, how to secure it and how to get a sure-shot success.I have compiled all the questions and how to work on themWhy should I do an internship?Ans: No, you don't need to do one, internship are not burden that you should do. You can go and learn to play guitar, feel free to explore yourself during vacations.Internships are not only in Education, there are a heck lot of internships for Music, NGOs, Tutors, Dance(Yeah you heard it right). Now for all those in colleges( I mean study focused minded people), internships are a must ( yeah you heard me right, it is must- A recent update in rule suggested that you must have 3 internships).P.S. I have still done only one internship and still in search for 2 more (I completed my recent internship from France, CNRS).2. What internship should I do, I am confused?Ans: First of all you need to find your field of interest, it can be anything, yeah anything you like, it doesn't depend on your course/career but on your interest.I have interest in Machine Learning , Computer Vision and Embedded Systems and I am in Electronics Branch.So, once you know about your field of interest you are perfect to go ahead to search for an internship.How to find my field of interest? Refer here : "How do I find out what my actual area of interest is?"3. Where to search an Internship and how to proceed?Ans: GOOGLE , it's all.Nothing can help you more than google. Let me be clear, never go for sites like Internshala,Letsintern,InternXXX (I am not devoting this site, these sites have all startups and local companies and jobs that won't help your enrichment rather will prepare you for 9–5 jobs believe me, I have experience) before searching them on your own.4. What are per-requisites? What should I have? A good SOP? A good CV?Ans: I will focus on basic things to keep in Mind.a. A good balance between CGPA and Skills will help you a lot. Don't worry,if you don't have a good CGPA, you must be talented with so many things then( Guitar, Singing, Dance—- yeah buddy you are talented.)b. Your focus in career, I mean what you want to pursue further.Just make a list of 4–5 topics you want to pursue further.c. Compile a list of projects you have done until the time you are going to fill the form.Put all the details about the project, how it works, under whom you have done it, what is its benefit.Projects can be anything: Have you created an applications based on your interest, a cool DIY project, an electronic game, a computer program—it entirely depends on your choice.I created aa TIC TAC TOE game and I quote it in my CV.d. List of your training and online MOOCs, if you did anything.(I am a regular user of Coursera, udemy, udacity, and edx.I keep on learning new things).Just mention these MOOCs and training wherever you get space.If you have certificates, feel free to include their links.e. The workshops, seminars you have attended.Do you know- Your curricular labs may add a lot to your form, but how? Suppose you are interested in Digital Signal Processing, and you attended Digital Signal Processing lab and gained 10/10, Go on quote it in the form.f. A Good Statement of purpose, describing what is your interest.g. A resume for yourself (max 2 pages).5. What is a good Statement of Purpose and How to make it? How to make a good resume?Ans: Follow here: How to write a successful SOP , How to Write a Statement of PurposeRest you can post your questions in comment section for some-specific field in SOP, CV.6. When should I start to search for an Internship for Institute and Well-known Companies?Ans : When Should I Apply for Summer Internships?, Most of the interships application begin from late December till Feb beginning.For institute specific internships, there are two waya) Fill the application form of the Internship Advertisement.b) Mail the professor.The application form is different for different Institute, regarding the mailing procedure - I will like to quote an answer:( Source : Tuhin Kundu answer)While writing a mail to an IIT professor, some blueprints and strategies should be kept in mind:Show your proven academic record. Your chances increase manifold if your CGPA is >9.0 Not to lose hope if you haven't got it. Neither did I.Showcase the major projects you have undertaken in your undergrad till date.Share links everywhere in your resume and cover letter. Links to your LinkedIn, ResearchGate, Codechef, SPOJ, Github etc are pretty useful.Upload your project reports to a cloud storage such as Google Drive and share the links in your resume.The mail you are going to write is the most critical part and is usually known as a cover letter. Professors are only going to open and see your resume only if your cover letter is strong.Talk about the technologies you've learned, the projects you've done or are doing, the collaborations you have undertaken with professors at your own college in your cover letter. This section is the one that convinces the professor of your credibility.Avoid attaching your CV in your mail.Upload your CV in Google Drive and share the links. Emails from unknown sources usually end up in Junk folder of university emails.Make sure your email stays at top.Email professors late at night such that your email will be somewhere at the top when the professor logs in into his email account in the morning.Talk about your inclination and motivation to work under a certain area/domain. Convince the professor about why you want to work in that certain field.Repeatedly spamming a professor will be of no good.Filter out the professors who match your research interest. Mailing every single professor of the entire department may result into marking your email address as a spammer by the institute email filter.An example of mail to professor can be:( Source : Rahul Goradia Answer)Subject : Regarding Internship in Embedded SystemRespected Prof.____________Sir/Madam,I am ——- from ——— pursuing ___________ and willing to do internship under ______________ posted on website for duration _____.Sir/Ma'am, You are working in ________ domain and you have carried out ______ projects. You also take interns in embedded Systems.I am wish to start internship under our guidance. My curriculum includes ____ related subjects to embedded system. I have completed __________ projects. I will be available during whole internship and will be very sincere throughout internship. (You can add reference of your faculty as well.)It will be a great pleasure to work under you.Sincerely————.Now let us focus on my IIT Bombay Internship.Actually I received internship offer from IIT Bombay, IIT Gandhinagar and IIIT-Delhi in my 2nd Year.Focusing on IIT Bombay Internship.The IIT Bombay has two ways of internship1) Ekalavya Internship Program **EKALAVYA HOME Page (EKALAVYA HOME Page)2) By mailing to the professor of your field of interest.Let me describe both one by one and all things which you requireThe Ekalavy internship mentioned : Apply for the internship only if you are completing the 3rd year in April/May 2017. Students completing 2nd year, with exceptional academic performance and other achievements may also be considered.The procedure for ekalavya internship,a) Apply for the internship.b) If you get selected for the first round.Then wait my friend , there is one round more.c) The second round is an Online Test, I was guided a lot by my seniors for the test, they helped me a lot for the test preparation.d) If you clear the online test( which has medium difficulty), congo you got selected.In order to get an internship by emailing the professor, you can look on etiquettes on how to mail a prof., how to search for one, how to get in touch.I will add links to the mailing etiquettes soon.I will edit more details soon, rest you can comment on specific topics which you want to know about, I will be happy to help.I am a student majoring in Electronics and Communication branch.Also, let me add, your present college won't stop you from getting an Intern anywhere ( A motivation for you).Edit 1:The Art of Emailing Professors to Secure a Foreign Internship ( Source : Internshala )Email is the most under-rated, under-used tool for grabbing an internship abroad. Read all about how to utilize it effectively!There are two definitive ways to bag an internship-1. Apply to various internship programs such as MITACS, DAAD-WISE, etc. Fill up your application form in the fanciest way possible and leave the rest up to fate.OR2. Write an email to a professor as a prospective intern/student.The latter might sound easier than it reads.Being resilient: Professors are busy people. Do not lose hope if your first, second or even third email goes unanswered. You have to be resilient while contacting professors.Timing matters: The time you send out your mail matters more than you think. Never email a professor during the weekends or Friday night; that might be a convenient time for you to email the professor but it is also the professor's day off and your mail will get buried under the numerous other student's applications. Professors tend to check their mail during their office hours thus increasing chances of a reply if sent out at such a time.Whom not to contact: It is advisable not to contact more than one professor from the same department as, if found out, it will dampen your credibility in the eyes of both professors.Be specific: I cannot stress on this point enough. In the subject heading of email, be sure to include the specific area you want to intern in. The professor shouldn't have to scour through the email to search for what you want . If you want to do a research project under him/her, a subject line such as '2015 Prospective Research Intern for xyz subject area' would be ideal.Funding: Most professors are reluctant to provide funding and understandably so; you are an unknown candidate with only words to prove your credibility. Typing out a politely worded, technical email will help your chances. Make sure there are no grammatical errors. If you are good at academia with prior work experience pertaining to their field, then getting funded becomes much easier.The email is all about you being a student that the professor absolutely HAS to offer a position. The real question you should ask yourself is: What can I do to make the professor respond to my mail instead of ten dozen others lying in his/her inbox? Here's what-Start Early: Consider this. You contact professors in October for an internship that starts in January. Provided one responds, confirmation of a project takes time. There are official procedures to be considered, especially if it's a funded project. Then there might be a matter of VISA which needs a few weeks at the least. In the end, you might find yourself racing against time to get the confirmation.TIP: If you want an internship offer by January of next year, you should start with your research six months ahead. Keep in mind the vacation timings for the countries you are targeting because most professors will have their automatic vacation responders on during these months. By the time they read their mail, yours will be more than twenty thousand leagues under all other emails.Target the right country: If you desire an international internship, you have to be smart while choosing universities. Some professors just don't have the funds to admit you. So what's the point in setting up base camp there?TIP: At the outset, select countries which are known to provide funding to students. For example, news and statistics show that of late, Canada is an emerging tycoon in the education sector and is allocating massive funds to projects. So it could very well be your next destination.Spam emails: Most emails from unknown addresses are flagged as spam and don't even reach the inbox. Professors also can't be sure whether you are truly a student or a fake.TIP: One smart preventive measure would be to use your university email ID which identifies your first and last name and also has something like '@iitg' or some such credible ending. This validates both points at once.Bulk emails: A lot of students have a huge list of professors and play chance with their emails. Writing a bulk email with a set format to all professors will only result in immediate deletion from inbox.TIP: Spell the professor's name correctly. Get the honorifics right- Professors are usually 'Dr.'. Salutations such as 'Dear Dr.X' or simply 'Dr.X' should be used. Write about what interests you in their body of work.Do your homework: Professing interest in someone's work by saying 'I would be really enthused to work under you' has absolutely no bearing unless you give evidence to support it.TIP: Run through the body of work the professor has done, select one publication or project that overlaps with your interest and READ IT. Come up with some interesting insight or query about it. Don't be vague, use technical words. Try to add your own ideas. Nothing proves your interest more than actually doing your homework.I recently bagged my Latest 2018 Summer Internship in "France- Paris ,Lille".I will love to share it's detail along with 30+ Internships that a "first year student too can fill and achieve".Meanwhile, you can ping me on Facebook or ask your questions in the comment section for any help.(facebook : Animesh Srivastava ).Thanks for all the sources:https://blog.internshala.com/201...Tuhin KunduRahul GarodiaHappy to help you all ! Cheers for an amazing life.

How do I mail a regular letter to Venezuela? Do I need to fill out a customs form for a regular letter or do I just need to add an international mail stamp and send it?

You do not need to fill out a customs form for a regular letter sent from the US to any other country. Postage for an international letter under 1 ounce is currently $1.15. You may apply any stamp - or combination of stamps - which equals that amount.

How can I fill out Google's intern host matching form to optimize my chances of receiving a match?

I was selected for a summer internship 2016.I tried to be very open while filling the preference form: I choose many products as my favorite products and I said I'm open about the team I want to join.I even was very open in the  location and start date to get host matching interviews (I negotiated the start date in the interview until both me and my host were happy.) You could ask your recruiter to review your form (there are very cool and could help you a lot since they have a bigger experience).Do a search on the potential team.Before the interviews,  try to find smart question that you are going to ask for the potential host (do a search on the team  to find nice and deep questions to impress your host). Prepare well your resume.You are very likely not going to get algorithm/data structure questions like in the first round. It's going to be just some friendly chat if you are lucky. If your potential team is working on something like machine learning, expect that  they are going to ask you questions about machine learning, courses related to machine learning you have and relevant experience (projects, internship). Of course you have to study that before the interview. Take as long time as you need if you feel rusty. It takes some time to get ready for the host matching (it's less than the technical interview)  but it's worth it of course.

How can I stop getting mail addressed to the people that used to live in my house?

It depends what country you're in….Here in the UK, we have something called the Mailing Preference Service - it's a system to stop unwanted mail being delivered to your home.If you need to inform them a previous occupant has moved - you simply give them the address, and that person's name - and they do the 'leg-work' for you.They stop any mail coming to your home that (a) you didn't ask for - junk mail for example… and (b) that's not specifically addressed to you - as iin for a previous occupant.It's also entirely FREE !

Do I need to fill out a customs form to mail a 1 oz letter? Would I put the customs form outside the envelope or inside?

No. There are specific envelopes that are used to identify mail under 16 oz and don't require a P.S. form. These envelopes have a colored stripe along its borders which indicates to the shipper that it's an international mail piece.

What is the best way to send bulk mail internationally?

Hi there! You could try BlackBulkMail software.There are some really good mass mailing softwares out there, but you have to make sure that you secure a good deal and get one which has a high yet effective mass mailing limit and has a greater affordability than the others.My personal suggestions from the tried and tested lot would include the following yet I have always given a higher vote to this software as it has a higher mailing limit and comes way cheaper than the others.Many email marketing plans include unlimited email sends each month and bill you based on the number of subscribers. If you have a small list, look for a company that offers a free plan, a low-cost plan for several hundred subscribers, or even a pay-as-you-go plan.On the flip side, many of these services also offer high-volume plans with up to 100,000 or more contacts. Sometimes this requires a custom plan that has to be arranged directly with a sales rep. If you're willing to commit, some companies offer discounts if you pay by the year rather than month by month. A few offer money-back guarantees.For any information or in case of any query, reach out at this skype: whitehatbox.
Related content Get and Sign international bulk mail form