Establishing secure connection…
Loading editor…
Preparing document…
Get And Sign From Sales Of Employers Securities Form
How It Works
Open form follow the instructions
Easily sign the form with your finger
Send filled & signed form or save
Rate form
Get And Sign From Sales Of Employers Securities Form
SignNow's web-based application is specifically made to simplify the management of workflow and enhance the process of competent document management. Use this step-by-step guide to fill out the From Sales of Employers Securities form swiftly and with excellent accuracy.
How you can complete the From Sales of Employers Securities form on the internet:
To begin the form, utilize the Fill & Sign Online button or tick the preview image of the form.
The advanced tools of the editor will guide you through the editable PDF template.
Enter your official identification and contact details.
Use a check mark to point the choice wherever needed.
Double check all the fillable fields to ensure full precision.
Make use of the Sign Tool to create and add your electronic signature to certify the From Sales of Employers Securities form.
Press Done after you finish the form.
Now you'll be able to print, save, or share the form.
Follow the Support section or get in touch with our Support group in case you've got any questions.
By making use of SignNow's complete service, you're able to complete any required edits to From Sales of Employers Securities form, generate your customized digital signature in a couple fast steps, and streamline your workflow without the need of leaving your browser.
Video instructions and help with filling out and completing Get and Sign from Sales of Employers Securities form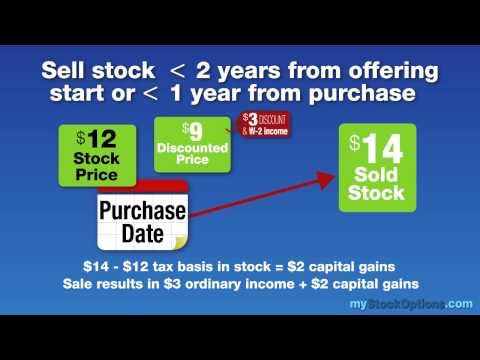 Instructions and Help about Get and Sign from Sales of Employers Securities form
hi I'm Bruce barber I'm editor-in-chief and co-founder of my stock options calm and my stock plant calm we're a popular source of knowledge content and tools and all types of stock compensation and employee stock purchase plans in this video I'm going to be talking about taxes and one of my goals is to help you make the most of your ESP P and make the most of participating because I think it's great you're able to and I think do that you're gonna have to understand a little bit about the taxes so let's let's go into what I consider to be some of the key points to know about now I'm focusing on what's called a tax qualified ESP P it fits into section 423 of the tax code that's gonna give you a little bit of a special tax treatment it's the most popular kind of ESP P it's the one where you're usually getting a discount potentially a look back on the purchase price now some of the rules and the first three I think are pretty straightforward and you'll like them that's there's no tax your
FAQ
What are telltale signs that you're working at a "sinking ship" company?

Leo Tolstoy's Anna Karenina Principle states, "Happy families are all alike, but every unhappy family is unhappy in its own way." He saw that unhappy families were each doomed by unique problems of their own making, while happy families were those who steered clear of such problems.The corporate world suffers from the reverse of the Anna Karenina Principle. Successful companies each seem to invent their own unique paths to success. But failing companies follow predictable death spirals that have been followed by many other companies preceding them.Often these "sinking ship" companies can seem to be doing just fine, especially to employees who don't have the experience to recognize the obvious signs. This is handy guide of what to look out for.If you work at a big company, look for:New opportunities are evaluated and shot down based on their impact to the old legacy businesses. (See The Innovator's Dilemma).Managers are paid for making quarterly and annual targets, so they avoid investments that pay off in the future since they detract from their bonus numbers. As the business declines, they simply negotiate lower bonus targets each year.You benchmark your performance against your direct, legacy competitors instead of the new disruptive entrants in your market. You think you are doing well vs. your competitors without being aware that you are competing in the equivalents of the Seniors Tour.Mediocre employees are not fired since their managers know they can't recruit better ones anyway.When asked "why do you like working here?" your employees talk about the dental plan.Your managers roll their eyes when you point out that how new technologies like Apple Watches, Twitter, and Amazon Web Services will impact your business. They call them "toys" and say, "our customers will never trust their businesses to those!"Your co-workers use Blackberries from 2009. They say, "I already know how to use it, and I don't need that distracting new stuff."You spend the first week of the quarter talking about long-term strategic planning. You then forget about it and spend the next twelve weeks scrambling to make the quarter.Instead of firing bad leaders, you create cross-functional committees to solve the problems those bad leaders created. When those problems persist, you disband the committees and bring in consultants to solve the problems the bad leaders (then the committees) created.All conversations about new grown end with reluctant middle management saying, "only if you give me more budget!" The budget never comes, and you all go back to what you were doing.You integrate acquired companies so quickly that you destroy their businesses and their best people leave.Or, instead of integrating the acquired companies, you keep them as independent business units and get no synergies. You integrate them in a hurry a year later during a cost-cutting exercise. The best people leave.Your CFO spends 5% of her time talking about innovation and revenue growth and 95% talking about cutting costs. She says, "that's my role here."The HR department thinks their job is administration, compliance, and keeping employees from suing, not ensuring the company wins in the market by having the best team.To pay $9.99 for an Evernote subscription, you need to wait a year for the "Information Technology Steering Committee" to approve Evernote as a vendor.You have a Chief Strategy Officer. People say, "I don't know what he does all day." He disappears and is not replaced.You don't target the best companies and try to hire their best people. Instead, you put three-page job descriptions on your website and wait for candidates to find them, fill out a form, and apply.People argue over offices. They all use the same excuse: "I'm on the phone a lot."You launch "innovation projects." When it looks like you'll miss earnings by a penny a share a few quarters later, those projects are cut. After those risky but innovative projects are cancelled, the people working on them are laid off, getting richly punished for their risk taking. No one ever signs up for an "innovation project" again."Succession planning" has become a euphemism for, "when the boss quits, just promote someone on her team so we don't need to pay for a search."You have five CEOs in five years. The board then announces the company is getting broken up and sold. They act like that was the plan all along, then lay off you and half of your co-workers.You ask your laid-off co-workers why they joined the company in the first place. Their answer: "job security."If you work at a startup:You never hear how much cash you have in the bank or hear what was discussed in the board meeting. When you ask questions, your executives say, "I need you to stay focused on your work."When you get your stock option offer, no one will tell you how many shares are outstanding or that the last round of funding came with a 5x liquidation preference.People never talk, coordinate, or even leave their desk because they "hate meeetings." (They actually hate each other).You "rehearse" for board meetings and spend a week on board meeting slideshows that are prettier than your customer slides.You have more MBAs on the team than engineers. They all do "business development" since sales is beneath them.You have a Chief Strategy Officer. No one knows what he does. He disappears one day and is not replaced.Your CTO just came out of a PhD program and wants to "commercialize his research."You have a raucous launch party that is attended by no customers, only your friends.When the product doesn't sell, you complain about how the customers "just don't get it" and aren't "visionary."You've fired three VPs of Sales because each one told you, "the customers don't want the product."Your CEO has a "great" customer meeting that he says is sure to lead to a closed deal before the quarter ends this Friday. All he needs to do is meet with procurement, negotiate price, win the deal, agrees on terms, write up up contracts, negotiate them, sign them, and invoice the customer. The deal closes 175 days later.You add features because board members want them. Your CEO calls himself a "visionary" in his bio.The CEO keeps everything secret because, "that is how Apple does it."The CEO approves all of the design decisions because, "that is how Apple does it."The technical co-founder is a bad manager so agrees to hire a VP of Engineering to replace him. He thinks that VP will report to him since he is the "visionary'".Your site is going to be ad-supported, and you have 1500 users.You get free lunch but have no customers.Your free lunch is taken away.Your boss renegotiates your salary and asks you, "how much do you really need to live on?"He offers you more stock options. He still doesn't tell you how many shares are outstanding.You get laid off and become a creditor to the company because they didn't reimburse your last five expense reports.The liquidation yields five Aeron chairs and a Nespresso machine, and Ashton Kutcher's stock is senior to yours.

Why did my employer give me a W-9 Form to fill out instead of a W-4 Form?

I wrote about the independent-contractor-vs-employee issue last year, see http://nctaxpro.wordpress.com/20...Broadly speaking, you are an employee when someone else - AKA the employer - has control over when and where you work and the processes by which you perform the work that you do for that individual. A DJ or bartender under some circumstances, I suppose, might qualify as an independent contractor at a restaurant, but the waitstaff, bus help, hosts, kitchen aides, etc. almost certainly would not.There's always risk in confronting an employer when faced with a situation like yours - my experience is that most employers know full well that they are violating the law when they treat employees as independent contractors, and for that reason they don't tolerate questions about that policy very well - so you definitely should tread cautiously if you want to keep this position. Nonetheless, I think you owe it to yourself to ask whether or not the restaurant intends to withhold federal taxes from your checks - if for no other reason than you don't want to get caught short when it comes to filing your own return, even if you don't intend to challenge the policy.

How can I fill out Google's intern host matching form to optimize my chances of receiving a match?

I was selected for a summer internship 2016.I tried to be very open while filling the preference form: I choose many products as my favorite products and I said I'm open about the team I want to join.I even was very open in the  location and start date to get host matching interviews (I negotiated the start date in the interview until both me and my host were happy.) You could ask your recruiter to review your form (there are very cool and could help you a lot since they have a bigger experience).Do a search on the potential team.Before the interviews,  try to find smart question that you are going to ask for the potential host (do a search on the team  to find nice and deep questions to impress your host). Prepare well your resume.You are very likely not going to get algorithm/data structure questions like in the first round. It's going to be just some friendly chat if you are lucky. If your potential team is working on something like machine learning, expect that  they are going to ask you questions about machine learning, courses related to machine learning you have and relevant experience (projects, internship). Of course you have to study that before the interview. Take as long time as you need if you feel rusty. It takes some time to get ready for the host matching (it's less than the technical interview)  but it's worth it of course.

Why do ex-employers refuse to fill out the VA form 21-4192 for a vet?

VA Form 21–4192 is an application for disability benefits and like similar state benefits, it must be filled out by the veteran or by his or her qualified representative. This is a private, sensitive, legal document and every dot or dash in it can be critical, so must be accurate and verifiable.Employers have zero responsibility to fill out this form or furnish information for it, however, Social Security would have all the information required that the Department of Defense did not have. The veteran's DD-214 is likely required, but does not furnish all the information required on the form.

How do I fill out the form of DU CIC? I couldn't find the link to fill out the form.

Just register on the admission portal and during registration you will get an option for the entrance based course. Just register there. There is no separate form for DU CIC.
Related content Get and Sign from Sales of Employers Securities form