Establishing secure connection…
Loading editor…
Preparing document…
Get And Sign ANSWER AND COUNTERCLAIM - Clerk Of The Court - Alachuaclerk Form
How It Works
Open form follow the instructions
Easily sign the form with your finger
Send filled & signed form or save
Rate form
Get And Sign ANSWER AND COUNTERCLAIM - Clerk Of The Court - Alachuaclerk Form
SignNow's web-based software is specially made to simplify the management of workflow and optimize the entire process of qualified document management. Use this step-by-step instruction to complete the ANSWER AND COUNTERCLAIM - Clerk of the Court - alachuaclerk form swiftly and with perfect accuracy.
How to complete the ANSWER AND COUNTERCLAIM - Clerk of the Court - alachuaclerk form on the internet:
To start the document, utilize the Fill & Sign Online button or tick the preview image of the form.
The advanced tools of the editor will direct you through the editable PDF template.
Enter your official identification and contact details.
Apply a check mark to indicate the answer wherever needed.
Double check all the fillable fields to ensure complete precision.
Make use of the Sign Tool to add and create your electronic signature to certify the ANSWER AND COUNTERCLAIM - Clerk of the Court - alachuaclerk form.
Press Done after you fill out the form.
Now you may print, download, or share the document.
Follow the Support section or contact our Support crew in the event that you have got any concerns.
By making use of SignNow's comprehensive service, you're able to perform any essential edits to ANSWER AND COUNTERCLAIM - Clerk of the Court - alachuaclerk form, generate your personalized digital signature in a couple of fast actions, and streamline your workflow without leaving your browser.
Video instructions and help with filling out and completing Get and Sign ANSWER AND COUNTERCLAIM - Clerk of the Court - alachuaclerk form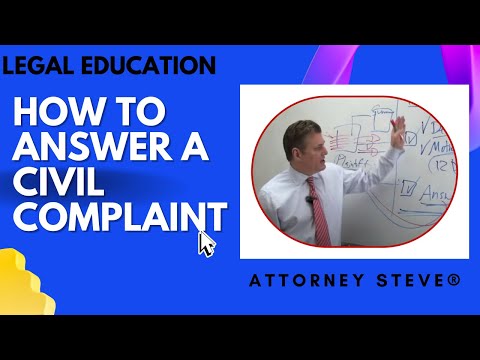 Instructions and Help about Get and Sign ANSWER AND COUNTERCLAIM - Clerk of the Court - alachuaclerk form
I get attorney Steve Fondren here licensed practice law in California and Arizona and welcome back to the attorney Steve whiteboard this video is talking about what is an answer what is an answer to a complaint okay so basically what happens in a litigation is one party called the plaintiff will file a lawsuit okay will file a lawsuit or a complaint okay plate gets filed with the court a summons gets issued by the court the summons tells you you must come in and answer your defendant in a lawsuit now you must come in an answer so you want to as a defendant you want to think about well how am I going to answer okay in Arizona you have twenty days to answer okay in California a defendant has thirty days to answer now in Arizona if it's if it's an out-of-state defendant that you're suing that goes to 30 days that extends out to 30 days for out-of-state defendants okay now so you get this you're a defendant you say how do I respond what do I do what's going on I'm being sued oh my god this
FAQ
I'm being sued and I'm representing myself in court. How do I fill out the form called "answer to complaint"?

You can represent yourself. Each form is different per state or county but generally an answer is simply a written document which presents a synopsis of your story to the court. The answer is not your defense, just written notice to the court that you intend to contest the suit. The blank forms are available at the court clerk's office and are pretty much self explanatoryThere will be a space calling for the signature of an attorney. You should sign your name on the space and write the words "Pro se" after your signature. This lets the court know you are acting as your own attorney.

If we fill out all the details in the IBPS Clerk form and want to do the payment section the next day, can it happen?

Yeah ,you can do payment not only in the next day ,it is enough to pay at the last date (I am not telling to do so)but you have time upto the last date ,once u enter the basic details ,in the first page your login id will be created ,you can also enter those details after few days also… ALL THE BEST

What happens to all of the paper forms you fill out for immigration and customs?

Years ago I worked at document management company.  There is cool software that can automate aspects of hand-written forms.  We had an airport as a customer - they scanned plenty and (as I said before) this was several years ago...On your airport customs forms, the "boxes" that you 'need' to write on - are basically invisible to the scanner - but are used because then us humans will tend to write neater and clearer which make sit easier to recognize with a computer.  Any characters with less than X% accuracy based on a recognition engine are flagged and shown as an image zoomed into the particular character so a human operator can then say "that is an "A".   This way, you can rapidly go through most forms and output it to say - an SQL database, complete with link to original image of the form you filled in.If you see "black boxes" at three corners of the document - it is likely set up for scanning (they help to identify and orient the page digitally).  If there is a unique barcode on the document somewhere I would theorize there is an even higher likelihood of it being scanned - the document is of enough value to be printed individually which costs more, which means it is likely going to be used on the capture side.   (I've noticed in the past in Bahamas and some other Caribbean islands they use these sorts of capture mechanisms, but they have far fewer people entering than the US does everyday)The real answer is: it depends.  Depending on each country and its policies and procedures.  Generally I would be surprised if they scanned and held onto the paper.   In the US, they proably file those for a set period of time then destroy them, perhaps mining them for some data about travellers. In the end,  I suspect the "paper-to-data capture" likelihood of customs forms ranges somewhere on a spectrum like this:Third world Customs Guy has paper to show he did his job, paper gets thrown out at end of shift. ------>  We keep all the papers! everything is scanned as you pass by customs and unique barcodes identify which flight/gate/area the form was handed out at, so we co-ordinate with cameras in the airport and have captured your image.  We also know exactly how much vodka you brought into the country. :)

How do I fill out the form of DU CIC? I couldn't find the link to fill out the form.

Just register on the admission portal and during registration you will get an option for the entrance based course. Just register there. There is no separate form for DU CIC.

How can I download and print out the application form of an IBPS clerk?

If you haven't application then you can not download and print from website right now.Dont worry, IBPS will open link to download application after 1 April .Generally when any of bank starts document verification.Stay connected with ibps websites and blogs.