Establishing secure connection…
Loading editor…
Preparing document…
Get And Sign State Of Iowa Creditor/Assignee Notification Form
How It Works
Open form follow the instructions
Easily sign the form with your finger
Send filled & signed form or save
Rate form
Get And Sign State Of Iowa Creditor/Assignee Notification Form
SignNow's web-based application is specifically developed to simplify the management of workflow and improve the entire process of qualified document management. Use this step-by-step instruction to complete the State of Iowa Creditor/Assignee Notification Form promptly and with ideal precision.
The way to complete the State of Iowa Creditor/Assignee Notification Form on the web:
To start the document, utilize the Fill & Sign Online button or tick the preview image of the document.
The advanced tools of the editor will lead you through the editable PDF template.
Enter your official contact and identification details.
Utilize a check mark to point the choice wherever required.
Double check all the fillable fields to ensure complete precision.
Utilize the Sign Tool to create and add your electronic signature to certify the State of Iowa Creditor/Assignee Notification Form.
Press Done after you finish the form.
Now it is possible to print, download, or share the form.
Address the Support section or get in touch with our Support staff in the event that you have got any questions.
By utilizing SignNow's comprehensive solution, you're able to carry out any required edits to State of Iowa Creditor/Assignee Notification Form, create your customized digital signature within a few quick actions, and streamline your workflow without the need of leaving your browser.
Video instructions and help with filling out and completing Get and Sign State of Iowa Creditor/Assignee Notification Form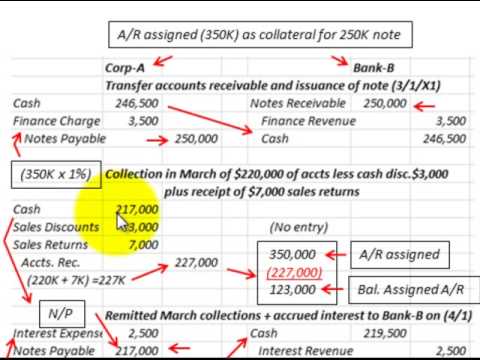 Instructions and Help about Get and Sign State of Iowa Creditor/Assignee Notification Form
here we're going to be looking at secured boring where your sign accounts receivable as collateral here for a loan or for a note and what is this assigning of accounts receivable here so bank B the creditor requires corporation a to debtor to designate or assign or pledge receivable as collateral as security for a loan so if the loan is not paid when do bank B the creditor can convert these receivables or collateral to cash and collect on the receivables here now for example here on three 1x1 corporation a debtor provides or assigns three hundred and fifty thousand dollars here of its accounts receivable to Bank B the creditor as collateral for a 250 thousand dollar note that they're going to receive here from Bank B so corporation a will continue to collect the accounts receivable the account debtors are not not notified of this arrangement here and Bank B assesses a finance charge here one percent of the accounts receivable and interest on this note here of twelve percent per year he
FAQ
How to decide my bank name city and state if filling out a form, if the bank is a national bank?

Somewhere on that form should be a blank for routing number and account number. Those are available from your check and/or your bank statements. If you can't find them, call the bank and ask or go by their office for help with the form.  As long as those numbers are entered correctly, any error you make in spelling, location or naming should not influence the eventual deposit into your proper account.

How can I fill out Google's intern host matching form to optimize my chances of receiving a match?

I was selected for a summer internship 2016.I tried to be very open while filling the preference form: I choose many products as my favorite products and I said I'm open about the team I want to join.I even was very open in the  location and start date to get host matching interviews (I negotiated the start date in the interview until both me and my host were happy.) You could ask your recruiter to review your form (there are very cool and could help you a lot since they have a bigger experience).Do a search on the potential team.Before the interviews,  try to find smart question that you are going to ask for the potential host (do a search on the team  to find nice and deep questions to impress your host). Prepare well your resume.You are very likely not going to get algorithm/data structure questions like in the first round. It's going to be just some friendly chat if you are lucky. If your potential team is working on something like machine learning, expect that  they are going to ask you questions about machine learning, courses related to machine learning you have and relevant experience (projects, internship). Of course you have to study that before the interview. Take as long time as you need if you feel rusty. It takes some time to get ready for the host matching (it's less than the technical interview)  but it's worth it of course.

How do I fill out the form of DU CIC? I couldn't find the link to fill out the form.

Just register on the admission portal and during registration you will get an option for the entrance based course. Just register there. There is no separate form for DU CIC.

How would it play out if part of a state tried to secede to form another state of the Union?

Article 4, Section 3 of the Constitution states:New States may be admitted by the Congress into this Union; but no new State shall be formed or erected within the Jurisdiction of any other State; nor any State be formed by the Junction of two or more States, or Parts of States, without the Consent of the Legislatures of the States concerned as well as of the Congress.This is really not feasible without direct assent from the state being separated from.  Both Maine and Kentucky split based on the assent of Massachusetts and Virginia under the Constitution.West Virginia was a wartime ploy, an act that held up due to the acceptance as fact that enough representatives of the state of Virginia showed up at the Wheeling Conventions to justify a state legislature.  Lincoln and Congress accepted it, and in 1863, West Virginia was accepted as a state separate from Virginia.  In peacetime, this arrangement would never have worked.To get the obstinate California legislature to go along with the notion of several of their prosperous counties just leave is just impossible.
Related content Get and Sign State of Iowa Creditor/Assignee Notification Form