Establishing secure connection…
Loading editor…
Preparing document…
Get And Sign And Instructions For The Form
How It Works
Open form follow the instructions
Easily sign the form with your finger
Send filled & signed form or save
Rate form
Get And Sign And Instructions For The Form
SignNow's web-based program is specifically made to simplify the management of workflow and enhance the whole process of qualified document management. Use this step-by-step guideline to complete the And instructions for the form quickly and with excellent accuracy.
How to fill out the And instructions for the form on the web:
To start the blank, utilize the Fill & Sign Online button or tick the preview image of the form.
The advanced tools of the editor will lead you through the editable PDF template.
Enter your official contact and identification details.
Utilize a check mark to point the answer wherever required.
Double check all the fillable fields to ensure full accuracy.
Use the Sign Tool to create and add your electronic signature to certify the And instructions for the form.
Press Done after you complete the form.
Now you can print, download, or share the form.
Follow the Support section or contact our Support group in the event you have any questions.
By using SignNow's complete service, you're able to execute any necessary edits to And instructions for the form, create your personalized digital signature in a few fast steps, and streamline your workflow without the need of leaving your browser.
Video instructions and help with filling out and completing Get and Sign and instructions for the form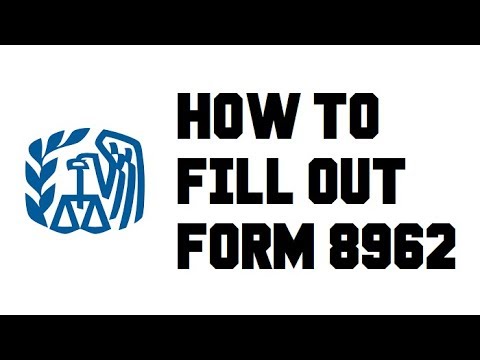 Instructions and Help about Get and Sign and instructions for the form
in this video I want to work through an example of filling out form 89-62 for the premium tax credit this is gonna be a relatively simple example I'm going to be filling it out for a single person who had uniform coverage throughout the entire course of the tax year so if you have a more complicated scenario or if you're married if you have dependents if you changed coverage throughout the year you change jobs all these sorts of different variations that you can have that can affect this form I will link some helpful information down in the video description from the IRS that goes through examples of all these different types of scenarios so again it can be helpful information and I'll link it down in the video description but I just want to run through this example here of a single person so starting off here at the top line the name that's shown on your tax return we're gonna write John Doe with our social security number and then moving on since this is a single person we don't need
FAQ
What are some skills that every 18-year-old needs to survive in life?

Oh my gosh, I love this question.  I'm going to spend a lot of time on this answer!Financial Skills:  How to open a checking and savings accountHow to balance a checkbook, emphasizing the use of debit cards and how banks process transactions"Credit" - What is it, how do you build it, how do you repair itCredit Cards - How interest works, how to take advantage of rewards and balance transfersLoans - What are the different kinds of loans, how do you get them, and what's involvedInvestments - What is the stock market and how does it work, what are Treasury Bonds, and what's an IRA.  How do those things factor into a wise investment strategy for your retirement?Taxes - How taxes work, what deductions are, how to file a 1040EZ formTipping - How to quickly calculate a tip and split a tab at a restaurantHow to read a contract and interpret "fine print"Health Skills:Medical Insurance - how it works, what it costs, how to get itHow to fill out common medical and dental formsHow to find a general practitioner, dentist, and so onBasic First Aid - CPR, the Heimlich, how to treat minor injuriesHome Skills:How to cook!  You don't need to be on Master Chef, but learning how to cook a few basic dishes, how to use a knife properly, use basic kitchen appliances, and so on.How to clean!  I have no idea how so many kids don't know how to vacuum, sweep, dust, do dishes, make a bed, and clean and fold laundry.How to grocery shop - picking fresh fruit and vegetables, planning your shopping and meals, etc.How to use hand tools - hammers, axes, handsaws, et ceteraHow to move - opening or transferring utility accounts, moving companies, apartment and home leases.How to sew a button onHow to fix a running or clogged toilet.Life Skills:How to plan and budget your time!How to think critically.Negotiation - Preparation, discussion, clarification, negotiate, agreement, and implementation.Leadership!  Vision, strategy, people skills, managementCONFLICT RESOLUTIONStress management!Problem solving!Study Skills:OrganizationTime managementFinding legitimate sourcesNote-takingCritical readingEssay planning and compositionAcademic referencingHow to use search engines effectively!Employability Skills:How to write a resume and a cover letterHow to interviewProfessional communications skills (both written and verbal)Interpersonal skills in a professional environmentProfessional developmentPublic speaking!How to use a computer - Windows, Google, and MS Office basics at a minimumPersonal:How to interact with the policeHow to tie a tie!How to iron clothesHow to establish a healthy exercise routineHow to maintain proper personal hygeine and groomingMANNERS - It varies from culture to culture, but the underlying principles of all manners remain constant: a respect for others, and a desire to treat all people with honesty and consideration – just as you'd like to be treated.Alcohol:Knowing your limitsHow to mix a basic set of drinksTravel: How to book airline tickets and hotelsHow to pack wellHow to travel lightAutomotive:How to drive - Actual skilled instruction on driving, a la Teen Safety & Survival - Skip Barber Racing School, both automatic and manual transmissionsThe basics of how a car worksThe basics of car maintenanceHow to change a tireHow to parallel parkHow to jump start a carWhat to do if you get into an accidentRead a road mapSex:Comprehensive sexual education including the vectors and effects of sexually transmitted infections, what are and how to use the various forms of contraception, what is PrEP, etc.The Campsite Rule - Leave them in better condition than you found themSafe, Sane, and Consensual - How to have safe sex, do it while you're sober, and with full informed consent from your partner.

Which Apple Watch apps do you find most useful?

My favorite Apple Watch apps are the following:Email:In fact, one reason I love smartwatches generally is it saves me a lot of time because I can immediately see which emails are coming in on my wrist and therefore need only open email on my phone/laptop when it's necessary. This is huge for me with my work.Calendar:I really like the Apple S2 calendar interface with 3 viewing options. It's very user friendly and I can quickly determine what events/meetings I have for the day without opening my calendar.Step tracking:This is more for interest sake than anything, although I've noticed occasions where I'll walk more just because it helps hit my steps goal. While not a big deal per day, it's very good in the long run.Maps:Apple S2 knocked it out of the park with its map app. It's a full blown GPS system which I can use to find nearby shopping, restaurants, coffee shops and much more. It's super easy to use, relatively fast and when needed, a real bonus.FYI, 3 of the 4 apps I like and use the most are on most smartwatches so it's not unique with exception of the maps app. Apple's map app is the best I've used (although I have yet to try the Garmin fenix 3 and soon-to-be-released fenix 5).

How can I get a Vietnamese visa on arrival?

Holidays or spending vacation out somewhere in a foreign land is one of the ways majority of tourists love to spend at. Spending vacation in a faraway place brings refreshment from a monotonous life. But sometimes it is not possible to spend a great amount of money on a luxurious trip and so few places that fit in your budget seem good. Vietnam is among one such place that is attracting tourists day by day. So are you up for holidays and looking forward to spend some quality time with your friends or family on a trip to Vietnam?Vietnam Visa is required for most of the foreigners for entry and exit from the three international airports of Vietnam; Da Nang, Hanoi, and Ho Chi Minh City.But one thing that you might be wondering is how to get Visa on arrival. Continue reading to know how can apply for Visa on arrival for Vietnam.How to Apply for Vietnam Visa on Arrival:Things have been made much easier now for tourists as now you don't need to bother about getting Visas before handed. Visa on arrival has made things much easier and worry free now. You just need to follow simple steps and instructions and you are done with the process.Visa on arrival application Form: Before departure tourists are advised to arrange for Vietnam Visa. For this they need to apply online for the "Approval Letter" first. Then they receive a letter by email, and then on their passports they get Visa stamped on arriving at Vietnam Airport. This is known as "Visa on Arrival". You get the approval letter within two days.First you have to fill up the entry and exit form. You can complete the fill up process before arriving on Vietnam's International airport to save time. Click the link here "Visa form" to download the PDF form and then take a print out to fill up. For photo requirements see the document notes.Tourist/Business Visa: First fill out this easy ''application form" online. For this you will need to know at which airport you will be arriving and also the arrival date.Next through online only you will have pay the servicing fee for Visa.Then within next two days after this you will receive an email of the official Approval Letter of Vietnam Visa, issued by the Immigration Department of Vietnam.Then download and print the Approval letter. According to noted instruction on the letter arrange two (4x6) cm photos of yourself.Then bring all of these photos, Approval Letter, and the stamping fee of the Government along with any other necessary documents and passport with on your Vietnam trip.Once you arrive at the destination on your allotted Vietnam airport, you have the show the approval letter and the photo at the Immigration office.Pick up Visa at the Airport: On landing you will get to see Visa on Arrival office or landing visa counter. Then hand over the passport, copy of the approval letter, and one stamp size photo of yours.Stamping fee that you need to pay is 25 for single entry, and for multiple entry $50. Then you get back your passport along with Visa.This is how you can get Visa on arrival for Vietnam. Once all the procedures are done enjoy a lovely trip to Vietnam. The process area easy and smooth so no worries just follow the above instruction carefully and go through them as it is said, fill up the form correctly and you are all done.

How do essay writing services work?

Although every essay writing service provider has a unique way of doing things, I can summarize their operations in four simple steps.You register with the company by filling a form that needs your personal information.Place your order detailing all the requirements of the paper.Sit back and let the writers do the work.Receive the paper and review it, then pay.However, most will let you request a revision if you are not satisfied even though some will charge you.Though that sounds quite easy, I would also suggest working with a writer or consultant directly to help you interact one on one.The advantage of working with clients directly is that;You can follow the progress by interacting with the writer at intervals.You can bargain the cost of the work unlike with companies where the prices are fixed.Also, you get instant feedback and clarifications whenever there are issues.You build trust with a single writer, which creates consistent quality and writing style.Although you may recommend the same writer with the writing companies, you might not get them every time you need their service.Having been in this industry for the last five years, I understand the nitty gritty of the essay writing services. If you need high quality, unique, and timely essays, get to me through the following firstgradeessays@gmail.comThank you

What's the best way to get users to read a set of instructions for filling out a form?

Your question confuses me a bit. What's missing is "WHY are the instructions displayed?" What makes them so important? More to the point, what makes them so important to the user?You say it's a simple form, but also say they must read the instructions before filling it out. If it's simple, what are all the instructions for? I haven't seen the form and already I'm confused.People will do things if they understand (and agree with) the purpose for doing them. If they don't understand the need for the instructions (e.g. because the form appears to be simple), you'll have a hard time getting users to read them (they won't see the need).My suggestion would be to take a step back from the design a bit and look at the form's purpose. If the instructions are to minimize data entry errors, look for ways in your design to do that and eliminate an instruction or two. For example, do real-time validation of things like zip codes, phone numbers, usernames, and anything else your web page can do.If the instructions are to educate the user on some specific process, look at the process to see if it can be made simpler or more obvious such that it doesn't need any explanation.Finally, don't forget user testing--ask some potential (or representative) users what they think works for them.

Do Japanese people forget kanji?

Yes. They do. But in a specific way.I know, I'm a foreigner so why do I preposterously take my turn to write an answer to a question that was probably aimed at Japanese native speakers? Because I have seen it with my own eyes and this experience made me understand a lot about kanji learning.When I was an exchange student in a big university in Tokyo, I had some high level Japanese class for my second semester. Our teachers were the cream of the Japanese teachers and we had five of them, each for one aspect of our learning and dedicated to one aspect of Japanese culture and media they wished to have us explore.I remember as clear as day this brilliant teacher who made us discover so much about Japanese classical literature. He was so knowledgeable that every time he would open his mouth, we would all be listening quietly and take notes because it was just gold to us. BUT! He was very bad at kanji. And he told us that plain and clear the first time we met him: he told us he could read probably 5000 of them (which is an insane lot of kanji) but could write barely 1000.As he saw are questioning amazement, he explained: he didn't write kanji anymore. With modern technology, it has become obsolete for him to hand write kanji so he forgot how to write most of them, even though he was perfectly capable of reading them and understanding them. We didn't believe him, first, thinking that he was just trying to make us feel at ease by fooling us with some common self minoration.But then the evidence came soon. One day he wrote the kanji for tea on the white board. But he had forgotten one crucial part of the kanji, the radical for man which is just under the radical for plant. We watched in disbelief not knowing if he was testing us or if it was actually a mistake. Who among Japanese native speakers could make a mistake on such a common kanji such as "tea"?, we thought. It's everywhere! Tons of commercials, posters, bottles and vending machines out there with a dozen time this kanji on it in every possible color!A classmate rose his hand and, with a low voice, suggested that there was something awry with the kanji written. The teacher didn't go mad. He checked in his electronic dictionary. And he started to apologize so much we thought he would perform dogeza (kneeling down and bowing with your forehead on the floor).He made an important point that day. Here is a tremendous difference between reading skills and writing skills as far as kanji are concerned. Yet, even if one can forget how to write kanjis, usually it doesn't mean that the reading or the meaning is forgotten along too.This answers partially the question. Japanese people can forget kanjis provided they are not exposed to them for a long time. usually, it starts with the writing, then the pronunciations and finally the meaning.

Do I have to fill out an Application Data sheet for a provisional patent? Can I submit it later?

An ADS isn't needed for a provisional patent application. You should fill out for SB/16, a provisional cover sheet and submit it with your application. Otherwise the intake people will send you a message for an incomplete submission and charge you extra money to fix it. Here's a link to the USPTO's forms page: https://www.uspto.gov/sites/defa... . If you have a digital certificate with the USPTO you can fill this form out online using the EFS Web (this is the preferred method, less likelihood of errors). If you need instructions on how to fill out the form, visit: Forms For Patent Applications Filed On Or After September 16, 2012 and search for SB/16. It has the link above for the form and a link for the instructions. Good luck.

I am terrified of single-payer systems as implemented in socialist countries. Can this happen in the US? Was Obama trying to give everyone healthcare all along?

Edit: This story about Aetna being successfully sued for 25M USD only happens in America and is, in my view the main argument why being scared of "single payer systems" is ill advised.Lets start by making sure we have the same understanding of things:Single payer = where one entity (usually a government entity) uses a pool of funds paid into by the whole community/country to pay the health care providers (doctors/nurses/pharma) for the services they provide to the community.Socialism = a political and economic theory of social organization which advocates that the means of production, distribution, and exchange should be owned or regulated by the community as a whole.Socialist country = as defined above would be countries like Mainland China, the former soviet union, cuba, vietnam, depending on how you look at it North Korea…Socialism (bis): Often used by political parties who propose a society where the richer pay a larger tax in order to support infrastructure and policies that also support the lower income portion of the population.Although to a lesser extent than most advanced nations, the US is a Socialist(bis) nation. Less so than most countries in Europe, but you do have medicaid and host of services offered by the government.My first question to you is which of the two definitions are you using?For the sake of the argument I am going to assume you are using definition (bis) which includes countries like Denmark, Finland, Australia, Japan, France, Italy, Germany, Netherlands, Belgium, Greece, Canada.Within Single Payer there are many ways to do it and two levels:Reference: List of countries with universal health care - WikipediaFree Health care: Free health care refers to a publicly funded health care that provides primary services free of charge or a nominal fee to all its citizens, with no exclusions based on income or wealth.[3]Universal Health Care: Universal health care, sometimes referred to as universal health coverage, universal coverage, or universal care, usually refers to a health care system that provides healthcare and financial protection to more than 90% of the citizens of a particular country.[4]There are 118 countries who provide both Free and universal health care.These include: All of the countries I listed above as examples of "socialist (Bis)" countries, as well as other countries such as Vanuatu, Palau, Uruguay, Chile etc etc.There are 43 countries that provide neither of these. ie if you are sick you are on your own or at the mercy of the free market.These include Iran, Iraq, China (a socialist country in the real sense of the word), Turkmenistan etc … with two exceptions, all poor countries who are behind in their development. Exception 1 is China…(although one can debate as to exactly how advanced it is). Exception 2 is the United States of America.So only 25% of countries provide neither universal nor free healthcare… And with the exception of the US, they are all poor countries (if one thinks a majority of Chinese people are still in poverty)Over 50% of countries provide both. Do you see mass demonstrations in the news about health care being bad in 50% of the world?The fact that 50% of the world (including a large number of democracies) are voting for policies and to keep single payer systems alone is an indication. Now please go on the net, and do some research, and tell me what percentage of the world outside of the US is looking at the US health care system and saying "maybe we should do like them"… (ie the perception the US system is better than the one they have now). While you will for sure find many many pages about how they wish their system to be improved, I challenge you to find information on a country in which people are voting for law makers who propose to change to the "multi payer " system the US has… In fact I challenge you to find a law maker outside of the US who is even suggesting (never mind pushing for policy) their country should move from single payer to multi payer. Does that tell you anything? Do you think their might be a reason for that?Now lets look at the results. The point of the health care system is to keep you alive and healthy so lets look at track records:I don't know about you but I think children are important. So what is better to help children: Single payer or not? According to your logic (ie single payer is bad), countries with single payer should have a higher mortality rate and those without should have a lower mortality rate for children. Here is how the CDC (US organisation) ranks infant mortality rates in the world: US… 27!!!!! BEHIND Poland Hungary and Slovakia, all of which are significantly less wealthy countries than the US. Please also note that EVERY SINGLE country ranked above the US on that list has both free and universal health care / single payer. (https://www.cdc.gov/nchs/data/nv...)But maybe infants/children are not important to you. Lets look at life expectancy:The US is 31 !!… behind countries like Slovenia, Chile and Costa Rica… not exactly known for being paradise of wealth and health on earth (with all due respect to these countries which I happen to like)List of countries by life expectancy - WikipediaMaybe you say, I'm not interested in living long. OK lets go to how does the World Health Organisation rank national health care systems ? Keep in mind the WHO (as it is known) incurs strong influence from he US.US Ranking : 37… BEHIND Morocco (Single Payer, Universal) and Colombia (Single Payer, Universal and Free)!!!World Health Organization's Ranking of the World's Health SystemsI challenge you to find one … 1… one ranking where the US health care system (or lack therein of) comes in the top 10 for positive outcomes for the population at large.So, I'm sorry but what is scaring you exactly?Please tell us so we can look at it.Thank youEdit: Let me add the economic side to it."The U.S. spent $8,233 on health per person in 2010. Norway, the Netherlands and Switzerland are the next highest spenders, but in the same year, they all spent at least $3,000 less per person. The average spending on health care among the other 33 developed OECD countries was $3,268 per person"Health Costs: How the U.S. Compares With Other CountriesSo look at this way: not only is multi payer system inferior to single payer at keeping you alive longer and keeping children healthy and alive longer, it also costs about TWO TIMES MORE per person than Switzerland (ranked 20) , Netherlands (ranked 17) and Norway (ranked 11). Which implies the top ten countries pay less than half what the US pays per person to be in top 10 except the US is 37 out of 200 countries…So lets put it this way: Your multi payer health care system actually performs in such a way you spend twice as much as #11,17,and 20, and nearly 3 times over the global average to make it to #37 BEHIND THIRD WORLD COUNTRIES, as shown by the infant mortality rate and life expectancy rate. Think about it this way: if you spent the same as the rest of the world, you would be #80 something…with every one of these countries having single payer…. And by the way, in the case of Single payer, when we say "costing them", the government pays, so people are not going bankrupt because of health issues. In your case, it is YOU… paying and when you have cancer, diabetes, or some form of heart disease, it is you who will be paying much MORE than 8,000 dollars, where a single payer patient would be paying probably around $500 if you average out across the different systems (ie, the govt pays most of the bill and the individual is left with 10~30% depending on which country it is, a bit like a deductible if you like)…. So not only do you not seem to like to live long, and not seem to think it is important to give your kids the medical care they need to prevent them from dying at a higher rate, you also seem to like paying 12 times (when comparing what is paid by the patient) more for the privilege of not getting what people in other countries do get. So you are terrified of what?EDIT: This is one of many perfect examples of why single payer works much better:Girl has words for Aetna after brain surgery deniedThis ONLY happens in the US on a very very REGULAR basis. I might add when I was living in the US, my insurance denied a trip to the hospital for my then wife who was complaining about acute stomach pain. "wait till tomorrow" they said We went anyway. She was operated on immediately. She had peritonitis. She ran the risk of dying because I had to choose between paying thousands of dollars (I was billed 6,000 for the ambulance) or wait till the next day. A company who has a financial interest in making sure you don't get treatment should not be allowed to make decisions on whether you need it or not.EDIT 2: Here is a graphic that says something: Notice less advanced and far less rich countries than the US have it too, and notice non of them are "Socialist" as defined in the dictionary and executed in the USSR or China.

Have you ever had the pleasure of proving a customer very wrong? What happened?

I was working as a Systems Engineer for a major computer company (3-letter name) and our marketing team had sold a very expensive mainframe computer to an oil refinery. The "MIS Manager" at that plant was someone wholly unqualified for the job, lacking even basic computing skills, and with zero understanding of how computers work in the first place. A few weeks after the installation, I received a call from him, telling me their computer was broken, and that I had to get it fixed immediately. Repeated attempts to get him to tell me what was wrong got me nowhere, so I drove the 60 miles to the refinery to figure out what was wrong.Upon arriving at the plant, I was ushered into the General Manager's office, where the MIS Manager actually accused us (the 3-letter major computer company) of intentionally sabotaging the performance of the computer so that he (the customer) would have to buy a larger computer to get the work done. I learned that the computer itself was fine, but one of their programs was taking roughly 14 hours to print out a shipping label. This did seem to be totally unacceptable performance, but his claims that the computer was broken were clearly bogus.Maintaining my professionalism, I asked if I could view the program in question – the one that printed the labels. He loudly proclaimed that the program could not possibly be the issue, because they had hired someone away from NASA to do the programming, and had paid him over $100,000 for the program. Therefore, the problem had to be the computer itself. Eventually, the GM ordered the MIS guy to give me a couple of hours access to the software, after which we would re-convene the meeting in the GM's office to hear my assessment.The application was actually a good bit more involved than just printing labels. It was printing hazardous materials handling instructions (several pages long) for HazMat shipments originating from the plant. This involved various database lookups to obtain the ingredients, their chemical formulae, and finally the handling instructions each for those components. The application itself was written in a very high-level scripting language (REXX, for those of you who know what that is), which I found very surprising, since this type of application would typically be written in a compiled language of some kind, for performance reasons. Then, after looking at the code for only a few minutes, I realized the programmer who wrote it knew very little about programming in general, or about mainframe programming in particular. (I eventually learned that the "NASA contractor" was not actually a computer programmer when he worked there – he was actually a project manager.)After a half-hour reviewing the code, I spent the next 1.5 hours re-writing it, removing obvious performance bottlenecks, and then we tested it. My "quick hack" version took 90 seconds to print a label (vs 14 hours previously). At the follow-up meeting in the GM's office, I explained what I had done, demonstrated the performance improvement, and stated that I was still extremely dissatisfied with the performance, but it would take more than a 2-hour quick and dirty re-write of the existing code to truly optimize it. The GM was blown away by the results, and was clearly looking at his MIS Manager in a new light.PS - After returning to our office, another gentleman and I re-wrote the application in PL/1 (a compiled language used by the customer's IT group), and the time to print a label went to under 3 seconds. That's the version I delivered back to them, with the explanation that a really good programmer could probably achieve even better performance, but this was the best I could do without charging them for the service. The GM was quite happy with the results, whereas the MIS Manager was still claiming that we had rigged the computer to perform poorly so they would have to upgrade to a bigger, more expensive model.By the way, the next time I visited the refinery, the GM introduced me to their new MIS Manager…
Related content Get and Sign and instructions for the form