Establishing secure connection…
Loading editor…
Preparing document…
Get And Sign Delivery Forms
How It Works
Open form follow the instructions
Easily sign the form with your finger
Send filled & signed form or save
Rate form
Get And Sign Delivery Forms
SignNow's web-based software is specifically developed to simplify the arrangement of workflow and enhance the whole process of proficient document management. Use this step-by-step guide to fill out the Delivery forms quickly and with excellent precision.
How to complete the Delivery forms on the internet:
To begin the form, use the Fill & Sign Online button or tick the preview image of the form.
The advanced tools of the editor will direct you through the editable PDF template.
Enter your official identification and contact details.
Apply a check mark to indicate the choice where needed.
Double check all the fillable fields to ensure full precision.
Utilize the Sign Tool to create and add your electronic signature to certify the Delivery forms.
Press Done after you fill out the form.
Now you are able to print, download, or share the document.
Address the Support section or get in touch with our Support team in the event that you have got any questions.
By using SignNow's comprehensive platform, you're able to execute any necessary edits to Delivery forms, generate your personalized electronic signature in a couple of fast actions, and streamline your workflow without leaving your browser.
Video instructions and help with filling out and completing Get and Sign delivery forms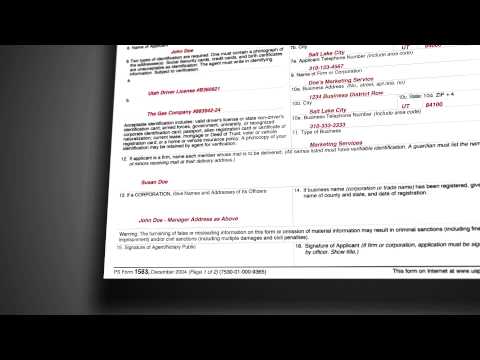 Instructions and Help about Get and Sign delivery forms
we're gonna walk you through filling out this short form the US Post Office has everyone receiving mail at a mailbox fill out the application for delivery of mail through agent let's start with the date at the top and here in box 2 you'll put in the name of your business or businesses if you'll be not receiving mail for business your personal name will go in this box boxes 3 & 4 already filled out by us and box 5 may be left blank box 6 should be your personal name box 7 is your current residential address not that of your business this may not be a mailbox or peal box box 8 is where you will enter in the information from a photo ID and a bill car registration or lease agreement that has your address on it copies of these IDs will be mailed to our Santa Monica store along with this notarized form box 9 is your business name box 10 is your business address if you have them if you're working out of your home you can just put as above here box 11 is the type of business box 12 is wher
FAQ
Wing recently became the 1st drone delivery service to get FAA approval. Did Alphabet (parent company) have to just fill out a form or was the process difficult?

Wing recently became the 1st drone delivery service to get FAA approval. Did Alphabet (parent company) have to just fill out a form or was the process difficult?The basic requirements for certification is described in Wing's blog post:Wing becomes first certified Air Carrier for drones in the USMost importantly, FAA certification required us to submit evidence that our operations are safe. These submissions included data showing that a delivery by Wing carries a lower risk to pedestrians than the same trip made by car. Our drones have flown over 70,000 test flights, and more than 3,000 deliveries to doorsteps, driveways and backyards of our customers in Australia.

What is the highest form of intelligence?

Here's a quote by Jiddu Krishnamurthy The highest form of intelligence is the ability to observe without evaluatingApologies for Digressing, This is something for collapse bots to chew on. Do read if you have time.I am little obssesed with Osho's Philosophy, Kindly bear with me.  I hope you find it interesting.What is Intelligence?Intelligence is intrinsic to life. Intelligence is a natural quality of life. Just as fire is hot, and air is invisible, and water flows downwards, so is life intelligent.Intelligence is not an achievement; you are born intelligent. Trees are intelligent in their own way, they have enough intelligence for their own life. Birds are intelligent, so are animals. In fact, what religions mean by God is only this: that the universe is intelligent, that there is intelligence hidden everywhere. And if you have eyes to see, you can see it everywhere. Intelligence is naturally rebellious. Intelligence cannot be forced into any servitude. Intelligence is very assertive, individual. Intelligence cannot be converted into a mechanical imitation. People have to be converted to carbon copies; their originality has to be destroyed, otherwise all the nonsense that has existed on the earth would be impossible.An intelligent person is perfectly satisfied with the possible. He works for the probable, he never works for the impossible and the improbable, no. He looks at life and its limitations. He is not a perfectionist. A perfectionist is neurotic. If you are a perfectionist you will go neurotic.A child is born; a child is a very, very open phenomenon, utterly intelligent. But we jump upon him, we start destroying his intelligence. We start creating fear in him. You call it teaching, you call it making the child capable of coping with life. You create fear in him. He is unafraid. And your schools, colleges, universities - they all make him more and more unintelligent. They demand foolish things. They demand foolish things to be crammed in which the child and his natural intelligence cannot see any point. For what? That child cannot see the point. Why cram these things? But the university says, the college says, the home, the family, the well-wishers say 'Cram!You don't know now, but later on you will know why it is needed.'Cram history all the nonsense that man has been doing to other men, all the madness - cram it!And the child cannot see the point. What does it matter when a certain king ruled England? From what date to what date? He has to cram those stupid things. Naturally, his intelligence becomes more and more burdened, crippled; more and more dust collects on his intelligence. By the time a man comes back from the university, he is unintelligent: the university has done its job. Each single moment can become so luminous with intelligence... Then there is no need for any religion, no need to meditate, no need to go to the church, no need to go to any temple, no need for anything extra. Life in its intrinsicness is intelligent. Just live totally, harmoniously, in awareness, and everything follows beautifully. A life of celebration follows the luminousness of intelligence.

Why do many people in the US have so much resentment about the meager governmental benefits that the poor receive?

I am one of the "poor".I wasn't for most of my life - I worked as a mechanical engineer and, according to the IRS, had paid taxes since I was 15 and a half and a lifetime's earnings that stretched into millions of dollars of income (again… that's income over my working life combined)… then I get hit by a truck and can no longer work. Yes, I have money in savings, but my monthly disability check is less than what I earned in three days of my work.During the beginning of me being on disability, I tried to give back to the community in any way I could - to make myself feel that I was not totally worthless.I volunteered at a local church food bank (two hours per month). The policy was one bag of food per month per person in the household. This food was bought by monies raised by donations to the church and donations from local grocery stores (day-old bread and canned food with a little ding or dent, etc). It was all good food, not C-rations from Vietnam.On one day (it happened all the time, just not at this level), a woman comes in with the proper proof of family size… eleven children and her parents… so fourteen bags of food… she came late on the last day of the month (we had four hours twice a month). We had run low on many items we included in the bags of food.The way this operation worked was: people line up and we open at noon. As people stand in line, volunteers hand out "menu" slips to make sure people did not get food they were allergic to or could not eat (for Kosher/Halal reasons or even no hard food for people with no teeth). It was well-planned… but if we were out of items, we were out. It wasn't like we could call the grocery store and demand them to make an express delivery or anything…Back to this woman… she had her hair with a very nice weave. Long fingernails that had been expertly manicured and was definitely NOT wearing rags… as she received her bags of food (volunteers helped carry them to her fairly new Mercedes SUV), she complained that her kids do not eat green beans! Why green beans? Last month she got green peas that her kids like, but they won't eat green beans! She demanded we go out to the store and BUY peas right now.BTW, before we could even offer to take the bags to her vehicle (it was our policy to do it anyway), she blurts out that she is disabled and in now way can carry even ONE bag by herself… I had also overheard her boasting to another person in line about how she gets welfare for each of her dependents (11 kids and her two parents)… for those outside the US, that's about $10,000 per month in "meager government assistance".… and she wants the FREE food to be swapped out for something else?Another incident happened at the "Social Services" office.I was there to get a form to fill out regarding my disability… a woman behind the counter had brought in THREE trays of cookies for the people in line.This woman was in front of me. She sees the cookies and asks the woman behind the counter if they are free. The woman says "Yes" and then they go about filling out the forms she was there for… as she leaves, she again asks, "These are free?" the clerk nods and says "Yep, I bring in cookies every day for the people in line". Without hesitation, the woman in front of me picks up all three trays and dumps every cookie into her large purse as she says "My kids will LOVE these treats"… and walks away.Why do people have a low opinion of those in the US who receive "meager" benefits? There are people who use the system to get everything they can and abuse the generosity of taxpaying citizens.I have a couple more similar stories, one even worse than the two above combined, but I cannot type anymore.People see these stories of those who game the system for additional benefits, or outright cheat the system… demanding a food bank provide peas and not green beans when it's free food… and you drive a MERCEDES?Taxpayers pay into the system that provides these "meager" benefits, and when they see how the people receiving those benefits cheat and scam the system ending up making MORE than the people being taxed to pay for their aid, it garners some resentment… "Why should I work my butt off, lose a third of my income to taxes, and these people who benefit from my work (via taxes) live better than I do? Why should I work at all?""If they can afford bi-weekly hair weaves, top-end manicures and drive luxury cars, why do they need money from those working hard every day?"Not everyone games the system, but many do and get away with it. When caught, it makes news… therefore, the regular working "Joe or Jane" only sees the people getting benefits who are nothing but cheaters… the news does nt report about the normal welfare recipient or disabled person, they only report the schemers… and that is the only thing regular Americans see, so the resentment is justified in a way.If the regular American saw how MOST benefit recipients lived, they would see it in a completely different light.

What techniques can I use to prevent emails sent from my web site from being marked as spam and increase deliverability?

Hi there,Here's my take on the subject, in 10 tips :)1. Watch your subject lineWhile it is understandable that you really want your e-mail to be opened, refrain yourself from using overly tout language. Words and expressions like "this isn't spam", "make money", "satisfaction guaranteed" or "no obligation" are obvious red flags for spam filters.We've put together an extensive list of words and expressions you should avoid. It's worth taking a look! Also you can read more on how to improve your subject line here.2. Avoid ALL CAPS and exclamation points!!!!Yeah, and also don't use red or invisible (e.g. white on white) fonts. Those are the best ways to be immediately reported as spam by your recipients and have your e-mail address end up on a blacklist, even if you get through the filters. It's also widely unprofessional.3. Use a reliable ESPThe reliability of an E-mail Service Provider depends on the reputation of the IP addresses and domains of their clients. If you communicate through a shady ESP, you'll be associated with shady IP's and domains and your e-mails will more than likely end up in junk folders.For that instance, I strongly recommend using the paid version of Gmail in G suite. Let's just say that Google's reputation is, you know, pretty good.4. Mind your linksClickable images and redirection to a landing page have become standard practice and should stick around for a while. However, you should only include links to reputable domains or they might be flagged as fraudulent.Also avoid URL shorteners.Their use by spammers got them branded as risky, which is liable to get your e-mails caught in spam filters.5. Keep your e-mails shortLarge amounts of copy will tingle the spammey sense of your recipient's inbox. If you absolutely must send a long e-mail, break it into multiple paragraphs in order to make it readable and clear for your recipient.This article gives you more insight on why you should go for short and concise emails.6. Optimize your From fieldI don't care where you're from, but the spam filter does. Mailbox providers don't just evaluate the IP and domain, they also put the From field under scrutiny.Which is why you should use clear and trustworthy names like you@yourdomain.com only!288cgs867g@mydomain.com or account1@mydomain.com are a no-go.7. Don't attach filesUnless you absolutely have to, don't attach files to your e-mails, especially if they're unsolicited.And if you do, avoid large files at all cost. They're yet another obvious red flag for spam filters. This is the reason why Prospect.io doesn't allow you to attach files directly to your emails.What you can however do is upload the files to a cloud service like Dropbox or Google Drive and share the link in your email. The reputability of these services won't hurt your deliverability.8. Check your spellingYou don't have to be a Nigerian prince -and God knows they struggle to avoid the spam folder- to know this. Poor spelling is an instant sign that there might be a scam going on.Therefore, if you don't want to end up reported as spam, do a thorough spell check before sending your e-mails, especially if you're sending a drip campaign to hundreds of prospects.9. Go through the spam checkerBefore sending your e-mail, take a minute to get it through a spam checker like IsNotSpam.com. It's free and it will test your e-mail for the main liabilities that could impair its efficiency.It's an easy way to avoid the spam folder, use http://it.It won't however tell you if your IP is blacklisted; in that case, you should check MXToolbox.10. Never buy email listsI know, you worry about reaching your quota. But while it may be tempting to buy prospects lists, don't do it, if only because they won't advance your business.Those lists are full of unqualified addresses that you never had a chance to check beforehand and that will probably lead to dead ends.But it gets worse. Purchased lists generally contain bad addresses, which involve high bounce rates and, eventually, blacklisting. It's always worth taking the extra time to identify quality leads.Here's more info on why you should never buy email lists.In one word, if you want to avoid the spam folder, you need to keep it CLEAN, whether it be in your writing, spelling, attachments…Humans as well as machines now come with military grade bullshit detectors, don't challenge them!I hope this helps!For more tips and advice on cold email , check out the Prospect.io blog !

What are some embarrassing sibling stories?

My little brother Zidane is 9 year old only, on the other hand am 23.. So we have this huge age difference. There are so many stories which are embarrassing but am sharing only few of them.He loves watching videos on YouTube. So one day I was sitting in the hall with my grandma and my mom was in the other room. Suddenly Zidi started shouting..Zidi: Please play with meMe: What?Zidi: Condom challenge..Me: What ( clearly shocked)Zidi: Condom challenge... Miane YouTube pe dekha hai. Ek fugga hota hai paani se bhara use sabke sir pe fenkte hain aur pata hai vo futata nai hai..  (I watched it on YouTube.. It's a balloon filled with water, you can even throw it on someone's head and guess what it doesn't burst)Me: after laughing for good 2 minutes I said I ll play with you only if you ask Appi ( our elder sister) to play with us and do explain how it is played. he went in the other room to ask Appi to join usZidi: Appi please play Condom challenge with me.I was listening to all this and continuously laughing obviously my sister was also shocked. He actually explained it all to her but by then my mom overheard him. She yelled Ziiiiidane.....She scolded him "what the hell you watch on YouTube. You better not touch anyone's cell from now". Now my poor brother has lost all his excitement and with a perplexed face he came to me and asked "What did I do? Why mom is shouting??"Then I told him do you know that Condom balloon is used by grown up men to cover their pe pe....Thankfully he didn't ask why. He was shocked and embarrassed, in sheepish tone he said I didn't know. Another incident when I was riding my scooty with him on the back seat. Some stupid man came in front of me out of nowhere and I almost lost the balance. Somehow I managed to apply breaks at the right time, thankfully nothing bad happened but out of anger I shouted  behanc***d ( I guess sister fu***r). Immediately I realised that zidi heard it so I apologised to him and said I am sorry it's a bad word I won't use it ever again and please don't tell mom.He actually kept his mouth shut and didn't say a word to mom untill after around a month I complained about his nuisance to mom.Mom asked him to come and sit with us and asked him about his fault. He had tears in his eyes and then he said this...Mummy mai iski baat batau ye road pe sabko Behanc***d bolti hai. ( mom she calls everyone sister fuc**r on the road)He literally said that word and I was mortified for a second I actually thought to commit suicide. My mom was beyond shocked, hearing it from her little son that her decent daughter is not that decent after all. These are few embarrassing stories I can recall right now.​​​This is Zidane's Ronaldo look ;)

The previous person living at my address had the same last name as mine. Once he moved out, he required USPS to forward the mail. Now I am not able to receive any mail, because USPS forward all my letters to another address. How do I fix this?

First and foremost, I apologize that this has occurred. The first step would be to speak with the regular letter carrier on the route. This person is the same person that would be in the best possible position to help. Why do I say that? Simple. Letter carriers are the FIRST person that receives written notification that someone has moved. That's even before the change of address confirmation has been sent. We usually have the COA (Change of Address) notification within 1–2 days.Talk with the carrier and see if the previous resident put a change of address in for an Individual or a Family. IF it was an individual, then it is a bit easier. The letter carrier has a few steps that must be done in conjunction with a supervisor to correct this. IF it was a family change, it may prove more difficult. As for you, I would suggest that all correspondence use your legal name….First Name, Middle Name (if applicable), Last Name and any suffix (if applicable). This will definitely help distinguish two separate individuals.I would advise to allow anywhere between 3–10 business days after speaking with the regular letter carrier before speaking with the local supervisor (at your assigned post office). This will allow time for the letter carrier and supervisor to address this with the appropriate personnel. If you have not had any success, by all means, go to the station manager. If no success there, the local postmaster (if the station manager and the postmaster are not the same). From there, if you still have not had success, you may wish to consult with your congressional aide or your congressman directly.This is something that we do not take lightly. I genuinely hope this helps you bring this matter to a resolution.

Why is Japan so safe?

I have spent quite a bit of time in Japan, not living there, but doing business there. So maybe not quite as much of an expert as some.I agree with 90% of the answers here. The ones that don't seem to ring quite true are the ones that imply that there's just as much crime in Japan as anywhere else, but it's just not reported, or it's ignored by the police as they co-exist with the Yakuza.Yes, the Yakuza represent organized crime in Japan. But my experience is that they don't commit crime on law abiding citizens. They provide 'services' that might not be looked on as desirable by most of society to those who seek out those services. They look after their interests in perhaps, shall we say, indelicate, maybe even occasionally violent ways. But unless you're looking for trouble, trouble won't find you. They won't break into your home to steal. They won't mug you on the street.And yes the police have an improbably high rate of solving crimes and getting convictions, some convictions being dubious.And yes, there is bullying in Japan and there is some sexual violence.But in my experience none of this accounts for the huge discrepancies between Japanese crime rates and western crime rates.A business colleague of mine tells the following story. He grew up in a tough neighborhood in Philadelphia. On his first business trip to Japan he noticed vending machines on the streets that sold beer. He was amazed. He couldn't understand how this could be legal. What stopped teenagers from buying beer? Even more improbable, what stopped punks from smashing the machines and stealing all the beer? Not one would still be standing in his old Phili neighborhood.Finally, he couldn't stand it any longer, he had to ask his Japanese hosts what the story was here. Upon hearing the question they looked at him a little strangely, not sure they understood the question, and then after finally assuring themselves that they heard correctly, their answer was simple:"Because they know they're not supposed to."This was a uniquely cultural answer that my colleague didn't at first understand. Of course they know they're not supposed to, all kids all over the world know they're not supposed to, but the difference in Japan is that kids believe it - at least far, far more than believe it in many other parts of the world. The difference is the unique culture.This issue of culture was mentioned in some of the answers, but not highlighted much. To me, the unique culture is a huge reason for why common crime, especially crimes against property, are so rare in Japan. The culture of societal shame is a very powerful force. And you don't just shame yourself. You shame your family, your friends, your community, your business colleagues.This is why you see very public, very visible and very sincere apologies from the presidents of huge companies when their company has done something wrong and has in some way hurt or cheated their customers. In fact an admission of guilt and a deep and sincere apology with genuine remorse can go a long way to getting the average citizen a much reduced punishment from the law.To understand this you need to understand a little about Japanese history. Until you've been to Japan it's difficult to understand just how little livable land there is on the islands. Probably 80%, maybe more is too mountainous to use. So everyone is cramped into a small space and historically, trying to get along, with paper walls, meant you had to behave. Especially in the old feudal system where a Samurai would as soon cut your head off at a stroke if you annoyed him. It didn't take long for societal norms of politeness, honesty, non-confrontation and so on to take hold.Japan is of course thoroughly modern today, and have whole heartedly, even enthusiastically embraced western ideas and adapted them to their culture, but the culture of shame for misdeeds has never gone away.UPDATESome have pointed out to me that there is a dark side to Japanese culture. That the Japanese are very tribal. That they consider themselves culturally superior to everyone else. That they can at times be dishonest in their extraordinary politeness, as a way to mask their disapproval or even disgust of non-Japanese people and their ways.This is true. I've witnessed it myself. It also explains their atrocious behavior in WWII.They've also pointed out that the culture is slowly changing. Also true. It's slowly becoming more westernized all the time. Including in areas relating to crime, especially among youth. I understand that the beer machines of my example are now getting phased out due to growing issues with underage drinking. My story above dates to the 90s.I have also been taken to task for impugning the good name of the Samurai. The Samurai lived by a well developed code of honor known as Bushido. They didn't go around whacking the heads off of people they didn't like whenever they felt like it. Another one of those honorable culture issues. I apologize to any Japanese I may have offended when I made a flippant remark in an attempt to make a point. Still, as in any feudal hierarchy, it wasn't in your best interest to offend the guy at the top who had the power of arms.Nonetheless, those aspects of Japanese culture that may be undesirable in other ways, those right wing elements of Japanese society that wish to return to the old days of Imperial Japan, actually reinforce the cultural prohibitions against common street crime.Japan is still among the safest countries on earth when it comes to street crime, interpersonal violence and crimes against property (Singapore is in the same league), if not the safest. The old culture is still strong.SOME FACTS AND FIGURESFound this interesting website that compares crime rates in different countries.Japan vs United States: Crime Facts and StatsI don't doubt that crimes such as rape are under reported in Japan. Rape is under reported in the US too.Even if you think the Japanese under report crime, it's hard to believe they could mask differences of the magnitude reported here.ANOTHER INTERESTING LOOK AT THE QUESTIONI really like Lim Son Eng's answer:Lim Son Eng's answer to Why is Japan so safe?I don't know how true it is, but it certainly sounds very plausible, and in some sort of way, I hope it is true. Maybe a Japanese native could comment one way or the other.NOVEMBER 2017 UPDATE:Please see the recently added comment from Kentaro Chiba for further insight into Lim Son Eng's answer, and also into the role of the Yakuza in Japanese crime, as well into Japanese ultra-right wing politics.

What is it like to be a quant?

Worked as a quant at a big investment bank.  Now I have my own company.  You have to take everything that I say with knowledge that I'm talking about the past, and the anything about what life was like in 2007 or even 2010 may be irrelevant for 2014.Workload is surprisingly not too bad.  Most quants work 60 hour weeks which is standard in the high tech industry.  No one I know works killer hours like the people in mergers and accquistions, and there is no point in working when the markets are closed.  When you leave for home, there are always a lot of food delivery people in the lobby.The compensation has gone down over the last few years as bonus has been replaced by base salary, but it's slightly higher than in the other tech industries.  You however will feel more poor than you have ever felt.  When you are in a room full of people who make >$1M/year, and you make $150K, you feel really, really, really poor.  Their kids go to better schools, they have nicer houses, bigger cars, they get into conversations about where to take vacations, and you feel like you are living in a cardboard box.  You are either in a cube farm or in a front offices position.  If you are in front office, you are at a long table, and you see traders screaming at each other.  Most of it is "friendly screaming" (i.e. buy X at Y!!!! The price is going down!!!!)  Some of it is "unfriendly screaming" over the phone.The soft skills aren't the economics and finance.  You can learn that.  The important soft skills are the interpersonal relational ones.  How to resolve conflict or not resolve conflict, how to get people to like you, how to get people to know what you are doing.  Also the cool things is that the rules change.  It's useless to read most economics and finance textbooks because the information and models there are just plain wrong, and your job is to come up with the right ones.Any example of a soft skill is when you look at something and think, "this is nonsense".  Rather than say "this is total nonsense" you spend an hour drafting a three sentence e-mail using the correct corporate language for "raising a concern" and then you spend the next hour editing the CC line.  One reason that I liked the job was that I considered this an intellectual puzzle, and it amused me how traders would use the most rude and blunt language while a lot of the e-mails are in extremely elegant bureaucratic nonsense, and you know your e-mail is going to be ignored so you are just setting up a paper trail so that you don't get blamed when something blows up (or so that you do accept liability for something blowing up).One reason that finance needs so many physics Ph.D.'s is that in physics, once you figure out the rules, they don't change.  Once Einstein figures out general relativity, no need for a new Einstein.  The cool thing about finances is that everything changes.  The interest rate models that were used before 2008, for example, just *will not work*.  So your job is to come up with new ones.  And once you come up with new things, the rules change again.  Once the Fed stops QE, there will be very, very curious things happening with interest rates.  I don't know what they are, but we'll figure them out.Also, you occasionally get to "geek out" on some curious bit of trivia that is not so trivial.  You get really familiar with things like Brazilian calendars, Japanese corporate finance, and when traders in Hong Kong eat lunch.You also see a fascinating world of wealth and power.  You are not part of that world.  Your boss who makes >$1 million/year is a butler for the people that really run the planet.  You are an assistant butler.  One of the more interesting experiences is to watch your boss talk to *his boss* and *his boss* talk to clients.  As with wealth, if you want to feel powerful, don't work for an investment bank.  Where I used to work, promotion to VP was automatically after three years.  Above that is a *lot* of political maneuvering.  Most people figure out that they reached the glass ceiling and leave.  The problem is traditional investment banking is not growing, and the regulators won't let the banks do anything new or original, so the politics is a bit nastier than in the early-2000's when the field was growing.  One reason that I got out was that the work starting being filling out forms for the government which wasn't that terribly interesting.The one thing that I think was good was that I got in at just the right time.  I got in at 2007, and when the world exploded in 2008, I had a front row seat, and I played a small part in helping to save the world.  As the world was falling apart, the computer models at the bank I was working at were constantly failing because they were getting stressed, and I helped make sure that the compiles were working.

What unique circumstances happened when you had a child (at the birth)?

My first child was born fairly uneventfully even though the hospital was a long drive away and after the doctor said we barely made it in time. The second had to be induced, they said my amniotic fluid was leaking. When they broke my water he climbed up. I mean up under my ribcage! My stomach was flat! I had to sit up and arch my back to breathe. As my labor progressed he continued to fight his way up. With every contaction I pushed him down and he climbed back up. The nurse and doctor acted like this was my fault. The nurse started screaming and yelling at me even though I was being calm and quiet. She said I thought you wanted this baby and he's going to die. She did this over and over. I turned to the nice nurse that had been with me before this one got there. I asked is he ok and she nodded yes. That's when I told the crazy one she had to leave. That made the doctor furious! He stomped away saying now you have sent the best nurse away. She may have been the head nurse but certainly not the best! When the doctor stomped off my son was crowning, my husband ran to the foot of the bed. The doctor came back just in time to catch him. We left the hospital hours after that birth. I have never seen my husband so mad. He wanted to have a word with that doctor but he couldn't be found.We decided to have our next child at another hospital. The story was the complete opposite but hilarious. I was up in the middle of the night alone with my hyperactive toddler in the living room. He was wreaking the place but my stomach was really hurting so I just watched mostly. I had finally got him down to sleep and then my water broke. This had never happened before, they had to break my water with the others. I woke my husband after I showered, changed and began cleaning up. He ended up standing in the doorway yelling we have to go! Meantime I am still sitting during contractions and cleaning in between. On the way I tell him I have to throw,up he pulls over to a closed store but I refuse to throw up in someones parking lot. We got to the emergency room and left our toddler and almost fourteen year old in the car just until my husband could leave me. While we were doing paperwork I excused myself to go to the restroom. While I was there a contraction hit that was so strong I literally couldn't move and it didn't pass. My husband had decided he should check on me. As he came in a security gaurd showed up to find out why he was going into the ladies room. Hubby asked if I was ok, all I could manage was a weak noooo while I was still frozen there. I finally managed to lean forward and unlock the door as I fell. At this point everyone but me is yelling for anything with wheels to get me to delivery. We got to delivery and it was like there was a party in there. There must have been fifteen nurses in there. They said this was the most exciting thing going on that night. My son was born about 10 minutes later. That's when we were able to get the other kids out of the car. I noticed that the white part of my baby's eyes were blood red. My doctor said that he had pushed so hard to get out that he had ruptured blood vessels in his eyes. Luckily this was a minor condition that cleared on it's own. I am still thankful for everyone who was so nice and took such good care of us that night.I learned somethings that night. First, in labor you are not thinking clearly and may not have as much time as you think you do. Second, never go to the bathroom unattended when you are in labor. I am just glad they are all healthy and I don't have to tell my son he was born in the bathroom.
Related content Get and Sign delivery forms