Establishing secure connection…
Loading editor…
Preparing document…
Get And Sign Inventory Forms
How It Works
Open form follow the instructions
Easily sign the form with your finger
Send filled & signed form or save
Rate form
Get And Sign Inventory Forms
SignNow's web-based software is specially made to simplify the management of workflow and enhance the process of proficient document management. Use this step-by-step instruction to complete the Inventory forms swiftly and with perfect accuracy.
Tips on how to fill out the Inventory forms on the internet:
To start the document, use the Fill & Sign Online button or tick the preview image of the form.
The advanced tools of the editor will direct you through the editable PDF template.
Enter your official contact and identification details.
Use a check mark to indicate the answer where demanded.
Double check all the fillable fields to ensure total precision.
Utilize the Sign Tool to add and create your electronic signature to certify the Inventory forms.
Press Done after you finish the document.
Now you may print, save, or share the form.
Address the Support section or contact our Support crew in the event you have any questions.
By utilizing SignNow's complete platform, you're able to carry out any important edits to Inventory forms, generate your personalized electronic signature in a few fast actions, and streamline your workflow without leaving your browser.
Video instructions and help with filling out and completing Get and Sign inventory forms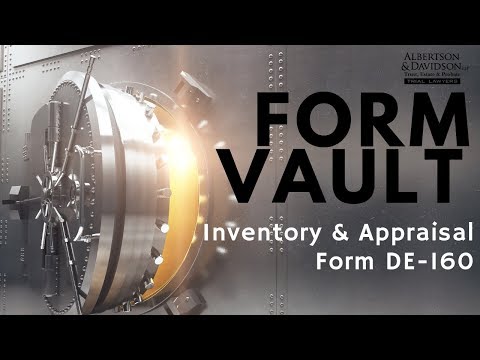 Instructions and Help about Get and Sign inventory forms
Music hi this Keith Davidson Albertson and Davidson in this video I'm going over the inventory and appraisal form that you will need any time you do a probate if your probating a will or providing an estate that doesn't have them well what we call an intestate estate you will have to file an inventory and appraisal with the court so let's take a look at what this form is we're gonna start at Google and just put in Judicial Council forms and we'll go to the courts website and then we're gonna want to toggle down to the probate decedent's estates that's where all the forms are that we want to use and then we're going to go down to form de 160 and that's the inventory and appraisal now form de 160 is interesting because you do have to fill out all of the estate information on it all of the assets that you know about but every time you do an inventory an appraisal you have a choice you don't necessarily have to do a final inventory appraisal you can do what we call partial inventory apprai
FAQ
Do I need to register a US company to dropship from US wholesalers?

To properly set up a drop shipping business as a US based reseller from a US based supplier, you'll need at take few core steps to get started. To learn more read INVENTORY SOURCE GUIDE: How to Get Started Dropshipping.Get an EIN number from the IRS (free) or request a sales-tax ID or reseller certificate from your state's tax department website (if your state charges sales tax, usually free).  It takes seconds to fill out the form and it is a quick and simple process…and one that is vital for avoiding fake sources and one that allows you to get started right with some of the best wholesale dropship programs in the world.Find a trusted and verified wholesale dropship supplier and open an reseller account with them.Create a Seller Account on Amazon, eBay or other marketplaces or create your own eCommerce website to list and sell your items directly.Open a free account with Inventory Source and get access to 100+ fully vetted wholesale suppliers and an enormous amount of resources and guides to get started in dropshipping.

How does a lawyer and the legal profession, in general, justify its ridiculously high fees?

I have a friend who is a graphic designer, and she also gets this question all the time. Angry clients that ask, "It took you 30 minutes to do this! How can you justify charging me $100 for that?!"Her response: it took ten years to learn how to do that in 30 minutes. That's what you're paying for.It took me the years spent to get an undergraduate degree. The years spent in law school. The months studying for the bar exam 12 hours a day. The days continuing legal education I need to stay current in the field. The hours I need to spend doing legal research for your specific case.That's what it takes to do what I do, and at the high level at which I do it.You're paying for my experience, my knowledge, my skills, and my professionalism. You're paying for me to do something relatively few people are capable of doing, and to do it right with no mistakes.If it seems easy, it's because I've done my job right.Addendum: Attorneys are ethically prohibited from charging unreasonable fees, and a good attorney will always make clear what the fee arrangement is before taking the case. If you feel that an attorney has charged excessively high or unreasonable fees, there is an ethics board in every state that will hear those complaints. If you've tried going to several different attorneys and you discover they're all in about the same ballpark fees, that's a good sign that the fees are appropriate to your case, expensive as that may be.

What is the best one liner for a WhatsApp status?

I never run with scissors... Those last two words were unnecessary.Unwritten Facebook rule  : If that person isn't in the photo, don't tag them.Good morning…let the stress begin.Q is just O with a cigar.I will be back before you pronounce afjkhnfkualnfhukcakecnhkh.Weekends don't count unless you spend them doing something completely pointless Consistent carelessness leads to persistent Failure. The eyes are useless when the mind is blindIf "Plan A" didn't work. Don't worry; the alphabet has 25 more letters.I had a horribly busy day converting oxygen into carbon dioxide.Dear Samsung, please also start selling jeans that can accommodate your smartphones.Some of us learn from the mistakes of others; the rest of us have to be the others.The door is open for you to come in and out of my life. But don't stand in front of the gate. You're blocking traffic.Wow now I'm a graduate…….Now thermometer is not the only thing that has degrees without brains .You're beautiful until your Photoshop 30 day trial has gone.I'm pretty sure my prayers go directly to God's spam folder.I am not fat, I am just easier to see.A clever mind solves the problems Whereas a great mind avoids.I never make the same mistake twice. Three, four times maybe. But never twice.They say that alcohol kills slowly. So what? Who's in a hurry?Try to say the letter "M" without your lips touching.Try to say the letter "p" without your lips touching.Weird is a side effect of awesomeness/ being awesome.Relationships are a lot like Algebra. Have you ever looked at your X and wondered Y?I heard you took an IQ test and they said your results were negative.My girlfriend is like my iPad... I don't have an iPad.The longer the title the less important the job.A fine is a tax for doing wrong. A tax is a fine for doing well.Until I was thirteen I thought my name was 'Shut up!'. I am so poor,i cant even pay attention.You can't satisfy everybody. You're not pizza.When life give you lemons, squeeze it in people's eyes.I don't hate you, I hate what you do, and who you have become as a person.Stuck in a metaphorical bubble of existence.Sorry, I can't hear you over the sound of how awesome I am. (Yes, It's Harvey's dialogue. )Life is too short. Don't waste it reading my Whatsapp status.Don't expect anything from anyone and you'll never be disappointed.If you're being ignored, that's a good time to concentrate on finding yourself and creating your own mystery.People are like music. Some say the truth and rest, just noise.It sucks when you're ignored by the person who's attention is the only thing you want in the world.Make me an option, and I'll make you a memory.Some people are living with a double personality like mean inside but nice outside.I'm in my happy place. PLEASE DON'T RUIN IT!Once you feel avoided by someone, never disturb them again.It's so funny how 'friends' forget us when they don't need any more favors.Please don't interrupt me while I'm ignoring you.Don't care for those who ignore you. Care for those who are ignoring others for you.I know I am not perfect, but at least not fake.Some people are like clouds. When they go away, the day gets brighter.It's hard when someone special ignores you, but it's harder pretending that you just don't care.Go ahead and ignore me.I can play that game too, and I'm probably better at it than you are.Oh, so now my texts are invisible to you? That's cool. I've always wanted a superpower.Ignore me while you can. Because after a while, I'll stop giving a damn.May my enemies live a long life to see my Success.If only I could un-love, I would be a lighter version of me.Don't strive to make your presence noticed, live it to make your absence felt.I'm meaner than my demons.Awesome ends with "me" and ugly starts with "u".Hey, I found your Nose; it was in my business again.Just wanted to say, you are as useless as "ueue" in a "queue".Lets us avoid selfish people like we avoid terms and conditions of software agreement.I had a horribly busy day converting oxygen into carbon dioxide. So, DND.My opinions may have changed, but not the fact that I am right.I heard you took an IQ test and they said your results were negative.Read books instead of reading my Status again.My laziness is like 8, when I lie down it becomes infinity.Ignore as much as you can, because people usually ignore expensive things because they can't afford it!Everybody wants to shine, but no one wants to polish.Don't take yourself so seriously, no one else does.The wrong person walked out of my life, and the right person walked in.

Do military members have to pay any fee for leave or fiancee forms?

NOOOOOOO. You are talking to a military romance scammer. I received an email from the US Army that directly answers your question that is pasted below please keep reading.I believe you are the victim of a military Romance Scam whereas the person you are talking to is a foreign national posing as an American Soldier claiming to be stationed overseas on a peacekeeping mission. That's the key to the scam they always claim to be on a peacekeeping mission.Part of their scam is saying that they have no access to their money that their mission is highly dangerous.If your boyfriend girlfriend/future husband/wife is asking you to do the following or has exhibited this behavior, it is a most likely a scam:Moves to private messaging site immediately after meeting you on Facebook or SnapChat or Instagram or some dating or social media site. Often times they delete the site you met them on right after they asked you to move to a more private messaging siteProfesses love to you very quickly & seems to quote poems and song lyrics along with using their own sort of broken language, as they profess their love and devotion quickly. They also showed concern for your health and love for your family.Promises marriage as soon as he/she gets to state for leave that they asked you to pay for.They Requests money (wire transfers) and Amazon, iTune ,Verizon, etc gift cards, for medicine, religious practices, and leaves to come home, internet access, complete job assignments, help sick friend, get him out of trouble, or anything that sounds fishy.The military does provide all the soldier needs including food medical Care and transportation for leave. Trust me, I lived it, you are probably being scammed. I am just trying to show you examples that you are most likely being connned.Below is an email response I received after I sent an inquiry to the US government when I discovered I was scammed. I received this wonderful response back with lots of useful links on how to find and report your scammer. And how to learn more about Romance Scams.Right now you can also copy the picture he gave you and do a google image search and you will hopefully see the pictures of the real person he is impersonating. this doesn't always work and take some digging. if you find the real person you can direct message them and alert them that their image is being used for scamming.Good Luck to you and I'm sorry this may be happening to you. please continue reading the government response I received below it's very informative.   You have contacted an email that is monitored by the U.S. Army Criminal Investigation Command. Unfortunately, this is a common concern. We assure you there is never any reason to send money to anyone claiming to be a Soldier online. If you have only spoken with this person online, it is likely they are not a U.S. Soldier at all. If this is a suspected imposter social media profile, we urge you to report it to that platform as soon as possible. Please continue reading for more resources and answers to other frequently asked questions:  How to report an imposter Facebook profile: Caution-https://www.facebook.com/help/16... < Caution-https://www.facebook.com/help/16... >   Answers to frequently asked questions:  - Soldiers and their loved ones are not charged money so that the Soldier can go on leave.  - Soldiers are not charged money for secure communications or leave.  - Soldiers do not need permission to get married.  - Soldiers emails are in this format: john.doe.mil@mail.mil < Caution-mailto: john.doe.mil@mail.mil > anything ending in .us or .com is not an official email account.  - Soldiers have medical insurance, which pays for their medical costs when treated at civilian health care facilities worldwide – family and friends do not need to pay their medical expenses.  - Military aircraft are not used to transport Privately Owned Vehicles.  - Army financial offices are not used to help Soldiers buy or sell items of any kind.  - Soldiers deployed to Combat Zones do not need to solicit money from the public to feed or house themselves or their troops.  - Deployed Soldiers do not find large unclaimed sums of money and need your help to get that money out of the country.  Anyone who tells you one of the above-listed conditions/circumstances is true is likely posing as a Soldier and trying to steal money from you.  We would urge you to immediately cease all contact with this individual.  For more information on avoiding online scams and to report this crime, please see the following sites and articles:   This article may help clarify some of the tricks social media scammers try to use to take advantage of people: Caution-https://www.army.mil/article/61432/< Caution-https://www.army.mil/article/61432/>   CID advises vigilance against 'romance scams,' scammers impersonating Soldiers  Caution-https://www.army.mil/article/180749 < Caution-https://www.army.mil/article/180749 >   FBI Internet Crime Complaint Center: Caution-http://www.ic3.gov/default.aspx< Caution-http://www.ic3.gov/default.aspx>   U.S. Army investigators warn public against romance scams: Caution-https://www.army.mil/article/130...< Caution-https://www.army.mil/article/130...>   DOD warns troops, families to be cybercrime smart -Caution-http://www.army.mil/article/1450...< Caution-http://www.army.mil/article/1450...>   Use caution with social networking  Caution-https://www.army.mil/article/146...< Caution-https://www.army.mil/article/146...>    Please see our frequently asked questions section under scams and legal issues. Caution-http://www.army.mil/faq/ < Caution-http://www.army.mil/faq/ > or visit Caution-http://www.cid.army.mil/ < Caution-http://www.cid.army.mil/ >.  The challenge with most scams is determining if an individual is a legitimate member of the US Army. Based on the Privacy Act of 1974, we cannot provide this information. If concerned about a scam you may contact the Better Business Bureau (if it involves a solicitation for money), or local law enforcement. If you're involved in a Facebook or dating site scam, you are free to contact us direct; (571) 305-4056.   If you have a social security number, you can find information about Soldiers online at Caution-https://www.dmdc.osd.mil/appj/sc... < Caution-https://www.dmdc.osd.mil/appj/sc... > . While this is a free search, it does not help you locate a retiree, but it can tell you if the Soldier is active duty or not.  If more information is needed such as current duty station or location, you can contact the Commander Soldier's Records Data Center (SRDC) by phone or mail and they will help you locate individuals on active duty only, not retirees. There is a fee of $3.50 for businesses to use this service. The check or money order must be made out to the U.S. Treasury. It is not refundable. The address is:  Commander Soldier's Records Data Center (SRDC) 8899 East 56th Street Indianapolis, IN 46249-5301 Phone: 1-866-771-6357  In addition, it is not possible to remove social networking site profiles without legitimate proof of identity theft or a scam. If you suspect fraud on this site, take a screenshot of any advances for money or impersonations and report the account on the social networking platform immediately.  Please submit all information you have on this incident to Caution-www.ic3.gov < Caution-http://www.ic3.gov > (FBI website, Internet Criminal Complaint Center), immediately stop contact with the scammer (you are potentially providing them more information which can be used to scam you), and learn how to protect yourself against these scams at Caution-http://www.ftc.gov < Caution-http://www.ftc.gov > (Federal Trade Commission's website)

What would you do if a perfect stranger stopped by your house, gave you a bag containing a million dollars, said to you, "Take it, it's yours", and then walked away?

Did you know that a million dollars in U.S. currency weighs just ten kilograms? It's true. A freshly-minted $100 bill weighs in at slightly over a gram, and 100 of them is ten thousand dollars. 100 of those stacks, and there's your million.It's not often that 10 kilograms - 22 lbs of anything can change your life. But on February 25th, 2014, that's exactly what happened.  Day 1: $1,000,000 As the man in the gray suit walks away, I shout after him "Hey, come back here. Who are you? What's this all about?" He does not look back and quickens his pace. Between the choice of chasing down a stranger, or securing what appeared to be stacks of currency, I chose the currency. We can resolve the issue of his identity later, but a loose sack of cash is, well, a loose sack of cash. I look through the contents again. Bundles of US$100 bills, stacked a hundred bills deep, wrapped in standard $10,000 bank bands. A quick count revealed that there were precisely a hundred of those stacks in the bag, and spot-check riffle-counts of the $10k bands suggest that there are no short-stacks within. These were full bands of $10,000 apiece of non sequential USD$100 bills, and I was holding what appears to be a million even in cash. And it feels like just as many question are swirling in my head, as I feel my pulse pounding in my skull. Who was that guy? Why me? What is this all about? But the most urgent thoughts swim past the dizzying deluge of unanswerable questions. Fakes. It's one thing to inadvertently be the recipient of counterfeit currency; as you're reading this very sentence, a clerk at a retail store somewhere in your city just accepted a counterfeit bill and made change from the real money in the till.  But to be in possession of a life-changing amount of counterfeit currency of the United States of America? Well, that's sort of thing that can bring the full might and wrath of their law enforcement apparatus on your head. My emotions swing wildly between the elation of instantaneous wealth, and sheer terror that I was minutes away from being snatched from my home and corralled into a Federal holding cell, where I will grow old within its walls. Terror was the stronger of the two emotions, and I quickly went to work. First things first: the bag had to go. If there is a GPS tracking device embedded in its seams, it would take too long for me to root it out. Better to incinerate it, and make sure that whatever trail it was laying stops at a dead-end for its pursuers. I pour the stacks of bills into an empty duffle back from my garage, and lock the bag in my condo. There's an abandoned marina just a mile from my home and I get in my car and drive straight to the docks, at the top of the posted speed limit. After pouring enough Kerosene on the bag to see the shimmering mist of petroleum evaporate above it, I lit a book of matches and threw it in the middle of the mass. A satisfying "Whoomph" lights up the fire, and I watch the edges of the bag curl and burn - sizzling in the midmorning sun. As the remnants of the bag's embers swirl around the scorched mark on the docks, I drive back to my condo, pulse still pounding in my skull.I still haven't figured out if the bills are real or not, but if this morning's bag-drop was an attempt to pin a piece of deeply incriminating evidence bearing a tracking device … well that plan has been thwarted. Or delayed, at the very least. What do I do? What should I do? Call the authorities? Consider how it would sound: "Hi, Police? Somebody dropped a million dollars in cash at my home. I don't know if it's fake or not. Please help." Would you believe such a ridiculous story? I wouldn't. Any reasonable law enforcement dispatcher would consider the caller legally insane, and I'd be arrested on the spot and sent to psychiatric care. If the money was real, it'd be seized and I'll never see it or spend it. If it was fake, they'd find a way to stick "possession of counterfeit currency" charge on me, and I'll be shoved into a Federal concrete box, draining the best years of my life away, only to be released when I can't chew solid food any more. No. The only recourse is to handle this myself. I call an old college friend practicing criminal defense law in New York City: "Hey Roger, it's Kai. How've you been?" "I'm cool. It's been a while. What's up man." "We should catch up soon in person. But I'm calling because I need something." "Ok, shoot." I swallow hard - it's difficult to even say the words: "Who's the best CrimDef lawyer you know in California, who defends against Federal charges?" A moment. His voice lowers noticeably. "Shit, man. You in some kind of trouble?" "I'm not sure yet." I said, truthfully. "But I need someone experienced and smart ... someone who you'd hire, if you're facing serious attention from the Feds." He lets out a long exhale. "Vincent King. Former rockstar DOJ prosecutor in D.C. Had a change of heart halfway through his rotation in Maryland, when he was securing Life sentences for "interstate drug transportation" charges on young Black kids who were busted muling for the cartels. Was offered a fast-track promotion straight to the U.S. Attorney's office but went rogue. He set up independent shop in San Francisco, fighting Fed cases. Heavy hitter clients, but makes a point of refusing to represent anyone accused of murder or human trafficking. Intimate knowledge of Federal prosecutorial procedures and evidence-collection protocol. Smart. Methodical. Very expensive." "Perfect." "I did mention 'very expensive?'" "You did." "I'll send his contact information now." ================================="I'm sorry - Mr. King is in court all day and won't be back in the office. His earliest appointment is tomorrow morning after a client meeting. Shall I book him for 11am for you?" "Yes, thank you Marta." "We'll see you tomorrow at 11 then." I look at the digital clock in my kitchen -  it reads 10:44am. Just me and a stack of bills which may or may not be fake, no formal legal representation for over 24 hours. It's going to be a long day. Taking even a few of these bills to a bank to corroborate their authenticity is out of the question. If a bank officer confirms they are fraudulent, I'll be arrested on the spot, and since I haven't hired counsel, I'd be at the mercy of the Public Defender's Office - the most overworked and underpaid division of the American Criminal Justice system. No, thank you. The next number I dial is an old friend, Robert Kendrick, sole proprietor of 'Secher Nbiw - The Golden Path,' a gold bullion dealer with a whimsical Dune reference in the name of his shop. I've known Robert for over a decade; his business deals in large amounts of (mostly) legal cash. By necessity, he has a high-end currency counter/ counterfeit detection device in his office, which can swiftly count and verify large sums of money with precision. "Bobby, it's me." "Hey, what's up." "Can I come to your office - like right now?" "Sure, what do you need?" "I, uh, came into some money. Long story, and I really don't want to get too much into the details … but I'm wondering if you'd be willing to run the bills through your counter for me? I'm not 100% sure they're real, and I'd like a discreet way of verifying them. If they are, I'm going to pick up some bullion as well." "Sure man. Happy to help. How much money are we talking about?""$60,000" I flinch at that - I hate lying to friends, but at this point, I have no idea who to trust. Though if you want to be technical about it, I did come across $60,000. I am just simply not telling Kendrick about the other $940,000 that accompanied the $60k in the satchel that dropped into my life just three hours ago. "Come on by." I pull apart a few $10,000 currency bands and start plucking random $100 bills from the middle of every 10k stack to assemble a randomized sample of the entire million. 100 bills, wrap it up. 100 bills, wrap it up. 100 bills, wrap it up. Three bands, thirty thousand dollars, randomized and fully assembled to be tested for authenticity. "Half" of my alleged $60k windfall. The rest of the loose bills are refolded back so there remains 97 stacks of $10k racks, re-wrapped and properly sorted. In 30 minutes, I will figure out if I'm rich, or holding on to enough illicit contraband to send me to Federal Prison for the rest of my life. =============================The Golden Path, like most bullion dealers, work out of small, highly secured office covered by multiple layers of security. At any given moment, Robert may have several hundred thousand dollars in cash or gold, silver and platinum bullion on the premise, it pays to be careful. One of the few civilians in California with a Concealed Carry Weapons permit, Kendrick and I met on pistol gun range ten years ago; we bonded over shooting .45 ACP slugs down-range. He and I spent countless hours debating the relative merits of his preference for single-action 1911s, vs my bias toward double-action SIG-Sauer P220s. In the bullion business, you learn to know the boundaries of money-laundering laws, and know how to walk right up to the edge without triggering reporting thresholds. Drop US$10,000 in cash or more at a car dealership, bank or bullion dealer in a single day's transaction, and the U.S. authorities gets very interested in the source of your funds. By law, these business that receive such sums of cash must fill out invasive forms to tie the transaction to you and your Social Security Number. Keep cash transactions below US$10,000, and you can avoid much of that intense scrutiny. "Welcome back man. I haven't seen you in a while." A discreet man, Kendrick does not inquire further about the source of the cash. In the business of buying and selling gold bullion, you learn to comply with the letter of the law, while avoiding conversational topics that can jeopardize one's own plausible deniability. While his clientele is mostly legitimate, I'm certain the most lucrative of his customers are criminals - and he smart enough to know not to ask the sort of questions that open up a line of liability for him.  So long as the proper theatrics of anti-money-laundering protocols are observed, everyone is technically in the clear. I hand him the three $10k stacks and he pulls the bands off them and puts the entire block in his high-speed currency counter. After a second, the machine spools up and the digital counter swiftly runs from zero to three hundred. Thirty thousand dollars. "It's real." It's real. His words hang in the air for a moment, and it takes a moment for them to sink in. One million dollars. Genuine currency of the United States of America, the most recognized and accepted form of money in the world - denominated in crisp, non-sequential bills. I hold my face as neutral as possible, but my excitement made me slightly dizzy, and I am glad I was sitting down. "What's the spot price of Gold today?" Kendrick's eyes drift to his laptop computer, where the current day's commodities prices were fed to him via a live stream. "$1334 Ask, $1335 Bid." I nodded my understanding.Precious metals bullion trade in troy ounces, and prices are quoted on a per troy oz basis; depending on the specific type of bullion (bars, coins, make), there are different markups from the quoted price. Depending on the specific form, Gold is typically marked up by USD$20 to $60 over the day's quoted Bid price, and sells for $5~10 over the Ask. "What do you have in inventory right now for gold?" "The usual. South African Kugerrands. American Eagles. Canadian Maples. Oh, I do have a lovely Credit Suisse 5oz bar that somebody just sold to me, and I'm happy to let it go for $25/oz over spot." I quickly did the mental math calculation. With the hard-cap spending limit of $10,000 before I trigger any mandatory anti-money-laundering paperwork, $1335/oz works out to about seven troy ounces of bullion I can buy, without forcing Robert to fill out invasive forms about me and my identity. "I'll take the 5oz Credit Suisse bar, and two American Gold Eagles." Kendrick pulls out a calculator and taps in the numbers, "So five troy ounces at 25 over spot plus Eagles at $50 over spot works out to nine thousand six hundred and -" "Take ten grand and keep the change." I interrupt. "I will be back for more." He raises his eyebrow, but says nothing. "Thank you. I'll be right back." He counts back $20,000 and hands it to me, taking the $10,000 in the back room of his office and returning with the 5oz Swiss bar and two heavy 1oz American Eagles, along with a receipt for US$9675. I pause for a moment and hand him back one of the $10,000 stacks. "I know the limit is $10k in transactions per day. Consider this pre-payment for a purchase tomorrow. Your call, on a mix of anything up that totals up to $9500. Keep the rest for you and Katie." A barely-perceptible smile flickers across his face, then his face was clear again. "Sure thing." There's nothing like the feeling of holding physical gold - the density, color and heft of the metal is like no other substance on earth, and it is no wonder that since its discovery, every culture on Earth treated gold with awe and respect. With 18 hours left before I can understand my legal options, there's only two things I know for certain: 1. The money is real. 2. At least one person knows exactly where I live, and where the money was dropped off. I need to get mobile. I need to get mobile and off the grid ASAP.... to be continuedIf you'd like to be the first to get updates to this story, please add me kai chang 張敦楷 (kaichang) on Twitter. Part 2 (of 10) is being written right now, will be announced on Twitter. Please follow for updates on the saga of the Quora Millionaire! :D

Why don't schools teach children about taxes and bills and things that they will definitely need to know as adults to get by in life?

Departments of education and school districts always have to make decisions about what to include in their curriculum.  There are a lot of life skills that people need that aren't taught in school.  The question is should those skills be taught in schools?I teach high school, so I'll talk about that.  The typical high school curriculum is supposed to give students a broad-based education that prepares them to be citizens in a democracy and to be able to think critically.  For a democracy to work, we need educated, discerning citizens with the ability to make good decisions based on evidence and objective thought.  In theory, people who are well informed about history, culture, science, mathematics, etc., and are capable of critical, unbiased thinking, will have the tools to participate in a democracy and make good decisions for themselves and for society at large.  In addition to that, they should be learning how to be learners, how to do effective, basic research, and collaborate with other people.  If that happens, figuring out how to do procedural tasks in real life should not provide much of a challenge.  We can't possibly teach every necessary life skill people need, but we can help students become better at knowing how to acquire the skills they need.  Should we teach them how to change a tire when they can easily consult a book or search the internet to find step by step instructions for that?  Should we teach them how to balance a check book or teach them how to think mathematically and make sense of problems so that the simple task of balancing a check book (which requires simple arithmetic and the ability to enter numbers and words in columns and rows in obvious ways) is easy for them to figure out.  If we teach them to be good at critical thinking and have some problem solving skills they will be able to apply those overarching skills to all sorts of every day tasks that shouldn't be difficult for someone with decent cognitive ability  to figure out.  It's analogous to asking why a culinary school didn't teach its students the steps and ingredients to a specific recipe.  The school taught them about more general food preparation and food science skills so that they can figure out how to make a lot of specific recipes without much trouble.  They're also able to create their own recipes.So, do we want citizens with very specific skill sets that they need to get through day to day life or do we want citizens with critical thinking, problem solving, and other overarching cognitive skills that will allow them to easily acquire ANY simple, procedural skill they may come to need at any point in their lives?

Who offers stand-alone inventory management APIs?

Inventory management focuses on two main things: input and output. As stock gets sold out, inventory managers need to order new products to fill the shelves and ensure no order has to be delayed. As a result, inventory management relies heavily on estimating how quickly your products will disappear.Algopix is a useful market research tool for the job. It takes information from Amazon and eBay storefronts in multiple nations and calculates the average selling rate and sales volume per month for any item in your inventory. While intended for new sellers to pick new, viable products and decide on pricing, Algopix is immensely useful for inventory tracking and streamlining warehousing.Another aspect of managing inventory comes in the form of identifying products. Many companies deal with very similar products with subtle differences that the customer cares about. To ensure the right item is being sent out, Algopix identifies exact model numbers and brands given only the barcode identifier.

What happens to all of the paper forms you fill out for immigration and customs?

Years ago I worked at document management company.  There is cool software that can automate aspects of hand-written forms.  We had an airport as a customer - they scanned plenty and (as I said before) this was several years ago...On your airport customs forms, the "boxes" that you 'need' to write on - are basically invisible to the scanner - but are used because then us humans will tend to write neater and clearer which make sit easier to recognize with a computer.  Any characters with less than X% accuracy based on a recognition engine are flagged and shown as an image zoomed into the particular character so a human operator can then say "that is an "A".   This way, you can rapidly go through most forms and output it to say - an SQL database, complete with link to original image of the form you filled in.If you see "black boxes" at three corners of the document - it is likely set up for scanning (they help to identify and orient the page digitally).  If there is a unique barcode on the document somewhere I would theorize there is an even higher likelihood of it being scanned - the document is of enough value to be printed individually which costs more, which means it is likely going to be used on the capture side.   (I've noticed in the past in Bahamas and some other Caribbean islands they use these sorts of capture mechanisms, but they have far fewer people entering than the US does everyday)The real answer is: it depends.  Depending on each country and its policies and procedures.  Generally I would be surprised if they scanned and held onto the paper.   In the US, they proably file those for a set period of time then destroy them, perhaps mining them for some data about travellers. In the end,  I suspect the "paper-to-data capture" likelihood of customs forms ranges somewhere on a spectrum like this:Third world Customs Guy has paper to show he did his job, paper gets thrown out at end of shift. ------>  We keep all the papers! everything is scanned as you pass by customs and unique barcodes identify which flight/gate/area the form was handed out at, so we co-ordinate with cameras in the airport and have captured your image.  We also know exactly how much vodka you brought into the country. :)

What are the prerequisites for a Catholic marriage?

I'm getting married in August and I did not realize the process was so arduous.I was raised Catholic but have not practiced for about a decade. I wanted to have a Catholic wedding because my parents are Catholic and I think they'd appreciate it.I live in San Francisco and the wedding is in Cleveland. We contacted a priest in Cleveland to preside over the ceremony, and he mentioned that we needed to get permission from our church in San Francisco. Here's the checklist the church in San Francisco sent our way [1], and my interpretation of what we need to do to have a wedding recognized by the Catholic church.1) We need my "home church", in the Archdiocese of San Francisco, to give me permission to get married in the Archdiocese of Cleveland. To grant me that permission, the Archdiocese of San Francisco requires:Baptismal recordsFreedom to Marry (Form A)Witness to the Freedom to Marry (Form B)In the presence of a priest or deacon, I have to reaffirm my faith in Jesus Christ and promises to live that faith in the Catholic Church and do all in my power to raise the children Catholic.I need to attend an Engaged Encounter Weekend, Saturday For the Engaged or a parish marriage preparation program (this appears to be their approach to the Pre-Cana [2] course). Note that the Saturday encounter will cost us $200.Additionally, because my fiancé is not Catholic, they also require:A dispensation from the Archbishop in San Francisco to marry a non-baptized person (Disparity of Cult)Specific to the Archdiocese of San Francisco, I believe, is an exam and counseling session devoted to communication for the couples:FOCCUS premarital inventoryFOCCUS(c) follow-up session2) At the rehearsal:Marriage license3) At the wedding:Wedding rings[1] http://www.oldsaintmarys.org/htm...[2] http://en.wikipedia.org/wiki/Pre...
Related content Get and Sign inventory forms