Establishing secure connection…
Loading editor…
Preparing document…
Get And Sign Pharmacy Power Of Attorney Form
How It Works
Open form follow the instructions
Easily sign the form with your finger
Send filled & signed form or save
Rate form
Get And Sign Pharmacy Power Of Attorney Form
SignNow's web-based program is specifically developed to simplify the organization of workflow and optimize the process of qualified document management. Use this step-by-step guide to fill out the Pharmacy power of attorney form quickly and with ideal precision.
Tips on how to complete the Pharmacy power of attorney form on the internet:
To begin the form, utilize the Fill & Sign Online button or tick the preview image of the form.
The advanced tools of the editor will guide you through the editable PDF template.
Enter your official identification and contact details.
Apply a check mark to point the answer wherever expected.
Double check all the fillable fields to ensure complete accuracy.
Utilize the Sign Tool to add and create your electronic signature to certify the Pharmacy power of attorney form.
Press Done after you finish the form.
Now you can print, download, or share the form.
Refer to the Support section or contact our Support staff in case you've got any questions.
By using SignNow's complete platform, you're able to perform any essential edits to Pharmacy power of attorney form, create your customized digital signature within a couple fast steps, and streamline your workflow without leaving your browser.
Video instructions and help with filling out and completing Get and Sign pharmacy power of attorney form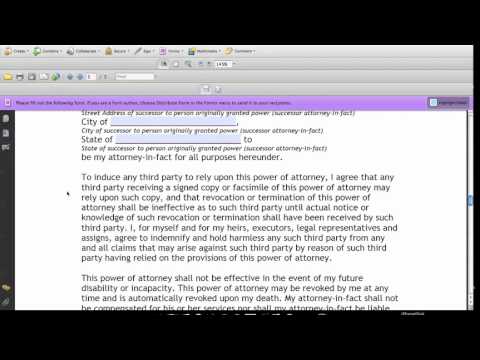 Instructions and Help about Get and Sign pharmacy power of attorney form
today we're going to fill out a general power of attorney form ad from the website power of attorney form com so to start this is the general power of attorney form this notice in the beginning on page 1 just lets you know what the whole form is about just standard attorney language to make sure that you're protected if you try to use this power of attorney form so to get started the first blank is the name of the person granting power or otherwise known as the principal which would be the person as it says granting power to someone else so let's just use the example here a little slow Johnny Appleseed and the street address is 1 2 3 Apple way of course these are just fictitious addresses the city of the principle will have them live in apple ville state let's just use Kansas now here is where in this blank where you're going to write in the name of the agent or attorney in fact and what that is is the person that's going to be handling your affairs you're handling your power of attorn
FAQ
Can power of attorney in fact forms be filled out and authorized completely online?

Note: I am not an attorney. Even if I were an attorney, I am not your attorney. This is merely the opinion of a fairly savvy Citizen. It is not legal advice. If you want legal advice hire an actual attorney. In the U.S.A. "signing" something like a Power of Attorney electronically is generally not enforcable* because many (most?) Courts require that the authorizing of them usually requires a "wet" signature which has been Notarized. You could try it but, because they are such powerful documents, almost any court (or business for that matter) will require that the signature be notarized before allowing them to be enforced and used.In fact many businesses simply have a policy of not recognizing them without a confirming court order as well. This is especially true in health care.This is mainly because the business wants to make damned sure that any liability for errors or misunderstandings lies with someone other than the business. *Note that "not enforcable" =/= "illegal" (or even sick hawk).There's no law preventing you from doing it.  It's just completely pointless; because if you complete the Power of Attorney electronically anybody who knows anything about law or contracts or fiduciary duty will simply ignore it... along with any instructions you might try to give them under it.Do yourself a favor by getting an attorney and doing it right.

Can a power of attorney document be filled out with an online signature?

In California A Power of Attorney does not require notarization unless the document to be signed by the individual holding the power itself requires notarization, for example documents affecting a transfer or encumbrance of real property. As a small business attorney I routinely prepare Limited Powers of all accomplished through email which allow me to accomplish specific tasks on the half of a client.  Granting of even Limited Powers of Attorney necessarily involve a great deal of trust, and a customer should be wary of signing such a document. Peter, Oakland, California small business attorney. Not offer or intended as legal advice.

How can I fill out Google's intern host matching form to optimize my chances of receiving a match?

I was selected for a summer internship 2016.I tried to be very open while filling the preference form: I choose many products as my favorite products and I said I'm open about the team I want to join.I even was very open in the  location and start date to get host matching interviews (I negotiated the start date in the interview until both me and my host were happy.) You could ask your recruiter to review your form (there are very cool and could help you a lot since they have a bigger experience).Do a search on the potential team.Before the interviews,  try to find smart question that you are going to ask for the potential host (do a search on the team  to find nice and deep questions to impress your host). Prepare well your resume.You are very likely not going to get algorithm/data structure questions like in the first round. It's going to be just some friendly chat if you are lucky. If your potential team is working on something like machine learning, expect that  they are going to ask you questions about machine learning, courses related to machine learning you have and relevant experience (projects, internship). Of course you have to study that before the interview. Take as long time as you need if you feel rusty. It takes some time to get ready for the host matching (it's less than the technical interview)  but it's worth it of course.

How do I fill out the form of DU CIC? I couldn't find the link to fill out the form.

Just register on the admission portal and during registration you will get an option for the entrance based course. Just register there. There is no separate form for DU CIC.

Why would a doctor send a prescription to a pharmacy, but not respond to repeated requests from the pharmacy to fill out a faxed prior authorization form?

Filling out a prior authorization is not a requirement of our practice. Most of us do this to help our patients, and it is sometimes taken for granted.Think about it. It is your insurance company that is requesting us to fill out this form, taking time away from actually treating patients, to help you save money on your medications. We understand that, and usually do our best to take care of them, but unless we have a large practice, with someone actually paid to spend all their time doing these PA's, we have to carve out more time from our day to fill out paperwork.It's also possible, although not likely, that the pharmacy does not have the correct fax number, the faxes have been misplaced, the doctor has some emergencies and is running behind, went on vacation, and so on.Paperwork and insurance requests have become more and more burdensome on our practices, not due to anything on the part of our patients, but a major hassle none the less.
Related content Get and Sign pharmacy power of attorney form