Establishing secure connection…
Loading editor…
Preparing document…
Get And Sign LDSS 4013A - New York State - Otda Ny Form
How It Works
Open form follow the instructions
Easily sign the form with your finger
Send filled & signed form or save
Rate form
Get And Sign LDSS 4013A - New York State - Otda Ny Form
SignNow's web-based application is specifically created to simplify the organization of workflow and optimize the whole process of qualified document management. Use this step-by-step guideline to complete the LDSS 4013A - New York State - otda ny form quickly and with ideal accuracy.
How you can complete the LDSS 4013A - New York State - otda ny form on the web:
To begin the blank, utilize the Fill & Sign Online button or tick the preview image of the form.
The advanced tools of the editor will lead you through the editable PDF template.
Enter your official identification and contact details.
Utilize a check mark to indicate the answer wherever needed.
Double check all the fillable fields to ensure full precision.
Make use of the Sign Tool to create and add your electronic signature to certify the LDSS 4013A - New York State - otda ny form.
Press Done after you complete the form.
Now you may print, download, or share the form.
Refer to the Support section or contact our Support crew in case you've got any questions.
By making use of SignNow's complete service, you're able to carry out any important edits to LDSS 4013A - New York State - otda ny form, generate your customized digital signature within a couple fast steps, and streamline your workflow without leaving your browser.
Video instructions and help with filling out and completing Get and Sign LDSS 4013A - New York State - otda ny form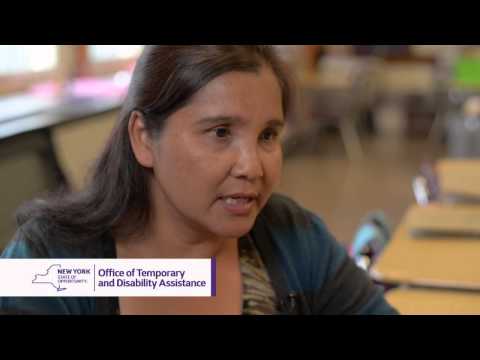 Instructions and Help about Get and Sign LDSS 4013A - New York State - otda ny form
the summer refugee Academy is a two-week orientation to Utica schools just for students who recently arrived in the US they learn the daily activities and culture of an American school this whole thing is a book right learning English is included is a vowel oh yeah yes or no yeah yes Isabel but basic lessons like how to eat in the cafeteria or wash your hands before lunch are important at this stage having recently fled war torn or unstable homelands many children may have never attended school one teacher models in elementary school day so obviously you know we go to breakfast how do you know use the bathroom all the rules that you would follow young students even practice how to listen to books they may not understand so you usually sit on the floor and going through not just like listening but try and explain to them you know you're gonna hear stories and you're not really going to follow try your best to follow academic coaches who speak the students native languages are key the te
FAQ
Which forms do I need to fill in order to file New York state taxes?

You must determine your New York State residency status. You need to answer these questions:Did you live in an on-campus apartment or an apartment or house off-campus in New York State in 2012?Did you maintain, or rent, the on-campus apartment or off-campus residence for at least 11 months in 2012?Were you physically present in New York State for at least 183 days in 2012?If the answers to all three questions are "Yes", and you were not a full-time undergraduate student (which as an F-1 OPT I assume you were not), you are a New York State resident for tax purposes. Otherwise you are a nonresident.You file Form IT-201, http://www.tax.ny.gov/pdf/curren..., if you are a resident of New York State, Form IT-203, http://www.tax.ny.gov/pdf/curren..., if you are not.

Is it possible to run a NY LLC out of the New York State and even out of the US?

Sure, it is possible.Registering Business in New YorkIf you decided to open a new business that will be based in New York you can choose from several options:Sole OwnersSole Proprietorship: Sole owners of New York-based businesses could opt for sole proprietorship as the easiest form of business organization. Not the most recommended, given the liability a sole proprietor assumes as a result of owning a business. No registration with New York State Department of State is necessary, but it is recommended to obtain a Business Certificate (DBA), and if you plan to hire employees then also obtain an EIN.Single Member LLC: Limited liability company, as the name suggests, is an entity that allows its owners to limit the liability of the business to the entity itself, shielding the owners' personal assets. This type of entity is recommended for most small businesses.  By default your LLC will be taxed as "disregarded entity", meaning you will file your LLC tax return as part of your personal tax return. Keep in mind though - LLC is a flexible entity, which means you have the option of electing it to be taxed as S-Corp (assuming you are a U.S. person) or C-Corp. Learn more about LLC here, and about the details of forming LLC in New York here.Corporation: You can also form a corporation and be a sole shareholder with 100% of all shares. Corporations have more formalities than LLCs (for example in New York you are required to have bylaws and maintain minutes of meetings in corporate records), but provide similar limited liability protection. That's one of the reasons this entity type is often more suitable for bigger companies, or those who seek major investment.  Corporations can be taxed as S-Corp or C-Corp, with each form of taxation having its pros and cons. Keep in mind, you can elect your corporation to be S-Corp only if you, as the sole shareholder, are a U.S. person.  Learn more about corporations here, and about the details of incorporating in New York here.PartnersGeneral Partnership: Like sole proprietorship, this entity type does not require registration with the New York State Department of State, but it also does not protect the owners from business liability, and therefore is usually not recommended. A General Partnership needs to obtain a Business Certificate (DBA), and obtain an EIN.Multiple Member LLC: like Single Member LLC for sole owner, Multiple Member LLC is often the entity of choice for small and new businesses with more than one partner.Corporation: Since corporation can have many shareholders, and transfering ownership is relatively easy (though share transfer) corporation might be a good choice of entity for business with partners.  Keep in mind though - S Corporations are limited to 100 shareholders who must be physical U.S. persons. That means corporations owned (partially or fully) by non-U.S. persons or legal entities, cannot be elected as S-Corp, and therefore subject to double taxation of an C-Corp. In cases like that it would be recommended to consider choosing LLC instead.Limited Partnerships: Limited partnerships come in different forms, depending on the state (LP, LLP, LLLP). Though Limited Partnerships have their own purpose and place, for most cases we believe an LLC would serve its owners well enough, therefore at this point we do not cover Limited Partnerships.Existing Out-of-State CompaniesAn existing company registered in another state or country (called "foreign corporation", "foreign LLC", etc) looking to conduct business in New York might be required to foreign qualify in New York. This rule typically applies to companies looking to open a physical branch in New York, lease an office or warehouse, hire employees, etc."Foreign" businesses that do not create "strong nexus" by moving physically to New York might still be required to obtain Certificate of Authority to Collect Sales Tax from New York Department of Taxation and Finance if selling taxable products or services using local dropshippers.

How do I report Form 1042 S for New York State Tax on their website https://tax.ny.gov/?

Just give a call to the Personal Income Tax Information Center at 518-457-5181.They will ask you to report it as W-2 and attach scanned copy of your 1042-S. They will also make a note about that is how they asked you to report it.So, dont just report 1042-S as W-2. Give them a call first.

I am applying for a job as Interaction Designer in New York, the company has an online form to fill out and they ask about my current salary, I am freelancing.. What should I fill in?

As Sarah said, leave it blank or, if it's a free-form text field, put in "Freelancer".If you put in $50k and they were thinking of paying $75k, you just lost $25k/year.  If you put in $75k, but their budget only allows $50k, you may have lost the job on that alone.If you don't put in anything, leave it to the interview, and tell thm that you're a freelancer and adjust your fee according to the difficulty of the job, so there's no set income.  If they ask for how much you made last year, explain that that would include periods between jobs, where you made zero, so it's not a fair number.In any financial negotiation, an old saying will always hold true - he who comes up with a number first, loses.  Jobs, buying houses - they're both the same.  Asking "How much?" is the better side to be on.  then if they say they were thinking of $50k-$75k, you can tell them that it's just a little less than you were charging, but the job looks to be VERY interesting, the company seems to be a good one to work for and you're sure that when they see what you're capable of, they'll adjust your increases.  (IOW, "I'll take the $75k, but I expect to be making about $90k in a year.")They know how to play the game - show them that you do too.

How to decide my bank name city and state if filling out a form, if the bank is a national bank?

Somewhere on that form should be a blank for routing number and account number. Those are available from your check and/or your bank statements. If you can't find them, call the bank and ask or go by their office for help with the form.  As long as those numbers are entered correctly, any error you make in spelling, location or naming should not influence the eventual deposit into your proper account.

How do I fill out the SS-4 form for a new Delaware C-Corp to get an EIN?

You indicate this is a Delaware C Corp so check corporation and you will file Form 1120.Check that you are starting a new corporation.Date business started is the date you actually started the business.  Typically you would look on the paperwork from Delaware and put the date of incorporation.December is the standard closing month for most corporations. Unless you have a significant business reason to pick a different month use Dec.If you plan to pay yourself wages put one.  If you don't know put zero.Unless you are fairly sure you will owe payroll taxes the first year check that you will not have payroll or check that your liability will be less than $1,000. Anything else and the IRS will expect you to file quarterly payroll tax returns.Indicate the type of SaaS services you will offer.

Should a resident of New York register their business in Delaware? The business will operate in NY before rolling out to other states.

Delaware native here!"Register" is a misleading term. Do you mean form your business in Delaware? That is usually when Delaware comes up — forming an entity (whether an LLC, a partnership, or a C Corporation) is fast and cheap in Delaware, especially compared to New York.It doesn't really matter where you do business or when you're rolling out to other states. The two most important things to consider in formation:The difficulty and expense of formation (annual taxes and filings due), andThe laws of the state that will govern your entity.Your business only becomes "a company" or "a corporation" because it is duly recognized as such under the laws of a state. Those laws (and the mechanism for disputes that occur under those laws) are different in every state.I have never heard a single argument for why New York is preferable to Delaware in either of those cases, and when I lived in New York, I filed for our company's formation in Delaware. I'm in Texas today but happily pay Delaware's annual franchise tax of $300.This is different than "registering," which you may need to do as a foreign entity doing business or employing people in one or more stats. This definition (usually tied to a term like "nexus") varies by state and it depends on the activity you're engaged in. You may have to collect sales tax. You may have to provide worker's comp. You may have to withhold employee taxes. The key distinction here is that you register when you have to do so because some activity you're engaged in triggers the requirement. But you choose where you form your entity and it really doesn't have a lot to do with your location.
Related content Get and Sign LDSS 4013A - New York State - otda ny form