Establishing secure connection…
Loading editor…
Preparing document…
Get And Sign Receipt T&c Form
How It Works
Open form follow the instructions
Easily sign the form with your finger
Send filled & signed form or save
Rate form
Get And Sign Receipt T&c Form
SignNow's web-based software is specially designed to simplify the organization of workflow and enhance the entire process of proficient document management. Use this step-by-step guideline to fill out the Receipt t&c form swiftly and with perfect precision.
The way to complete the Receipt t&c form on the internet:
To get started on the form, utilize the Fill & Sign Online button or tick the preview image of the form.
The advanced tools of the editor will guide you through the editable PDF template.
Enter your official identification and contact details.
Use a check mark to indicate the choice wherever needed.
Double check all the fillable fields to ensure total precision.
Make use of the Sign Tool to add and create your electronic signature to certify the Receipt t&c form.
Press Done after you fill out the document.
Now you can print, save, or share the document.
Address the Support section or contact our Support group in case you've got any concerns.
By making use of SignNow's comprehensive platform, you're able to carry out any needed edits to Receipt t&c form, generate your customized digital signature within a couple of fast actions, and streamline your workflow without the need of leaving your browser.
Video instructions and help with filling out and completing Get and Sign receipt t&c form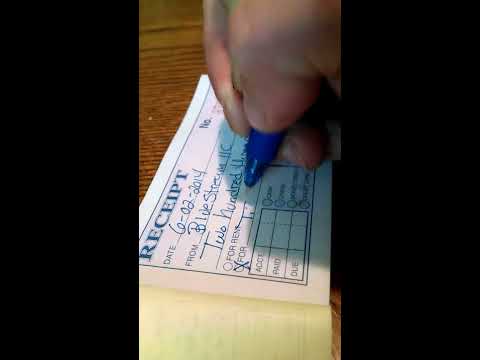 Instructions and Help about Get and Sign receipt t&c form
okay no these guys generic receipt books I think they're 288 at Walmart there's 50 of them in here if you're wondering how to fill these out it's fairly simple you start over okay put the date okay your company the amount that the job or service or product or whatever cost kind of like a check okay write it up here okay for tile and grout claim and Music resealing okay make sure you put what it's for there so they have it further records how they paid how much was owed how much they paid how much is due from that's Majo to and her business ends down and all right and then just sign the bottom okay there you keep it you keep the yellow give them the white got it good take care
FAQ
If I fill out a money order wrong and don't have the receipt, can I take it back to the post office and get it changed?

Question: If I fill out a money order wrong and don't have the receipt, can I take it back to the post office and get it changed?Probably not.However, you can simply cross out the incorrect information in front of the party to whom you are giving it for payment and that should be sufficient for them to cash it. Or you can do so for someone who has a bank account, have them deposit the money order and then give you the cash to purchase a new one, if necessary. Or the payee can cross your incorrect information, send you a copy of the edits that they made and then deposit it in their account.Everything depends on how "wrong" you filled it out. If you simply put the incorrect payee, then that's easily fixed. If you put the wrong payee, wrong address and a host of other unnecessary things on the money order, you might have a problem or two. It all depends upon how careless you were (Sorry…but asking before you fill out the money order really is standard operating procedure, just like with checks) when you filled it out.You can try to take it back to the post office. however, if you give them a detailed explanation with too many moving parts, they may simply tell you that there is nothing that they can do. That's because it's easier to say "No" than it is to say "Yes."

How do I fill out a money/rent receipt book for house cleaning services?

This is what I'm working with right now until I can get a better suited receipt book to use.

How should I fill out Form W-8BEN from Nepal (no tax treaty) for a receipt royalty of a documentary film?

You are required to complete a Form W-8BEN if you are a non-resident alien and earned Royalty income (in this case) from a US-based source.The purpose of the form is to alert the IRS to the fact you are earning income from the US, even though you are not a citizen or a resident of the US. The US is entitled to tax revenues from your US-based earnings and would, without the form, have no way of knowing about you or your income.To ensure they receive their "fair" share, they require the payor to withhold 30% of the payment due to you, before issuing a check for the remainder to you. If they don't withhold and/don't report the payment to you, they may not be able to deduct the payment as an expense, and are subject to penalties for failing to withhold - not to mention forced to pay the 30% amount over and above what they pay to you. They therefore will not release any payment without receiving the Form W-8BEN.Now, Nepal happens not to have a tax treaty with the US. If it did and you were subject to Nepalese taxes on that income, you could claim a credit for the taxes paid to another country, up to the entire amount of the tax. Even still, you are entitled to file a US Form 1040N, as the withholding is charged on the gross proceeds and there may be expenses that can be deducted from that amount before arriving at the actual tax due. In that way, you may be entitled to a refund of some or all of the backup withholding.That is another reason why you file the form - it allows you to file a return in order to apply for a refund.In order to complete the form, you can go to the IRS website to read the instructions, or simply go here: https://www.irs.gov/pub/irs-pdf/...

Nowadays, every receipt has a survey with a "Chance to Win." Has anyone ever won something from filling out these receipt surveys?
Related content Get and Sign receipt t&c form