Establishing secure connection…
Loading editor…
Preparing document…
How It Works
Open form follow the instructions
Easily sign the form with your finger
Send filled & signed form or save
SignNow's web-based program is specially created to simplify the organization of workflow and optimize the entire process of competent document management. Use this step-by-step guideline to fill out the Form 4 2 promptly and with ideal accuracy.
How you can fill out the Form 4 2 on the internet:
To get started on the document, utilize the Fill & Sign Online button or tick the preview image of the blank.
The advanced tools of the editor will guide you through the editable PDF template.
Enter your official contact and identification details.
Apply a check mark to point the answer where expected.
Double check all the fillable fields to ensure full accuracy.
Make use of the Sign Tool to add and create your electronic signature to certify the Form 4 2.
Press Done after you fill out the form.
Now it is possible to print, download, or share the form.
Refer to the Support section or get in touch with our Support team in the event that you have any concerns.
By using SignNow's complete solution, you're able to complete any necessary edits to Form 4 2, make your customized digital signature in a couple quick steps, and streamline your workflow without leaving your browser.
Video instructions and help with filling out and completing Get and Sign form 4 2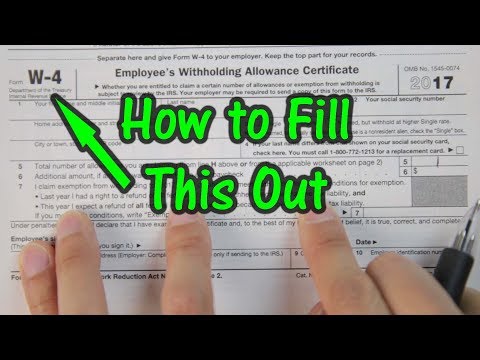 Instructions and Help about Get and Sign form 4 2
how's it going everybody this is beat the bush today I'm gonna show you how to fill out your w-4 form properly so that you do not owe the government any money and that you do not get an excessive tax return at the end of the year this is anywhere that is more than a thousand dollars it's generally not a good idea because you're essentially giving the government a loan of $1,000 or so for the whole year now if you stick this in the bank instead well you're gonna easily get a guaranteed of maybe ten dollars or something for that $1,000 for people that accredit card debt this is a really good thing to do because if you fill out your w-4 form properly you're gonna get a little bit more money back so that at the end of the year you don't get that big a refund but whatever extra amount that you get if you have the discipline you just shove that right into your credit card start paying it off and this translates to not paying a lot more interest in your credit card debt which can mean a lot m
FAQ
How should I fill out my w-2 or w-4 form?

To calculate how much you should withhold you need to calculate two things.  Step 1 - Estimate your TaxFirst go to Intuit's TaxCaster (Link -> TurboTax® TaxCaster, Free Tax Calculator, Free Tax Refund Estimator) and put in your family's information and income (estimate what you'll make in 2016 before taxes and put zero for federal and state taxes withheld, don't worry that the TaxCaster is for 2015, you're just trying to get a general number).  Once you enter in your correct information it will tell you what you would owe to the federal government.Step 2 - Estimate your Tax Withholding Based on Allowances ClaimedSecond go to Paycheck City (Link -> Salary Paycheck Calculator | Payroll Calculator | Paycheck City) select the correct state, enter in your pay information.  Select married filing jointly then try putting in 3 or 4 for withholdings.  Once you calculate it will tell you how much taxes are being withheld.  Set the pay frequency to annual instead of bi-monthly or bi-weekly since you need a total number for the year.  Try changing the Federal withholding allowance until you have enough Federal taxes withheld to cover the amount calculated in the TaxCaster.  The Federal withholding allowance number that covers all taxes owed should be the number claimed on your W-4.Don't worry too much about your state.  If you claim the same as Federal what will usually happen is you might get a small refund for Federal and owe a small amount for State.  I usually end up getting a Federal refund for ~$100 and owing state for just over $100.  In the end I net owing state $20-40.Remember, the more details you can put into the TaxCaster and Paycheck City the more accurate your tax estimate will be. 

How do you fill out a form scanned as a PDF?

If you have Acrobat Reader or Foxit Phantom, you can add form to the PDF file you want to fill in. Refer to the screenshot here (Phantom). First click on Form, then you can pick option you want for your form (Text Field, Check box…) and draw it where you want to input your data. You can also change font and size of it to fit the existing text. When you are done adding the fields, you can just click on the hand icon, and you can now fill in your form and then save it as.

How do I apply for a Schengen visa from India, and what are the financial requirements? I would like to know how much funds I need to show on my bank account for a 14-day trip to Europe.

First thing first "Finalizing the Visa Consulate":If you are planning to tour more than two countries in the Schengen area then apply for visa to the embassy/consulate of the country you will be residing in for most of the travelling days, often referred as the main destination. If two countries have the same number of days then choose the one where you are planning to land or exit.In case you do not have a fixed itinerary (not recommended, though), and you plan to visit several countries in the Schengen area randomly, then apply to the embassy/consulate of the country which you are entering first.Since now you know which embassy you need to apply, next is how to apply and what are the documents required.Long trail of documentation:The most painful part is this, where you need to prepare the documentation. I will keep the checklist simple and provide rationale on why they ask for the particular document which will help you understand the significance of it and you can produce a substitute, if possible and required1) Valid passport (issued within the last 10 years and with at least 3 months validity after the scheduled return; passports with observations regarding the front data page are no accepted) with at least two empty pages Nothing much to say, of course you need a valid passport. Since the maximum stay with a Schengen visa can be of 90 days, so 3 months validity is required on the passport. Two blank pages, because one will have Visa sticker and the other page will have Indian immigration stamps and the stamps from the Schengen country where you are landing and exiting.2) 2 passport pictures according to biometric specifications, not older than 6 months Go to the studio and get a photo of the dimension 35 mm in length and 45 mm in height. Your face (the start of the hairline in the forehead till end of your chin) should be between 32 mm to 36 mm. Get the photo in a light background, white is preferred. Detailed information can be obtained here Cheap Tip: Do not go to any fancy studio and spend a bomb on just the photo. The consulate needs a clean and clear photo with the above mentioned specifications (which are very general) and not for featuring you as a playboy model, so save the buck.3) Leave letter of your company (if employed)This letter serves as a proof of return to your own country, so make sure the letter clearly states your designation, since when you are working with the company, leave dates (mandatorily covering your entire stay), date on which you will resume your duties.No-objection certificate of school or university (if student) This is pretty much same as the above.4) Proof of financial status If employed:Payslips of the past three months / employment contract Provide either of them, not both. Provide three latest Payslips, as it clearly states how much you are earning and if you are capable of surviving a European trip. This document helps the Visa officer gauge your financial status and also validates that the money earned is legal.If self-employed:Certificate of Proprietorship or other proof of ownership (proof of land title, proof of income from agriculture (sales form) etc.) 5) Income Tax Return (ITR) form or Form 16(Certificate of Income Tax deducted at the source of salary)It ensures that all the fund in your bank account is earned legally. Though my experience is that, they hardly care how you have earned the money. If they see there is enough fund available in your account then they are fine.6) Personal bank statement of the past three months with sufficient fundsHere they look into couple of things; first, money in your account is sufficient to cover your entire stay in Schengen area during your travel period. Second, the fund has not been deposited all of a sudden to inflate the available balance. I have written below in detail on how much you should show in your bank account, so keep reading. The bank account statement can be online, but make sure it is a bank statement with details of transaction and not just an account summary. You can show travelers cards (with statement stating available balance), credit card statement, and fixed deposits in your name or joint accounts. If anyone is sponsoring you (like your father or mother), a sponsoring letter addressed to the consulate from him/her and his/her bank statement for last 3 months.7) Proof of accommodation for your entire stay in the Schengen area.This is vital, I have read and heard personal experiences where the Visa has been cancelled due to discrepancy in accommodation arrangements. Make sure you have confirmed hotel bookings with details of the property owner/manager and property details (address). If you are staying at friends/relatives place then copy of their passport (with valid residence permit, in case of non-EU citizen) and an invitation mail will be sufficient as long as you are sponsoring your own stay.8) Flight and transport reservation Again, very vital. Many applications got rejected because of fake bookings. DO NOT make a fake reservation. Search for flights which has minimal cancellation charges and book your flights well ahead of travel date (45-60 days prior) to get a good deal. If you are travelling within Schengen countries then it is advised to show them train/bus bookings for inter-nation travel. One need not show travel details within the country, say if you are travelling within Italy (Rome to Florence) then need not show prior bookings. But if you are travelling from Italy to Switzerland then it is advised to show a confirmed booking.9) Travel Insurance Vital to get visa and also for your own sake. If something unwanted happens and you need to avail medical services then you will be ripped off everything as healthcare is expensive in whole of Europe. The travel insurance must cover Euro 30, 000.00 in case of hospitalization and must cover emergency medical evacuation and repatriation of remains. The list of approved travel insurance companies can be fetched here.10) Proof of civil status Marriage certificate, birth certificate of children, death certificate of spouse, ration card if applicable or Aadhaar Card.11) 1 copy of your passport's data page Print the first two pages and last two pages of your passport in an A4 size paper.12) Residency proof, if address in the passport falls outside the jurisdiction region of the consulate: Which consulate or which region you can apply? You can apply at the region (North, South, East or West) where you are residing for last 6 months.This is something none of the blogs available in the internet have mentioned clearly. In case you are a domicile of different region and applying at a different region (domicile of Uttar Pradesh, North and working in Bangalore, South for last 3 years), or simply if the address mentioned in your passport does not fall under the jurisdiction region of then consulate then you need to provide either a copy of your rent agreement, or a letter from your company HR clearly mentioning your address or some utility bill (electricity, water or telephone bill).13) Duly filled application form Kept at last, because it is important. You can either fill an online application (recommended) or also can fill an offline application. German consulate online application can be filled here , similarly other Countries' application form can be found in the respective VFS website. Self-Declaration Form can be found here, required only for German consulate. It is recommended to fill the online application form, it not only saves time at the application center but also legibility is better than the handwritten one.14) Cover Letter A letter addressed to the consulate you are applying. It must contain the followingPurpose of visit (tourism, visiting friends or family)Detailed itinerary If you have a sponsorExplain your personal relationship with your sponsor and the reason why they will be sponsoring your tripIf you cannot submit any of the required documents, write about the reasons why you cannot submit and explain alternative documents that you may have submittedYou can also mention the reasons why you will not overstay the visa period (employment, personal assets, etc.), explain your rootedness to the countryCool Tip: You can attach the itinerary separately which will enhance the readability of your letter.Write to me at universallocalite@gmail.com if you require a specimen cover letter or template of itinerary, I will be more than happy to help you with one.Visit my blog-How to obtain a Schengen Visa-Rules and tips

How expensive is it to setup a POS solution in India?

For a Basic POS solution you need following thingA computer (Laptop or desktop)A Point of Sale software based on your business.A bar code Scanner (optional)A receipt Printer (optional)Cash Drawer (optional)Cost of a computer starts from Rs 10000Cost of a Point of Sale software costs you around Rs 15000 per year if you choose cloud based solution or something around Rs 10000 if you take Desktop based softwareBarcode Scanner will cost you around Rs 1500Reciept Printer will cost you around Rs 8000

How can I get a Vietnamese visa on arrival?

Holidays or spending vacation out somewhere in a foreign land is one of the ways majority of tourists love to spend at. Spending vacation in a faraway place brings refreshment from a monotonous life. But sometimes it is not possible to spend a great amount of money on a luxurious trip and so few places that fit in your budget seem good. Vietnam is among one such place that is attracting tourists day by day. So are you up for holidays and looking forward to spend some quality time with your friends or family on a trip to Vietnam?Vietnam Visa is required for most of the foreigners for entry and exit from the three international airports of Vietnam; Da Nang, Hanoi, and Ho Chi Minh City.But one thing that you might be wondering is how to get Visa on arrival. Continue reading to know how can apply for Visa on arrival for Vietnam.How to Apply for Vietnam Visa on Arrival:Things have been made much easier now for tourists as now you don't need to bother about getting Visas before handed. Visa on arrival has made things much easier and worry free now. You just need to follow simple steps and instructions and you are done with the process.Visa on arrival application Form: Before departure tourists are advised to arrange for Vietnam Visa. For this they need to apply online for the "Approval Letter" first. Then they receive a letter by email, and then on their passports they get Visa stamped on arriving at Vietnam Airport. This is known as "Visa on Arrival". You get the approval letter within two days.First you have to fill up the entry and exit form. You can complete the fill up process before arriving on Vietnam's International airport to save time. Click the link here "Visa form" to download the PDF form and then take a print out to fill up. For photo requirements see the document notes.Tourist/Business Visa: First fill out this easy ''application form" online. For this you will need to know at which airport you will be arriving and also the arrival date.Next through online only you will have pay the servicing fee for Visa.Then within next two days after this you will receive an email of the official Approval Letter of Vietnam Visa, issued by the Immigration Department of Vietnam.Then download and print the Approval letter. According to noted instruction on the letter arrange two (4x6) cm photos of yourself.Then bring all of these photos, Approval Letter, and the stamping fee of the Government along with any other necessary documents and passport with on your Vietnam trip.Once you arrive at the destination on your allotted Vietnam airport, you have the show the approval letter and the photo at the Immigration office.Pick up Visa at the Airport: On landing you will get to see Visa on Arrival office or landing visa counter. Then hand over the passport, copy of the approval letter, and one stamp size photo of yours.Stamping fee that you need to pay is 25 for single entry, and for multiple entry $50. Then you get back your passport along with Visa.This is how you can get Visa on arrival for Vietnam. Once all the procedures are done enjoy a lovely trip to Vietnam. The process area easy and smooth so no worries just follow the above instruction carefully and go through them as it is said, fill up the form correctly and you are all done.

How do essay writing services work?

Although every essay writing service provider has a unique way of doing things, I can summarize their operations in four simple steps.You register with the company by filling a form that needs your personal information.Place your order detailing all the requirements of the paper.Sit back and let the writers do the work.Receive the paper and review it, then pay.However, most will let you request a revision if you are not satisfied even though some will charge you.Though that sounds quite easy, I would also suggest working with a writer or consultant directly to help you interact one on one.The advantage of working with clients directly is that;You can follow the progress by interacting with the writer at intervals.You can bargain the cost of the work unlike with companies where the prices are fixed.Also, you get instant feedback and clarifications whenever there are issues.You build trust with a single writer, which creates consistent quality and writing style.Although you may recommend the same writer with the writing companies, you might not get them every time you need their service.Having been in this industry for the last five years, I understand the nitty gritty of the essay writing services. If you need high quality, unique, and timely essays, get to me through the following firstgradeessays@gmail.comThank you

How easy is it to change your name?

In the United States it is very easy to change your name. You go to the local courthouse and request a change of name form. You fill it out, with the most important question on the form being, 'Why do you want to change your name?. You give the completed paper and money to the receptionist and receive a court date in exchange. You appear before the judge and explain why you want to change your name. They give you the documents to use to show every business, etc and your name is officially changed. At least, that is what I did seven years ago when I changed mine.

How can I get better at small talk?

5 Ways To Instantly Turn Small Talk Into BIG TALK:Let me preface this by presenting the following idea: nobody is boring. Whenever I hear colleagues or friends complain about small talk I always ask them "Did you make an effort to elevate the conversation?" Or did you just ask them the same jibber jabber questions that you do with 80% of the people in your life? Conversations may be a two way street but you always have the power to make it more dynamic and engaging. Ask boring questions and you'll receive boring answers. Simple as that.People can only show as much as you let them within the context of the conversation. Not everyone shines under the same light and it's your job as a social being to figure out how you can help them show off their dazzling personality. A classic conversational trap is asking people questions that you can easily anticipate the answers to.For instance you'll ask "How's your day?" and they'll respond with "Good." That's boring, uneventful and you feel like you're just going through the motions. In this article I'll explain how to morph those typical small talk questions into meaningful opportunities for relationship growth.1) What you normally ask: "How's your day?"What to ask instead: "What's the most surprising thing that happened to you recently?"--Doing this entices them to give better answers and actually reflect on the highs and lows of the past week. Giving them the opportunity to be insightful will compel them to open up and give intimate details about their life that they wouldn't normally share.2) What you normally ask: "What do you do for a living?"What to ask instead: "What gets you up in the morning? What are you most passionate about?"--Feeding people generic questions is only setting ourselves up to receive generic answers. Giving someone a positive and encouraging context to bring up their job, sets them up to talk about it with passion. Often times we worry about answering questions in an easily digestible way. This trend of thinking is toxic for those trying to maximize the output of daily interactions. Make people remember you by actively engaging with them. Become unforgettable and you'll move up on their mental list.3) What you normally ask: How are you holding up?What to ask instead: What's holding you up? What motivates you to keep moving forward?--This question is typically saved for someone going through a rough patch in their life. There's a line in the 2000 Danny Boyle movie The Beach that says, "Either get better or die. It's the hanging around in between that really pisses people off." Asking someone about their mental state when they're clearly in distress will only encourage them to lie and say everything's fine, so they can alleviate any discomfort.By focusing on the positive aspects of sadness such as hope and inspiration, you are subconsciously allowing that person to release their repressed feelings in a healthy and uplifting way. Hearing the thought process behind their coping strategies will give you insight into the severity of their issues without having to ask outright. They say the quickest way to a persons heart is through their stomach, but it's actually through subtlety.4. What you normally ask: How was ________? (Your date, your trip to New York, your hike up Torrey Pines)What to ask instead: If you had to do ________ all over again, what would you do differently?The broader your questions are, the less details people will give in return. Asking them about the overall quality of their experience will garner a common response ensuring that their time wasn't wasted. Answers like "It was good. I had tons of fun", are the ones you want to avoid. Ask poignant questions that will actually make them think. This thought train you send them on will make other stops organically along the way, providing you a better shot at finding out how_________ truly was for them.5. What you normally ask: Are you married?What to ask instead: Do you think life partners are over or underrated?The best way to get someone to talk about something specific is to bring up questions surrounding the central topic you secretly want them to elaborate on. If you want to know about their husband/wife, you have to get there incrementally by first talking about friendships, relationships, love etc. This question serves two functions: (a) it gives you their perspective on love and (b) personal values. Someone who puts a high premium on having someone by their side has a much different psychology than a person who is indifferent to the idea. Their answer to this is a natural transition into volunteering information about their own personal experiences.Getting information through the proverbial front door of someone's brain will always be underwhelming and overrated. Small talk is normally inconsequential and monotonous. But it doesn't have to be that way! Getting to know someone is like trying to break into a house. You can't just bust the door down right away. You need a plan of attack. Could you get in through the window? Maybe sneak into the garage? Going from small talk to big talk is allowing the other person to open up the doors for you. People want to be heard and understood. You just have to give them permission first.When life hands you small lemons, make big lemonade. Happy talking!Thomas

How can I download a free PDF of any book?
Related content Get and Sign form 4 2