Establishing secure connection…
Loading editor…
Preparing document…
Get And Sign DAILY VEHICLE MILEAGE AND FUEL REPORT Form
How It Works
Open form follow the instructions
Easily sign the form with your finger
Send filled & signed form or save
Rate form
Get And Sign DAILY VEHICLE MILEAGE AND FUEL REPORT Form
SignNow's web-based software is specially created to simplify the management of workflow and optimize the whole process of competent document management. Use this step-by-step guideline to fill out the DAILY VEHICLE MILEAGE AND FUEL REPORT form promptly and with ideal accuracy.
Tips on how to complete the DAILY VEHICLE MILEAGE AND FUEL REPORT form online:
To start the blank, utilize the Fill & Sign Online button or tick the preview image of the form.
The advanced tools of the editor will direct you through the editable PDF template.
Enter your official identification and contact details.
Use a check mark to indicate the answer wherever expected.
Double check all the fillable fields to ensure full accuracy.
Utilize the Sign Tool to create and add your electronic signature to certify the DAILY VEHICLE MILEAGE AND FUEL REPORT form.
Press Done after you complete the blank.
Now you may print, save, or share the form.
Refer to the Support section or get in touch with our Support crew in case you have any concerns.
By making use of SignNow's complete service, you're able to execute any essential edits to DAILY VEHICLE MILEAGE AND FUEL REPORT form, make your customized electronic signature within a couple of quick steps, and streamline your workflow without the need of leaving your browser.
Video instructions and help with filling out and completing Get and Sign DAILY VEHICLE MILEAGE AND FUEL REPORT form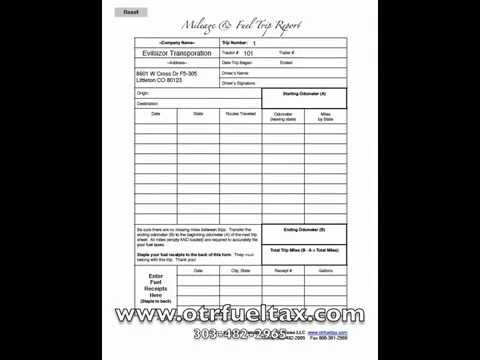 Instructions and Help about Get and Sign DAILY VEHICLE MILEAGE AND FUEL REPORT form
hi I'm Patti Royston I'm the owner of evil sizer transportation services I'm here today going to teach you how to fill out your mileage and fuel trip report so let's get started hi this is penny Royston with Evel sizer transportation services out of Littleton Colorado today I want to focus on the mileage and fuel trip report this is a report that you will fill out every time you leave on a trip you'll enter your miles by state and the gallons that you purchase so you'll have the information needed to fill out your IFTA and your mileage tax reports at the end of each quarter or we could do those for you we also provide that service here at ot our fuel tax com but in the meantime I'd like to teach you how to fill this report out it is very simple but I'm sure there's always questions that arise when you're getting ready to leave on a trip this is very important auditors will ask for this report so it needs to be complete and legible so there's no misunderstanding between you and the Audi
FAQ
A driver of a high mileage vehicle recommended Seafoam additive to clean out an engine and fuel system. Have you used Seafoam, and does it work?

Youtube has some good videos on this. The guy runs a camera down the sparkplug hole before and after the Seafoam. There was no meaningful difference.Myself? I keep my cars forever and the only thing I've ever used is a can of Techron every now and again. BTW there are two versions of Techron; get the expensive one.-Thomas-

What tax forms do I need to fill out for reporting bitcoin gains and loses?

IRS1040 and 1099 forms."For instance, there is no long-term capital gains tax to pay if you are in the lower two tax brackets (less than $36,900 single income or less than $73,800 married income). The capital gains rate is only 15% for other tax brackets (less than $405,100 single income) with 20% for the final bracket."Reference: Filing Bitcoin Taxes Capital Gains Losses 1040 Schedule DOther References:IRS Virtual Currency Guidance : Virtual Currency Is Treated as Property for U.S. Federal Tax Purposes; General Rules for Property Transactions ApplyHow do I report taxes?Filing Bitcoin Taxes Capital Gains Losses 1040 Schedule Dhttps://www.irs.gov/pub/irs-drop...

What's the easiest way to create custom forms on an iPhone (Daily Reports) so that I can open them up on my phone and fill them out, and then forward them to our office?

I prefer Google Forms. You can choose many types of questions. Then, you can directly share them, or email everyone a link. Link:create and analyze surveys, for free.

How can humans survive the Van Allen radiation belts?

Yes! At least 9 missions crossed two times the Van Allen Belts safely: Apollo 8, Apollo 10, Apollo 11, Apollo 12, Apollo 13, Apollo 14, Apollo 15, Apolo 16 and Apollo 17. The first on in December 1968 and the last one n December 1972.Before and after these missions, all missions happened in Low Earth Oribt.The Apollo missions are controversial only between the ignoramus. For example, the ignoramus that thinks that the Van Allen belt kills instantly.Most scientists and space engineers knows how to deal with the Van Allen belts in a safe way.Phil Plait's Bad Astronomy: Bad TVBad: A big staple of the HBs is the claim that radiation in the van Allen Belts and in deep space would have killed the astronauts in minutes. They interview a Russian cosmonaut involved in the USSR Moon program, who says that they were worried about going in to the unknowns of space, and suspected that radiation would have penetrated the hull of the spacecraft.Good: Kaysing's exact words in the program are ``Any human being traveling through the van Allen belt would have been rendered either extremely ill or actually killed by the radiation within a short time thereof.''This is complete and utter nonsense. The van Allen belts are regions above the Earth's surface where the Earth's magnetic field has trapped particles of the solar wind. An unprotected man would indeed get a lethal dose of radiation, if he stayed there long enough. Actually, the spaceship traveled through the belts pretty quickly, getting past them in an hour or so. There simply wasn't enough time to get a lethal dose, and, as a matter of fact, the metal hull of the spaceship did indeed block most of the radiation. For a detailed explanation of all this, my fellow Mad Scientist William Wheaton has a page with the technical data about the doses received by the astronauts. Another excellent page about this, that also gives a history of NASA radiation testing, is from the Biomedical Results of Apollo site. An interesting read!It was also disingenuous of the program to quote the Russian cosmonaut as well. Of course they were worried about radiation before men had gone into the van Allen belts! But tests done by NASA showed that it was possible to not only survive such a passage, but to not even get harmed much by it. It looks to me like another case of convenient editing by the producers of the program.Moon landing conspiracy theories1. The astronauts could not have survived the trip because of exposure to radiation from the Van Allen radiation belt and galactic ambient radiation (see radiation poisoning and health threat from cosmic rays). Some conspiracists have suggested that Starfish Prime (a high-altitude nuclear test in 1962) was a failed attempt to disrupt the Van Allen belts.There are two main Van Allen belts - the inner belt and the outer belt - and a transient third belt.[106] The inner belt is the more dangerous one, containing energetic protons. The outer one has less-dangerous low-energy electrons (Beta particles).[107][108] The Apollo spacecraft passed through the inner belt in a matter of minutes and the outer belt in about 1 1⁄2 hours.[108] The astronauts were shielded from the ionizing radiation by the aluminum hulls of the spacecraft.[108][109] Furthermore, the orbital transfer trajectory from Earth to the Moon through the belts was chosen to lessen radiation exposure.[109] Even Dr. James Van Allen, the discoverer of the Van Allen radiation belts, rebutted the claims that radiation levels were too harmful for the Apollo missions.[110]Plait cited an average dose of less than 1 rem (10 mSv), which is equivalent to the ambient radiation received by living at sea level for three years.[111] The spacecraft passed through the intense inner belt and the low-energy outer belt. The total radiation received on the trip was about the same as allowed for workers in the nuclear energy field for a year[108][112] and not much more than what Space Shuttle astronauts received.[107]

Why don't schools teach children about taxes and bills and things that they will definitely need to know as adults to get by in life?

Departments of education and school districts always have to make decisions about what to include in their curriculum.  There are a lot of life skills that people need that aren't taught in school.  The question is should those skills be taught in schools?I teach high school, so I'll talk about that.  The typical high school curriculum is supposed to give students a broad-based education that prepares them to be citizens in a democracy and to be able to think critically.  For a democracy to work, we need educated, discerning citizens with the ability to make good decisions based on evidence and objective thought.  In theory, people who are well informed about history, culture, science, mathematics, etc., and are capable of critical, unbiased thinking, will have the tools to participate in a democracy and make good decisions for themselves and for society at large.  In addition to that, they should be learning how to be learners, how to do effective, basic research, and collaborate with other people.  If that happens, figuring out how to do procedural tasks in real life should not provide much of a challenge.  We can't possibly teach every necessary life skill people need, but we can help students become better at knowing how to acquire the skills they need.  Should we teach them how to change a tire when they can easily consult a book or search the internet to find step by step instructions for that?  Should we teach them how to balance a check book or teach them how to think mathematically and make sense of problems so that the simple task of balancing a check book (which requires simple arithmetic and the ability to enter numbers and words in columns and rows in obvious ways) is easy for them to figure out.  If we teach them to be good at critical thinking and have some problem solving skills they will be able to apply those overarching skills to all sorts of every day tasks that shouldn't be difficult for someone with decent cognitive ability  to figure out.  It's analogous to asking why a culinary school didn't teach its students the steps and ingredients to a specific recipe.  The school taught them about more general food preparation and food science skills so that they can figure out how to make a lot of specific recipes without much trouble.  They're also able to create their own recipes.So, do we want citizens with very specific skill sets that they need to get through day to day life or do we want citizens with critical thinking, problem solving, and other overarching cognitive skills that will allow them to easily acquire ANY simple, procedural skill they may come to need at any point in their lives?
Related content Get and Sign DAILY VEHICLE MILEAGE AND FUEL REPORT form