Establishing secure connection…
Loading editor…
Preparing document…
Get And Sign Da Form 3645 1 Fillable
How It Works
Open form follow the instructions
Easily sign the form with your finger
Send filled & signed form or save
Rate form
Get And Sign Da Form 3645 1 Fillable
SignNow's web-based program is specially made to simplify the management of workflow and enhance the whole process of qualified document management. Use this step-by-step guide to fill out the Da form 3645 1 fillable swiftly and with excellent precision.
How you can complete the Da form 3645 1 fillable online:
To get started on the blank, use the Fill & Sign Online button or tick the preview image of the form.
The advanced tools of the editor will direct you through the editable PDF template.
Enter your official identification and contact details.
Apply a check mark to point the choice wherever required.
Double check all the fillable fields to ensure full accuracy.
Utilize the Sign Tool to create and add your electronic signature to certify the Da form 3645 1 fillable.
Press Done after you finish the document.
Now you can print, download, or share the document.
Address the Support section or contact our Support group in the event you have any questions.
By using SignNow's comprehensive platform, you're able to execute any necessary edits to Da form 3645 1 fillable, generate your personalized electronic signature within a few quick steps, and streamline your workflow without leaving your browser.
Video instructions and help with filling out and completing Get and Sign Da form 3645 1 fillable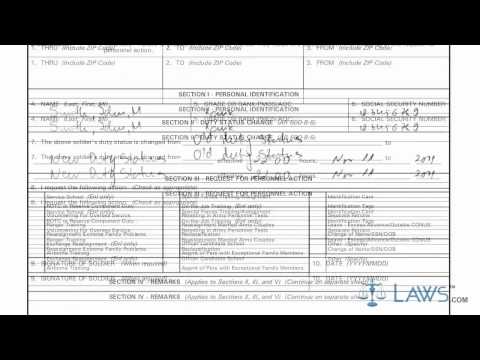 Instructions and Help about Get and Sign Da form 3645 1 fillable
laws calm legal forms guide a DEA form 4187 is the United States Army's form for requesting a personnel action this form can be used for numerous personnel actions so it is recommended that you have available as much information about your specific action before completing the form the DEA form 4187 is available on the United States Army website or can be supplied by the US army personnel division administering the physical fitness test section one requires the basic soldier identification information who is requesting the personnel action you must identify the soldier with their name rank and social security number if the soldier is having a change of duty then section two must be filled out you must supply the soldiers former duty new duty and the effective date and time that change and duty will take place if a different personnel action request is being made then it must be checked off in section 3 you can request more than one personnel action on a single DEA form 41 78 check the
FAQ
I'm trying to fill out a free fillable tax form. It won't let me click "done with this form" or "efile" which?

From https://www.irs.gov/pub/irs-utl/...  (emphasis mine):DONE WITH THIS FORM — Select this button to save and close the form you are currently viewing and return to your 1040 form. This button is disabled when you are in your 1040 formSo, it appears, and without them mentioning it while you're working on it, that button is for all forms except 1040. Thank you to the other response to this question. I would never have thought of just clicking the Step 2 tab.

How do I make a PDF a fillable form?

1. Open it with Foxit PhantomPDF and choose Form > Form Recognition > Run Form Field Recognition . All fillable fields in the document will be recognized and highlighted.2. Add form fields from Form > Form Fields > click a type of form field button and the cursor changes to crosshair . And the Designer Assistant is selected automatically.3. All the corresponding type of form fields will be automatically named with the text near the form fields (Take the text fields for an example as below).4. Click the place you want to add the form field. To edit the form field further, please refer to the properties of different buttons from "Buttons".

Is there a service that will allow me to create a fillable form on a webpage, and then  email a PDF copy of each form filled out?

You can use Fill which is has a free forever plan.You can use Fill to turn your PDF document into an online document which can be completed, signed and saved as a PDF, online.You will end up with a online fillable PDF like this:w9 || FillWhich can be embedded in your website should you wish.InstructionsStep 1: Open an account at Fill and clickStep 2: Check that all the form fields are mapped correctly, if not drag on the text fields.Step 3: Save it as a templateStep 4: Goto your templates and find the correct form. Then click on the embed settings to grab your form URL.

How do I transfer data from Google Sheets cells to a PDF fillable form?

I refer you a amazing pdf editor, her name is Puspita, She work in fiverr, She is just amazing, Several time I am use her services. You can contact with her.puspitasaha : I will create fillable pdf form or edit pdf file for $5 on www.fiverr.com

How do I fill out a fillable PDF on an iPad?

there is an app for that !‎Adobe Fill & Sign on the App Store

How do you know if you need to fill out a 1099 form?

Assuming that you are talking about 1099-MISC.  Note that there are other 1099s.check this post - Form 1099 MISC Rules & RegulationsQuick answer - A Form 1099 MISC must be filed for each person to whom payment is made of:$600 or more for services performed for a trade or business by people not treated as employees;Rent or prizes and awards that are not for service ($600 or more) and royalties ($10 or more);any fishing boat proceeds,gross proceeds of $600, or more paid to an attorney during the year, orWithheld any federal income tax under the backup withholding rules regardless of the amount of the payment, etc.

How do I create a fillable HTML form online that can be downloaded as a PDF? I have made a framework for problem solving and would like to give people access to an online unfilled form that can be filled out and downloaded filled out.

Create PDF Form that will be used for download and convert it to HTML Form for viewing on your website.However there's a lot of PDF to HTML converters not many can properly convert PDF Form including form fields. If you plan to use some calculations or validations it's even harder to find one. Try PDFix Form Converter which works fine to me.

How many people fill out Form 1099 each year?

There are a few different ways of estimating the numbers and thinking about this question. Data from the most recent years are not available—at least not from a reliable source with rigorous methodology—but here is what I can tell you:The most popular type of 1099 is Form 1099-MISC—the form used to report non-employee income including those for self-employed independent contractors (as well as various other types of "miscellaneous" income)Since 2015, there have been just under 16 million self-employed workers (including incorporated and unincorporated contractor businesses). And the data from the BLS seems to suggest this number has been largely consistent from one year to the next: Table A-9. Selected employment indicatorsNow, the total number of 1099-MISC forms has been inching up each year—along with W-2 form filings—and may have surpassed 100 million filing forms. RE: Evaluating the Growth of the 1099 Workforce But this data only goes to 2014 because, again, it's hard to find reliable data from recent tax years.In terms of the total number of Form 1099s, you'd have to include Interest and Dividend 1099 forms, real estate and rental income, health and education savings accounts, retirement accounts, etc. I'm sure the total number of all 1099 forms surely ranges in the hundreds of millions.Finally, not everybody who is supposed to get a 1099 form gets one. So if you're asking about the total number of freelancers, the estimates range from about 7.6 million people who primarily rely on self-employed 1099 income and 53 million people who have some type of supplemental income.If you're someone who's responsible for filing Form 1099s to the IRS and payee/recipients, I recommend Advanced Micro Solutions for most small-to-medium accounting service needs. It's basic but very intuitive and cheap.$79 1099 Software Filer & W2 Software for Small Businesses
Related content Get and Sign Da form 3645 1 fillable