Establishing secure connection…
Loading editor…
Preparing document…
Get And Sign Broker On Record Form
How It Works
Open form follow the instructions
Easily sign the form with your finger
Send filled & signed form or save
Rate form
Get And Sign Broker On Record Form
SignNow's web-based software is specially made to simplify the arrangement of workflow and improve the whole process of qualified document management. Use this step-by-step instruction to complete the Broker on record form promptly and with perfect accuracy.
The way to complete the Broker on record form on the web:
To get started on the blank, use the Fill & Sign Online button or tick the preview image of the form.
The advanced tools of the editor will lead you through the editable PDF template.
Enter your official contact and identification details.
Utilize a check mark to point the answer where necessary.
Double check all the fillable fields to ensure full accuracy.
Use the Sign Tool to add and create your electronic signature to certify the Broker on record form.
Press Done after you fill out the blank.
Now you'll be able to print, download, or share the document.
Address the Support section or get in touch with our Support staff in the event you have got any concerns.
By utilizing SignNow's comprehensive solution, you're able to complete any necessary edits to Broker on record form, make your personalized digital signature in a couple quick steps, and streamline your workflow without leaving your browser.
Video instructions and help with filling out and completing Get and Sign broker on record form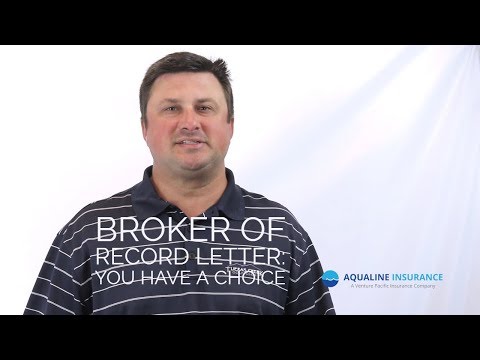 Instructions and Help about Get and Sign broker on record form
do you have the right insurance carrier for your general liability more importantly do you have the right agent handling it for you you have options are you satisfied with your current insurance broker is he well versed and experienced in handling claims and questions you may have for the swimming pool industry if not you have options a broker of record letter is a form that is signed by the principal of the company and placed on your company letterhead this allows you to keep your current coverage and policy effective date in place and allows you to choose the broker of your choice that has the proper expertise and service that you deserve if you have any questions regarding a broker of record letter use us
FAQ
Can I use broker statements to fill out form 8949 instead of a 1099-B?

Yes you can. Should you? Perhaps, but remember that the 1099 is what the IRS is going to receive. There could be differences.You may receive a 1099 which is missing basis information. You will indicate that, and use your records to fill in the missing information.My suggestion is to use the 1099, cross-referencing to your statements.

How and what forms does a customs broker fill out for imported goods?

Omg I really don't know :)I am a permanent client of brokers from https://clearit.ca/ , they usually solve all the details so that I don't need to worry about any forms and other things.I will subscribe to this question, I am really interested now.

How did Snapchat get traction?

Just a little over four years ago, Snapchat was supposedly just an idea that founder Evan Spiegel and friends had while in a class at Stanford.Now, over 100 million active users and 7 billion daily video views later,the White House has joined, presidential candidate Bernie Sanders is running a campaign on it and senior ad buyers are starting to take notice and planning to advertise on the platform over other social media sites.How did Snapchat, an app that first made headlines as the"sexting app", get here?THE HISTORY OF SNAPCHAT: HOW DISAPPEARING PHOTOS CHANGED THE GAMEI was surprised early on that people didn't realize that the way Snapchat works is much closer to how we communicate face to face than any other social network. What I mean by this is that: when we talk to each other, passing in the halls or just living out our lives, those moments disappear. Snapchat emulates that behavior and psychology.Snapchat was started at a time when everybody and their mom thought they were an entrepreneur who could launch a successful social app. Facebook was where you went for updates on family and friends, Instagram was beautiful photo content, and Twitter was the conversation at a cocktail party. These three social giants dominated most of the conversation, but they all played off of each other in terms of functionality, and, most importantly, audience. However, Snapchat was able to counterbalance the strengths of all three players and create a new social pipeline.The norm of the internet age is to create platforms in which everything is saved—everything is stored and documented digitally. Snapchat went the opposite direction and is predicated on our reality: moments are temporary and that's exactly the feeling and behavior that Snapchat mapped to. Snaps could even be compared to television the first fifty years it was introduced: the broadcast aired, and that was it. Snapchat managed to tap into a lot of historical truths, instead of creating something entirely new.FACEBOOK OFFERS TO BUY SNAPCHATAll these things quickly led Snapchat to come to the attention of Facebook's CEO Mark Zuckerberg. Just one year after launch, Zuckerberg reportedly tried to buy the app for $3 billion.Let me just say this: Zuckerberg is the greatest trader in consumer attention of all time.He understands the value of attention. He recognized that Snapchat was well on its way to winning the attention of a generation, much like he did with Instagram (which Facebook bought in 2012 for $1 billion). He saw it as a vulnerability and saw that a Snapchat generation could emerge, much like there was a Facebook generation before it. Facebook acquired a monopoly on 18 to 24 year olds with Instagram, they had a monopoly on an older demo with Facebook; they just needed Snapchat to fill the gaps.But Spiegel turned the offer down. He saw what Zuckerberg saw: the potential to fill-in the social pipelines that other platforms had ignored. He knew he had one of the hottest apps of the time; now it was just up to him and the team to blow out their user base and execute against their core function.THE MATURATION OF SNAPCHAT'S ATTENTIONBut, let's be honest: what really makes a new social network become popular fast?Teenagers.There are two things that are very true when it comes to teens. One, it's not cool to hang out at the same club as your mom. And two, you want to lock your room.Snapchat solved both those things. Parents were starting to join Facebook in droves, so teens were looking to leave and looking for somewhere to go. And, the disappearing photos function was essentially the same thing as a "do not disturb" sign on your door, except much more effective. Both these things led to Snapchat's extreme and sudden user growth. Just a year after launching, Snapchat hit 10 million active users.In October 2013, Snapchat made a significant update to the platform:Stories. Users could now also add Snaps to a feature called their "Story", which acted like a longer narrative of snaps strung together. The stories last twenty-four hours after being posted and are public to all their followers.I'm going to be very clear here: I went on the record saying I thought the update was a bad idea. I thought it was absurd to imagine that users would actually go out of their way to watch something on a platform where things were historically delivered to them (Stories live on their own page and you have to click into a Story to watch it).But boy was I wrong. This update marked Snapchat's first big move into becoming a major platform by creating it's own social language and context. It already had functionality very different from any other social network at the time; you could draw on top of photos, content disappeared, and the gestures of swiping up, down and to the side were relatively new. But after Stories the platform began to take off and mature as a content destination. By August 2014, 40% of 18 year olds in the US were using Snapchat on a daily basis.The biggest update in recent Snapchat history, and the one that really changed the game for me to push it towards the mainstream, has to be Discover.SNAPCHAT BECOMES A MEDIA DESTINATIONIn early 2015, Snapchat launched Discover. It's a feature that allows users to receive content provided by top media companies. Launch participants included National Geographic, Vice, ESPN, and more. Eleven participants in all started it off. It was, and still is, a serious play to be part of Snapchat Discover because it puts a company in a very aggressive place within the overall user interface of the app and delivers an unmatched form of attention from their youthful user base. It also completely changed the swipe navigation and how the app is used.It was very exciting step forward for Snapchat. It was obvious they were paying attention to current trends and were ready to act: the explosion of content and companies becoming media companies, putting out their own content, the importance of mobile being first.Using Discover as their platform, Snapchat went out and made deals that allowed them to curate some of the top content providers in the world in this one spot. This gives them more power in the micromanagement of what shows up on the Discover page.The brands that launched as partners, and the 18 brands now currently in the space, have an enormous relationship with Snapchat, and they are getting great equity for it. Why? 45% of Snapchat's users are under 25.There are over 100 million users, nearing 200 million. Snapchat is basically handing these brands the 25-and-under demo. So it's no surprise that these media companies have hired entire teams around the initiative. Their only job is to make content for Snapchat.Now, Snapchat is partnering with the NFL, the White House has recently joined, and it's safe to assume they'll continue to broker relationships with more content creators as they're proving that they are a real media property to be reckoned with.THE BASICS OF SNAPCHATSo now that you know everything there is to know about the history of the platform, let's get down to the most important part: how the fuck do you use this thing? On every article I have written about Snapchat in the past, most of the comments come back to me saying something like "Yeah, but how the hell do I use this this?" or "It's so confusing!"No problem. Below are some handy guides I have put together to teach you guys the basic functionalities of Snapchat, as well as some cool hacks.THE DIFFERENCE BETWEEN SNAP, STORY, AND CHATSo…how exactly do you define a Snap?Great question. A Snap is the main functionality of the app and is what the disappearing photos and videos are called. You send these directly to friends in the app. They last anywhere from one second up to ten seconds after being opened, then the "snap" disappears.And the difference between that and a Story is…?A Story is a collection of Snaps put together to create a, well, Story. Unlike direct Snaps, these can be viewed by anyone who follows you. When you send a Snap to your Story, it becomes public to your followers. Stories last up to 24 hours before disappearing, but still can only be up to 10 seconds long.There's also chat right?Yep. When you swipe right on a person's name in your direct Snap inbox, the chat function will appear. You know you've received a chat when a blue speech bubble appears next to someone's name. Chats also disappear after being opened.QUICK GIF GUIDES TO USING SNAPCHATSNAPCHATTING A VIDEO V/S PHOTOHOW TO ADD FILTERS AND DOUBLE FILTERS ON SNAPCHATHOW TO USE SNAPCHAT VIDEO FILTERSHOW TO SAVE A PHOTO OR VIDEOSNAPCHAT ACCOUNTS TO FOLLOWThis is just a short list of people who are killing it on the platform. There aren't that many yet because people still aren't taking it seriously. So get on it now.DJ Khaled: @djkhaled305Shonduras: @shondurasCasey Neistat: @caseyneistatLACMA: @lacmaDiplo: @diploOh by the way, I'm on there too: @GaryVee.THE HISTORY OF SNAPCHAT IN ONE TIMELINE

How can I make it easier for users to fill out a form on mobile apps?

I'll tell you a secret - you can thank me later for this.If you want to make the form-filling experience easy for a user - make sure that you have a great UI to offer.Everything boils down to UI at the end.Axonator is one of the best mobile apps to collect data since it offers powerful features bundled with a simple UI.The problem with most of the mobile form apps is that they are overloaded with features that aren't really necessary.The same doesn't hold true for Axonator. It has useful features but it is very unlikely that the user will feel overwhelmed in using them.So, if you are inclined towards having greater form completion rates for your survey or any data collection projects, then Axonator is the way to go.Apart from that, there are other features that make the data collection process faster like offline data collection, rich data capture - audio, video, images, QR code & barcode data capture, live location & time capture, and more!Check all the features here!You will be able to complete more surveys - because productivity will certainly shoot up.Since you aren't using paper forms, errors will drop significantly.The cost of the paper & print will be saved - your office expenses will drop dramatically.No repeat work. No data entry. Time & money saved yet again.Analytics will empower you to make strategic decisions and explore new revenue opportunities.The app is dirt-cheap & you don't any training to use the app. They come in with a smooth UI. Forget using, even creating forms for your apps is easy on the platform. Just drag & drop - and it's ready for use. Anyone can build an app under hours.

What are the types of forms investors typically have to fill out to invest with a broker?

You can easily find out this for youself by using google.If you can write on Quora it means that you have either a computer,a tablet or a smart phone .That means that you can get a comprehensive answer to your question yourself.You can also pick any brokerage and click into their investment requirements or request their investment brohure and,wallah! you have their requirements at your fingertips. You see they are not standard to the many online brokers. Some parts are but there are variation based on many factors. One example is whether you are an international investor or a domestic investor. happy research.

Why do you need to fill out a W-9 form to get back a broker fee from renting an apartment?

Is the person requesting that you fill out this form going to be cutting you a check for this fee? In other words, is this broker fee a payment to you for services you rendered? Money that you need to declare as income and thus pay income taxes to the IRS?If not, if this check is for some other reason, then I don't believe that you should complete this form.I'm not a lawyer, so there could very well be something that I am unaware of, but it looks suspicious to me. I sure would like to know more about this issue.
Related content Get and Sign broker on record form