Establishing secure connection…
Loading editor…
Preparing document…
Get And Sign Washington State Child Abuse And Neglect Findings Request Form
How It Works
Open form follow the instructions
Easily sign the form with your finger
Send filled & signed form or save
Rate form
Get And Sign Washington State Child Abuse And Neglect Findings Request Form
SignNow's web-based software is specifically developed to simplify the organization of workflow and improve the entire process of competent document management. Use this step-by-step instruction to complete the Washington state child abuse and neglect findings request form swiftly and with excellent precision.
Tips on how to complete the Washington state child abuse and neglect findings request form on the web:
To get started on the blank, use the Fill & Sign Online button or tick the preview image of the blank.
The advanced tools of the editor will direct you through the editable PDF template.
Enter your official identification and contact details.
Apply a check mark to indicate the answer where needed.
Double check all the fillable fields to ensure complete accuracy.
Use the Sign Tool to create and add your electronic signature to certify the Washington state child abuse and neglect findings request form.
Press Done after you fill out the document.
Now it is possible to print, download, or share the form.
Refer to the Support section or contact our Support team in the event you have any questions.
By utilizing SignNow's comprehensive platform, you're able to carry out any essential edits to Washington state child abuse and neglect findings request form, generate your personalized electronic signature in a couple fast steps, and streamline your workflow without the need of leaving your browser.
Video instructions and help with filling out and completing Get and Sign washington state child abuse and neglect findings request form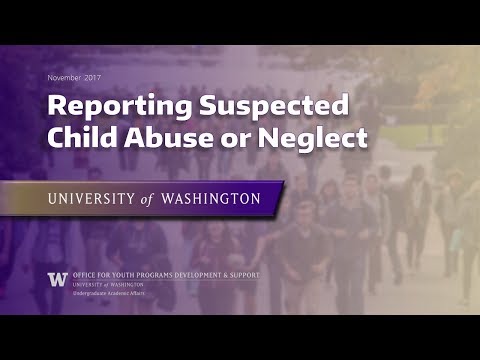 Instructions and Help about Get and Sign washington state child abuse and neglect findings request form
welcome to the University of Washington's reporting suspected child abuse or neglect training program this program is intended to provide an overview of your responsibilities in accordance with the state abuse of children law and university of washington executive order 56 reporting suspected child abuse or neglect the reporting of suspected child abuse or neglect is an important part of the University of Washington's safety of minors program please keep in mind a couple of things regarding this training first a note on terminology in this training we use the terms minor youth and child interchangeably in all cases we're referring to anyone under the age of 18 years old second participants should be aware that the University of Washington reserves the right to modify add and delete content of this program as necessary without notice you may contact the office for youth programs development and support for the most current information or with further questions about this training here w
FAQ
How to decide my bank name city and state if filling out a form, if the bank is a national bank?

Somewhere on that form should be a blank for routing number and account number. Those are available from your check and/or your bank statements. If you can't find them, call the bank and ask or go by their office for help with the form.  As long as those numbers are entered correctly, any error you make in spelling, location or naming should not influence the eventual deposit into your proper account.

If abuse and neglect of a child is illegal, and the police will charge and arrest you, how can the CPS remove your child, make a finding of abuse/neglect, when the police don't have any grounds to charge you, while they can?

Not all abuse or neglect rises to the level of criminal activity. In any case, a CPS action is a civil action, not a criminal action. Thus while a finding of guilty in a criminal child abuse action will generally support any findings in a CPS judicial civil action, the dismissal or acquittal of a criminal charge does not preclude proceeding under a civil CPS action.

How can I take my child (16yrs) to the U.S if my immigrant visa is approved? My husband, a US citizen, filled out form I 130 for me and mentioned this child as migrating in future.

Just petition using a I-130 yourself. Read the instructions very carefully. I am not sure but it's possible that the affidavit of support will need to be filled by your husband since he is the citizen and he filled one for you - again, check the instructions very carefully. It should be a pretty clear, straightforward process.Your child is still well below the age limit and should be fine. If there are any problems, do the same thing you did with your own process - use the numbers you are given to check on the process and if you see it stuck call to make sure they have everything they need early.It is my understanding that the age limit of the child is based on the petition date, so go ahead and do it.You still have plenty of time at 16, just don't delay.

How do I get admission to TU if I have qualified for the JEE Mains? I am from Assam, and I want to do so under the state quota. Will there be any state rank list to be released, or do I have fill out any form?

If you haven't filled up any form then I am not sure if you are gonna get any chance now….This is the procedure they follow--- after you have qualified in JEE-MAINS. You have to fill up a form through which they come to know that you have qualified. Then they give a list of student according to their ranks (both AIR & state ranks). Then according to that there's three list A,B & C in which there's all the quota and all. And they relaese one list in general. According to that list theu release a date of your counselling .Note- The form fillup is must.

If I had a child when I was young, and the mother left the state and just wanted to raise the child on her own, how can I find out if that child is really mine? Should I try to reach out to the child?

If the child is an adult, it would make sense to talk to him/her. Tell your story and let them know you'd like to know the truth. If they want to know, they should agree to a DNA test. If they don't seem to want anything to do with it, be sure and leave your contact info. They might change their minds later.

Startup I am no longer working with is requesting that I fill out a 2014 w9 form. Is this standard, could someone please provide any insight as to why a startup may be doing this and how would I go about handling it?

It appears that the company may be trying to reclassify you as an independent contractor rather than an employee.Based on the information provided, it appears that such reclassification (a) would be a violation of applicable law by the employer and (b) potentially could be disadvantageous for you (e.g., depriving you of unemployment compensation if you are fired without cause).The most prudent approach would be to retain a lawyer who represents employees in employment matters.In any event, it appears that you would be justified in refusing to complete and sign the W-9, telling the company that there is no business or legal reason for you to do so.Edit: After the foregoing answer was written, the OP added Q details concerning restricted stock repurchase being the reason for the W-9 request. As a result, the foregoing answer appears to be  irrelevant. However, I will leave it, for now, in case Q details are changed yet again in a way that reestablishes the answer's relevance.

What forms do I need to fill out to sue a police officer for civil rights violations? Where do I collect these forms, which court do I submit them to, and how do I actually submit those forms? If relevant, the state is Virginia.

What is relevant, is that you need a lawyer to do this successfully. Civil rights is an area of law that for practical purposes cannot be understood without training. The police officer will have several experts defending if you sue. Unless you have a lawyer you will be out of luck. If you post details on line, the LEO's lawyers will be able to use this for their purpose. You need a lawyer who knows civil rights in your jurisdiction.Don't try this by yourself.Get a lawyer. Most of the time initial consultations are free.
Related content Get and Sign washington state child abuse and neglect findings request form