Establishing secure connection…
Loading editor…
Preparing document…
Get And Sign Va Form 21 0845 2016-2019
How It Works
Open form follow the instructions
Easily sign the form with your finger
Send filled & signed form or save
Rate form
Get And Sign Va Form 21 0845 2016-2019
SignNow's web-based program is specifically made to simplify the management of workflow and optimize the process of proficient document management. Use this step-by-step guide to fill out the Get And Sign Va Form 21 0845 2016-2019 promptly and with perfect precision.
The way to fill out the Get And Sign Va Form 21 0845 2016-2019 on the web:
To start the form, use the Fill & Sign Online button or tick the preview image of the blank.
The advanced tools of the editor will direct you through the editable PDF template.
Enter your official identification and contact details.
Utilize a check mark to indicate the choice wherever demanded.
Double check all the fillable fields to ensure full precision.
Use the Sign Tool to create and add your electronic signature to certify the Get And Sign Va Form 21 0845 2016-2019.
Press Done after you complete the form.
Now it is possible to print, save, or share the document.
Address the Support section or get in touch with our Support staff in the event that you have got any concerns.
By making use of SignNow's comprehensive service, you're able to carry out any needed edits to Get And Sign Va Form 21 0845 2016-2019, create your personalized digital signature within a couple of fast actions, and streamline your workflow without leaving your browser.
Video instructions and help with filling out and completing Get And Sign Va Form 21 0845 2016-2019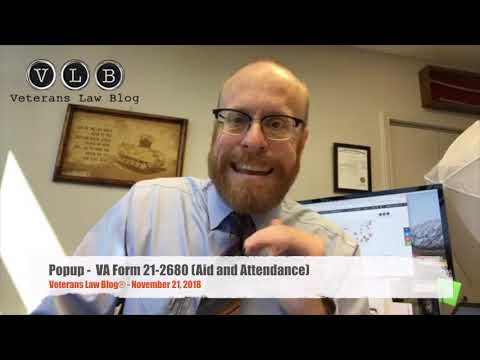 Instructions and Help about Get And Sign Va Form 21 0845 2016-2019
thing that kind of get back to the original topic that I wanted to talk to you about is Aiden attendance and and specifically VA form 21:26 80 and the reason I want to talk to you about it is frankly because so many of you have asked me to talk about it I get these comments and like I said there's thousands of them comments emails and so what I'm looking is for common themes and this one kept coming up more and more and more and more and so I decided to do something to talk about it so VA Form 21 26 80 I'm going to show it to you it's gonna be backwards again because of this backwards facing video but this is the form right here and it's titled the examination for housebound status or permanent need for regular Aid and Attendance and this form is a very specific use and it's a very critical use so let's talk about it what do you use VA form 21-20 684 generally if you are applying for aid of attendants either as part of a supplement to a non-service connected pension or Part A special m
FAQ
Why do ex-employers refuse to fill out the VA form 21-4192 for a vet?

VA Form 21–4192 is an application for disability benefits and like similar state benefits, it must be filled out by the veteran or by his or her qualified representative. This is a private, sensitive, legal document and every dot or dash in it can be critical, so must be accurate and verifiable.Employers have zero responsibility to fill out this form or furnish information for it, however, Social Security would have all the information required that the Department of Defense did not have. The veteran's DD-214 is likely required, but does not furnish all the information required on the form.

How do I fill out 2016 ITR form?

First of all you must know about all of your sources of income. In Indian Income Tax Act there are multiple forms for different types of sources of Income. If you have only salary & other source of income you can fill ITR-1 by registering your PAN on e-Filing Home Page, Income Tax Department, Government of India after registration you have to login & select option fill ITR online in this case you have to select ITR-1 for salary, house property & other source income.if you have income from business & profession and not maintaining books & also not mandatory to prepare books & total turnover in business less than 1 Crores & want to show profit more than 8% & if you are a professional and not required to make books want to show profit more than 50% of receipts than you can use online quick e-filling form ITR-4S i.s. for presumptive business income.for other source of income there are several forms according to source of income download Excel utility or JAVA utility form e-Filing Home Page, Income Tax Department, Government of India fill & upload after login to your account.Prerequisite before E-filling.Last year return copy (if available)Bank Account number with IFSC Code.Form 16/16A (if Available)Saving Details / Deduction Slips LIC,PPF, etc.Interest Statement from Banks or OthersProfit & Loss Account, Balance Sheet, Tax Audit Report only if filling ITR-4, ITR-5, ITR-6, ITR-7.hope this will help you in case any query please let me know.

What is the last date to fill a GIM form for the 2019-21 session?

Hi,You have time till 4th Jan 2019 to fill the GIM Application form with late fee of Rs.1000.The First Mover is till 30th November 2018 and the fee is Rs. 1200The Early Bird is till 15th December 2018) for Rs. 1800/-If you fill after 15th Dec but up to 1st Jan 2019 the fee will be Rs. 2400/-A fee as above plus Rs. 300 is what you will have to pay for two programmes. GIM offers 3 programmes- PGDM, PGDM(HCM) and PGDM(BDA)Please remember that a GST of 18% is applicable above the payments you make.

How do I fill out a CLAT 2019 application form?

Hi thereFirst of all, let me tell you some important points:CLAT 2019 has gone OFFLINE this yearBut the application forms for CLAT 2019 have to be filled ONLINEThe payment of the application fees also should be made onlineNow, kindly note the important dates:Note the details regarding the application fees:Here, if you want the Previous Year Question papers, Rs.500 would be added to the application fees.Apart from this, there would be bank transaction charges added to the application fees.The application fees is non-refundable.Note one important point here that before you fill the application form, check for your eligibility.To know the complete details of filling the application form along with other information like the eligibility - in terms of age, educational qualification, list of NLUs participating and the seats offered under each category, CLAT Reservation policies, CLAT exam pattern, marking scheme, syllabus, important documents required to be kept ready before filling the form, kindly go to the link below:How to fill CLAT 2019 Application form? Registration OPEN | All you need to knowTo know how to prepare for one of the very important section of CLAT exam, GK and Current Affairs, kindly go to the link below:How to prepare GK & Current Affairs for CLAT 2019To practice, daily MCQs on Current Affairs, kindly go to the link below:#CLAT2019 | #AILET2019 | #DULLB2019 | GK and Current Affairs Series: 5 in 10 Series: Day 12For any other queries, kindly write to us at mailateasyway@gmail.comThanks & Regards!

How do I fill out the NEET 2019 application form?

Expecting application form of NEET2019 will be same as that of NEET2018, follow the instructions-For Feb 2019 Exam:EventsDates (Announced)Release of application form-1st October 2018Application submission last date-31st October 2018Last date to pay the fee-Last week of October 2018Correction Window Open-1st week of November 2018Admit card available-1st week of January 2019Exam date-3rd February to 17th February 2019Answer key & OMR release-Within a week after examAnnouncement of result-1st week of March 2019Counselling begins-2nd week of June 2019For May 2019 Exam:EventsDates (Announced)Application form Release-2nd week of March 2019Application submission last date-2nd week of April 2019Last date to pay the fee-2nd week of April 2019Correction Window Open-3rd week of April 2019Admit card available-1st week of May 2019Exam date-12th May to 26th May 2019Answer key & OMR release-Within a week after examAnnouncement of result-1st week of June 2019Counselling begins-2nd week of June 2019NEET 2019 Application FormCandidates should fill the application form as per the instructions given in the information bulletin. Below we are providing NEET 2019 application form details:The application form will be issued through online mode only.No application will be entertained through offline mode.NEET UG registration 2019 will be commenced from the 1st October 2018 (Feb Exam) & second week of March 2018 (May Exam).Candidates should upload the scanned images of recent passport size photograph and signature.After filling the application form completely, a confirmation page will be generated. Download it.There will be no need to send the printed confirmation page to the board.Application Fee:General and OBC candidates will have to pay Rs. 1400/- as an application fee.The application fee for SC/ST and PH candidates will be Rs. 750/-.Fee payment can be done through credit/debit card, net banking, UPI and e-wallet.Service tax will also be applicable.CategoryApplication FeeGeneral/OBC-1400/-SC/ST/PH-750/-Step 1: Fill the Application FormGo the official portal of the conducting authority (Link will be given above).Click on "Apply Online" link.A candidate has to read all the instruction and then click on "Proceed to Apply Online NEET (UG) 2019".Step 1.1: New RegistrationFill the registration form carefully.Candidates have to fill their name, Mother's Name, Father's Name, Category, Date of Birth, Gender, Nationality, State of Eligibility (for 15% All India Quota), Mobile Number, Email ID, Aadhaar card number, etc.After filling all the details, two links will be given "Preview &Next" and "Reset".If candidate satisfied with the filled information, then they have to click on "Next".After clicking on Next Button, the information submitted by the candidate will be displayed on the screen. If information correct, click on "Next" button, otherwise go for "Back" button.Candidates may note down the registration number for further procedure.Now choose the strong password and re enter the password.Choose security question and feed answer.Enter the OTP would be sent to your mobile number.Submit the button.Step 1.2: Login & Application Form FillingLogin with your Registration Number and password.Fill personal details.Enter place of birth.Choose the medium of question paper.Choose examination centres.Fill permanent address.Fill correspondence address.Fill Details (qualification, occupation, annual income) of parents and guardians.Choose the option for dress code.Enter security pin & click on save & draft.Now click on preview and submit.Now, review your entries.Then. click on Final Submit.Step 2: Upload Photo and SignatureStep 2 for images upload will be appeared on screen.Now, click on link for Upload photo & signature.Upload the scanned images.Candidate should have scanned images of his latest Photograph (size of 10 Kb to 100 Kb.Signature(size of 3 Kb to 20 Kb) in JPEG format only.Step 3: Fee PaymentAfter uploading the images, candidate will automatically go to the link for fee payment.A candidate has to follow the instruction & submit the application fee.Choose the Bank for making payment.Go for Payment.Candidate can pay the fee through Debit/Credit Card/Net Banking/e-wallet (CSC).Step 4: Take the Printout of Confirmation PageAfter the fee payment, a candidate may take the printout of the confirmation page.Candidates may keep at least three copies of the confirmation page.Note:Must retain copy of the system generated Self Declaration in respect of candidates from J&K who have opted for seats under 15% All India Quota.IF any queries, feel free to comment..best of luck

How can I fill out the BITSAT Application Form 2019?

BITSAT 2019 Application Forms are available online. Students who are eligible for the admission test can apply online before 20 March 2018, 5 pm.Click here to apply for BITSAT 2019Step 1: Follow the link given aboveStep 2: Fill online application formPersonal Details12th Examination DetailsTest Centre PreferencesStep 3: Upload scanned photograph (4 kb to 50 kb) and signature ( 1 kb to 30 kb).Step 4: Pay application fee either through online payment mode or through e-challan (ICICI Bank)BITSAT-2019 Application FeeMale Candidates - Rs. 3150/-Female Candidates - Rs. 2650/-Thanks!

How can I fill out the COMEDK 2019 application form?

COMEDK 2019 application is fully online based and there is no need to send the application by post or by any other method. Check the below-mentioned guidelines to register for the COMEDK 2019 exam:Step 1 Visit the official website of the COMEDK UGET- comedk.orgStep 2 Click on "Engineering Application".Step 3 After that click on "Login or Register" button.Step 4 You will be asked to enter the Application SEQ Number/User ID and Password. But since you have not registered. You need to click on the "Click here for Registration".Step 5 Fill in the required details like "Full Name", "DOB", "Unique Photo ID Proof", "Photo ID Proof Number", "Email ID" and "Mobile Number".Step 6 Then click on the "Generate OTP"Step 7 After that you need to enter the captcha code and then an OTP will be sent to the mobile number that you have provided.Step 8 A new window having your previously entered registration details will open where you need to enter the OTP.Step 9 Re-check all the details, enter the captcha code and click on the "Register" button.Step 10 After that a page will appear where you will be having the User ID and all the details that you entered. Also, you will be notified that you have successfully registered yourself and a User ID and Password will be sent to your mobile number and email ID.COMEDK 2019 Notification | Steps To Apply For COMEDK UGET ExamCheck the below-mentioned guidelines to fill COMEDK Application Form after COMEDK Login.Step 1 Using your User ID and Password. Log in using the User ID and passwordStep 2 You will be shown that your application form is incomplete. So you need to go to the topmost right corner and click on the "Go to application" tab.Step 3 Go to the COMEDK official website and login with these credentials.Step 4 After that click on "Go to application form".Step 5 Select your preferred stream and course.Step 6 Click on "Save and Continue".Step 7 Carefully enter your Personal, Category and Academic details.Step 8 Upload your Photograph and Signature, Parents Signature, your ID Proof, and Declaration.Step 9 Enter your "Payment Mode" and "Amount".Step 10 Enter "Security code".Step 11 Tick the "I Agree" checkbox.Step 12 Click on the "Submit" button.
Related content Get And Sign Va Form 21 0845 2016-2019