Establishing secure connection…
Loading editor…
Preparing document…
Get And Sign Attach To Your Form IL 1040
How It Works
Open form follow the instructions
Easily sign the form with your finger
Send filled & signed form or save
Rate form
Get And Sign Attach To Your Form IL 1040
SignNow's web-based program is specially created to simplify the management of workflow and improve the entire process of qualified document management. Use this step-by-step guide to complete the Attach to your Form IL 1040 swiftly and with perfect precision.
Tips on how to fill out the Attach to your Form IL 1040 on the web:
To get started on the document, utilize the Fill & Sign Online button or tick the preview image of the form.
The advanced tools of the editor will direct you through the editable PDF template.
Enter your official identification and contact details.
Apply a check mark to indicate the choice wherever necessary.
Double check all the fillable fields to ensure full accuracy.
Utilize the Sign Tool to create and add your electronic signature to certify the Attach to your Form IL 1040.
Press Done after you complete the blank.
Now you'll be able to print, save, or share the document.
Follow the Support section or get in touch with our Support staff in case you have any concerns.
By utilizing SignNow's complete platform, you're able to execute any needed edits to Attach to your Form IL 1040, create your customized electronic signature within a couple quick steps, and streamline your workflow without leaving your browser.
Video instructions and help with filling out and completing Get and Sign Attach to your Form IL 1040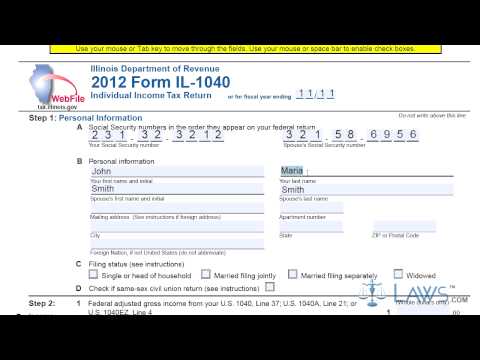 Instructions and Help about Get and Sign Attach to your Form IL 1040
laws dot-com legal forms guide form IL - 1040 individual income tax return Illinois residents part your residents and non-residents file their state income tax due using a form IL - 1040 this document can be found on the website of the Illinois Department of Revenue step 1 if you are not filing on a calendar year basis give the ending month and year of your fiscal year step 2 enter your social security number online a as well as that of your spouse if filing jointly step 3 in Section B give your name and address and to your spouse's first name and if different and filing jointly last name step 4 on line C indicate your filing status with a check mark step 5 on line D check the box if you are a member of a same-sex civil union step 6 on lines one through four document your income as instructed step seven on lines five through ten calculate and document your base income as directed step eight on lines 10a through ten D note all applicable exemptions being claimed step 9 residents calcula
FAQ
Do I need to attach the tax form 1099-B to the form 1040 Schedule D?

This sort of question should be resolved by looking at the IRS' official instructions for the tax form and year in question. You only need to attach such items as the IRS' official instructions direct you to attach. Recently there has been a trend of requiring fewer attachments.For the sake of answering this specific question for this specific year, there appears to be no such requirement. The Form 1099-B was already reported to the IRS and the Schedule D instructions make no mention of attaching it. You may need to attach a "statement required under Regulations section 1.1(h)-1(e)." Id. lines 10 and 18.For actual advice on filling in your forms, consult a tax attorney or accountant.

Do you have to file form 8880 (attach to 1040) if you contribute to an IRA but your income exceeds the threshold allowed for the credit?

Do you have to file form 8880 (attach to 1040) if you contribute to a traditional IRA but your income exceeds the threshold allowed for the credit?NoYou only file the form if you use credit(eligible). Traditional or Roth is irrelevant for credit. But Traditional helps with lowering your income to make eligibility

Which forms do I fill out for taxes in California? I have a DBA/sole proprietorship company with less than $1000 in profit. How many forms do I fill out? This is really overwhelming. Do I need to fill the Form 1040-ES? Did the deadline pass?

You need to file two tax returns- one Federal Tax Form and another California State income law.My answer to your questions are for Tax Year 2018The limitation date for tax year 15.04.2018Federal Tax return for Individual is Form 1040 . Since you are carrying on proprietorship business, you will need to fill the Schedule C in Form 1040Form 1040 -ES , as the name suggests is for paying estimated tax for the current year. This is not the actual tax return form. Please note that while Form 1040, which is the return form for individuals, relates to the previous year, the estimated tax form (Form 1040-EZ ) calculates taxes for the current year.As far as , the tax return under tax laws of Californa State is concerned, the Schedule CA (540) Form is to be used for filing state income tax return . You use your federal information (forms 1040) to fill out your 540 FormPrashanthttp://irstaxapp.com

How do I understand the 1040 U.S. tax form in terms of an equation instead of a ton of boxes to fill in and instructions to read?

First the 1040 is an exercise in sets:Gross Income - A collection and summation of all your income types.Adjustments - A collection of deductions the tax law allow you to deduct before reaching AGI. (AGI is used as a threshold for another set of deductions).ExemptionsDeductions - A collection of allowed deductions.Taxes - A Collection of Different collected along with Income TaxesCredits - A collection of allowed reductions in tax owed.Net Tax Owed or Refundable - Hopefully Self Explanatory.Now the formulas:[math]Gross Income - Adjustments = Adjusted Gross Income (AGI)[/math][math]AGI - Exemptions - Deductions = Taxable Income[/math][math]Tax Function (Taxable Income ) = Income Tax[/math][math]Taxes - Credits = Net Tax Owed or Refundable[/math]Please Note each set of lines is meant as a means to make collecting and summing the subsidiary information easier.It would probably be much easier to figure out if everyone wanted to pay more taxes instead of less.
Related content Get and Sign Attach to your Form IL 1040