Establishing secure connection…
Loading editor…
Preparing document…
Get And Sign Legal Divorce Forms
How It Works
Open form follow the instructions
Easily sign the form with your finger
Send filled & signed form or save
Rate form
Get And Sign Legal Divorce Forms
Divorce Forms: Reasons to Separate
The Original Petition for Divorce is filed when a couple wishes to legally separate. This can be for a number of reasons:
Unfaithfulness.
An undeveloped sense of duty or care.
Orientation towards individuality and selfishness.
Money problems and various addictions: alcoholism, drug abuse, gambling.
Violence in the family, etc.
This list can be continued further. Usually, such motifs often end with filing the form and an attempt to find something better in the future.
How to Fill in Legal Divorce Forms?
The application submission is preceded by the collection of necessary documents. The free-form of drafting such a record is inadmissible, so you will need to use this template:
Start an eight-page form made to be completed online.
The Cause and Court Numbers should be filled in at a Clerk's office - leave them blank.
Pay attention to the residency requirements: it's required for at least one of the spouses to have lived at least 3 months in the country (and 6 months in Texas). Otherwise, you cannot file the Petition for Divorce.
Follow the notes for applying information about children: this may include a disabled child, biological paternity, etc.
You can negotiate with the partner how to divide the Community Property, otherwise, it will be split according to the laws of Texas. Record the wealth you had before the marriage so that the court can count it as an individual property in your Final Decree of Divorce.
Be sure to include information about any Protection Order against a spouse and attach a copy of this document.
Check one of the two boxes concerning the notice to your spouse.
By signing digitally with SignNow's e-signature, you verify this form to be legally valid.
All cases of termination are unique in their own way and require detailed legal analysis to minimize risks. If done correctly, standard cases will often pass peacefully and without any unnecessary litigation.
SignNow's web-based software is specially made to simplify the arrangement of workflow and optimize the whole process of proficient document management. Use this step-by-step instruction to fill out the Legal Divorce Forms quickly and with perfect accuracy.
The way to complete the Legal Divorce Forms online:
To get started on the blank, utilize the Fill & Sign Online button or tick the preview image of the form.
The advanced tools of the editor will lead you through the editable PDF template.
Enter your official identification and contact details.
Use a check mark to indicate the choice where demanded.
Double check all the fillable fields to ensure complete precision.
Utilize the Sign Tool to create and add your electronic signature to certify the Legal Divorce Forms.
Press Done after you finish the document.
Now you are able to print, save, or share the document.
Refer to the Support section or contact our Support staff in case you have got any concerns.
By utilizing SignNow's comprehensive service, you're able to complete any required edits to Legal Divorce Forms, make your personalized electronic signature within a few fast actions, and streamline your workflow without leaving your browser.
Video instructions and help with filling out and completing Get and Sign Legal Divorce Forms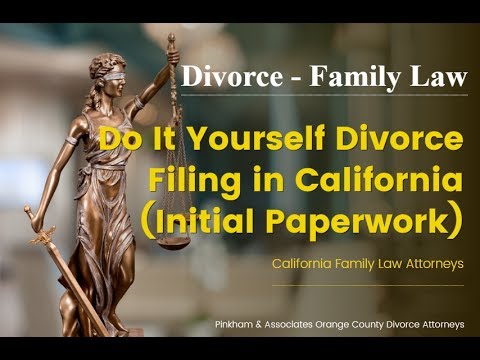 Instructions and Help about Get and Sign Legal Divorce Forms
hello my name is Douglas Pinkham I am a divorce and family law attorney in Orange County California although we do assist in the filing for divorce anywhere in California so if you're interested in filing for divorce and need assistance we can help you with that just as a side note if you're only interested in asking an attorney to help you do the initial filing of the divorce and serving the other party we do that for a very affordable flat rate go ahead and give us a call and we'd be happy to help you with that our phone number is seven one four seven three zero zero one one one so you may be wondering why I'm looking over there and here I'm doing two different kinds of videos I'm doing one where I've got the forms up and visible so some of you will be able to see the forms and some of you will not be able to see the forms as I go through them for those of you that cannot see the forms it may be a good idea right now for you to locate and print the forms that you need to file for div
FAQ
How easy is it to change your name?

In the United States it is very easy to change your name. You go to the local courthouse and request a change of name form. You fill it out, with the most important question on the form being, 'Why do you want to change your name?. You give the completed paper and money to the receptionist and receive a court date in exchange. You appear before the judge and explain why you want to change your name. They give you the documents to use to show every business, etc and your name is officially changed. At least, that is what I did seven years ago when I changed mine.

Why wont my husband divorce me even though he left me and our son, lives with his girlfriend of 3 years and they have a new baby?

My ex husband refused to participate in the divorce, even though we had agreed to do it.I'm uncertain how all states work, but in California I was able to get the divorce without him. I was the Petitioner and he was the Respondent. He had 30 days to respond, which he didn't. I continued with the filings and forms, following all legal steps. By law, he received copies of every form.Eventually after several months of being non responsive, he was served a Notice of Default. He didn't respond to that either. At that point, he had defaulted out of the entire process.The court order and judgements were based on all the information I provided. Fortunately for my ex, I didn't screw him over.However, as I was the only one in court, the judge saw through all of the bs and awarded me more than I asked for. Not that I've seen a dime, but it was very rewarding taking control of my life and knowing that my ex could not hold me back. His anger, avoidance, and temper tantrums had zero bearing on the legal process.I just kept moving forward, one step at a time. I got stronger and stronger as I went along.Also, being in Los Angeles County, I happen to stumble upon FREE legal services provided by the state. My divorce only cost me filing fees, parking and time. Truly a gift. And, the judge complimented me on how accurate and complete my documentation was.My first step was googling "how to file for divorce". I found a YouTube channel that literally showed how to fill out the Petition for Divorce. All of the forms can be found online and are downloadable.That was the starting point for me. From there, resources began to show up.Since your ex is with another woman, I would move fast, hire an attorney if you can financially and get sound advice. Don't settle for any crap. You're on your own at this point and it's necessary that you stand firm in your own personal value. The only person you need to take care of is YOU. You can do that morally and ethically. Take emotion out of it, and make sure that you and your son are taken care of. He has the option to do the same.Lead the way! You can and will do this. Time to get started.

How did your marriage end?

My ex husband and I married for over 10 years.When I first met him, he was too good to be true. Loving understanding, generous, kind and promised the world to me. His well respected cops admire by everyone at his town and colleagues. He was a hero to other. He was the first guy I've ever been with. I fully trusted him just like my parents relationship trusting, respect and always have your back. I always knew I'll marry a good man, since I am a happy soul.I Left my life back home to start a new fresh life to a new land and new culture with the man I married. I was excited to start a new beginning.Few weeks after moving in to his place as a married couple I saw the very first red flag of the wonderful man I've thought, I found a bunch of naked photos he collected from different women, He gave me a beautiful re-assurance as to why he had those photos.. it's believable he cried.I was young inexperience 19 y/o, living thousand miles across the country away from my family and friends, Naive enough to believe in everything he says, well I supposed to trust my husband he's a lot older than me so I figured I'm safer, If he wasn't a cop he would be a great life speaker. He has the skills to convince anyone to believed everything he said.Within the same year I got pregnant with a beautiful girl she's a blessing to me. His cheating became evident. Calling names became his favorite word. He is a good player and a Dangerous one I felt bad for the women who fell into his lies. He used them to feed his ego.A part of his strategy is to make sure i know nothing about the world I'm living in, staying dumb and clueless is what he likes, he acts like Mr. Google and everyone is below him.He made sure that my name is no longer what my parents gave me, he granted me a new nick name(cunt, whore, dumb,ugly and more) I didn't like it but he sure gets the joy out of it.From being happy and positive young person I am, I become isolated, sad and Angry. His negative words start to have power over me.He knows how to laugh…laugh at me, he has the needs to remind constantly that I should be well aware of my confidence should be diminish and not meant to flourish. His ego is huge when my confidence is low.Over time I developed anxiety due to his abusive behavior. Regular conversation become frightful. You never know what insult I'm a getting.One sunny day, he took me shopping I got too excited, yes, I have no access to our bank so I have to constantly ask money from him for my personal expense.I picked the cutest outfit, i'd love to think I have a good sense of style, but the excitement replace with embarrassment when he found out my cloths cost him a little over $60, he started belittling me in public, I put the cloths back, too embarrassed to continue shopping, I ran towards the car to hide my self from people staring at us. They felt bad, I felt worst, But those dress though..such a cute outfit that could add a little spice to my confident that's slowly fading away.I started to make new friends and let me tell you how awesome that felt, I finally found someone to hang out with, well Ofcourse Mr. perfect man cannot handle the positive relationship around me so he has to Interfere, either ruin it or hook up with friends. i lost a lot of friends but few stick up for me and become a family.Years goes by my ex behavior become eradic, abusive, manipulative, he's extreme pathological liar, and mentally ill. How did I manage to stay positive it was tough but I always knew I am better and stronger that his words.One day he told me to pack our belongings and we're moving to different states, I don't want to, I created a family( friends) to where I was and my daughter made a great friendship, but do I have a choice?We moved to another state no friends starting all over again not knowing he planned carefully to divorce me far from my good friends who consoled me. My suffering gives him satisfaction.Slowly regaining independency made him miserable, I fought to go back to school and learned how to drive (thanks to YouTube, no kidding). The more he isolate me the more I tried to become outgoing, I long for connection.It was a bitter sweet mistakes bringing me to the desert I met great new friends, I kept going against his will. I wasn't scared anymore, I learned to endure his abusive behavior. He was furious to see how quickly I adjusted.He's on the job to ruin my relationship to any of my friends. He reminds me of an alligator sitting quietly waiting/observing for its prey, All the lies he put out there to destroy my inner peace, this time he will not succeed. I figured out to make sure he know nothing about my new friends.I started working out,it was my to way to de-stress, yoga has been my favorite and outdoor Camping gave me an inner peace, I slowly gained all my confidence back, I spend less of my time or possibly no time at all with him. I made myself busy to help me get rid of the negative thoughts, I don't want to entertain self pity. I deleted all sorts of social media to avoid comparing my self to other's happiness and unrealistic lifestyles I couldn't afford, rather, focus working on my own self progress.One day after I got out of school I went straight to work a gentle man came asking for my name and serve me the divorce paper,I felt a little embarrassed everyone at work knows my business.I had to hire a lawyer when Mr.Respected ex started to create lies and accusations to make sure the judge will favor towards him, his manipulative skills always benefit him, I wish I can speak like him. I don't see the needs to speak poorly against him infront of the judge, all I wanted is a smooth process stating on the paper I'm no longer connected to him and Grant me my daughter's custody, but he is born nasty, no compassion. I truly believed he was born heartless.Eventually, he gave up because guess what this little naive girl will never surrender my rights to my beautiful daughter!, even if it means I have to sleep 2 hrs a day to support my expensive lawyer.I work soo hard to make sure my daughter feel safe and do my best to provide all her needs, Its not an easy transition but I kept going, depression has no chance on me. I stayed strong and focus. I cried at times not because I'm depressed but it made me feel better afterwards.Finally, he came into terms, we both signed the divorce paper… I ran downstairs carried the biggest smile on my face and did my happy dance outside the court ( i created my own happy dance) it was the most happiest day of my life. I called my family about the awesome news.I was soo excited, I ran towards the homeless guy sitting on the bench and told him how happy I was, I don't know him I just needed a friend and he's kind enough to Listen to my happy ending. It was a beautiful emotional day for me. I used to just wish for this day to come and here I am In front of the court signing my way back to my freedom and peace.Words are powerful, before I left my old town, I told few of my friends marked my word I will be divorce before I turned 30 and if it won't happen please come find me and slap me in the face, I said jokingly and here I am divorce before 30.I walk away without asking a penny from this man, I could use alimony but I just want peace and my daughter. I let him keep all his money.Hours after signing all the documents he called to say" I still love you and our family and how sad I am to make a decisions because you have changed. I miss the old you, the way we used to be".my daughter was sitting next to him so I just had to hold my tongue but I really wanted to tell him to "fuck Off" I wanted to puke with annoyance.I've never been soo excited to sign a paper like that in my life.. I could sign that paper all day long, every signatures is a sign of freedom and I made sure to carry extra pen with me Im afraid I will run out of ink.Tears of joy… joy that he will no longer have the power to hurt, belittle and abuse me. The marriage tittle gave him the right to destroy me but it's over.I will do my best to Live happy and mentally healthy. We are not meant to live sad nor scared everyday, life is not supposed to be that way.Marriage should be a relationship where you feel safe, strong , accepted, and love.I am working progress to be the person I used to be and I wanted to be.I become wise, strong and unapologetic.He brings out the lion out of the cat in me..Life experienced truly mold me of who I am today.Got my own flat at the nicest safe neighborhood. my daughter goes to one of the best school in the states with her good friends, found a great job and happy with my freedom, Still working to finish my degree. Im traveling more often, It is safe to say I am strong attracted women who been through soo much but no one can break me.I never stop reminding my 10 year old daughter one day she'll step into the real world and I'll never want her to experience what I went through but a strong lesson to remind her about the values of self love and understanding what healthy relationships looks like.I want her to be happy,confident and strong educated women.Mr nightmare ex is heading to his 4th marriage this year. I wish I could tell him to re-evaluate himself before destroying around another soul. I felt bad for that young women, she doesn't know what's coming.

What mistakes do single mothers (unmarried, separated, divorced & widowed) need to avoid?

Well I married a single mom and I now am divorced from her and her son. Sexual context ahead.Single mom's need to see their sons as their son, not a convenient live in boyfriend. Mind you I witnessed this but over looked it. My ex told me her 6 yr old son had a huge penis for 6 yrs old already. I about fell down. She told me she measured it erect. I asked, wait what, how did he get erect? She explained in detail which I will skip how she did it. I was not only not hungry I went home. I probably should of stayed or called the popo but was shocked stiff.Later I discovered they slept together when I wasn't around. At 7 I didn't know if this was ok or not but knew this wasn't normal. They were always all over each other. When he turned 10 we married and did I get an eyeful. One night while they were watching a move together under a blanket I noticed the blanket moving up and down so I got up slowly and pulled it off of them and she was stroking his penis. I yelled and went for the phone but they both ran after me begging not to call my ex's mom. I said your mom? No.the cops . He started crying. We had a huge arguement. Finally I said never again they agreed. As you may guess it did not stop but progressed. I was livid and confused why or how a mom could do these things with her son but justify it.I wanted to be married but not a second wheel to a 12 yr old. After I caught him on top of his mom both naked I flipped out called the cops but they both denied it and made me look dumb. I called 2 more times when then they finally dug deeper into my complaint and found only questionable actions. Why was she doing this? Because I worked too much which she demanded I do. So after many years I found out she had sex with 12 different men and or boys. . I promptly left her but she filed divorce. When I faced the judge i told the judge and my ex got in huge trouble. I think she is out now but her son had to go without in the meantime.

Have you ever had to deal with a ridiculous policy at a doctor's office?

Two days before my wedding and honeymoon (our flight was a few hours after the wedding), I showed up at least 10 minutes early, let's say 12 minutes and got into an unusually long line at the check-in window. No problem, I have plenty of patience; The nerves in my hip and leg don't, but I was close enough to lean on a chair after about 5 minutes.While I'm waiting, I observe that the patients checking out are now checking out at the check-in windows for some reason, are being given priority, thus making the check-in process even slower. Not only that, but I can hear clearly, despite HIPAA, all of the patients' information as both windows were calling other offices to make appointments for specialty services.Half an hour later, they gave the man standing in front of me, who had to be pushing 90 years old, grief for how late he was at 13 minutes, and how he better call next time. I got told I was 19 minutes late where 15 minutes was the deadline, I had to pay a $50 missed appointment fee (which is double my co-pay), and they had another appointment in 10 days, when I would be on my honeymoon. She was usually very nice, but today she was a disciple of Lucifer himself. I explained that I had been there for over a half hour, and even started my wait in line DIRECTLY UNDER A SURVEILLANCE CAMERA that they should check, that the only reason I didn't make it to the window was because they were not only doing check-outs, but prioritizing them, when I was, in fact, at least 10 minutes early. There was no way I was flying back from my honeymoon just for a doctor's appointment that I didn't miss, and that my medication would not last me through my vacation.Finally, she told me why all this was happening (the letting go of the other employees) and told me to wait. The nurse then came out around 20 minutes later with prescriptions that would last me one week, but gave me an altered appointment for the day after I get back clearly showing that the girl at the window told her what my return date was. When I told her the medications would cut me short by 6 days, she then tells me I can take it or get nothing. I mean, nerve damage and pain that can get so severe I could lose my ability to walk isn't all that important, nor the withdrawals from the drugs they've had me on for so long…When I got home from my honeymoon we were obviously exhausted and one of the things we didn't do was read the giant pile of mail on the table; All our bills were on auto-pay anyway. The next day I went to my doctor's appointment 45 minutes early just to be told they can't find my appointment in the system. Then they tell me they can't find ME in the system. The doctor asked me if I got his letter, to which I had not yet gone through the bushels of mail at home, and reprinted the letter before slamming the door. He then went to the window, as if he needed protection, and told me I was to leave immediately or the police would be called. I wasn't even given enough time to read the two-page letter where the doctor stated that I was unacceptably late, rude, disruptive to the other doctors and patients, and a drug seeker, and they would not be prescribing medication for me anymore.

Is it legal and ethical to fill out HR-related forms on company time?

In California, it is "actionable" to be required to do that on your _own_ time.In short, if a company requires work that's unpaid and you're not on salary (are an hourly employee, but not being paid that hourly rate for said work), then you could sue them and/or bring it up to your state's labor board as a potential violation.Meaning, any company that requires this sort of work to be done without payment as such would do well to review that policy with legal counsel.Note: We (SwiftCloud ) have legal staffing firm clients and attorney clients, but are not an attorney. Laws for your state or jurisdiction will vary.

Do military members have to pay any fee for leave or fiancee forms?

NOOOOOOO. You are talking to a military romance scammer. I received an email from the US Army that directly answers your question that is pasted below please keep reading.I believe you are the victim of a military Romance Scam whereas the person you are talking to is a foreign national posing as an American Soldier claiming to be stationed overseas on a peacekeeping mission. That's the key to the scam they always claim to be on a peacekeeping mission.Part of their scam is saying that they have no access to their money that their mission is highly dangerous.If your boyfriend girlfriend/future husband/wife is asking you to do the following or has exhibited this behavior, it is a most likely a scam:Moves to private messaging site immediately after meeting you on Facebook or SnapChat or Instagram or some dating or social media site. Often times they delete the site you met them on right after they asked you to move to a more private messaging siteProfesses love to you very quickly & seems to quote poems and song lyrics along with using their own sort of broken language, as they profess their love and devotion quickly. They also showed concern for your health and love for your family.Promises marriage as soon as he/she gets to state for leave that they asked you to pay for.They Requests money (wire transfers) and Amazon, iTune ,Verizon, etc gift cards, for medicine, religious practices, and leaves to come home, internet access, complete job assignments, help sick friend, get him out of trouble, or anything that sounds fishy.The military does provide all the soldier needs including food medical Care and transportation for leave. Trust me, I lived it, you are probably being scammed. I am just trying to show you examples that you are most likely being connned.Below is an email response I received after I sent an inquiry to the US government when I discovered I was scammed. I received this wonderful response back with lots of useful links on how to find and report your scammer. And how to learn more about Romance Scams.Right now you can also copy the picture he gave you and do a google image search and you will hopefully see the pictures of the real person he is impersonating. this doesn't always work and take some digging. if you find the real person you can direct message them and alert them that their image is being used for scamming.Good Luck to you and I'm sorry this may be happening to you. please continue reading the government response I received below it's very informative.   You have contacted an email that is monitored by the U.S. Army Criminal Investigation Command. Unfortunately, this is a common concern. We assure you there is never any reason to send money to anyone claiming to be a Soldier online. If you have only spoken with this person online, it is likely they are not a U.S. Soldier at all. If this is a suspected imposter social media profile, we urge you to report it to that platform as soon as possible. Please continue reading for more resources and answers to other frequently asked questions:  How to report an imposter Facebook profile: Caution-https://www.facebook.com/help/16... < Caution-https://www.facebook.com/help/16... >   Answers to frequently asked questions:  - Soldiers and their loved ones are not charged money so that the Soldier can go on leave.  - Soldiers are not charged money for secure communications or leave.  - Soldiers do not need permission to get married.  - Soldiers emails are in this format: john.doe.mil@mail.mil < Caution-mailto: john.doe.mil@mail.mil > anything ending in .us or .com is not an official email account.  - Soldiers have medical insurance, which pays for their medical costs when treated at civilian health care facilities worldwide – family and friends do not need to pay their medical expenses.  - Military aircraft are not used to transport Privately Owned Vehicles.  - Army financial offices are not used to help Soldiers buy or sell items of any kind.  - Soldiers deployed to Combat Zones do not need to solicit money from the public to feed or house themselves or their troops.  - Deployed Soldiers do not find large unclaimed sums of money and need your help to get that money out of the country.  Anyone who tells you one of the above-listed conditions/circumstances is true is likely posing as a Soldier and trying to steal money from you.  We would urge you to immediately cease all contact with this individual.  For more information on avoiding online scams and to report this crime, please see the following sites and articles:   This article may help clarify some of the tricks social media scammers try to use to take advantage of people: Caution-https://www.army.mil/article/61432/< Caution-https://www.army.mil/article/61432/>   CID advises vigilance against 'romance scams,' scammers impersonating Soldiers  Caution-https://www.army.mil/article/180749 < Caution-https://www.army.mil/article/180749 >   FBI Internet Crime Complaint Center: Caution-http://www.ic3.gov/default.aspx< Caution-http://www.ic3.gov/default.aspx>   U.S. Army investigators warn public against romance scams: Caution-https://www.army.mil/article/130...< Caution-https://www.army.mil/article/130...>   DOD warns troops, families to be cybercrime smart -Caution-http://www.army.mil/article/1450...< Caution-http://www.army.mil/article/1450...>   Use caution with social networking  Caution-https://www.army.mil/article/146...< Caution-https://www.army.mil/article/146...>    Please see our frequently asked questions section under scams and legal issues. Caution-http://www.army.mil/faq/ < Caution-http://www.army.mil/faq/ > or visit Caution-http://www.cid.army.mil/ < Caution-http://www.cid.army.mil/ >.  The challenge with most scams is determining if an individual is a legitimate member of the US Army. Based on the Privacy Act of 1974, we cannot provide this information. If concerned about a scam you may contact the Better Business Bureau (if it involves a solicitation for money), or local law enforcement. If you're involved in a Facebook or dating site scam, you are free to contact us direct; (571) 305-4056.   If you have a social security number, you can find information about Soldiers online at Caution-https://www.dmdc.osd.mil/appj/sc... < Caution-https://www.dmdc.osd.mil/appj/sc... > . While this is a free search, it does not help you locate a retiree, but it can tell you if the Soldier is active duty or not.  If more information is needed such as current duty station or location, you can contact the Commander Soldier's Records Data Center (SRDC) by phone or mail and they will help you locate individuals on active duty only, not retirees. There is a fee of $3.50 for businesses to use this service. The check or money order must be made out to the U.S. Treasury. It is not refundable. The address is:  Commander Soldier's Records Data Center (SRDC) 8899 East 56th Street Indianapolis, IN 46249-5301 Phone: 1-866-771-6357  In addition, it is not possible to remove social networking site profiles without legitimate proof of identity theft or a scam. If you suspect fraud on this site, take a screenshot of any advances for money or impersonations and report the account on the social networking platform immediately.  Please submit all information you have on this incident to Caution-www.ic3.gov < Caution-http://www.ic3.gov > (FBI website, Internet Criminal Complaint Center), immediately stop contact with the scammer (you are potentially providing them more information which can be used to scam you), and learn how to protect yourself against these scams at Caution-http://www.ftc.gov < Caution-http://www.ftc.gov > (Federal Trade Commission's website)

As an employer, what legal and tax forms am I required to have a new employee to fill out?

I-9, W-4, state W-4, and some sort of state new hire form. The New hire form is for dead beat parents. Don't inform the state in time and guess what? You become personally liable for what should have been garnished from their wages.From the sound of your question I infer that you are trying to make this a DIY project. DO NOT. There are just too many things that you can F up. Seek yea a CPA or at least a payroll service YESTERDAY.
Related content Get and Sign Legal Divorce Forms