Establishing secure connection…
Loading editor…
Preparing document…
Get And Sign Survey On Ensuring Equal Opportunity For Applicants Usda Form
How It Works
Open form follow the instructions
Easily sign the form with your finger
Send filled & signed form or save
Rate form
Get And Sign Survey On Ensuring Equal Opportunity For Applicants Usda Form
SignNow's web-based application is specifically designed to simplify the arrangement of workflow and improve the whole process of competent document management. Use this step-by-step guide to fill out the Survey on ensuring equal opportunity for applicants usda form promptly and with perfect accuracy.
The way to complete the Survey on ensuring equal opportunity for applicants usda form online:
To get started on the blank, use the Fill & Sign Online button or tick the preview image of the document.
The advanced tools of the editor will direct you through the editable PDF template.
Enter your official identification and contact details.
Utilize a check mark to indicate the answer wherever needed.
Double check all the fillable fields to ensure complete precision.
Use the Sign Tool to create and add your electronic signature to certify the Survey on ensuring equal opportunity for applicants usda form.
Press Done after you fill out the form.
Now you'll be able to print, download, or share the form.
Refer to the Support section or contact our Support group in the event that you have any questions.
By utilizing SignNow's complete service, you're able to perform any important edits to Survey on ensuring equal opportunity for applicants usda form, generate your personalized digital signature within a few quick actions, and streamline your workflow without leaving your browser.
Video instructions and help with filling out and completing Get and Sign survey on ensuring equal opportunity for applicants usda form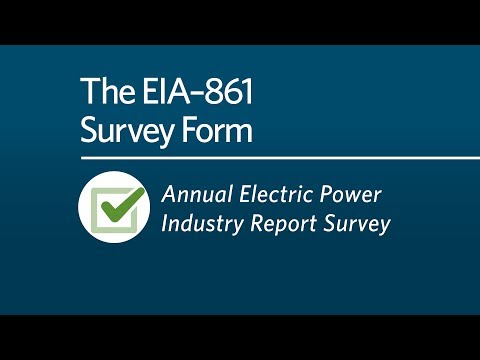 Instructions and Help about Get and Sign survey on ensuring equal opportunity for applicants usda form
welcome to the EIA 861 web tutorial for me I a 861 annual electric power industry report is a mandatory report which collects information on the status of electric power industry participants involved in generation transmission distribution in the sale of electric energy in the United States and its territories before we begin it is important to note that all revenue amounts on the form are reported in thousand dollars and rounded to the nearest tech for example 50 4129 will be reported as 54.1 thousand dollars this should be calculated by dividing a revenue by 1,000 or moving the decimal three places to the left energy amounts are reported in either megawatt hours or megawatts sales are reported in megawatt hours and rounded to the nearest whole value one megawatt hour is equal to one thousand kilowatt hours and can be calculated by dividing your kilowatt hours by one thousand or moving the decimal three places to the left for example 1268 kilowatt hours would be reported as one megaw
FAQ
What's the easiest survey form application to fill out on a mobile device?

I'd like to recommend you MySurveyLab - a professional survey tool.It enables users to create attractive surveys with responsive design. It means that they will look great at any type of devices: PCs, tablets or smartphones.The tool is really flexible: you can use it for creating short polls, quizzes, and advanced survey researches as well.Here is the list of main features, that you might be interested in:more than 20 types of questions.Many methods of sharing surveys:as a linkemail, email-embedded surveyweb widget or pop-up,QR code surveys,offline surveys with the mobile app.Survey branding. This feature will help you to create really attractive surveys. Moreover, you will be able to fit it to your company's branding - add the logo, change colors, fonts, opacity and etc.Advanced survey logic. This function enables you to create different question paths for different respondents. It can be based on previous answers, contact information, type of the device.Multi-language surveys. Also right-to-left written languages.Real-time reports, which can be downloaded in PDF, PowerPoint, Excel, and SPSS.Report filtering. An innovative feature, which helps to compare reports, respondents and etc.Dashboards. Another one feature, that helps with data analysis. It provides you with information about your respondents in a really attractive and understandable way.The tool has a free trial! So don't hesitate to sign in and check all the possibilities.Hope to be helpful! Good luck!

Does it make you uncomfortable to fill out equal opportunity employment forms with job applications because of your disability?

I've never actually had to do this in job-seeking; I already had a job, then had a stroke, then, when I returned to my job, I filed for Accommodation.I wouldn't have even done that, but my District-level person was being a butthead. I wasn't coming back to full-time fast enough for her; a month after my stroke, my doctor allowed me 25 hours, two weeks later, I requested being ticked up to thirty hours, and my doctor held me there until I'd had my whole first round of PT/OT. My DD started making noises about me stepping down from managerial and going on-call (more hands-on/physical *snort*) so I asked my doctor for forty.When I took that paper to the DD- forty hours, back at full-time- my DD immediately put me back into the on-call manager rotation, and, lo! and behold! I was scheduled as primary on-call that very weekend! Doc said, "No- forty hours, no nights or weekends," and castigated my DD for wanting to kill me so soon after almost killing me. So, with that paper in hand, I wrote a letter to HR explaining what I was requesting and why, including my Doctor's Note, and was granted my accommodation.They nearly had to do this. When I was hired into my position, I was assured then I was not on-call, I worked straight eight M - F, no OT unless I volunteered to take a shift somewhere else in the district to cover a call-out. Both the President and Vice-President told me directly I was not on-call. It was the DD who had instituted a weekend on-call rotation a few months after starting her own position, because too many of her younger, more vibrant, managers liked to party on the weekends and so were not covering their programs correctly, and, because I try to be a good employee, I didn't fuss, I pulled my call-weekends like a good little soldier, covering for others. But not anymore.Not anymore. HR granted my accommodation; DD wasn't happy and still isn't. I get notes to record for any little thing she can find- it gets old. I know she's covering her ass, she knows I'm covering mine, so here we are, in a state of detente; neither one of us giving an inch.My job is difficult; all mandated paperwork for 35 people- and it has to be exactly, meticulously, correct. I do it. I do it and manage a program which is richer and more widely varied than any other in the company, but, as boxed-in as I am, I boxed them in, with me. So, here we are- it isn't fun, it isn't "right", it just is.I despise that I had to force my company to do the right thing; but I wasn't going to allow them to brush me away simply because I can no longer pick up the slack in other departments.

How can I get a lot of people to fill out my Google form survey for a research paper?

First of all, to get a lot of responses for your survey don't forget to follow main rules of creating a survey. Here are some of them:Create and design an invitation page, sett the information about why it is so important for you to get the answers there; also write the purpose of your survey.Make your survey short. Remember that people spend their time answering questions.Preset your goal, decide what information you want to get in the end. Prepare list of questions, which would be the most important for you.Give your respondents enough time to answer a survey.Don't forget to say "Thank you!", be polite.Besides, if you want to get more responses, you can use these tips:1.The first one is to purchase responses from survey panel. You can use MySurveyLab's survey panel for it. In this case you will get reliable and useful results. You can read more about it here.2.If you don't want to spent money for responses, you can use the second solution. The mentioned tool enables sharing the survey via different channels: email (invitations and e-mail embedded surveys, SMS, QR codes, as a link.You can share the link on different social media, like Twitter, Facebook, Facebook groups, different forums could be also useful, Pinterest, LinkedIn, VKontakte and so on… I think that if you use all these channels, you could get planned number of responses.Hope to be helpful! Good luck!

How can I make it easier for users to fill out a form on mobile apps?

I'll tell you a secret - you can thank me later for this.If you want to make the form-filling experience easy for a user - make sure that you have a great UI to offer.Everything boils down to UI at the end.Axonator is one of the best mobile apps to collect data since it offers powerful features bundled with a simple UI.The problem with most of the mobile form apps is that they are overloaded with features that aren't really necessary.The same doesn't hold true for Axonator. It has useful features but it is very unlikely that the user will feel overwhelmed in using them.So, if you are inclined towards having greater form completion rates for your survey or any data collection projects, then Axonator is the way to go.Apart from that, there are other features that make the data collection process faster like offline data collection, rich data capture - audio, video, images, QR code & barcode data capture, live location & time capture, and more!Check all the features here!You will be able to complete more surveys - because productivity will certainly shoot up.Since you aren't using paper forms, errors will drop significantly.The cost of the paper & print will be saved - your office expenses will drop dramatically.No repeat work. No data entry. Time & money saved yet again.Analytics will empower you to make strategic decisions and explore new revenue opportunities.The app is dirt-cheap & you don't any training to use the app. They come in with a smooth UI. Forget using, even creating forms for your apps is easy on the platform. Just drag & drop - and it's ready for use. Anyone can build an app under hours.

For universities selecting on JEE merit, do we have to fill out an application form beforehand?

Some institutes ask to fill the application form separately though they grant admission on the basis of JEE main marks.So visit the websites of the institutes regularly.
Related content Get and Sign survey on ensuring equal opportunity for applicants usda form