Establishing secure connection…
Loading editor…
Preparing document…
Get And Sign Irs Form 843 2011
How It Works
Open form follow the instructions
Easily sign the form with your finger
Send filled & signed form or save
Rate form
Get And Sign Irs Form 843 2011
SignNow's web-based application is specifically developed to simplify the management of workflow and optimize the whole process of competent document management. Use this step-by-step guide to fill out the Irs form 843 2011 quickly and with excellent accuracy.
The way to complete the Irs form 843 2011 online:
To begin the blank, use the Fill & Sign Online button or tick the preview image of the form.
The advanced tools of the editor will direct you through the editable PDF template.
Enter your official contact and identification details.
Apply a check mark to point the choice wherever needed.
Double check all the fillable fields to ensure total accuracy.
Make use of the Sign Tool to create and add your electronic signature to certify the Irs form 843 2011.
Press Done after you finish the blank.
Now it is possible to print, download, or share the form.
Address the Support section or get in touch with our Support group in the event you've got any questions.
By making use of SignNow's complete solution, you're able to carry out any necessary edits to Irs form 843 2011, create your personalized digital signature in a couple of quick actions, and streamline your workflow without the need of leaving your browser.
Video instructions and help with filling out and completing Get and Sign irs form 843 2011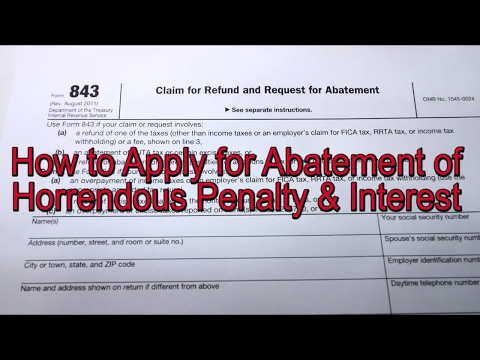 Instructions and Help about Get and Sign irs form 843 2011
you find you owe the IRS and the penalty an interest they Tek on has doubled trip or a quadrupled the amount of the original tax the penalties and interests are horrendous how do you find relief hi I'm Gary and look at a tax Bulldog for the best thoughts and ideas for trimming your tax down these videos should help you to help yourself to avoid costly professional fees if your situation has a level of complexity they may want to consult with a professional these videos will at least give you an introduction of what to expect and to know when someone is just trying to mislead you if you feel you need help see my video on selecting a tax professional to represent you at this link I'll put this in the description below now we'll cover information on states where I can there are 50 states in each having their own unique tax laws while I have worked with many states in my many years in this profession they do change at times I cannot keep up with all 50 states where it's a lot easier with t
FAQ
What IRS address do you use to mail form 843?

It's spelled out somewhat complexly in the Form 843 Instructions. It depends on what type of notice you are responding to. The notice type will be at the top of the letter you got from the IRS informing you that you have penalties.

How long does it take to get a refund of wrongly withheld Social Security taxes and Medicare taxes from IRS after the filing of form 843?

I have seen it take up to 2 years to get a refund processed, but you can contact the IRS to check on the status.  I would not start at the taxpayer advocate office as they will not help you until you have tried the normal IRS channels first. Start with Contact Your Local IRS Office

How does my doctor write abatement letter to the IRS when filing form 843?

Your doctor should not write an abatement letter. Your tax advisor should do that, using the doctor's letter as support.The doctor's job is to set forth the medical facts found after examining you, and his/her opinion as to the degree to which that medical condition prevented you from performing certain tasks.Your tax advisor would then use that letter in support for making a reasonable cause argument.If the doctor's letter looks like it is taking an advocate position, rhe IRS may question its validity.

How can I fill out an IRS form 8379?

Form 8379, the Injured Spouse declaration, is used to ensure that a spouse's share of a refund from a joint tax return is not used by the IRS as an offset to pay a tax obligation of the other spouse.Before you file this, make sure that you know the difference between this and the Innocent Spouse declaration, Form 8857. You use Form 8379 when your spouse owes money for a legally enforeceable tax debt (such as a student loan which is in default) for which you are not jointly liable. You use Form 8857 when you want to be released from tax liability for an understatement of tax that resulted from actions taken by your spouse of which you had no knowledge, and had no reason to know.As the other answers have specified, you follow the Instructions for Form 8379 (11/2016) on the IRS Web site to actually fill it out.

For taxes, does one have to fill out a federal IRS form and a state IRS form?

No, taxes are handled separately between state and federal governments in the United States.The IRS (Internal Revenue Service) is a federal, not  state agency.You will be required to fill out the the necessary tax documentation for your federal income annually and submit them to the IRS by April 15th of that year. You can receive extensions for this; but you have to apply for those extensions.As far as state taxes go, 41 states require you to fill out an income tax return annually. They can either mail you those forms or they be downloaded from online. They are also available for free at various locations around the state.Nine states have no tax on personal income, so there is no need to fill out a state tax return unless you are a business owner.Reference:www.irs.gov

Which IRS forms do US expats need to fill out?

That would depend on their personal situation, but should they actually have a full financial life in another country including investments, pensions, mortgages, insurance policies, a small business, multiple bank accounts…The reporting alone can be bankrupting, and that is before you get on to actual taxes that are punitive toward foreign finances owned by a US citizen and god help you if you make mistake because penalties appear designed to bankrupt you.US citizens globally are renouncing citizenship for good reason.This is extracted from a letter sent by the James Bopp law firm to Chairman Mark Meadows of the subcommittee of government operations regarding the difficulty faced by US citizens who try to live else where." FATCA is forcing Americans abroad into a set of circumstances where they must renounce their U.S. citizenship to survive.For example, suppose you have a married couple living in Washington DC. One works as a lobbyist for an NGO and has a defined benefits pensions. The other is self employed in a lobby firm, working under an LLC. According to the IRS filing requirements, it would take about 15 hours and $280 to complete their yearly filings. Should they under report income, any penalties would be a percentage of their unreported tax burden. The worst case is a 20% civil fraud penalty.Compare the same couple with one different fact. They moved to Australia because the NGO reassigned the wife to Sydney. The husband, likewise, moves his business overseas. They open a bank account, contribute to the mandatory Australian retirement fund, purchase a house with a mortgage and get a life insurance policy on both of them.These are now their new filing requirements:• Form 8938• Form 3520-A• Form 3520• Form 5471 (to be filed by the husbands new Australian corporation where he is self employed)• Form 720 Excise Tax.• FinCEN Form 114The burden that was 15 hours now goes up to• 57.2 hours for Form 720,• 54.20 hours for Form 3520,• 61.22 Hours for Form 3520-A.• 50 hours estimate for Form 5471For a total of 226.99 hours (according to the IRS's own time estimates) not including time to file the FBAR.The penalties for innocent misfiling or non filings for the above foreign reporting forms for the couple are up to $50,000, per year. It is likely that the foreign income exclusion and foreign tax credit will negate any actual tax due to the IRS. So each year, there is a lurking $50,000 penalty for getting something technically wrong on a form, yet there would be no additional tax due to the US treasury."

When dissolving an LLC do you need to fill out IRS Form 966?

The answer will be yes or no depending on how your entity is recognized for tax purposes. An LLC is not a recognized entity by the IRS. By default, a single-member LLC is organized for tax purposes as a sole proprietorship and a partnership for tax purposes if there is more than one member. However, you can make an election to be taxed as a C Corporation (i.e., an LLC for legal purposes that is taxed as a C Corporation for tax purposes).You must complete and file form 966 to dissolve your LLC if you have elected to be a C Corporation or a Cooperative (Coop) for tax purposes. S Corporations and tax-exempt non-profits are exempt from filing this form (see here).If you are organized for tax purposes as an S Corporation you would file your taxes via form 1120S for the last time and check the box indicating that your return is a "Final Return." Same is true for a Partnership, but with form 1065.On a state and local level, best practice is to check with your state and local agencies for requirements.For digestible information and tools for understanding how the tax landscape affects your business, visit Financial Telepathy

Do un-contracted workers have to fill out IRS W4 form?

I have no idea what an "un-contracted worker" is. I am not familiar with that term.Employees working in the U.S. complete a Form W-4.Independent contractors in the U.S. do not. Instead, they usually complete a Form W-9.If unclear on the difference between an employee or an independent contractor, see Independent Contractor Self Employed or Employee
Related content Get and Sign irs form 843 2011