Establishing secure connection…
Loading editor…
Preparing document…
Get And Sign Global Blue Tax Form Pdf
How It Works
Open form follow the instructions
Easily sign the form with your finger
Send filled & signed form or save
Rate form
Get And Sign Global Blue Tax Form Pdf
SignNow's web-based software is specifically designed to simplify the organization of workflow and enhance the process of competent document management. Use this step-by-step guide to complete the Global blue tax form pdf quickly and with perfect accuracy.
How to complete the Global blue tax form pdf online:
To start the document, utilize the Fill & Sign Online button or tick the preview image of the blank.
The advanced tools of the editor will guide you through the editable PDF template.
Enter your official contact and identification details.
Apply a check mark to point the choice where required.
Double check all the fillable fields to ensure complete accuracy.
Use the Sign Tool to add and create your electronic signature to certify the Global blue tax form pdf.
Press Done after you finish the form.
Now you can print, save, or share the document.
Address the Support section or contact our Support staff in the event you've got any questions.
By utilizing SignNow's comprehensive platform, you're able to perform any necessary edits to Global blue tax form pdf, generate your customized electronic signature in a couple of fast steps, and streamline your workflow without the need of leaving your browser.
Video instructions and help with filling out and completing Get and Sign global blue tax form pdf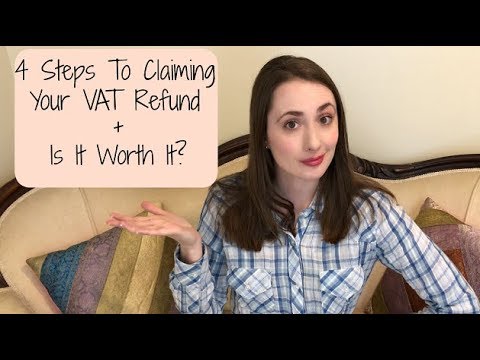 Instructions and Help about Get and Sign global blue tax form pdf
hi everyone welcome back to my channel or welcome if you are brand new here my name is Jessica also known as chic professor on Instagram and I make videos on luxury goods the pre left market and work where today's video is going to be four steps and a fifth kind of bonus step to discuss how to get a VAT refund when you are traveling to the EU and you live in a country outside of the EU so let's go ahead and get started so I recently took a trip to Europe we went to the UK Greece Italy and France and I bought some things there are some videos with flags and showing what I bought as well as I sort of experienced this VAT refund process and wanted to talk to you about it I did a lot of research to figure out if it was going to be worth it which I'll be discussing in that fifth kind of bonus step but I want to tell you about that experience so that you have the most knowledge possible if you are considering making purchases abroad so step number one is going to be to do your research to fi
FAQ
How do I fill a form which is PDF?

You can try out Fill which had a free forever plan and requires no download. You simply upload your PDF and then fill it in within the browser:UploadFillDownloadIf the fields are live, as in the example above, simply fill them in. If the fields are not live you can drag on the fields to complete it quickly. Once you have completed the form click the download icon in the toolbar to download a copy of the finished PDF. Or send it for signing.Open a free account on Fill here

How can I electronically fill out a PDF form?

You'll need a PDF editor to fill out forms. I recommend you PDF Expert, it's a great solution for Mac.What forms it supports:Acro forms created in Adobe Acrobat or similar programs.Static XFA forms created in Adobe LiveCycle.PDF Expert supports checkboxes and text fields. Just click them and type what you need.If your form is non-interactive, you can type on it using the 'Text' tool (go to the 'Annotate' tab > 'Text').For a non-interactive checkbox, you can use the 'Stamp' tool or just type 'x' on it.For a more detailed tutorial, check the article "How to fill out a PDF form on Mac". And here are the guides on how to fill out different tax forms.Hopefully, this helps!

How do you fill out tax forms?

I strongly recommend purchasing a tax program, Turbo tax, H&R block etc.These programs will ask you questions and they will fill out the forms for you.You just print it out and mail it in. (with a check, if you owe anything)I used to use an accountant but these programs found more deductions.

How do I fill a W-9 Tax Form out?

Download a blank Form W-9To get started, download the latest Form W-9 from the IRS website at https://www.irs.gov/pub/irs-pdf/.... Check the date in the top left corner of the form as it is updated occasionally by the IRS. The current revision should read (Rev. December 2014). Click anywhere on the form and a menu appears at the top that will allow you to either print or save the document. If the browser you are using doesn't allow you to type directly into the W-9 then save the form to your desktop and reopen using Adobe Acrobat Reader.General purposeThe general purpose of Form W-9 is to provide your correct taxpayer identification number (TIN) to an individual or entity (typically a company) that is required to submit an "information return" to the IRS to report an amount paid to you, or other reportable amount.U.S. personForm W-9 should only be completed by what the IRS calls a "U.S. person". Some examples of U.S. persons include an individual who is a U.S. citizen or a U.S. resident alien. Partnerships, corporations, companies, or associations created or organized in the United States or under the laws of the United States are also U.S. persons.If you are not a U.S. person you should not use this form. You will likely need to provide Form W-8.Enter your informationLine 1 – Name: This line should match the name on your income tax return.Line 2 – Business name: This line is optional and would include your business name, trade name, DBA name, or disregarded entity name if you have any of these. You only need to complete this line if your name here is different from the name on line 1. See our related blog, What is a disregarded entity?Line 3 – Federal tax classification: Check ONE box for your U.S. federal tax classification. This should be the tax classification of the person or entity name that is entered on line 1. See our related blog, What is the difference between an individual and a sole proprietor?Limited Liability Company (LLC). If the name on line 1 is an LLC treated as a partnership for U.S. federal tax purposes, check the "Limited liability company" box and enter "P" in the space provided. If the LLC has filed Form 8832 or 2553 to be taxed as a corporation, check the "Limited liability company" box and in the space provided enter "C" for C corporation or "S" for S corporation. If it is a single-member LLC that is a disregarded entity, do not check the "Limited liability company" box; instead check the first box in line 3 "Individual/sole proprietor or single-member LLC." See our related blog, What tax classification should an LLC select?Other (see instructions) – This line should be used for classifications that are not listed such as nonprofits, governmental entities, etc.Line 4 – Exemptions: If you are exempt from backup withholding enter your exempt payee code in the first space. If you are exempt from FATCA reporting enter your exemption from FATCA reporting code in the second space. Generally, individuals (including sole proprietors) are not exempt from backup withholding. See the "Specific Instructions" for line 4 shown with Form W-9 for more detailed information on exemptions.Line 5 – Address: Enter your address (number, street, and apartment or suite number). This is where the requester of the Form W-9 will mail your information returns.Line 6 – City, state and ZIP: Enter your city, state and ZIP code.Line 7 – Account numbers: This is an optional field to list your account number(s) with the company requesting your W-9 such as a bank, brokerage or vendor. We recommend that you do not list any account numbers as you may have to provide additional W-9 forms for accounts you do not include.Requester's name and address: This is an optional section you can use to record the requester's name and address you sent your W-9 to.Part I – Taxpayer Identification Number (TIN): Enter in your taxpayer identification number here. This is typically a social security number for an individual or sole proprietor and an employer identification number for a company. See our blog, What is a TIN number?Part II – Certification: Sign and date your form.For additional information visit w9manager.com.

How do I fill out an income tax form?

The Indian Income-Tax department has made the process of filing of income tax returns simplified and easy to understand.However, that is applicable only in case where you don't have incomes under different heads. Let's say, you are earning salary from a company in India, the company deducts TDS from your salary. In such a scenario, it's very easy to file the return.Contrary to this is the scenario, where you have income from business and you need to see what all expenses you can claim as deduction while calculating the net taxable income.You can always reach out to a tax consultant for detailed review of your tax return.

How do you fill out a 1040EZ tax form?

The instructions are available here 1040EZ (2014)

How do you fill out a form scanned as a PDF?

If you have Acrobat Reader or Foxit Phantom, you can add form to the PDF file you want to fill in. Refer to the screenshot here (Phantom). First click on Form, then you can pick option you want for your form (Text Field, Check box…) and draw it where you want to input your data. You can also change font and size of it to fit the existing text. When you are done adding the fields, you can just click on the hand icon, and you can now fill in your form and then save it as.

How do I fill out tax form 4972?

Here are the line by line instructions Page on irs.gov, if you still are having problems, I suggest you contact a US tax professional to complete the form for you.
Related content Get and Sign global blue tax form pdf