Establishing secure connection…
Loading editor…
Preparing document…
Get And Sign Mental Health Intake Assessment Form
How It Works
Open form follow the instructions
Easily sign the form with your finger
Send filled & signed form or save
Rate form
Get And Sign Mental Health Intake Assessment Form
SignNow's web-based program is specifically created to simplify the management of workflow and enhance the process of competent document management. Use this step-by-step guideline to fill out the Mental health intake assessment form promptly and with perfect accuracy.
Tips on how to complete the Mental health intake assessment form on the web:
To get started on the blank, utilize the Fill & Sign Online button or tick the preview image of the document.
The advanced tools of the editor will guide you through the editable PDF template.
Enter your official contact and identification details.
Use a check mark to point the answer where demanded.
Double check all the fillable fields to ensure total accuracy.
Make use of the Sign Tool to add and create your electronic signature to certify the Mental health intake assessment form.
Press Done after you fill out the form.
Now you are able to print, save, or share the form.
Address the Support section or contact our Support group in the event that you have got any questions.
By utilizing SignNow's complete solution, you're able to complete any necessary edits to Mental health intake assessment form, generate your personalized electronic signature within a few quick actions, and streamline your workflow without leaving your browser.
Video instructions and help with filling out and completing Get and Sign mental health intake assessment form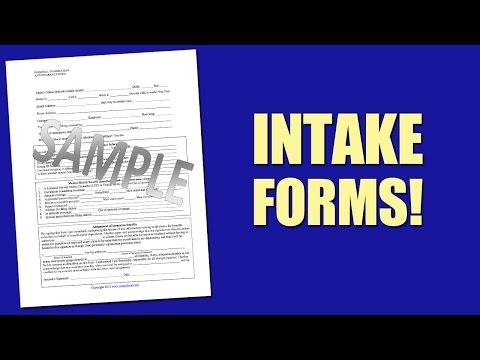 Instructions and Help about Get and Sign mental health intake assessment form
Hi everyone, its Jean and today I want to show you all the different forms in the private practice starter kit that would be consideredclient intake forms.Don t forget to subscribe to my YouTube channel so you don t miss any mental healthcounselor business tips.In this brief presentation I ll show you the client intake forms in your private practicestarter kit and share one huge Business Tip that hardy anyone else takes advantage of:1. Phone Intake 2. Personal Information and Insurance3. Biopsychosocial 4. Intake Assessment5. Information and Consent 6. Release of InformationFirst, the phone Intake this is where it begins. A 1 page form that guides you oryour secretary through the phone intake interview. TAKE note of the Referred By prompt. Moreabout that later.Second, Personal Information and Insurance collects all the important informationto bill insurance if your client is using behavioral health benefits. Kit comes with2 forms: one that assigns benefits to the therapist and a anothe
FAQ
How do you know if your therapist has abused you in therapy with countertransference?

A good way to assess your therapist's behavior, if it seems inappropriate, and you aren't comfortable discussing it with them, or no longer see them as reliable/trustworthy, is to have a look at their professional code of ethics. These are slightly different, depending on their licensure—so if you know whether they're licensed as a psychologist, professional counselor, social worker, marriage and family therapist, mental health counselor, addictions counselor, or something else, that will help you track down the relevant document. Professional ethics are posted on the websites of all of our national associations—for me as a marriage and family therapist, for example, if you search "marriage and family therapist professional ethics," you'll get a link to the AAMFT website, with a comprehensive listing of ethics, and some clarifying information about each standard.You can also usually look up relevant legal standards on the website for your state mental health regulatory board. This may be a little trickier to hunt down. In my state, we have one overarching organization that regulates all non-medical mental health professionals. In some states, it's divided further by specific profession or licensure, or rolled into some larger governing body. If you search "[your state] mental health licensing board," you can probably find it that way. Usually, it will feature links to the statutes governing mental healthcare in your state.If it's clear that your therapist violated one or more of the laws or professional ethical standards that apply to them, you have your answer. At that point, there are several steps you can take, and I'll talk about those in a moment. If it's unclear to you, or if it appears that they haven't broken any rules, but something still feels wrong, it might not be a bad idea to get a second opinion. This could come from their work supervisor or clinical supervisor, if they have one; or you could consult with a different mental health professional, a healthcare consumer advocate, or a peer counselor, to get their perspective. You could also look for feedback from a friend or family member; bear in mind, though, that they may have their own biases for or against the idea that your therapist has treated you abusively. No matter who you talk to—at the end of the day, you are the person who gets to decide whether to continue the clinical relationship, and how to follow up outside it. It is okay to leave therapy just because you feel uncomfortable or unsafe—there's not a specific minimum standard you have to meet, to decide it isn't a good fit, and it's time to move on.If you either feel certain that your therapist behaved abusively, inappropriately, and/or unethically; or you really aren't certain, and can't make sense of it one way or the other, it is a good idea to make a report. While responding to a governing board complaint can be a headache—it is also something that all of us sign on for, just by being therapists. It's an important way to get some relatively impartial, experienced and professional eyes on problematic professional behavior. And it is often a necessary part of protecting public safety and therapist integrity.Be mindful that if you file a complaint, you will generally be asked to sign a release to the board, granting them access to your clinical records. Governing boards are usually made up of mental health professionals, themselves; this doesn't mean your personal information will be trumpeted from the mountaintops—but they do need to see that information, to fully understand what happened, and intervene appropriately.Most state licensing board websites will have a link to a complaint form, which you can either fill out online, or print and mail in. If not, you can give them a call, and ask how to initiate this procedure.You can also look into filing a complaint with a national professional organization. While these don't have direct control over therapist licensure, they do have the ability to rescind membership which, in most states, will automatically take away a therapist's license. So they can impose censures, sanctions, and requirements for continuing education or re-training.And—assuming your therapist works in a larger practice, and/or under clinical supervision (you should have been told at intake, if they do); you can call their boss. This might lead to a higher-pressure sell about reporting to a state board; in and of itself, though, it is likely to be the lowest-stress option for you.Last but not least, you can seek legal counsel. Depending on what happened, this might be more of a legal charges or civil charges thing—or both. I'm not a lawyer, so I'll refrain from guessing; but a good starting point in that case would be to call your local Legal Aid organization for advice about next steps.

Should the candidates for president and vice president be given mental fitness as a prequalification to run?

I would not have a problem with establishing some measure of determining mental fitness for the office of President and Vice President but what standardized assessment would you choose? Are you going to require an M.M.P.I, Wechsler Intelligence Scale for Adults and require and I.Q. cutoff score?If your going to establish some assessment of mental fitness for the President and Vice President, why not extend such a standard to members of Congress and judges? After all, some of these people end up in office for years or for life (as with Supreme Court Justices.) Why not subject members of Congress and judges to periodic mental fitness assessments, oh say every 5–10 years?After all, the President and Vice President are in office from 4–8 years while our members of Congress and Judges hang around for years, often making irrational decisions.

I'm about to go to a mental health assessment and I am scared. I want to back out, but I know I need it. How do I not talk myself out of it?

If you had financial problems and wanted to solve them would you get help from a pro? Yes. I've had an psych assessment and it's no big deal. It's actually a great learning tool, so do it. You may be surprised at the positive result!

How do I know if I have a mental illness?

Growing up, my siblings would say "Oh my gosh, you're so bipolar!" And it would drive me insane. I would think, "Yea, I'm a little crazy. I have mood swings. I'm irritable. But I'm not bipolar". I remember going to school with a girl who lived with her grandma but her mom would sometimes eat lunch with her. I asked her one day why she didn't live with her mom and she told me that her mom was bipolar. I was very young but I remember feeling like I understood that bipolar did not mean just moody, it meant something far more serious, something that could prevent you from being able to live with your own daughter. So with that in mind, when my family would call me this, I thought "No way".Well I grew up. I went to high school. I went to college. And my life started falling apart at about 19. I would work my ass at work and school. I had an awesome boyfriend. I was driven. I was motivated. And suddenly these "wild impulses" would spiral out of control. I would have periods where I never slept. And I had periods where I couldn't stop sleeping. But even though I missed my final exams one semester because I spent an entire day sleeping without realizing it, even though my boyfriend left me because I became very disconnected with reality, I never once thought something was mentally wrong with me, that I was "mentally ill".At 20, I experienced a point where I could no longer sleep. My brain was on fire. My heart would beat fast. I would lay in bed til the sun rose. If I was lucky, I could get in an hour or 2. It started to add up. I couldn't drive to school because I needed to sleep. I couldn't leave my apartment because I was practically a zombie. I even started drinking to fall asleep. After a few months of not sleeping regularly, I reached out for help. I went to the campus doctor. She referred me to a psychiatrist. She put me on antidepressants which did eventually help me sleep again. I got off of the medication after a few months. I made serious changes to live a healthier life after that.Fast forward a year, at 21, and my life is completely destroyed. I had now been arrested along with having an alcohol problem. I was a mess. I went to rehab and was assigned a psychiatrist. He diagnosed me with Bipolar Type 2. And a year later I was diagnosed with Type 1, after another arrest, in another rehab.You see, I am diagnosed with being Bipolar. I am "mentally ill". I never looked for a diagnosis. My life was filled with chaos. I went to an actual doctor to see if I was physically sick or something. That's how delusional I was. Now, I don't understand how I couldn't have seen the signs. But then again, I do know. Because I was never looking for a label. I just tried to accept myself for who I was and make changes that would better my life. But no matter where I moved, or who I did or did not date, how much I exercised, how much I slept, things would always go wrong at some point. Because I cannot runaway from my mental illness. It is my life. Without medication, I am a ticking time bomb. As many times as I have tried to avoid being medicated, and trying other options, I have always failed. My illness controls my life. It was inevitable that I would find out I had a mental illness. If your life is out of control and you feel like you behave or think in ways that prevent you from living a normal life, it's only a matter of time before you find out. But I wouldn't wish what I have on my worst enemy.

How can I convince my mother to take me seriously when it comes to my mental health? When I went to the doctor, the form I filled out indicated that I have severe anxiety and depression. It's been 5 months, and she still hasn't made an appointment.

ask her again. Do you know why she wont take you? that can be helpful. time, money, or perhaps just very very uncomfortable with this? do you have anyone else to ask if she still doesnt respond? can you go to a school nurse and maybe she can talk to your mom? ok, another option, pretend you are sick somehow or need a dr check up and note for some school sport, running, whatevee, that she would take you to the dr for. Even though she may be in the appt room with you , you can also ask your dr for a few minutes alone with the nurse and dr. good luck! wishing you the best

Do military members have to pay any fee for leave or fiancee forms?

NOOOOOOO. You are talking to a military romance scammer. I received an email from the US Army that directly answers your question that is pasted below please keep reading.I believe you are the victim of a military Romance Scam whereas the person you are talking to is a foreign national posing as an American Soldier claiming to be stationed overseas on a peacekeeping mission. That's the key to the scam they always claim to be on a peacekeeping mission.Part of their scam is saying that they have no access to their money that their mission is highly dangerous.If your boyfriend girlfriend/future husband/wife is asking you to do the following or has exhibited this behavior, it is a most likely a scam:Moves to private messaging site immediately after meeting you on Facebook or SnapChat or Instagram or some dating or social media site. Often times they delete the site you met them on right after they asked you to move to a more private messaging siteProfesses love to you very quickly & seems to quote poems and song lyrics along with using their own sort of broken language, as they profess their love and devotion quickly. They also showed concern for your health and love for your family.Promises marriage as soon as he/she gets to state for leave that they asked you to pay for.They Requests money (wire transfers) and Amazon, iTune ,Verizon, etc gift cards, for medicine, religious practices, and leaves to come home, internet access, complete job assignments, help sick friend, get him out of trouble, or anything that sounds fishy.The military does provide all the soldier needs including food medical Care and transportation for leave. Trust me, I lived it, you are probably being scammed. I am just trying to show you examples that you are most likely being connned.Below is an email response I received after I sent an inquiry to the US government when I discovered I was scammed. I received this wonderful response back with lots of useful links on how to find and report your scammer. And how to learn more about Romance Scams.Right now you can also copy the picture he gave you and do a google image search and you will hopefully see the pictures of the real person he is impersonating. this doesn't always work and take some digging. if you find the real person you can direct message them and alert them that their image is being used for scamming.Good Luck to you and I'm sorry this may be happening to you. please continue reading the government response I received below it's very informative.   You have contacted an email that is monitored by the U.S. Army Criminal Investigation Command. Unfortunately, this is a common concern. We assure you there is never any reason to send money to anyone claiming to be a Soldier online. If you have only spoken with this person online, it is likely they are not a U.S. Soldier at all. If this is a suspected imposter social media profile, we urge you to report it to that platform as soon as possible. Please continue reading for more resources and answers to other frequently asked questions:  How to report an imposter Facebook profile: Caution-https://www.facebook.com/help/16... < Caution-https://www.facebook.com/help/16... >   Answers to frequently asked questions:  - Soldiers and their loved ones are not charged money so that the Soldier can go on leave.  - Soldiers are not charged money for secure communications or leave.  - Soldiers do not need permission to get married.  - Soldiers emails are in this format: john.doe.mil@mail.mil < Caution-mailto: john.doe.mil@mail.mil > anything ending in .us or .com is not an official email account.  - Soldiers have medical insurance, which pays for their medical costs when treated at civilian health care facilities worldwide – family and friends do not need to pay their medical expenses.  - Military aircraft are not used to transport Privately Owned Vehicles.  - Army financial offices are not used to help Soldiers buy or sell items of any kind.  - Soldiers deployed to Combat Zones do not need to solicit money from the public to feed or house themselves or their troops.  - Deployed Soldiers do not find large unclaimed sums of money and need your help to get that money out of the country.  Anyone who tells you one of the above-listed conditions/circumstances is true is likely posing as a Soldier and trying to steal money from you.  We would urge you to immediately cease all contact with this individual.  For more information on avoiding online scams and to report this crime, please see the following sites and articles:   This article may help clarify some of the tricks social media scammers try to use to take advantage of people: Caution-https://www.army.mil/article/61432/< Caution-https://www.army.mil/article/61432/>   CID advises vigilance against 'romance scams,' scammers impersonating Soldiers  Caution-https://www.army.mil/article/180749 < Caution-https://www.army.mil/article/180749 >   FBI Internet Crime Complaint Center: Caution-http://www.ic3.gov/default.aspx< Caution-http://www.ic3.gov/default.aspx>   U.S. Army investigators warn public against romance scams: Caution-https://www.army.mil/article/130...< Caution-https://www.army.mil/article/130...>   DOD warns troops, families to be cybercrime smart -Caution-http://www.army.mil/article/1450...< Caution-http://www.army.mil/article/1450...>   Use caution with social networking  Caution-https://www.army.mil/article/146...< Caution-https://www.army.mil/article/146...>    Please see our frequently asked questions section under scams and legal issues. Caution-http://www.army.mil/faq/ < Caution-http://www.army.mil/faq/ > or visit Caution-http://www.cid.army.mil/ < Caution-http://www.cid.army.mil/ >.  The challenge with most scams is determining if an individual is a legitimate member of the US Army. Based on the Privacy Act of 1974, we cannot provide this information. If concerned about a scam you may contact the Better Business Bureau (if it involves a solicitation for money), or local law enforcement. If you're involved in a Facebook or dating site scam, you are free to contact us direct; (571) 305-4056.   If you have a social security number, you can find information about Soldiers online at Caution-https://www.dmdc.osd.mil/appj/sc... < Caution-https://www.dmdc.osd.mil/appj/sc... > . While this is a free search, it does not help you locate a retiree, but it can tell you if the Soldier is active duty or not.  If more information is needed such as current duty station or location, you can contact the Commander Soldier's Records Data Center (SRDC) by phone or mail and they will help you locate individuals on active duty only, not retirees. There is a fee of $3.50 for businesses to use this service. The check or money order must be made out to the U.S. Treasury. It is not refundable. The address is:  Commander Soldier's Records Data Center (SRDC) 8899 East 56th Street Indianapolis, IN 46249-5301 Phone: 1-866-771-6357  In addition, it is not possible to remove social networking site profiles without legitimate proof of identity theft or a scam. If you suspect fraud on this site, take a screenshot of any advances for money or impersonations and report the account on the social networking platform immediately.  Please submit all information you have on this incident to Caution-www.ic3.gov < Caution-http://www.ic3.gov > (FBI website, Internet Criminal Complaint Center), immediately stop contact with the scammer (you are potentially providing them more information which can be used to scam you), and learn how to protect yourself against these scams at Caution-http://www.ftc.gov < Caution-http://www.ftc.gov > (Federal Trade Commission's website)
Related content Get and Sign mental health intake assessment form