Establishing secure connection…
Loading editor…
Preparing document…
Get And Sign Public Works Fee Information Form
How It Works
Open form follow the instructions
Easily sign the form with your finger
Send filled & signed form or save
Rate form
Get And Sign Public Works Fee Information Form
SignNow's web-based software is specially created to simplify the organization of workflow and improve the whole process of competent document management. Use this step-by-step guide to fill out the Public works fee information form promptly and with ideal precision.
How you can complete the Public works fee information form on the web:
To begin the blank, utilize the Fill & Sign Online button or tick the preview image of the blank.
The advanced tools of the editor will lead you through the editable PDF template.
Enter your official identification and contact details.
Apply a check mark to point the choice where expected.
Double check all the fillable fields to ensure complete precision.
Utilize the Sign Tool to create and add your electronic signature to certify the Public works fee information form.
Press Done after you finish the form.
Now you may print, download, or share the document.
Refer to the Support section or contact our Support crew in the event that you have got any questions.
By making use of SignNow's complete platform, you're able to perform any necessary edits to Public works fee information form, create your personalized digital signature within a couple fast steps, and streamline your workflow without leaving your browser.
Video instructions and help with filling out and completing Get and Sign public works fee information form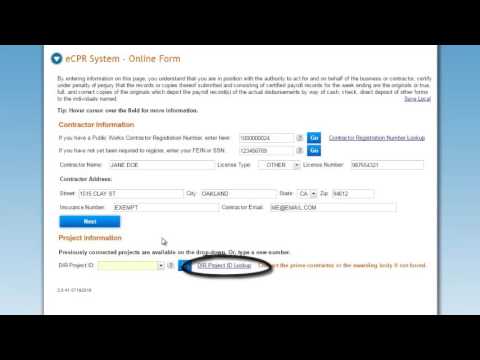 Instructions and Help about Get and Sign public works fee information form
welcome to the online certified payroll reporting system tutorial my name is Jean Marie Duval in this video we will walk you through the contractor and project information sections of the online form let's get started certified payroll is reported on our online system here once you are in the system enter your Public Works contract or registration number in the first field if you have not yet been required to register with the dir type and a in this field click go enter your f ein number or federal employer identification number this is a nine digit number obtained through the Internal Revenue Service for sole proprietors that don't have an F ein you will enter your social security number click on go you will notice that your auto-filled contractor information is no longer grayed out and this information is now editable if you didn't enter an email when you registered as a contractor please enter one now review and make sure that your contractor information is correct click Next this o
FAQ
How do police address racial bias in 'call outs' (neighbors being more likely to call the police to report 'suspicious' activity of a minority in a segregated neighborhood)?

When I worked as a 9-1-1 operator there was a line of questioning developed to determine the priority of the call. These calls usually originated in a certain part of the city and the person calling usually reported a Black or Latino person acting "suspiciously."  Well 9-1-1 operators wanted to catch the bad guys, too. So we would try to determine what the "suspicious" behavior was. Was the person looking into car windows? House windows? Were they walking down the street?  They would report a Black or Latino male who was walking down the street or sitting in his car eating lunch. We erred on the safe side and would put out an information only call. Officers are aware of crime trends in the area and if an area has been experiencing a higher number of vehicle or house burglaries, then the information broadcast might be useful to the car that is patrolling that area.  One night a woman called from the West side of the city,  frantic because she heard a noise on the side of her house. There was a car nearby and we sent on a possible prowler at the location, no suspect description. We told her the police were on the way and to call back if she had a description.  She called back. "I have a description!" "Yes Ma'am, is the suspect Black, White, Latino or Asian?"  "They're two of them, and... and they are Black!"  "What color shirt and pants are they wearing?"  "They're both wearing dark clothing! Where are the police! Oh my God!!! They are on the side of my house looking around!  Get the police out here now! Hello? Hello?" "Unit at ____ the P/R is on the line. She describes the suspects as two male Blacks wearing dark clothing on the side of the house right now." "Control, that's us. The P/R is describing us. We're two Black officers. We're wearing dark clothing, our uniform. Tell the P/R to open the door and come out and talk to us. The noise she's reporting is a tree branch." The operators had it easy, it's a tougher call for an officer. Err on the side of safety and treat people respectfully and hope that situation turns out okay for everyone. My motto, everyone gets to go home.

What requirements are there for building a startup?

There are no requirements to actually building a startup.Every startup will have its own special way that it will start up and its own bespoke path to the road for success. That being said, there are guidelines that most startups follow in order to increase their chances of success. Let me share them with you.LegalMaking sure that a startup begins on the right legal footing is crucial for success. You will want to make sure that the startup is registered, has the right structure and all the proper legal documents and certifications.You would be surprised by the number of startups that don't have all of the followings! If you aren't legally covered from the beginning, it can cause serious trouble for your startup in the future.For example, imagine you are running a Fintech startup.You might be unaware of all the regulations that your startup must abide by.Hence, you might be accidentally be violating one or more of them if you don't have the proper supervision or license.A regulatory body like the Financial Conduct Authority (FCA) might find out about this and either give you a hefty fine or even ask for your business to shut down due to its illegal nature.Either way, your startup has just been dealt a massive blow that will be almost impossible to come back from.TeamEvery startup needs to be started with the best possible team to run and have a vision of the future for it.Then from there, they will need to hire the best possible talent that they can.Why? Because having the best people working for your startup will help it scale for the future.That is why companies like Google, Facebook, Amazon, Apple and etc spend so much money and time on hiring the best people out there for the job. When raising funds, investors will want to see why your team is the best team for the job.That is why having the best talent is so important. It will show investors and the world that your team has what it takes to take this idea into the future.In the startup world, no matter how amazing your idea is, if you don't have the right team to execute it, it will fail.IdeaWhich brings us to the idea itself. At the end of the day, the idea itself will be fundamental to building your startup and its success.This means that you have to be 100% convinced that what you will be working on has the potential to actually change the world or industry.You will have to do a crazy amount of research on your industry, competitors, current trends, future trends, the market, consumer research and so on and so on.The fundamental question you should be able to answer is whether or not the pain point you are trying to solve really exists and if your product would be the best one to solve it.Then from there, you will have to be able to take the next step in the journey which is to actually start the business.Starting a company is not easy and it will require a lot of blood, sweat, tears and sacrifices but, speaking from experience it is completely worth it!I recommend you read as many books as you can from past founders (like Tools of Titans, The Hard Thing About Hard Things and etc), blogs, videos, podcasts and etc as you can to gain as much knowledge as you can before jumping in.At the end of the day, your ability to learn (because no one knows everything, no matter how many times they have done it) and grow will be fundamental to your success with your startup and with life!I hope this has helped you and if you have any legal questions or need legal assistance for your startup, feel free to contact me or visit our website. We offer a FREE Startup Legal Consultation, check it out!

Do military members have to pay any fee for leave or fiancee forms?

NOOOOOOO. You are talking to a military romance scammer. I received an email from the US Army that directly answers your question that is pasted below please keep reading.I believe you are the victim of a military Romance Scam whereas the person you are talking to is a foreign national posing as an American Soldier claiming to be stationed overseas on a peacekeeping mission. That's the key to the scam they always claim to be on a peacekeeping mission.Part of their scam is saying that they have no access to their money that their mission is highly dangerous.If your boyfriend girlfriend/future husband/wife is asking you to do the following or has exhibited this behavior, it is a most likely a scam:Moves to private messaging site immediately after meeting you on Facebook or SnapChat or Instagram or some dating or social media site. Often times they delete the site you met them on right after they asked you to move to a more private messaging siteProfesses love to you very quickly & seems to quote poems and song lyrics along with using their own sort of broken language, as they profess their love and devotion quickly. They also showed concern for your health and love for your family.Promises marriage as soon as he/she gets to state for leave that they asked you to pay for.They Requests money (wire transfers) and Amazon, iTune ,Verizon, etc gift cards, for medicine, religious practices, and leaves to come home, internet access, complete job assignments, help sick friend, get him out of trouble, or anything that sounds fishy.The military does provide all the soldier needs including food medical Care and transportation for leave. Trust me, I lived it, you are probably being scammed. I am just trying to show you examples that you are most likely being connned.Below is an email response I received after I sent an inquiry to the US government when I discovered I was scammed. I received this wonderful response back with lots of useful links on how to find and report your scammer. And how to learn more about Romance Scams.Right now you can also copy the picture he gave you and do a google image search and you will hopefully see the pictures of the real person he is impersonating. this doesn't always work and take some digging. if you find the real person you can direct message them and alert them that their image is being used for scamming.Good Luck to you and I'm sorry this may be happening to you. please continue reading the government response I received below it's very informative.   You have contacted an email that is monitored by the U.S. Army Criminal Investigation Command. Unfortunately, this is a common concern. We assure you there is never any reason to send money to anyone claiming to be a Soldier online. If you have only spoken with this person online, it is likely they are not a U.S. Soldier at all. If this is a suspected imposter social media profile, we urge you to report it to that platform as soon as possible. Please continue reading for more resources and answers to other frequently asked questions:  How to report an imposter Facebook profile: Caution-https://www.facebook.com/help/16... < Caution-https://www.facebook.com/help/16... >   Answers to frequently asked questions:  - Soldiers and their loved ones are not charged money so that the Soldier can go on leave.  - Soldiers are not charged money for secure communications or leave.  - Soldiers do not need permission to get married.  - Soldiers emails are in this format: john.doe.mil@mail.mil < Caution-mailto: john.doe.mil@mail.mil > anything ending in .us or .com is not an official email account.  - Soldiers have medical insurance, which pays for their medical costs when treated at civilian health care facilities worldwide – family and friends do not need to pay their medical expenses.  - Military aircraft are not used to transport Privately Owned Vehicles.  - Army financial offices are not used to help Soldiers buy or sell items of any kind.  - Soldiers deployed to Combat Zones do not need to solicit money from the public to feed or house themselves or their troops.  - Deployed Soldiers do not find large unclaimed sums of money and need your help to get that money out of the country.  Anyone who tells you one of the above-listed conditions/circumstances is true is likely posing as a Soldier and trying to steal money from you.  We would urge you to immediately cease all contact with this individual.  For more information on avoiding online scams and to report this crime, please see the following sites and articles:   This article may help clarify some of the tricks social media scammers try to use to take advantage of people: Caution-https://www.army.mil/article/61432/< Caution-https://www.army.mil/article/61432/>   CID advises vigilance against 'romance scams,' scammers impersonating Soldiers  Caution-https://www.army.mil/article/180749 < Caution-https://www.army.mil/article/180749 >   FBI Internet Crime Complaint Center: Caution-http://www.ic3.gov/default.aspx< Caution-http://www.ic3.gov/default.aspx>   U.S. Army investigators warn public against romance scams: Caution-https://www.army.mil/article/130...< Caution-https://www.army.mil/article/130...>   DOD warns troops, families to be cybercrime smart -Caution-http://www.army.mil/article/1450...< Caution-http://www.army.mil/article/1450...>   Use caution with social networking  Caution-https://www.army.mil/article/146...< Caution-https://www.army.mil/article/146...>    Please see our frequently asked questions section under scams and legal issues. Caution-http://www.army.mil/faq/ < Caution-http://www.army.mil/faq/ > or visit Caution-http://www.cid.army.mil/ < Caution-http://www.cid.army.mil/ >.  The challenge with most scams is determining if an individual is a legitimate member of the US Army. Based on the Privacy Act of 1974, we cannot provide this information. If concerned about a scam you may contact the Better Business Bureau (if it involves a solicitation for money), or local law enforcement. If you're involved in a Facebook or dating site scam, you are free to contact us direct; (571) 305-4056.   If you have a social security number, you can find information about Soldiers online at Caution-https://www.dmdc.osd.mil/appj/sc... < Caution-https://www.dmdc.osd.mil/appj/sc... > . While this is a free search, it does not help you locate a retiree, but it can tell you if the Soldier is active duty or not.  If more information is needed such as current duty station or location, you can contact the Commander Soldier's Records Data Center (SRDC) by phone or mail and they will help you locate individuals on active duty only, not retirees. There is a fee of $3.50 for businesses to use this service. The check or money order must be made out to the U.S. Treasury. It is not refundable. The address is:  Commander Soldier's Records Data Center (SRDC) 8899 East 56th Street Indianapolis, IN 46249-5301 Phone: 1-866-771-6357  In addition, it is not possible to remove social networking site profiles without legitimate proof of identity theft or a scam. If you suspect fraud on this site, take a screenshot of any advances for money or impersonations and report the account on the social networking platform immediately.  Please submit all information you have on this incident to Caution-www.ic3.gov < Caution-http://www.ic3.gov > (FBI website, Internet Criminal Complaint Center), immediately stop contact with the scammer (you are potentially providing them more information which can be used to scam you), and learn how to protect yourself against these scams at Caution-http://www.ftc.gov < Caution-http://www.ftc.gov > (Federal Trade Commission's website)

How much will be the fee to fill out the XAT form?

The XAT Registration fee is Rs. 1700(late fee Rs. 2000). This is had increased from last year.If you want to apply for XLRI programmes then pay additional Rs.300 (late fee Rs. 500)The last date for registration is 30th Nov 2018. The exam is on 6th Jan 2019.All the best

Is there a way to upload a publication list to LinkedIn without filling out the form for each publication?

Rather than asking us in an abstract way, if you could provide us a sample of a list and tell us the outcome you're seeking, perhaps we could come up with alternatives ... ("No" is so boring ... and could be wasteful if we're not sure of what outcome you're seeking...)

Are health clubs, gyms and other public businesses that require customers and clients to fill out health and/or medical forms or releases required to protect that information under HIPAA?

This does not fall under HIPAA. Under the HIPAA regulations, the entities that must comply with the rules are defined as "covered entities" which are: health care plans, health care providers, and health care clearinghouses. So health clubs or gyms do not meet this definition and are therefore not subject to HIPAA. However, depending on your state, there may be laws which protect the sharing of this type of information.

How do I fill out the Rai Publication Scholarship Form 2019?

Rai Publication Scholarship Exam 2019- Rai Publication Scholarship Form 5th, 8th, 10th & 12th.Rai Publication Scholarship Examination 2019 is going to held in 2019 for various standards 5th, 8th, 10th & 12th in which interested candidates can apply for the following scholarship examination going to held in 2019. This scholarship exam is organized by the Rai Publication which will held only in Rajasthan in the year 2019. Students can apply for the following scholarship examination 2019 before the last date of application that is 15 January 2019. The exam will be conducted district wise in Rajasthan State by the Rai Publication before June 2019.Students of class 5th, 8th, 10th and 12th can fill online registration for Rai Publication scholarship exam 2019. Exam is held in February in all districts of Rajasthan. Open registration form using link given below.In the scholarship examination, the scholarship will be given to the 20 topper students from each standard of 5th, 8th, 10th & 12th on the basis of lottery which will be equally distributed among all 20 students. The declaration of the prize will be announced by July 2019.राय पब्लिकेशन छात्रव्रत्ति परीक्षा का आयोजन सत्र 2019 में किया जाएगा कक्षा 5वी , 8वी , 10वी एवं 12वी के लिए, इच्छुक अभ्यार्थी आवेदन कर सकते है इस छात्रव्रत्ति परीक्षा 2019 के लिए | यह छात्रव्रत्ति परीक्षा राजस्थान में राइ पब्लिकेशन के दवारा की जयगी सत्र 2019 में | इच्छुक अभ्यार्थी एक परीक्षा कर सकते है आखरी तारीख 15 जनवरी 2019 से पहले | यह परिखा राजस्थान छेत्र में जिला स्तर पर कराई जाएगी राइ पब्लिकेशन के दवारा जून 2019 से पहले |इस छात्रव्रत्ति परीक्षा में, छात्रव्रत्ति 20 विजेता छात्र छात्राओं दो दी जयेगी जिसमे हर कक्षा के 20 छात्र होंगे जिन्हे बराबरी में बाटा जयेगा। पुरस्कार की घोसणा जुलाई 2019 में की जयेगी |Rai Publication Scholarship Exam 2019 information :This scholarship examination is conducted for 5th, 8th, 10th & 12th standard for which interested candidates can apply which a great opportunity for the students. The exam syllabus will be based according to the standards of their exam which might help them in scoring in the Rai Publication Scholarship Examination 2019. The question in the exam will be multiple choice questions (MCQ's) and there will be 100 multiple choice questions. To apply for the above scholarship students must have to fill the application form but the 15 January 2019.यह छात्रव्रत्ति परीक्षा कक्षा कक्षा 5वी , 8वी , 10वी एवं 12वी के लिए आयोजित है जिसमे इच्छुक अभ्यार्थी पंजीकरण करा सकते है जोकि छात्र छात्राओं के लिए एक बड़ा अवसर होगा | राय पब्लिकेशन छात्रव्रत्ति परीक्षा 2019 परीक्षा का पाठ्यक्रम कक्षा अनुसार ही होगा जोकि उन्हें प्राथम आने में सहयोग प्रदान करेगा | परीक्षा के प्रश्न-पत्र में सारे प्रश्न बहुविकल्पीय प्रश्न होंगे एवं प्रश्न-पत्र में कुल 100 प्रश्न दिए जायेंगे | इस छात्रव्रत्ति परीक्षा को देने क लिए अभयार्थियो को पहले पंजीकरण करना अनिवार्य होगा जोकि ऑनलाइन होगा जिसकी आखरी तारीख 15 जनवरी 2019 है |Distribution of Rai Publication Deskwork Scholarship Exam 2019:5th Class Topper Prize Money:- 4 Lakh Rupees8th Class Topper Prize Money:- 11 Lakh Rupees10th Class Topper Prize Money:- 51 Lakh Rupees12thClass Topper Prize Money:- 39 Lakh RupeesHow to fill Rai Publication Scholarship Form 2019 :Follow the above steps to register for the for Rai Publication Scholarship Examination 2019:Candidates can follow these below given instructions to apply for the scholarship exam of Rai Publication.The Rai Publication Scholarship application form is available in the news paper (Rajasthan Patrika.) You can also download it from this page. It also can be downloaded from the last page of your desk work.Application form is also given on the official website of Rai Publication: Rai Publication - Online Book Store for REET RPSC RAS SSC Constable Patwar 1st 2nd Grade TeacherNow fill the details correctly in the application form.Now send the application form to the head office of Rai Publication.Rai Publication Website Link Click HereHead Office Address of Rai PublicationShop No: -24 & 25, Bhagwan Das Market, Chaura Rasta, Jaipur, RajasthanPIN Code:- 302003Contact No.- 0141 232 1136Source : Rai Publication Scholarship Exam 2019
Related content Get and Sign public works fee information form