Establishing secure connection…
Loading editor…
Preparing document…
Get And Sign Form Accident
How It Works
Open form follow the instructions
Easily sign the form with your finger
Send filled & signed form or save
Rate form
Get And Sign Form Accident
SignNow's web-based application is specifically designed to simplify the arrangement of workflow and optimize the entire process of proficient document management. Use this step-by-step instruction to fill out the Form accident promptly and with perfect precision.
How to fill out the Form accident online:
To start the document, use the Fill & Sign Online button or tick the preview image of the form.
The advanced tools of the editor will lead you through the editable PDF template.
Enter your official contact and identification details.
Use a check mark to point the choice wherever needed.
Double check all the fillable fields to ensure complete precision.
Use the Sign Tool to add and create your electronic signature to certify the Form accident.
Press Done after you complete the blank.
Now you may print, save, or share the form.
Refer to the Support section or get in touch with our Support staff in the event that you have any concerns.
By utilizing SignNow's comprehensive service, you're able to perform any important edits to Form accident, generate your personalized digital signature in a few quick steps, and streamline your workflow without the need of leaving your browser.
Video instructions and help with filling out and completing Get and Sign form accident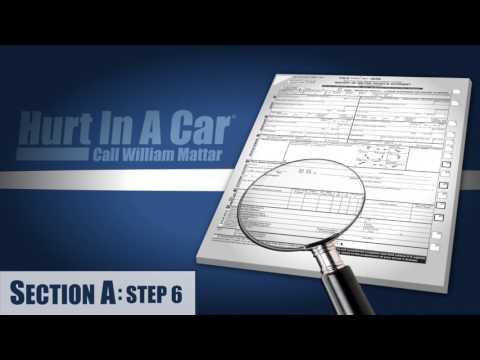 Instructions and Help about Get and Sign form accident
you must report any accident occurring in New York State that costs a fatality personal injury or property damage for any person involved totaling more than one thousand dollars failure to do so within 10 days is a misdemeanor your license and/or registration may be suspended if you don't report the accident on time and according to the mv-104 form at the Law Offices of William Mattar we can walk you through the form and answer your questions the mv-104 form has two sections a and B to get started you will need a black ink pen your driver's license and vehicle registration it is also helpful if you have a copy of the police report while completing the form if any of the questions do not apply to your accident you should put a dash mark on the line if you don't know the correct answer you should put an X on the line the first step to completing the mv-104 form is reading the instructions provided on page 2 starting with section a labeled vehicle involvement then at the top of the form o
FAQ
What are some skills that every 18-year-old needs to survive in life?

Oh my gosh, I love this question.  I'm going to spend a lot of time on this answer!Financial Skills:  How to open a checking and savings accountHow to balance a checkbook, emphasizing the use of debit cards and how banks process transactions"Credit" - What is it, how do you build it, how do you repair itCredit Cards - How interest works, how to take advantage of rewards and balance transfersLoans - What are the different kinds of loans, how do you get them, and what's involvedInvestments - What is the stock market and how does it work, what are Treasury Bonds, and what's an IRA.  How do those things factor into a wise investment strategy for your retirement?Taxes - How taxes work, what deductions are, how to file a 1040EZ formTipping - How to quickly calculate a tip and split a tab at a restaurantHow to read a contract and interpret "fine print"Health Skills:Medical Insurance - how it works, what it costs, how to get itHow to fill out common medical and dental formsHow to find a general practitioner, dentist, and so onBasic First Aid - CPR, the Heimlich, how to treat minor injuriesHome Skills:How to cook!  You don't need to be on Master Chef, but learning how to cook a few basic dishes, how to use a knife properly, use basic kitchen appliances, and so on.How to clean!  I have no idea how so many kids don't know how to vacuum, sweep, dust, do dishes, make a bed, and clean and fold laundry.How to grocery shop - picking fresh fruit and vegetables, planning your shopping and meals, etc.How to use hand tools - hammers, axes, handsaws, et ceteraHow to move - opening or transferring utility accounts, moving companies, apartment and home leases.How to sew a button onHow to fix a running or clogged toilet.Life Skills:How to plan and budget your time!How to think critically.Negotiation - Preparation, discussion, clarification, negotiate, agreement, and implementation.Leadership!  Vision, strategy, people skills, managementCONFLICT RESOLUTIONStress management!Problem solving!Study Skills:OrganizationTime managementFinding legitimate sourcesNote-takingCritical readingEssay planning and compositionAcademic referencingHow to use search engines effectively!Employability Skills:How to write a resume and a cover letterHow to interviewProfessional communications skills (both written and verbal)Interpersonal skills in a professional environmentProfessional developmentPublic speaking!How to use a computer - Windows, Google, and MS Office basics at a minimumPersonal:How to interact with the policeHow to tie a tie!How to iron clothesHow to establish a healthy exercise routineHow to maintain proper personal hygeine and groomingMANNERS - It varies from culture to culture, but the underlying principles of all manners remain constant: a respect for others, and a desire to treat all people with honesty and consideration – just as you'd like to be treated.Alcohol:Knowing your limitsHow to mix a basic set of drinksTravel: How to book airline tickets and hotelsHow to pack wellHow to travel lightAutomotive:How to drive - Actual skilled instruction on driving, a la Teen Safety & Survival - Skip Barber Racing School, both automatic and manual transmissionsThe basics of how a car worksThe basics of car maintenanceHow to change a tireHow to parallel parkHow to jump start a carWhat to do if you get into an accidentRead a road mapSex:Comprehensive sexual education including the vectors and effects of sexually transmitted infections, what are and how to use the various forms of contraception, what is PrEP, etc.The Campsite Rule - Leave them in better condition than you found themSafe, Sane, and Consensual - How to have safe sex, do it while you're sober, and with full informed consent from your partner.

Does anyone on Quora have Kaiser? Should I fill out the third party liability form for Kaiser for a car accident if is not my fault and I am waiting for settlement? My auto insurance simply said keep track of bills but Kaiser form is confusing.

Kaiser will go after the insurance of the person who is at fault to recoup their losses. Your car insurance company should know this. If there is no third party, they can't co;llect from anyone. If you are covered by Medicare and the accidents your fault, Medicare does not pay anything to the health insurance company. Kaiser eats the whole bill for your care, and they fight tooth and nail to deny you care to the point of sending you home with major injuries just to get you out of the hospital. I filled out the third party form when I was hit by another party before I had Medicare., but they had no insurance. Kaiser covered my expenses.

Has anyone surprised you after their death, e.g. receiving an organ from a donor, a sizeable inheritance, or a visit from a friendly ghost?

On January 19, 1979, a big part of me died when my 26-year old brother Danny died due to complications arising after heart surgery. Back in 1979, imaging techniques were not like they are now. The doctors did not understand the morphology of Danny's heart, and his ticker quit ticking because the pacemaker electrode was placed outside of his heart instead of its intended destination within a heart chamber.Looking back on this story, I instinctively knew that Danny's death was an inevitability, although to me he was invincible. On the cold January night about a week or two before he died, I remember seeing him put on his jacket and head out the door on his way to the hospital. I was a 15-year old kid, laying on the carpet in front of the TV, watching some show at the time. My 6 foot 2 inch brother seemed extra large that night as he towered over me in his blue jacket as he turned towards me and said he would see me later.The details of his medical condition could fill a text book. He was born with a condition known as dextrocardia situs inversus totalis. This means that his heart was on the right side of his body and other organs were reversed, too.When he was born, he was supposed to die quickly. I guess God had a different plan for him and allowed him to stay with us for over 26 years. Although I spent many days of my life in Chicago's Children's Memorial Hospital during his illnesses, I never got tired of laying down with Danny when he got sick. I would place my head on his chest and listen to his heart beat a-rhythmically at over 220 beats per minute. At times it sounded like he had a percussion band inside his chest.With each episode of tachycardia he experienced, additional damage was being done to his heart muscles. The previous January (1978), Danny spent nearly a month in the hospital trying to recover from one of those episodes. The ventilator they used on him caused him to remain hoarse until he died a year later.Now getting back to his heart operation, I was sure Danny was going to survive. The doctors had installed a temporary pacemaker through his groin, and that electrode hit its target. With the aid of this pacemaker, Danny seemed stronger than ever, even though he had to be bedridden during this time.After a team of doctors were assembled and the permanent internal pacemaker was produced, the big day of the surgery arrived on Jan 19, 1979. After his surgery was over, I was relieved. I was able to visit him in his hospital room after the surgery was over and he had reawakened. We talked for a couple of minutes before I told him that I was going to be back to the hospital in a little while to see him. He said, "OK, I'll see you later." Those were the last words he ever spoke to me.I had to walk several miles home, through several feet of snow to pick-up radio control airplane equipment that I had ordered. Sometime during that cold and lonely walk, where no cars were driving down the roads due to the snow pack, Danny died. I didn't know it at the time but I would soon find out when I returned to the hospital.I realized that Danny had died when I finally understood why my family, the nurses and the doctors were all crying in unison. When the truth hit my brain, it went into that high-speed recording mode and my primitive brain took over. I hit the floor, convulsing while I hyperventilated uncontrollably. While the nurses got a bag to place over my face, someone helped pick me up and put me in a chair as the nurses told me to hold my head low and breathe into the bag.After I emerged from the state of hyper-ventilation I was in, I managed to see him in his hospital bed. What I remember most about the moment that I saw him was that he died with a smile on his face. He died in peace and his pain was finally gone.After Danny died, I switched beds and started sleeping in his bed. Three nights later, Danny visited me in our bedroom in the middle of the night. His audible voice came into my bedroom and awoke me. As I sat up in the dark room, we had a conversation as my eyes strained to see his body. Although I'll save most of the story for later, he told me that he had permission to talk to me because of the grief that I was suffering. He told me to believe that he was in a better place, a beautiful place, and to go on and live a happy life. He said that we would talk again if I never told anyone about this encounter.This event and the other situations I experienced at that time, had a very profound impact on me. My vision of life was completely re-written. I went from being a kid that played multiple sports to bring satisfaction to my Mom and Brother, to a kid that realized the impossibly thin edge that exists between life and death. I saw life passing in seconds, like a sun ray glimmering on a wave in a lake. To this day, I grieve over the loss of my brother and I look forward to the day we get to reunite.P.S.I didn't tell this story to anyone for many months. Eventually, my immaturity as a 15 year-old coupled with the unbelievable nature of the after-death contact from Danny was too much for me to bear. I ended up sharing this story with my good friend Steve.Since that confession, Danny has never contacted me again. I broke the rules and have paid the price, although I was blessed to have my personal religion solidified for my lifetime.I know that many readers of this story will not believe it, but that is OK with me. I probably wouldn't believe it either if someone told it to me. However, this encounter was the most profound event of my life and I know that it happened. Those minutes I shared with my deceased brother are with me every day that I live and have given me peace and solitude as I pass through space and time in this wonderful life.

I received a call from the dealership a week after returning the loaner car stating that the vehicle had some damage, how do I respond?

There are some good answers here. But mine is for future reference. Next time you get a loaner, do a walk around of the entire vehicle when you pick it up and when you drop it off. This saved me from being blamed for existing damage on a rental car a few days ago. It's simple to just pull your camera or cell phone out. Covers your a—.I was blamed for damage on a loaner car once. The service advisor failed to have me sign the inspection form verifying everything was fine on the vehicle and that there was no damage. I told this to the service manager and never heard from them again.One time a few years ago, I rented a car and there was damage all on the lower front of the bumper. The associate promised that he noted it in the system. Almost a MONTH after I returned the vehicle, I got an e-mail from Sixt (never again!) that I needed to immediately fill out an accident report so that they could start assessing what I owed them. I replied saying that there was pre-existing damage, that the employee saw it and said he noted it, and that my friend and I would be willing to sign sworn affidavits attesting to such. I refused to fill out any forms. They never emailed or contacted me again.Next time, just record. Way easier.

What is the most epic computer glitch you have ever seen?

The date was December 31st 2005. The time was 3:59:59 pm PST.The next second was 3:59:60 PST.That's when all hell broke loose.In case you didn't know, that was a leap second.We knew about it. We had tested it. We verified that after the leap second everything worked fine. What we didn't test was for the Linux OS to be up and running when the time daemon triggered the addition of the leap second. I mean setting the time manually should be good enough, right? Right?Well there was the small issue of a kernel panic in the OS. Oops. Well tens of thousands of machines crashed at the same second. Oops.Well no problem. We had watchers. Oops, the watcher machines are down. No problem, we had secondary watchers that watched the machines and the other watchers. Great. And for every down machine they send a page. Remember pagers? A page that could only be dismissed and acknowledged and stopped ringing by clicking at the pager. One. Page. At. A. Time. Did I mention we had tens of thousands of machines down?Ops put the pager under multiple pillows to silence it and ignore it for the rest of time.Time to fix the problem. We knew the problem, machines down. Let's fix it by bringing them back up. How difficult can it be? We did that all the time. Our ops had automated this and a lot of other tasks. They were great.Look machines rebooting. Look tens of thousands of machines rebooting from the network. Look all these rebooting machines are asking for their images from the file servers to actual boot. Look file servers with OS images literally crashing because they could not handle so many connections.We had never rebooted all servers at once.That's when the totality of the task in front of our ops became real.They had to bring up a few hundred nodes at a time so they would not overwhelm the file servers.We were up and running and serving traffic in a matter of less than an hour. I believe it took more than three days to bring all machines up.The good thing? Nobody noticed since we diverted the traffic to another datacenter and returned results from special small clusters and caches.No plan survives contact with reality. But if you're lucky and plan well maybe and I say maybe the issue will be a huge pain but not a disaster.

Why do some drivers insist on parking in handicapped spots when they aren't handicapped?

I know when I got my handicap placard in CA back in 2005, the paperwork CLEARLY stated that you were ONLY qualified for the handicap placard if you were blind, had limb amputations (I believe for lower extremity it was only required to have 1 limb amputated, for upper extremity I think it was 2), had heart problems classified as severe (they have a specific cardiac output that must be met), have a severe respiratory disorder (required to be at a certain level on pulmonary function tests and/or requiring of oxygen, etc). Another qualification for MOBILITY impairment (which is what many people claim) is that you CAN NOT walk 200 feet without the use of an assistive device such as a cane, crutches, walker or wheelchair or having to stop and sit down to rest. This does NOT mean that because you require a cane for support just in case, that you NEED to park in the spot CLOSEST to the door of the store so that you can then go in and walk around the ENTIRETY of the store and conveniently have your car right outside the door when you are done! To me, that is ABUSE of the system! Now, if you parked in the same spot, took your cane inside and used a store scooter to do your shopping and get assistance back out to your car so someone can help load the groceries and not further fatigue you, that is a completely DIFFERENT story, and is EXACTLY what that space was designed for!Now, with that said, I don't "police" those spaces or the people that use them. I give them the benefit of the doubt because I DON'T know what they are going through. What I will do though is if I see a person park and they don't have a placard or a plate displayed, I will roll down my window and kindly remind them that they forgot to put their placard up. If a person HAS a placard they are always very grateful, and if they DONT have a placard they kinda look like they stick their tails between their legs and go re-park their car. By addressing them in a non-judge mental, non-confrontational manner, people are not off put by my question because they don't see me as questioning their validity. I have never had a situation escalate with this tactic.

How long does it take to walk into a gun store and come out with a semi-automatic, if I have a clean record in America?

It depends on the state, and I'm not an expert - but I wanted to share my personal experience for a couple reasons.It may surprise some people - especially non-gun ownersI feel it illustrates that gun control and gun laws are two different things and before jumping to the conclusion that we need more (or fewer) laws pertaining to guns, everyone should take a few minutes to educate themselves and use common sense (gasp)This is my first time gun buying experience from about 4–5 years ago.I'd done quite a bit of research online, pretty much settled on what I wanted and decided it was time to walk into a gun store to look and make the final decision in person. After about 15 minutes I'd settled on a gen 4 Glock 19. The store was running a special on the gen 4s and I received a free box of ammunition, as well as an extra magazine. Awesome.Next up it was time to go through the background check and pay. I had to wait, because there was an older guy and his son in front of me. He was purchasing the gun for his son (because he wasn't 21) - apparently his son was joining a junior police academy and needed a handgun. Well, his background check came back - he had some kind of domestic abuse charge - no gun for you, no gun for your son. The owner of the gun shop chastised him for even wasting her time since he clearly knew that was on his record.My turn. They ran my details, everything came back clean and it was time to pay. Something people may not realize is that guns aren't cheap. Mine was close to $500. That's a decent chunk of change and puts them out of many people's reach economically. Of course, I'd imagine criminals acquire weapons for much less - but then again they don't go through the proper channels.Great, background check cleared, I've paid and ready to go. The guy behind the counter bags things up and hands it to me - then the owner starts berating him. Apparently by putting the newly purchased gun (still in the case) and the box of ammunition, into the same bag they were setting me up to get a felony when I walked out of the store. They also gave me specific instructions about putting the gun and/or ammo in the trunk of my car - NOT the passenger compartment. Again, throwing the now two separate shopping bags into my back seat would have potentially been criminal (felony).This is where things get crazy. In Ohio, you can load up a gun - put it in a holster (on the outside of your clothes) and walk around in most public places. But, as soon as you cover up the gun - or get into a car with it - you're breaking the law (felony) unless you've gotten a special license/permit. This requires more background checks, fingerprinting, attending a class, paying more money, etc.Now, let's say you're all about following the letter of the law and you go through all of these steps so that you can carry your gun in your car. Things don't get easier - because each state can be different. Despite having a permit, passing the background checks, etc - if you happen to drive into Chicago you could be in a lot of trouble. Apparently, you can drive right through with no problems, but if you step foot outside of your car (even to get gas, even if you leave the gun in the car) you're now in a world of trouble (felony). It makes you wonder why Chicago has so much gun violence when the gun laws there are so strict.The laws are very strict for gun owners, they can be very confusing, and it seems, by definition, only followed by law abiding citizens.

What is something you did as a kid that almost killed you?

Not me, but my sister who is two years younger than me.When it was only the two of us, my father used to take us to different parks, lakes and beaches every weekend. We spent our time outdoors, bike-riding and actively engaging with the environment through physical activity or family interaction.13 years ago, when I was 8 years old, my father took my sister and me to a magnificent park that was sandwiched between a busy motorway and the sands leading to a typical busy beach in Sydney.We were playing football until the ball had been kicked past the space sequestering the park from the road, and moved towards the motorway. My younger sister, in awe of the ball, ran towards the motorway and rested on the side.I don't remember this part too well, I can only recall it being dark ... well sunset dark.Tip 1 for people who have never been to Sydney: The motorways are ALWAYS busy, weekday, weekend, midnight … it is busy and the speed limit is at least 70km/hourAs a large truck was driving parallel to the park, she swiftly ran determined to pick up the ball and return to our game of football: This is how it was:She was not aware of the approaching truck and I ran after her (I don't know if I ran to help her or because we always had to be around each other as children): this all happens in the space of a few seconds so my father realizes a few seconds later where we are standing.I scream and my father yells, she picks up the ball, and as she bends to pick up the ball, she successfully does so, as she stands the truck just passes by her. If her head had still been down, bending over to pick up the ball … I do not even want to fathom the consequences of an event that had occurred over a decade ago .. but death may have been a certain result in this case had she been a few seconds earlier, still bending and her head been struck by a truck travelling at high-speed.We don't go to out with my father much since three more children came after us, and he works a lot more. He is still adventurous in heart and rhetoric.She is great. Funny, and still daring.

What is the best case of "You just picked a fight with the wrong person" that you've witnessed?

I was a bit violent here, so I'll not reveal my identity.But, some background first, I'm a buff male over 2 meters tall and back then I used to weight more than 100 kilograms. My weight is not composed of fat, it's composed of muscle and generally I'm not someone you want to see yourself in a fight with, especially if you're skinny/unarmed/not ready for a fight generally.I was with my mother in Paris, visiting her sister, or my aunt. We're Irish and she lives there, because she's married there.Unfortunately, we arrived far too early and my mother's sister was not present just yet, we decided to eat in some Paris restaurant and I told my mother to go inside, order me whatever she orders for herself and I'll be back, after I finish smoking my cigar.The waiter, a skinny dark-haired 19 year old boy refused to serve my Mom because she wanted to order in English, he refused service and when I entered the restaurant after my cigar, I heard him hurling insults at her, calling her a 'Whore', 'English bitch' and other insults. Unknown to him, and to everyone there, I am a certified French-English translator and I told him in English to serve the lady because she's clearly not being impolite.He hurled insults at me too, calling me a 'big fat ugly American' (first time someone calls me an American). In that moment I grabbed him by his shirt and told him in French 'I speak French too, maggot'. In that exact moment, he became pale and started sweating uncontrollably, he was not prepared for a fight and was afraid I could rip him apart, I simply told him in French 'Call someone less of a bitch than you, and that can actually serve food'.It was my first time in Paris, and I would have never believed that Parisians would be so rude to foreigners. In other towns, the French were not only polite, but also helpful, but Parisiens (pardon my generalization) made me hate the city of Paris, and I hope I never visit that place again.
Related content Get and Sign form accident