Establishing secure connection…
Loading editor…
Preparing document…
Get And Sign Print A Repair Order Form
How It Works
Open form follow the instructions
Easily sign the form with your finger
Send filled & signed form or save
Rate form
Get And Sign Print A Repair Order Form
SignNow's web-based service is specially made to simplify the organization of workflow and optimize the entire process of qualified document management. Use this step-by-step guideline to fill out the Print a repair order form quickly and with perfect precision.
Tips on how to complete the Print a repair order form on the internet:
To begin the blank, utilize the Fill & Sign Online button or tick the preview image of the blank.
The advanced tools of the editor will lead you through the editable PDF template.
Enter your official identification and contact details.
Use a check mark to indicate the answer wherever demanded.
Double check all the fillable fields to ensure complete accuracy.
Make use of the Sign Tool to create and add your electronic signature to certify the Print a repair order form.
Press Done after you fill out the form.
Now it is possible to print, download, or share the form.
Follow the Support section or contact our Support crew in the event you've got any concerns.
By making use of SignNow's complete service, you're able to complete any needed edits to Print a repair order form, generate your personalized electronic signature in a couple fast steps, and streamline your workflow without the need of leaving your browser.
Video instructions and help with filling out and completing Get and Sign print a repair order form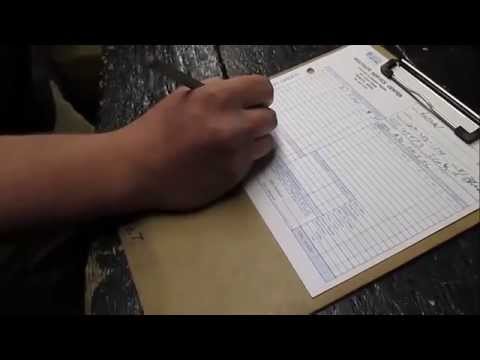 Instructions and Help about Get and Sign print a repair order form
did I have to show you guys how to write a work order all right this is a typical work order I can when they work on your card filling it out right there she will still love you they'll fill out the name of the person's car since this is my car I'll show you all right y'all they also write down the telephone number and the date they worked on your car so today's date is the 30th of April all right then they get into your car and they tuck write down a dollar all right so the odometer reading is 167 473 all right I'll write that down do a point change on it so I gotta write down what that was and then right stick it up or what's going G all right next is the bit number all VIN numbers are located right here in the lower windshield it's pretty probably going to be a little hard to see but they're all located right there alright then no words are really long and really hard for that little space alright next year right now they write down the make and model want my car is a Volvo s70 alri
FAQ
What should I do if my Zippo flint is stuck?

Stuck how? Like turned in the tube sideways stuck, or the flit wheel is stuck? If the flint wheel is stuck, your flint is most likely used up, and the wheel is striking the follower, causing a jam. If that's the case, remove the flint screw, tap the open tube lightly on a hard surface to clear any remnants of flint, then put a new flint in the tube and reassemble. If the flint is stuck sideways, again tap lightly on a hard surface. If this doesn't clear it, you can try feeding a stiff wire thru the tube to loosen the stuck flint. If with some patince and a little work you still can't remove it, go to the Zippo website, print a repair order form and fill out the information, then ship your complete Zippo and order form to their location in Pennsylvani. If they can't fix it, they will replace the fuel chamber unit, but will keep the body. I've had to send a couple of mine in because the hinge wore out, and it stopped making the signature Zippo sound. It's lifetime warranty, so the only thing you'll pay is shipping it to them.

How do I respond to a request for a restraining order? Do I need to fill out a form?

As asked of me specifically;The others are right, you will likely need a lawyer. But to answer your question, there is a response form to respond to a restraining order or order of protection. Worst case the form is available at the courthouse where your hearing is set to be heard in, typically at the appropriate clerk's window, which may vary, so ask any of the clerk's when you get there.You only have so many days to respond, and it will specify in the paperwork.You will also have to appear in court on the date your hearing is scheduled.Most courts have a department that will help you respond to forms at no cost. I figure you are asking because you can't afford an attorney which is completely understandable.The problem is that if you aren't represented and the other person is successful in getting a temporary restraining order made permanent in the hearing you will not be allowed at any of the places the petitioner goes, without risking arrest.I hope this helps.Not given as legal advice-

What form do I have to fill out at PetSmart in order to purchase a rat?

Live animal purchase card

Can I print a notice of intent form to homeschool in Nevada, fill it out, and turn it in?

It's best to ask homeschoolers in your state. Every state has different laws. What works in one may not work in another.This looks like the information you need: Notice of Intent (NOI)

Why do 16 year olds have to get a parent to fill out a form in order to donate blood?

Why do 16 year olds have to get a parent to fill out a form in order to donate blood?Because a 16 year old is still a minor and blood donation isn't one of the exempt categories of medical care (such as prenatal care, STI testing, contraceptive services, etc.) that they are legally permitted access to without the consent of a guardian. At least this is the case in the United States, and the specific laws vary from state to state. More information on these exemptions can be found at Page on guttmacher.org
Related content Get and Sign print a repair order form