Establishing secure connection…
Loading editor…
Preparing document…
How It Works
Open form follow the instructions
Easily sign the form with your finger
Send filled & signed form or save
SignNow's web-based program is specifically made to simplify the organization of workflow and improve the entire process of qualified document management. Use this step-by-step instruction to complete the Nc form 18 quickly and with excellent accuracy.
How to complete the Nc form 18 on the web:
To get started on the blank, use the Fill & Sign Online button or tick the preview image of the form.
The advanced tools of the editor will guide you through the editable PDF template.
Enter your official identification and contact details.
Use a check mark to indicate the answer where demanded.
Double check all the fillable fields to ensure complete accuracy.
Use the Sign Tool to create and add your electronic signature to certify the Nc form 18.
Press Done after you fill out the blank.
Now you'll be able to print, save, or share the form.
Refer to the Support section or contact our Support team in the event that you have any concerns.
By utilizing SignNow's comprehensive solution, you're able to carry out any important edits to Nc form 18, generate your personalized electronic signature within a few quick steps, and streamline your workflow without the need of leaving your browser.
Video instructions and help with filling out and completing Get and Sign nc form 18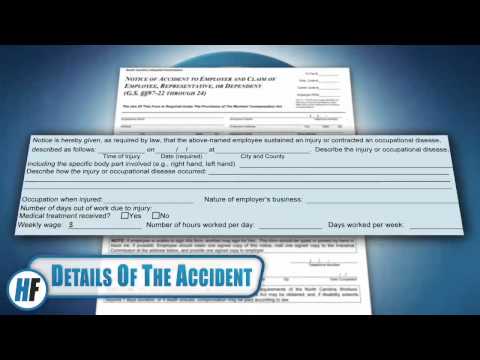 Instructions and Help about Get and Sign nc form 18
to file a workers compensation claim in North Carolina you must complete a form 18 or notice of accident to employer form and submit it to your employer within 30 days of your injury the form also must be submitted to the North Collin industrial commission within two years of the date of injury for occupational illness in order to establish a legal claim if you suffered an occupational illness that resulted from asbestos silicosis or Biss enosis you need to fill out a form 18 B to get started you need a black ink pen you also need to have the following information on hand employers address employers insurance carrier and address and the number of days you missed work if you don't know your employer's insurance carrier you can call the Industrial Commission's claims administration section at 806-853-9949 Industrial Commission if you have questions about filling out a form 18 or following a workers compensation claim hensonfuerst is here to help you
FAQ
How do I fill out the SSC CHSL 2017-18 form?

Its very easy task, you have to just put this link in your browser SSC, this page will appearOn this page click on Apply buttonthere a dialog box appears, in that dialog box click on CHSL a link will come " Click here to apply" and you will reach to registration page.I hope you all have understood the procedure. All the best for your exam

How can I fill out an improvement exam form for session 17-18 online?

first of all this time improvement form will be available in 3rd week of October.when the form is available then you have to open that link and fill your board roll no. and year of passing. after that you have to verify your details and then it will ask which subjects you want to apply for improvement. in this you can choose all subjects or a particular subject of your choice then you have to pay some amount for the improvement form. i think you have to generate a challan and pay it in a bank after that you have to send some documents to cbse regional office. the documents are your acknowledgement page, 12th marksheet xerox ,challan xerox then you have to download your admit card which will be available in month of February. you will get your marksheet at your address by post so please fill the correct address in form because according to that you will get the exam centre and regional office .

What do Liberals/Democrats want to see happen to guns? What laws/restrictions do they want passed and why?

I am a liberal. I voted for Dukakis, for God's sake. I am so far left that Bernie Sanders does not go far enough.Image: USNewsI don't need to restrict firearms. There are tens of millions of other liberals to ask for that. I would like to see:National reciprocity for concealed carry permits. Wait for Heller to be overturned or a new Amendment for a rebuttal. Meanwhile, Heller should be enforced as surely as gay marriage, women's suffrage and abolition of Black slavery.Allow private sellers access to the National Instant Criminal Background Check System (NICS). You want to require background checks for all firearms sales, including private face-to-face? Then individuals need free access to NICS like licensed dealers and law enforcement have. People should have this choice available to them already.Prosecute those who lie on background screenings. "In almost every case, these people can be prosecuted" (Politifact), but only 0.055% prosecution rate for those who fail. What's the purpose of screening for prohibited persons such as convicted felons, if those prohibited persons are not prosecuted for breaking federal or state law by lying on forms? In my state, applicants must pay for their own federal background check and fingerprint check and registry. They shouldn't.Uphold the thousands of existing gun laws against criminals, instead of penalizing law abiding citizens with new ones. If a violent felon is convicted to 15 years for illegal possession of a firearm, why are they now out to commit more crimes? (FAMM - Families Against Mandatory Minimums) Yes, keeping people out of the system saves money and may be good for families. So how does making more gun laws to break and creating millions more criminals with the stroke of a pen help? If you are willing to release a non-violent felon who illegally possessed a firearm because we should care about the impact on their families (FAMM), why do you want to jail a non-violent gun owner simply because he has a magazine that holds over 10 rounds?Increase penalties for use of a firearm in crimes. Sorry FAMM, and I do care about impacted family members of convicted criminals (FAMM - Why Should I Care?). As a liberal, I would increase social supports for underprivileged families so women and children do not need to be dependent on or stay with criminals, have convicts imprisoned within more reasonable distance of their homes, and allow/encourage family visits. With accommodations and family friendly events, even. If they don't agree using an illegal handgun in commission of a robbery means an extra ten years on top of the robbery charge, perhaps criminals shouldn't use guns or rob people.Free or affordable firearms handling and safety training to promote safer handling and storage of firearms, to avoid being a burden to exercise a Constitutional right, for the same reason people argue against requiring voter IDs for inner city minorities.Require secure storage of firearms to prevent access by unauthorized persons when not ready for immediate use. You sleep with your loaded handgun to be ready for a home invasion? I do. You keep an AR-15 or shotgun at hand at the computer? Sometimes. But I put them in the safe when I shower or leave home, because I'm the only one allowed to touch my guns. I have the keys for my safes and locks. I have private home security and various kinds of gun owner and liability insurance, too. If you can afford a $400 firearm and $18 a box for ammunition, you can afford a lock if one doesn't come with your gun, or you can buy a small safe or clamp style cover for the trigger housing or action. Note: not electronic smart guns that fail when you need it.AR15 Lock, IC-Lock Ejection Port Gun Lock $27Image: ic13arms, eBay (I am not a representative or stakeholder of IC-LOCK.)Life Jacket Locking Firearm Safety Case LJ3 Shotgun Case $15.99Image: eBay (I am not a representative or stakeholder of Life Jacket.)I've taken time off work, and paid thousands of dollars to travel thousands of miles to go to the classes, taken the tests (100%), shot on the range (90-ish?), passed the federal background checks (in addition to all other background checks and random drug tests to be an education and health care worker), paid the fees, yet can carry a concealed weapon in only 33 states, and not my home state. What other Constitutional right does not apply nationwide?In my state at the time I first got my permit to acquire a firearm, state certified Hunter Education classes or other state approved firearms training (e.g. armed law enforcement or military service) were required prior to applying for a permit. The cost for the classes was normally $100, but the fee was waived due to a donation or grant. I was trained for free. Hell, if some donor is willing and able to shell out $100 per student, why can't they give an extra $10 for a gun lock or $40 for a pistol safe? I bought my own 14 rifle safe and a pistol safe, but that was my choice.[Fun fact: at my hunter education class (2008), I noticed the older brother of a high school classmate in attendance. Purely by coincidence while looking at a sex offender registry much later, there he was. His listing is still current. Two counts, Sex Assault III, 2001. He's a convicted felon and wouldn't pass a background check.]Note I did not say, promote ownership of firearms. There may be firearms in 4 out of 10 homes in the US. Your children and loved ones are around guns accessible from other homes or while in other homes, regardless of lack of guns in your own home, vault like security for firearms you do own, or legal status of firearms in your community. Widespread firearms handling and safety training will have a societal benefit, even if it is as simple as children learning Don't touch! Tell an adult! if they see a firearm unattended.

How do I fill out an NCC Scholarship form?

NCC (National Cadet Corps) is a voluntary organization which recruits cadets from high schools, colleges and universities all over India.To enroll yourself to it, Contact to your college/school office, they will give you forms and other necessary information about NCC. Every school/college have a person dedicated to NCC, He/She will guide you further.For NCC, your school/college should fulfill the requisite pre-conditions are as follows :(a) Availability of students for enrollment.(b) Availability of eligible teachers to be appointed as Associate NCC Officer(ANO). One ANO per school/college for Junior Division or Senior Division cadets.(c) Availability of parade ground, storeroom for NCC.(d) Short Range for firing in the vicinity.(e) Supplementing financial resources (in case of Govt aided institutions). Private institutions are required to bear entire expenditure of the State's share. Details will be available with nearest NCC Bn HQ.

Can I fill out the AFCAT form at age 18?

No you can't.You must be a graduate with minimum 60% aggregate. At the age of 18 you can't go for AFCAT, if you want to join air Force just go for NDA examination after completion of your 12th class.

Do military members have to pay any fee for leave or fiancee forms?

NOOOOOOO. You are talking to a military romance scammer. I received an email from the US Army that directly answers your question that is pasted below please keep reading.I believe you are the victim of a military Romance Scam whereas the person you are talking to is a foreign national posing as an American Soldier claiming to be stationed overseas on a peacekeeping mission. That's the key to the scam they always claim to be on a peacekeeping mission.Part of their scam is saying that they have no access to their money that their mission is highly dangerous.If your boyfriend girlfriend/future husband/wife is asking you to do the following or has exhibited this behavior, it is a most likely a scam:Moves to private messaging site immediately after meeting you on Facebook or SnapChat or Instagram or some dating or social media site. Often times they delete the site you met them on right after they asked you to move to a more private messaging siteProfesses love to you very quickly & seems to quote poems and song lyrics along with using their own sort of broken language, as they profess their love and devotion quickly. They also showed concern for your health and love for your family.Promises marriage as soon as he/she gets to state for leave that they asked you to pay for.They Requests money (wire transfers) and Amazon, iTune ,Verizon, etc gift cards, for medicine, religious practices, and leaves to come home, internet access, complete job assignments, help sick friend, get him out of trouble, or anything that sounds fishy.The military does provide all the soldier needs including food medical Care and transportation for leave. Trust me, I lived it, you are probably being scammed. I am just trying to show you examples that you are most likely being connned.Below is an email response I received after I sent an inquiry to the US government when I discovered I was scammed. I received this wonderful response back with lots of useful links on how to find and report your scammer. And how to learn more about Romance Scams.Right now you can also copy the picture he gave you and do a google image search and you will hopefully see the pictures of the real person he is impersonating. this doesn't always work and take some digging. if you find the real person you can direct message them and alert them that their image is being used for scamming.Good Luck to you and I'm sorry this may be happening to you. please continue reading the government response I received below it's very informative.   You have contacted an email that is monitored by the U.S. Army Criminal Investigation Command. Unfortunately, this is a common concern. We assure you there is never any reason to send money to anyone claiming to be a Soldier online. If you have only spoken with this person online, it is likely they are not a U.S. Soldier at all. If this is a suspected imposter social media profile, we urge you to report it to that platform as soon as possible. Please continue reading for more resources and answers to other frequently asked questions:  How to report an imposter Facebook profile: Caution-https://www.facebook.com/help/16... < Caution-https://www.facebook.com/help/16... >   Answers to frequently asked questions:  - Soldiers and their loved ones are not charged money so that the Soldier can go on leave.  - Soldiers are not charged money for secure communications or leave.  - Soldiers do not need permission to get married.  - Soldiers emails are in this format: john.doe.mil@mail.mil < Caution-mailto: john.doe.mil@mail.mil > anything ending in .us or .com is not an official email account.  - Soldiers have medical insurance, which pays for their medical costs when treated at civilian health care facilities worldwide – family and friends do not need to pay their medical expenses.  - Military aircraft are not used to transport Privately Owned Vehicles.  - Army financial offices are not used to help Soldiers buy or sell items of any kind.  - Soldiers deployed to Combat Zones do not need to solicit money from the public to feed or house themselves or their troops.  - Deployed Soldiers do not find large unclaimed sums of money and need your help to get that money out of the country.  Anyone who tells you one of the above-listed conditions/circumstances is true is likely posing as a Soldier and trying to steal money from you.  We would urge you to immediately cease all contact with this individual.  For more information on avoiding online scams and to report this crime, please see the following sites and articles:   This article may help clarify some of the tricks social media scammers try to use to take advantage of people: Caution-https://www.army.mil/article/61432/< Caution-https://www.army.mil/article/61432/>   CID advises vigilance against 'romance scams,' scammers impersonating Soldiers  Caution-https://www.army.mil/article/180749 < Caution-https://www.army.mil/article/180749 >   FBI Internet Crime Complaint Center: Caution-http://www.ic3.gov/default.aspx< Caution-http://www.ic3.gov/default.aspx>   U.S. Army investigators warn public against romance scams: Caution-https://www.army.mil/article/130...< Caution-https://www.army.mil/article/130...>   DOD warns troops, families to be cybercrime smart -Caution-http://www.army.mil/article/1450...< Caution-http://www.army.mil/article/1450...>   Use caution with social networking  Caution-https://www.army.mil/article/146...< Caution-https://www.army.mil/article/146...>    Please see our frequently asked questions section under scams and legal issues. Caution-http://www.army.mil/faq/ < Caution-http://www.army.mil/faq/ > or visit Caution-http://www.cid.army.mil/ < Caution-http://www.cid.army.mil/ >.  The challenge with most scams is determining if an individual is a legitimate member of the US Army. Based on the Privacy Act of 1974, we cannot provide this information. If concerned about a scam you may contact the Better Business Bureau (if it involves a solicitation for money), or local law enforcement. If you're involved in a Facebook or dating site scam, you are free to contact us direct; (571) 305-4056.   If you have a social security number, you can find information about Soldiers online at Caution-https://www.dmdc.osd.mil/appj/sc... < Caution-https://www.dmdc.osd.mil/appj/sc... > . While this is a free search, it does not help you locate a retiree, but it can tell you if the Soldier is active duty or not.  If more information is needed such as current duty station or location, you can contact the Commander Soldier's Records Data Center (SRDC) by phone or mail and they will help you locate individuals on active duty only, not retirees. There is a fee of $3.50 for businesses to use this service. The check or money order must be made out to the U.S. Treasury. It is not refundable. The address is:  Commander Soldier's Records Data Center (SRDC) 8899 East 56th Street Indianapolis, IN 46249-5301 Phone: 1-866-771-6357  In addition, it is not possible to remove social networking site profiles without legitimate proof of identity theft or a scam. If you suspect fraud on this site, take a screenshot of any advances for money or impersonations and report the account on the social networking platform immediately.  Please submit all information you have on this incident to Caution-www.ic3.gov < Caution-http://www.ic3.gov > (FBI website, Internet Criminal Complaint Center), immediately stop contact with the scammer (you are potentially providing them more information which can be used to scam you), and learn how to protect yourself against these scams at Caution-http://www.ftc.gov < Caution-http://www.ftc.gov > (Federal Trade Commission's website)
Related content Get and Sign nc form 18