Establishing secure connection…
Loading editor…
Preparing document…
Get And Sign Community Service Log Sheet Form
How It Works
Open form follow the instructions
Easily sign the form with your finger
Send filled & signed form or save
Rate form
Get And Sign Community Service Log Sheet Form
SignNow's web-based service is specifically created to simplify the management of workflow and enhance the entire process of competent document management. Use this step-by-step guideline to complete the Community service log sheet form quickly and with perfect precision.
How you can complete the Community service log sheet form online:
To begin the document, utilize the Fill & Sign Online button or tick the preview image of the form.
The advanced tools of the editor will guide you through the editable PDF template.
Enter your official contact and identification details.
Use a check mark to indicate the choice wherever necessary.
Double check all the fillable fields to ensure total precision.
Make use of the Sign Tool to add and create your electronic signature to certify the Community service log sheet form.
Press Done after you finish the form.
Now it is possible to print, download, or share the document.
Follow the Support section or get in touch with our Support team in the event you've got any concerns.
By using SignNow's comprehensive solution, you're able to carry out any essential edits to Community service log sheet form, make your customized electronic signature in a few fast actions, and streamline your workflow without the need of leaving your browser.
Video instructions and help with filling out and completing Get and Sign community service log sheet form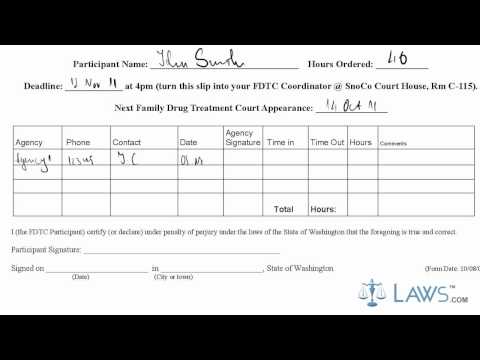 Instructions and Help about Get and Sign community service log sheet form
laws dot-com legal forms guide a community service form is a document that is used to show completion of community service usually community service is mandated for criminal or statutory violations instead of jail or probation this form is used to prove community service obligations were met in this case we are using the community service form used by family drug treatment court in the state of Washington many different examples of community service forms can be found online or through the court in which community service was given the first step in completing the form is to enter the participants name and the amount of total hours of community service they are ordered to serve a deadline should be provided informing the participant of when they must turn their community service form in fill in this time on each form submitted if a drug court date is scheduled it should be written on the community service form the next step is to fill out the grid indicating the time spent on community
FAQ
There is curfew in my area and Internet service is blocked, how can I fill my exam form as today is the last day to fill it out?

Spend less time using your blocked Internet to ask questions on Quora, andTravel back in time to when there was no curfew and you were playing Super Mario Kart, and instead, fill out your exam form.

How should one fill out the DAF form for the UPSC civil services?

1) Things to keep in mind while filling your DAF1. DAF is not like your resume, the more achievements the more you will score.Here DAF is only a way to know about you so that they can ask questions.2. Please do not try to fake or write for the sake of writing. If there is no achievement, then don't create one, no hobby then don't write fake one .3. Be specific. For you music might be a hobby (listening in free time), but they will expect you to know about music in detail. . You might like cooking but they will ask you anything related to cooking ( about preservatives, masalas, cooking recepies, types of cuisines etc).So better to avoid writing such open ended things. Write specific things which you know you can prepare.a4. Writing something and not able to answer basic questions related to those things sends a very wrong impression. When you are filling DAF ensure you write less but meaningful things you are confident about.2) Service Preference ListImportant : These are my personal views which can be biased. Detail about each service, growth opportunities can be found here http://persmin.gov.in/AIS1/Welco...Brief about Services1. IASGood work, Good Infrastructure and highly respectable. Issue is interference and work pressure. If you want a very peaceful life and tension free life then think about it.2. IFSWork as diplomats. Good services, especially for people who like to travel, pursue intellectual hobbies. You will have alternate terms in foreign country and India. Yes do give a consideration from family perspective and secondly from perspective that if you want paraphernalia you will not get it.3. IPSMostly work is in law and order domain. Lot of power, infra and Paraphernalia. However IPS is a very tough job and not everyone is made for it. It needs lot of patience, sacrifice in personal life and has maximum interference. So choose accordingly.4. IRS IT and CustomsMy personal advice would be to choose IT over customs ( stable cadre, timely promotions , decent infra and good places of postings) However work can appear to be boring due to a desk job restricted to taxation. Customs on the other hand is having more variety.5. IRTS vs IAASIRTS is IAS of railways. Lot of manpower under you. Good infra and facilities. However issue is very hectic life especially if you are in operations side as you have to manage timely running of trains. So don't opt it if you want a peaceful and tension free life.IAAS on the other hand is a totally different service. It audits almost everything in government. Remember it is not just auditing of accounts here but a larger purview. Also stable posting, normal working hours, postings in state capital and Delhi plus lot of foreign visits and yes timely promotions. Plus everyone fears an auditor. However you won't enjoy executive powers and perks like IRTS. So decide what kind of life you want.6. Accounting ServicesIRASBest among accounting services. Total financial power in railways. Good infrastructure, work life balance and good postings. Plus lot of opportunities for deputation due to finance.IDASThis is also a good service. Lot of financial power in defence sector. Good infrastructure, work life balance and good postings. Plus lot of opportunities for deputation due to financeICASThis is more of an accounting service. It has the responsibility to consolidate accounts of all the Dept except few. Posting in Delhi. However housing, car can be an issue.IPTAFSThis service has lost lot of ground due to BSNL and MTNL separating from DoT. So major work is collecting spectrum allocation and licence fee. Infrastructure issues are also there.7. Railway servicesRailway services have good infrastructure and facilities. Housing, car and manpower is not an issue.IRTS - IRAS - IRPSIRPSNot much work, dealing with unions and personnel management .RPFI would suggest to fill it among the bottom 5 services. Its like paramilitary force (Railway Protection Force)8. IPoSGood service. Administration of all post offices. Good infra and facilities. Plus post office's are getting modernized so new work is coming up.9. IDeSThis is a service where you work as CEO of cantonments/defence estates. There is huge infrastructure at your disposal, very good facilities. However growth is stagnant, work is not dynamic. Also you will not always be working in cantonments, HQ postings and other postings are there as well.10. ICLS and ITSBoth are new age services with postings in Capital cities and Delhi. ICLS are regulators of corporate sector. They implement company law and are involved in Registration, M&A, and Liquidation etc. Service seems to have a promising future but as of now it is not much preferred. Reasons include Infrastructure problem, desk work and stagnation as the top level.IT on the other hand deals with trade policy implementation. Officers working closely with traders and exporters. Also working in SEZ, policy work and some International exposure. So work is interesting and promising.Issue with both the services is similar. These are comparatively new service & do not have a huge infrastructure compared to postal, defence and railways. So Car, housing, other facilities might be a little problem. Also at senior level stagnation issue.11. IoFSNot much of an idea but their scope is more or less related to management of ordinance factories. Infra won't be much of an issue. But usually filled among bottom few services12. Danics & DanipsThese are like State civil services(UT civil service) with a difference that promotions are better compared to most of the states. Many people prefer them at the bottom due to Group B. However in terms of power, work, infra these are better than many group A central services.13. Indian Information ServiceThis is like a PR Job. Most IIS officers work in various media units which are under Ministry of Information and Broadcasting such as DD News, All India Radio, Press Information Bureau etc. Even posted with various Ministries as spokespersons to handle the Ministry's information and communication needs and help in policy formulation. So work wise this is a nice service, plus majorly you stay in Delhi. Infrastructure, car housing is again an issue.14. AFHQ + Pondicherry civil serviceBottom services to be filled.Now how to fill service preference listSee this is a totally personal choice depending on what you want from your life. What matters to you : balanced life ? Quality work ? Power & Infrastructure? Delhi Posting? Decide accordingly. Here are some hints based on common choice1. Most preferred services (IAS – IFS –IPS – IRS IT –IRS Customs – IRTS /IAAS) .2. Less preffered services ( AFHQ , Pondicherry civil services , RPF, IoFS, IPTAFS ,ICLS )3. Middle Category ( IRAS, IDAS, ICAS, IPOS,IDES,ITS,IIS,IRPS)As per meIRTS >IRAS>IRPSIRAS>IDAS>ICASIPOS>IDESIDAS>IDESICAS, IIS, ITS (one is accounts, other is media/PR and one relates to Trade. Usual preference is ICAS – IIS-ITS)4. Adjust DANICS & DANIPS as per your convenience. Some people prefer them after Railway, Defence and Postal while majority put it at the end. Decide as per your own choice.Delhi Posting : ICAS , IISServices where Infrastructure won't be an issue (Apart from Most preferred services ): IRAS,IRPS,IPOS,IDES,IDAS . I think infra will not be an issue even in IOFS and RPF.3) CADRE PreferenceP.S : Totally personal views. For details you can refer here http://www.iascoachingindelhi.or...UP: great work opportunities and infrastructure. But if you don't want an exciting and challenging life, it should not be high on your list.Bihar: Mostly like UP but more backward.MP, Rajasthan, Haryana: Good cadres. Balanced ones. Usually preferred by people.Punjab: Mixed reviews about the cadre.Jharkhand and Chattisgarh, Odisha: People carry lot of misconceptions. These are nice cadres to work plus good infra. Naxal problem is prevalent only in certain areas. Other issue is these are little backward areas. But I think these are highly underrated cadres .Uttarakhand and Himachal : Decent cadres to work but terrain issues. Not everyone likes hill posting so keep that in mind.Northeast cadres : Mostly people fill them lower in their preference due to factors like distance, culture, hills, personal life etc. Assam-Megahalya is the most preferred choice among north east cadres.J&K : considered a tough posting. Hills + security concerns etc.West Bengal and Kerala : Work wise normal but their political setup is different so many people don't prefer these cadres. So decide accordingly .Andra and Telangana : Good cadres to work. North Indians prefer them most among southern states.Karnataka: fineTamil Nadu : state services is very strong here so at times they hold important posts in the district .Maharashtra : Good cadreGujarat : Mixed reviews.Agmut: mixed reviews. Good thing is you get to stay for long in Delhi.Making choicesI can't tell you what to opt. But I can share what people preferably fill at lower preference. Again as per my knowledge.- North eastern States- J&K- Kerala and WB ( some people prefer to fill them low)Also sharing some favoured cadres due to different reasons:- Rajasthan, Haryana, MP (Delhi proximity and balanced cadres )- UP & Bihar (Strong power centres for IAS)- AGMUT (Delhi posting, but not for those who like UP , Bihar work culture )- Sorry but I am not able to comment on south Indian cadres due to lack of in depth knowledgeCadres considered bad but are actually not- Chhattisgarh and JharkhandThat is all from my side. Hopefully this post can help you to some extent. All the best
Related content Get and Sign community service log sheet form