Establishing secure connection…
Loading editor…
Preparing document…
Get And Sign Quick Claim Deed Illinois Form
How It Works
Open form follow the instructions
Easily sign the form with your finger
Send filled & signed form or save
Rate form
Get And Sign Quick Claim Deed Illinois Form
SignNow's web-based application is specifically made to simplify the arrangement of workflow and enhance the entire process of qualified document management. Use this step-by-step guide to complete the Quick claim deed illinois form quickly and with ideal precision.
The way to complete the Quick claim deed illinois form online:
To get started on the blank, use the Fill & Sign Online button or tick the preview image of the blank.
The advanced tools of the editor will guide you through the editable PDF template.
Enter your official identification and contact details.
Utilize a check mark to indicate the choice where needed.
Double check all the fillable fields to ensure full accuracy.
Make use of the Sign Tool to create and add your electronic signature to certify the Quick claim deed illinois form.
Press Done after you complete the form.
Now you can print, download, or share the document.
Address the Support section or contact our Support staff in the event that you've got any questions.
By utilizing SignNow's complete service, you're able to carry out any needed edits to Quick claim deed illinois form, create your personalized electronic signature within a few quick steps, and streamline your workflow without leaving your browser.
Video instructions and help with filling out and completing Get and Sign quick claim deed illinois form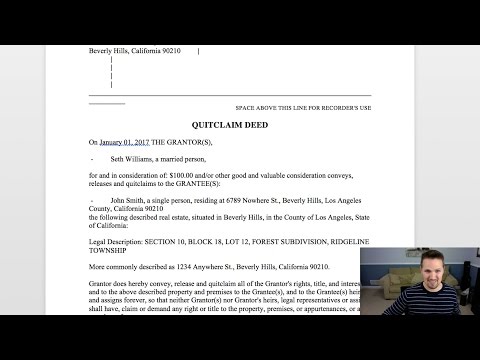 Instructions and Help about Get and Sign quick claim deed illinois form
hey there this is stuff from the art tips are blog and in this video I just want to give you a really quick overview of what a quitclaim deed is when it makes sense to use it and how you can put one together if that's something you want to do so a quick claim deed is essentially a document that is used to transfer the ownership of real estate from one person or entity to another person or entity and most of the time when people are buying houses and rental properties and other investments the most common type of deed that people use is called a warranty deed and that's a deed where the seller is essentially promising that they have totally free and clear title to the property and they are conveying it to that new buyer and there's no title defects on records so nobody else has any ownership and it liens on the property or anything that would encroach they're totally unencumbered ownership of that particular property in the vast majority of cases when people are using warranty deeds the
FAQ
What agreement is needed to buy out my partner after a quick claim deed in Florida?

What agreement is needed to buy out my partner after a quick claim deed in Florida?I do not practice in Florida and am not admitted in Florida. I do not know Florida law. I suggest you consult a Florida lawyer on the basis of a detailed and CONFIDENTIAL statement of your situation, for actual legal advice, not seek random responses from fellow Quorans on a public forum based on an extremely sketchy statement of your facts.That said, as long as you're here anyway, the term is "QUIT" claim deed, not "quick" claim. It means the grantor — the person giving you the deed (which you must then record with the land records office in your county, usually accompanied by paying a fee) — "quits" any claim he has or may have to that piece of property, in favor of other rightful claimants (such as yourself). A "quitclaim" deed is to be distinguished from a "warranty" deed, in that the grantor of a quitclaim deed gives you NO PROMISES or guarantees that he has ANY colorable interest in the property in question AT ALL. The scammers who "sold" greenhorns the Brooklyn Bridge, back in the day, used quitclaim deeds. They didn't make OR BREAK any promises, so they were not committing fraud and got away with it.Hopefully this will not apply if the facts of your situation are that you and your partner (did you mean DOMESTIC partner? Or BUSINESS partner?) are BOTH on the title deed of the property, as either Tenants In Common (TIC) or as Joint Owners with Right of Survivorship (JWROS), meaning that YOU (and he) are already the legitimate claimants to that property, so that, by means of his giving you a quitclaim deed, you will become the SOLE legal owner of the property. That's the only situation in which I would recommend you pay anybody any money for a "quitclaim" deed.What kind of contract do you need? That depends on how you want to do the transaction. If you plan to finance the deal through a third party bank, or make installment payments directly to him, I STRONGLY advise you to use a local real estate lawyer to handle this transaction and draw up a contract. The few hundred dollars this is likely to cost will be money well spent to avoid major headaches (and possibly huge monetary losses) down the road if you screw up some apparently insignificant detail.If you are just going to give him "cash on the barrelhead" for his interest, though, and have reached an agreed and fair price, and get a form quitclaim deed from a legal-forms site that appears to do what you want, you MIGHT be able to do this without a lawyer, so long as nothing unusual in your fact situation requires something different than the plain-vanilla boilerplate deed form you can get from such a site. That's what you pay a lawyer for — not just to draft boiler plate, which is the easy part, but to give you his EXPERTISE in knowledge and experience to see if you need anything ELSE to avoid disaster down the road.The "do it yourself" approach is a bit like changing your own oil, in your car. It's not that hard, but if you took it to a mechanic he or she might discover some other major problem that needs fixing, and be able to fix it before it's too late. You don't want to wind up stranded by the side of the road because your timing belt should have been changed at your last oil change, and you forgot about it or didn't even know it existed.Good luck!This answer is not a substitute for professional legal advice and does not create an attorney-client relationship, nor is it a solicitation to offer legal advice. If you ignore this warning and convey confidential information in a private message or comment, there is no duty to keep that information confidential or forego representation adverse to your interests. Seek the advice of a licensed attorney in the appropriate jurisdiction before taking any action that may affect your rights. If you believe you have a claim against someone, consult an attorney immediately, otherwise there is a risk that the time allotted to bring your claim may expire. Quora users who provide responses to legal questions are intended third party beneficiaries with certain rights under Quora's Terms of Service.

How can I claim the VAT amount for items purchased in the UK? Do I need to fill out any online forms or formalities to claim?

Easy to follow instructions can be found here Tax on shopping and servicesThe process works like this.Get a VAT 407 form from the retailer - they might ask for proof that you're eligible, for example your passport.Show the goods, the completed form and your receipts to customs at the point when you leave the EU (this might not be in the UK).Customs will approve your form if everything is in order. You then take the approved form to get paid.The best place to get the form is from a retailer on the airport when leaving.

How can I get more people to fill out my survey?

Make it compellingQuickly and clearly make these points:Who you are and why you are doing thisHow long it takesWhats in it for me -- why should someone help you by completing the surveyExample: "Please spend 3 minutes helping me make it easier to learn Mathematics. Answer 8 short questions for my eternal gratitude and (optional) credit on my research findings. Thank you SO MUCH for helping."Make it convenientKeep it shortShow up at the right place and time -- when people have the time and inclination to help. For example, when students are planning their schedules. Reward participationOffer gift cards, eBooks, study tips, or some other incentive for helping.Test and refineTest out different offers and even different question wording and ordering to learn which has the best response rate, then send more invitations to the offer with the highest response rate.Reward referralsIf offering a reward, increase it for referrals. Include a custom invite link that tracks referrals.

In what cases do you have to fill out an insurance claim form?

Ah well let's see. An insurance claim form is used to make a claim against your insurance for financial, repair or replacement of something depending on your insurance. Not everything will qualify so you actually have to read the small print.

How do I fill out the disability forms so well that my claim is approved?

Contact Barbara Case, the founder of USA: Providing Free Advocacy & Support She's incredible!
Related content Get and Sign quick claim deed illinois form