Establishing secure connection…
Loading editor…
Preparing document…
Get And Sign Form AST-3 - Virginia Department Of Taxation - Virginia.gov - Tax Virginia
How It Works
Open form follow the instructions
Easily sign the form with your finger
Send filled & signed form or save
Rate form
Get And Sign Form AST-3 - Virginia Department Of Taxation - Virginia.gov - Tax Virginia
SignNow's web-based software is specifically created to simplify the management of workflow and optimize the entire process of proficient document management. Use this step-by-step guide to fill out the Form AST-3 - Virginia Department of Taxation - Virginia.gov - tax virginia swiftly and with perfect precision.
How to fill out the Form AST-3 - Virginia Department of Taxation - Virginia.gov - tax virginia on the internet:
To get started on the blank, use the Fill & Sign Online button or tick the preview image of the blank.
The advanced tools of the editor will direct you through the editable PDF template.
Enter your official identification and contact details.
Apply a check mark to point the choice wherever needed.
Double check all the fillable fields to ensure complete precision.
Use the Sign Tool to create and add your electronic signature to certify the Form AST-3 - Virginia Department of Taxation - Virginia.gov - tax virginia.
Press Done after you complete the document.
Now you can print, save, or share the document.
Refer to the Support section or contact our Support group in the event that you have got any concerns.
By making use of SignNow's complete service, you're able to execute any needed edits to Form AST-3 - Virginia Department of Taxation - Virginia.gov - tax virginia, make your personalized digital signature in a couple of quick actions, and streamline your workflow without leaving your browser.
Video instructions and help with filling out and completing Get and Sign Form AST-3 - Virginia Department of Taxation - Virginia.gov - tax virginia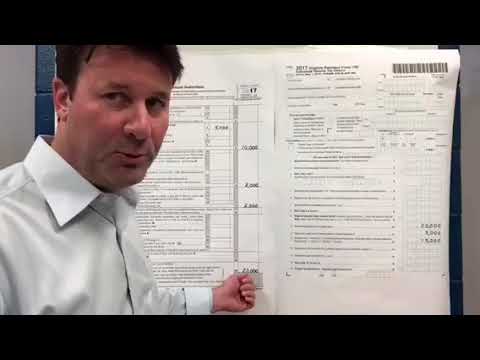 Instructions and Help about Get and Sign Form AST-3 - Virginia Department of Taxation - Virginia.gov - tax virginia
hi I'm Scott my Oski Stafford County Commissioner of the revenue I want to talk to you briefly about an issue that may affect as many as 1.5 million hardworking Virginians if you itemize deductions on your federal income tax return you need to pay attention to this because you are potentially looking at a huge tax increase next spring when you fill out your state income tax form the tax cut and Jobs Act doubled the standard deduction to $24,000 that's going to cause hundreds of thousands if not upwards of a million Virginians to stop itemizing their deductions and to take advantage of the higher federal standard deduction the problem is a quirk in Virginia law that requires Virginia taxpayers to take the same deduction status at the state level as they took at the federal level I have an example that will illustrate the problem that this creates here is a standard Schedule A this is taxpayer this is a couple filing jointly on the schedule a they're able to write off $20,000 of itemized
FAQ
How does a Virginia LLC transfer a machine which is out of the normal line of business to another Virginia LLC without incurring sales tax?

Bill of Sale and record it appropriately on the Books.

How will it play out if Virginia's Gov. Northam suddenly switch party and becomes a Republican? Will he get the support of Trump and McConnell to stay on?

Of course he won't get their support if he suddenly changes parties.Why on Earth would they take this piece of baggage on just because he conveniently decided to change parties?Plus his views on infanticide are so antithetical to most Republicans that even if he were a Republican all along he wouldn't be getting support from the Republican party. When discussing abortion in the third trimester he had the following to say."If a mother is in labor, I can tell you exactly what would happen. The infant would be delivered. The infant would be kept comfortable. The infant would be resuscitated if that's what the mother and the family desired, and then a discussion would ensue between the physicians and the mother," Northam said in the interview.There is no way a politician who talks so casually about murdering babies could make it in the Republican partyAlthough he later complained about how his remarks were taken he did not deny supporting infanticide. Rather he stressed how much he cares about children.

What forms do I need to fill out to sue a police officer for civil rights violations? Where do I collect these forms, which court do I submit them to, and how do I actually submit those forms? If relevant, the state is Virginia.

What is relevant, is that you need a lawyer to do this successfully. Civil rights is an area of law that for practical purposes cannot be understood without training. The police officer will have several experts defending if you sue. Unless you have a lawyer you will be out of luck. If you post details on line, the LEO's lawyers will be able to use this for their purpose. You need a lawyer who knows civil rights in your jurisdiction.Don't try this by yourself.Get a lawyer. Most of the time initial consultations are free.

Some in California want to secede from the state and form the new state of California. According to Article 4 Section 3 of the US Constitution, permission to secede must be sought from the state legislature. How did W Virginia secede from Virginia?

West Virginia became a separate state the same way California would have to split into separate states. The people of West Virginia wanted to separate from Virginia, and Congress wanted them to. In the case of West Virginia it didn't hurt that the State of Virginia was in rebellion and as far as Congress was concerned didn't have a legitimate legislature to block separation.Splitting a state into smaller states or joining small states into one larger state are possible as long as Congress and the state legislatures involved agree. Don't hold your breath.
Related content Get and Sign Form AST-3 - Virginia Department of Taxation - Virginia.gov - tax virginia