Establishing secure connection…
Loading editor…
Preparing document…
Get And Sign Mass Mutual Life Insurance Surrender Form
How It Works
Open form follow the instructions
Easily sign the form with your finger
Send filled & signed form or save
Rate form
Get And Sign Mass Mutual Life Insurance Surrender Form
SignNow's web-based service is specifically created to simplify the organization of workflow and enhance the whole process of competent document management. Use this step-by-step instruction to fill out the Mass mutual life insurance surrender form quickly and with perfect precision.
How to fill out the Mass mutual life insurance surrender form online:
To start the blank, utilize the Fill & Sign Online button or tick the preview image of the blank.
The advanced tools of the editor will direct you through the editable PDF template.
Enter your official contact and identification details.
Utilize a check mark to point the answer where demanded.
Double check all the fillable fields to ensure full precision.
Make use of the Sign Tool to add and create your electronic signature to certify the Mass mutual life insurance surrender form.
Press Done after you fill out the form.
Now it is possible to print, save, or share the document.
Address the Support section or contact our Support staff in the event you have got any questions.
By utilizing SignNow's complete platform, you're able to carry out any necessary edits to Mass mutual life insurance surrender form, make your customized electronic signature in a couple of fast actions, and streamline your workflow without the need of leaving your browser.
Video instructions and help with filling out and completing Get and Sign mass mutual life insurance surrender form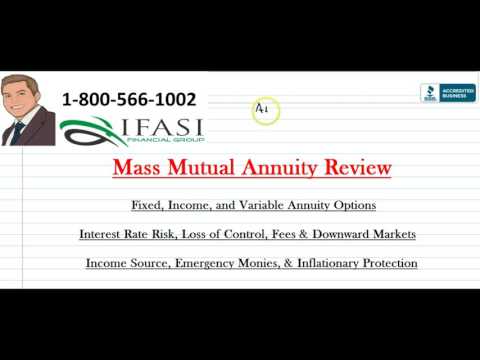 Instructions and Help about Get and Sign mass mutual life insurance surrender form
here's ago on everyone my name is derek ifasi I'm the owner of a Fosse Financial Group in today's topic I want to go over a thorough review on mass mutual annuities and go over some of the pros and some of the cons why someone might want to utilize a mass mutual annuity and then why many times the mass mutual annuity is not going to be the best option for that individuals situation for their specific goals now based upon the current times now understand these things change so like any sort of companies that that are have annuity product lines what might be offered today could be completely different from next month or next year or etcetera you know any any time frame so it all depends upon a couple different factors but just with today's types of annuities and I'm filming this video in 2016 um what are their major sources of annuities or what are their major annuity product lines kind of expose what's good about them what's bad about them and then how to avoid any sorts of negatives if
The Mass Mutual Life Insurance Surrender Form should answer these basic questions:
Who mass mutual life insurance surrender forms?
Where mass mutual life insurance surrender forms?
When mass mutual life insurance surrender forms?
What mass mutual life insurance surrender forms?
How mass mutual life insurance surrender forms?
Are mass mutual life insurance surrender forms?
Why mass mutual life insurance surrender forms?
Which mass mutual life insurance surrender forms?
Can mass mutual life insurance surrender forms?
Will mass mutual life insurance surrender forms?
FAQ
Why don't schools teach children about taxes and bills and things that they will definitely need to know as adults to get by in life?

Departments of education and school districts always have to make decisions about what to include in their curriculum.  There are a lot of life skills that people need that aren't taught in school.  The question is should those skills be taught in schools?I teach high school, so I'll talk about that.  The typical high school curriculum is supposed to give students a broad-based education that prepares them to be citizens in a democracy and to be able to think critically.  For a democracy to work, we need educated, discerning citizens with the ability to make good decisions based on evidence and objective thought.  In theory, people who are well informed about history, culture, science, mathematics, etc., and are capable of critical, unbiased thinking, will have the tools to participate in a democracy and make good decisions for themselves and for society at large.  In addition to that, they should be learning how to be learners, how to do effective, basic research, and collaborate with other people.  If that happens, figuring out how to do procedural tasks in real life should not provide much of a challenge.  We can't possibly teach every necessary life skill people need, but we can help students become better at knowing how to acquire the skills they need.  Should we teach them how to change a tire when they can easily consult a book or search the internet to find step by step instructions for that?  Should we teach them how to balance a check book or teach them how to think mathematically and make sense of problems so that the simple task of balancing a check book (which requires simple arithmetic and the ability to enter numbers and words in columns and rows in obvious ways) is easy for them to figure out.  If we teach them to be good at critical thinking and have some problem solving skills they will be able to apply those overarching skills to all sorts of every day tasks that shouldn't be difficult for someone with decent cognitive ability  to figure out.  It's analogous to asking why a culinary school didn't teach its students the steps and ingredients to a specific recipe.  The school taught them about more general food preparation and food science skills so that they can figure out how to make a lot of specific recipes without much trouble.  They're also able to create their own recipes.So, do we want citizens with very specific skill sets that they need to get through day to day life or do we want citizens with critical thinking, problem solving, and other overarching cognitive skills that will allow them to easily acquire ANY simple, procedural skill they may come to need at any point in their lives?

How to surrender Reliance Life insurance?

Please do check with the customer service no of Reliance Life Insurance and better still visit their branch.NOTE: All branch employees are trained to prevent a customer from surrendering their policy; they can only make you realize the benefits of staying put with the policy and do not actually physically restrain you from leaving the branch:)So, before surrendering - 1] KNOW YOUR POLICY WELL - There have been changes in IRDA regulations regarding Surrenders and depending on your policy inception date, the surrender clause could be lot different that what you know. You should be totally aware of what you will receive if you surrender.2] CROSS CHECK - The surrender value should be cross checked with the branch operating executive as well as with the customer service executive via phone. It doesn't harm to have the value validated.3] DO YOU SERIOUSLY WANT TO SURRENDER - IF you have bought a policy for favouring someone or not realizing what you've got into, then you have to pay for your ignorance. However, if you are surrendering at a huge loss (normally in the early years you practically get 1/10 to 1/5 of the amount of money invested) then you are again being ignorant.4] OPTIONS - what are the options to surrender? In ULIP plans, it's a 5 year lock in period wherein your policy earns money, so why surrender. In the earlier ULIP plans wherein charges were high, it will make sense to stay put till break even. For traditional plan, well you need to give yourself at least 10 years to break even. ELSE just decide to own up the losses, buy an online term plan and invest the future premiums in other financial instruments.

In what cases do you have to fill out an insurance claim form?

Ah well let's see. An insurance claim form is used to make a claim against your insurance for financial, repair or replacement of something depending on your insurance. Not everything will qualify so you actually have to read the small print.

How many application forms does a person need to fill out in his/her lifetime?

How can I fill out Google's intern host matching form to optimize my chances of receiving a match?

I was selected for a summer internship 2016.I tried to be very open while filling the preference form: I choose many products as my favorite products and I said I'm open about the team I want to join.I even was very open in the  location and start date to get host matching interviews (I negotiated the start date in the interview until both me and my host were happy.) You could ask your recruiter to review your form (there are very cool and could help you a lot since they have a bigger experience).Do a search on the potential team.Before the interviews,  try to find smart question that you are going to ask for the potential host (do a search on the team  to find nice and deep questions to impress your host). Prepare well your resume.You are very likely not going to get algorithm/data structure questions like in the first round. It's going to be just some friendly chat if you are lucky. If your potential team is working on something like machine learning, expect that  they are going to ask you questions about machine learning, courses related to machine learning you have and relevant experience (projects, internship). Of course you have to study that before the interview. Take as long time as you need if you feel rusty. It takes some time to get ready for the host matching (it's less than the technical interview)  but it's worth it of course.

When I filled out my insurance form from my employer, they asked if I smoke. How can they verify this?

They can probably tell by smelling your breath or looking at your teeth, but no one is gong to challenge what you put on the form.HOWEVER…What will happen if you develop a smoking-related illness is that the insurance company can deny coverage based on your fraud when filling out the forms.That's they way insurance contracts always work. For example, you could get cheaper car insurance if you tell them your car is a cheaper model. Then, if you have an accident and put in a claim to repair a more costly model, they deny it saying that's not the car they insured. Or perhaps you have a homeowner policy in which you declared all electrical work had be done by licensed electricians. Then there is a fire and they find you had done some of your own wiring to finish a basement room. Coverage denied.So, no one is going to question your answers. But the insurance will be pretty worthless if you lie on the application. They will accept your statements as fact and take your money, but when it comes time to collect, they can deny payment based on your lies.
Related content Get and Sign mass mutual life insurance surrender form