Establishing secure connection…
Loading editor…
Preparing document…
Get And Sign REQUEST FOR FIRST-ACTION INTERVIEW - U.S. Patent And ... - Uspto Form
How It Works
Open form follow the instructions
Easily sign the form with your finger
Send filled & signed form or save
Rate form
Get And Sign REQUEST FOR FIRST-ACTION INTERVIEW - U.S. Patent And ... - Uspto Form
SignNow's web-based program is specifically designed to simplify the arrangement of workflow and enhance the whole process of competent document management. Use this step-by-step guideline to complete the REQUEST FOR FIRST-ACTION INTERVIEW - U.S. Patent and ... - uspto form promptly and with ideal precision.
How you can complete the REQUEST FOR FIRST-ACTION INTERVIEW - U.S. Patent and ... - uspto form online:
To begin the blank, use the Fill & Sign Online button or tick the preview image of the document.
The advanced tools of the editor will lead you through the editable PDF template.
Enter your official contact and identification details.
Use a check mark to point the choice wherever necessary.
Double check all the fillable fields to ensure complete accuracy.
Utilize the Sign Tool to add and create your electronic signature to certify the REQUEST FOR FIRST-ACTION INTERVIEW - U.S. Patent and ... - uspto form.
Press Done after you finish the blank.
Now you are able to print, save, or share the form.
Address the Support section or get in touch with our Support crew in case you have any questions.
By making use of SignNow's complete service, you're able to execute any essential edits to REQUEST FOR FIRST-ACTION INTERVIEW - U.S. Patent and ... - uspto form, make your customized electronic signature in a few quick steps, and streamline your workflow without leaving your browser.
Video instructions and help with filling out and completing Get and Sign REQUEST FOR FIRST-ACTION INTERVIEW - U.S. Patent and ... - uspto form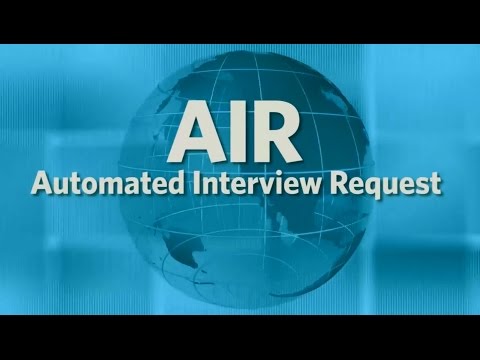 Instructions and Help about Get and Sign REQUEST FOR FIRST-ACTION INTERVIEW - U.S. Patent and ... - uspto form
excuse me I'm interning scheduled an interview with this pen examine this application but we keep playing phone tag oh well do you know about USPTO s tool called err no I haven't heard of it err lets you propose an interview time with examiner's whether you're trying to meet online using videoconferencing over the phone or actually coming into a USPTO office go online it's a simple process just say when you like to meet and click Submit an examiner emails you to confirm your request within two business things no more phone tag that was definitely save me time and I like being able to schedule an interview at my convenience well to get to air visit u.s. PTO gov slash interview practice and since we've been talking I just requested an interview time through air quick and easy if you have any questions about USPTO air or interview practice and policy you can contact an interview specialist they are subject matter experts on interview practice and policy they can assist you in interviews a
FAQ
Do Chinese diplomats have to apply for a U.S. visa and fill out the forms? Do they have a special process?

Chinese diplomats, like all diplomatic visitors to the United States, do have to obtain a visa (usually, an A-1 or A-2 "diplomatic" visa, but a G series visa is used when if the individual is part of that country's delegation to an international organization that has facilities in the United States) for all official visits. The diplomat does not necessarily have to fill out the paperwork himself or herself, and I would imagine that the paperwork is chiefly handled by bureaucrats somewhere in the foreign ministry of the country sending the diplomat to the United States. Applications for A, G, and N (NATO) visas are processed "specially" at the Department of State, in the sense that they get handled through different processes than the much more common visitor, student, and employment visas, but Chinese diplomats go through the same processes that any other diplomatic applicant would go through. There is no consular interview for most A or G visas (there may be for A-3 and G-3); instead, the current ambassador or charge d'affairs of the country sending the diplomat (or if none, its foreign minister, head of government, or head of state) must certify (via a "diplomatic note") that the applicant is a bona fide member of its diplomatic delegation or otherwise is acting in an official capacity for that foreign state. There are special processes that apply when a country sends a new ambassador, mainly ceremonial in nature: the new envoy must personally carry a "letter of credence" formally addressed from the foreign head of state to the President of the United States; the President's ceremonial acceptance of that letter formally invests the envoy as an ambassador with the rights and privileges thereof.Even a visiting head of state or head of government has to obtain such a visa; in fact, heads of state and heads of government are required to obtain an A-1 visa for any visit, even if the purpose of the visit is purely personal. Applications for an A-1 visa for a head of state are almost always handled through expedited diplomatic channels.

How can I take my child (16yrs) to the U.S if my immigrant visa is approved? My husband, a US citizen, filled out form I 130 for me and mentioned this child as migrating in future.

Just petition using a I-130 yourself. Read the instructions very carefully. I am not sure but it's possible that the affidavit of support will need to be filled by your husband since he is the citizen and he filled one for you - again, check the instructions very carefully. It should be a pretty clear, straightforward process.Your child is still well below the age limit and should be fine. If there are any problems, do the same thing you did with your own process - use the numbers you are given to check on the process and if you see it stuck call to make sure they have everything they need early.It is my understanding that the age limit of the child is based on the petition date, so go ahead and do it.You still have plenty of time at 16, just don't delay.

Why should it be so complicated just figuring out how much  tax to pay? (record keeping, software, filling out forms . . .  many times cost much more than the amount of  taxes due)  The cost of compliance makes  the U.S. uncompetitive and costs jobs and lowers our standard of living.

Taxes can be viewed as having 4 uses (or purposes) in our (and most) governments:Revenue generation (to pay for public services).Fiscal policy control (e.g., If the government wishes to reduce the money supply in order to reduce the risk of inflation, they can raise interest rates, sell fewer bonds, burn money, or raise taxes. In the last case, this represents excess tax revenue over the actual spending needs of the government).Wealth re-distribution. One argument for this is that the earnings of a country can be perceived as belonging to all of its citizens since the we all have a stake in the resources of the country (natural resources, and intangibles such as culture, good citizenship, civic duties). Without some tax policy complexity, the free market alone does not re-distribute wealth according to this "shared" resources concept. However, this steps into the boundary of Purpose # 4...A way to implement Social Policy (and similar government mandated policies, such as environmental policy, health policy, savings and debt policy, etc.). As Government spending can be use to implement policies (e.g., spending money on public health care, environmental cleanup, education, etc.), it is equivalent to provide tax breaks (income deductions or tax credits) for the private sector to act in certain ways -- e.g., spend money on R&D, pay for their own education or health care, avoid spending money on polluting cars by having a higher sales tax on these cars or offering a credit for trade-ins [ref: Cash for Clunkers]).Uses # 1 & 2 are rather straight-forward, and do not require a complex tax code to implement. Flat income and/or consumption (sales) taxes can easily be manipulated up or down overall for these top 2 uses. Furthermore, there is clarity when these uses are invoked. For spending, we publish a budget. For fiscal policy manipulation, the official economic agency (The Fed) publishes their outlook and agenda.Use # 3 is controversial because there is no Constitutional definition for the appropriate level of wealth re-distribution, and the very concept of wealth re-distribution is considered by some to be inappropriate and unconstitutional. Thus, the goal of wealth re-distribution is pretty much hidden in with the actions and policies of Use #4 (social policy manipulation).Use # 4, however, is where the complexity enters the Taxation system. Policy implementation through taxation (or through spending) occurs via legislation. Legislation (law making) is inherently complex and subject to gross manipulation by special interests during formation and amendments. Legislation is subject to interpretation, is prone to errors (leading to loopholes) and both unintentional or intentional (criminal / fraudulent) avoidance.The record keeping and forms referred to in the question are partially due to the basic formula for calculating taxes (i.e., percentage of income, cost of property, amount of purchase for a sales tax, ...). However, it is the complexity (and associated opportunities for exploitation) of taxation legislation for Use # 4 (Social Policy implementation) that naturally leads to complexity in the reporting requirements for the tax system.

How long is the waiting time for the issuance of an immigrant visa (Form I-130) of a petition approved in 2014 by the U.S. Citizenship and Immigration Services then sent to the Department of State National Visa Center for consular action?

The same length as a piece of string!Seriously though, you have not given enough information.See Forums online showing typical processing times I-130 Tracker. Petition for Alien Relative Tracker. Family Based Immigration TrackerIt would depend upon many things:What was the priority dateHave you had biometrics processedWhich ConsulateWhat is/are the citizenship(s) of the applicant and of his family?What category has the sponsor applied for?Are there likely to be security clearance issues - this is especially the case with applicants from India, Pakistan, Middle East and Asia where many have similar names and local government bureaucracy is technologically outdated - especially from countries considered by DOS to be high risk of terrorism.If your case is outside the typical wait times and you are sure you have the correct priority date and all approvals then either you or your sponsor should seek help from the office of the Congressman where they reside or in whose district you will be residing.
Related content Get and Sign REQUEST FOR FIRST-ACTION INTERVIEW - U.S. Patent and ... - uspto form