Establishing secure connection…
Loading editor…
Preparing document…
Get And Sign Restraining Order 2011 Form
How It Works
Open form follow the instructions
Easily sign the form with your finger
Send filled & signed form or save
Rate form
Get And Sign Restraining Order 2011 Form
SignNow's web-based service is specially made to simplify the organization of workflow and optimize the whole process of qualified document management. Use this step-by-step instruction to complete the Restraining order 2011 form swiftly and with ideal precision.
How to complete the Restraining order 2011 form on the web:
To get started on the form, utilize the Fill & Sign Online button or tick the preview image of the blank.
The advanced tools of the editor will lead you through the editable PDF template.
Enter your official contact and identification details.
Apply a check mark to point the answer where necessary.
Double check all the fillable fields to ensure full precision.
Use the Sign Tool to create and add your electronic signature to certify the Restraining order 2011 form.
Press Done after you complete the blank.
Now you can print, download, or share the form.
Address the Support section or contact our Support group in the event that you have got any questions.
By making use of SignNow's comprehensive solution, you're able to complete any important edits to Restraining order 2011 form, create your personalized electronic signature within a couple fast actions, and streamline your workflow without leaving your browser.
Video instructions and help with filling out and completing Get and Sign restraining order 2011 form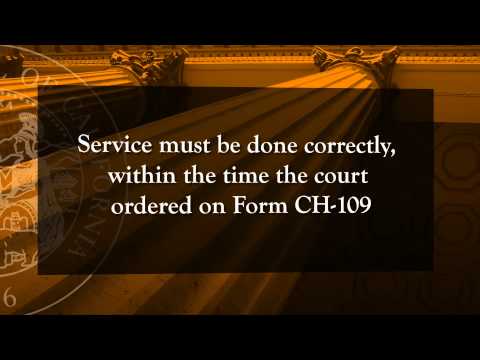 Instructions and Help about Get and Sign restraining order 2011 form
Music this chapter will give you information about the court process for making civil harassment restraining orders you will learn how to ask the court for a restraining order and what to do if someone has asked the court for a restraining order against you you can get more information about these procedures on to Judicial Council forms if you want a restraining order against someone C form CH 100 info can a civil harassment restraining order help me and if someone has asked for a restraining order against you C form CH 120 info how can I respond to a request for civil harassment restraining orders chapter 5 will tell you where to get the forms mentioned in this video and help filling them out civil harassment cases have many complicated rules move very quickly and can seriously affect both people if possible discuss the restraining order process with a lawyer or self-help Center there are two types of civil harassment restraining orders a judge can make a temporary restraining order s
FAQ
How do I respond to a request for a restraining order? Do I need to fill out a form?

As asked of me specifically;The others are right, you will likely need a lawyer. But to answer your question, there is a response form to respond to a restraining order or order of protection. Worst case the form is available at the courthouse where your hearing is set to be heard in, typically at the appropriate clerk's window, which may vary, so ask any of the clerk's when you get there.You only have so many days to respond, and it will specify in the paperwork.You will also have to appear in court on the date your hearing is scheduled.Most courts have a department that will help you respond to forms at no cost. I figure you are asking because you can't afford an attorney which is completely understandable.The problem is that if you aren't represented and the other person is successful in getting a temporary restraining order made permanent in the hearing you will not be allowed at any of the places the petitioner goes, without risking arrest.I hope this helps.Not given as legal advice-

Can legal aid help me fill out the forms for a restraining order?

Yes, your area domestic violence shelter can assist you as well. Even if you are not needing shelter you can utilize their other services such as legal assistance, support groups etc. Click this blue link to find your local domestic violence shelter. Find Domestic Violence and Abuse Help, Information and Stats

What paperwork do I have to fill out to get a mutual restraining order removed?

The best bet is to get an attorney. There are also some low cost legal aid societies. The family court clerk might also help you out. Clerks are usually not supposed to answer legal questions, but they might point you in the right direction.

What form do I have to fill out at PetSmart in order to purchase a rat?

Live animal purchase card

Why do 16 year olds have to get a parent to fill out a form in order to donate blood?

Why do 16 year olds have to get a parent to fill out a form in order to donate blood?Because a 16 year old is still a minor and blood donation isn't one of the exempt categories of medical care (such as prenatal care, STI testing, contraceptive services, etc.) that they are legally permitted access to without the consent of a guardian. At least this is the case in the United States, and the specific laws vary from state to state. More information on these exemptions can be found at Page on guttmacher.org

How do I know if there is a restraining order filed against me?

If you are asking, you have a pretty good idea that is a possibility.Most court systems have their dockets on line. A docket is a list of teh cases filed in that court. In Cook County (Chicago area) criminal cases and traffic cases are not on line but civil cases are. A restraining order / order of protection is a civil matter.You need to be served with the order. Whether that can be by mail or needs a process server varies by county and state. There are plenty of people who claim they were never served and therefore didn't know they were supposed to stay away from (girl friend, ex's , etc) house workplace.  If that is  accurate you need really good proof why you were not available for notification. A stamped passport or a plane ticket boarding pass to a place far away might do it.Or, you could look it up on line. The process is simple and are designed for the general public.Or, during business hours, you could call the  Clerk of Court ( different from the county clerk) or the Courthouse general number and ask.Don't bother trying to talk to the judge directly. It is not allowed. If you have a question about issuance and if you do not have an attorney, ask for the judge's clerk and ask how to object or have the order rescinded. They should give you instructions but at that point you are better off scraping the money together and hiring a lawyer.

What if the person lies on the form to get a restraining order?

Restraining orders generally come in two forms, temporary and permanent. In many jurisdictions an initial civil restraining order is issued based upon a petition which sets forth under oath, the facts that make the issuance of the restraining order necessary. This temporary restraining order, if granted, must be served upon the person to be restrained from whatever contact or conduct he/she/they are engaged in. Concurrent with the issuance of this temporary order will be a notice to the same persons or persons that the court will, on a date, time and location certain, conduct a hearing to determine why the temporary order should be made permanent or otherwise modified. This hearing is critical if one intends to contest the validity or necessity or modification of the temporary orders or seek its dismissal in whole or in part. Failure to appear at such a hearing will result in the court likely making the restraining order permanent. In the meantime the restrained parties are well advised to comply with the order.It is at this second hearing that all parties will be given an opportunity to present additional evidence as to the truth of the allegations, if the order 's extension is desired, etc., etc. This is the forum for presenting evidence of the lies one party may feel were foisted upon the court in getting the orders issued. You are well advised to seek counsel if you're going to be serious about contesting the restraining order.If the court determines that one parties' lies or mis-truths make up the basis of the initial orders the court may modify or dissolve the order in whole or in part. The court may also assign court and attorney costs to the offending party. It is unlikely absent truly egregious misrepresentations that the offending party will be prosecuted for any of their lies or misrepresentations. Your attorney will tell you what other recourse you may have.
Related content Get and Sign restraining order 2011 form