Establishing secure connection…
Loading editor…
Preparing document…
Get And Sign Form 1040 Tax 2017-2018
How It Works
Open form follow the instructions
Easily sign the form with your finger
Send filled & signed form or save
Rate form
Get And Sign Form 1040 Tax 2017-2018
SignNow's web-based application is specially made to simplify the arrangement of workflow and optimize the whole process of qualified document management. Use this step-by-step guide to fill out the Form 1040 tax 2017-2018 promptly and with ideal accuracy.
The way to fill out the Form 1040 tax 2017-2018 online:
To begin the blank, utilize the Fill & Sign Online button or tick the preview image of the blank.
The advanced tools of the editor will lead you through the editable PDF template.
Enter your official identification and contact details.
Utilize a check mark to point the choice wherever necessary.
Double check all the fillable fields to ensure complete precision.
Make use of the Sign Tool to add and create your electronic signature to certify the Form 1040 tax 2017-2018.
Press Done after you fill out the form.
Now you are able to print, download, or share the form.
Follow the Support section or get in touch with our Support group in the event that you have any concerns.
By making use of SignNow's complete solution, you're able to execute any required edits to Form 1040 tax 2017-2018, create your personalized electronic signature within a couple quick steps, and streamline your workflow without leaving your browser.
Video instructions and help with filling out and completing Get and Sign form 1040 tax 2017-2018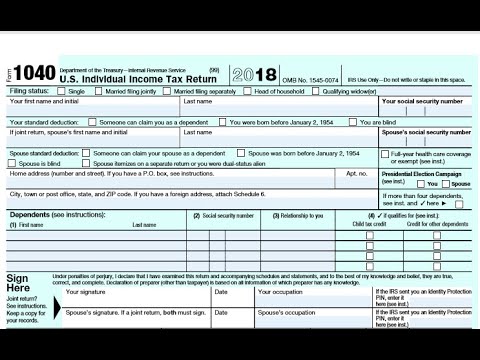 Instructions and Help about Get and Sign form 1040 tax 2017-2018
hi this is John with PDF tax this here is our first look at form 1040 for 2018 it's a new form a new tax law it is the draft copy that was released on June 29th so it still has the watermark on it as you can see you might recall that President Trump had promised to reduce the form 1040 to the size of a postcard and so this is it a lot different than what has been in prior years but it does have a second page to it which is right here still though a lot smaller than 1040 was in prior years so what the IRS has done is they have created six new schedules to capture the information that used to be on the 1040 Schedule one as additional income and adjustments schedule two is tax Schedule three is non refundable credits schedule four is other taxes schedule five other payments and refundable credits and schedule six foreign address and third party designee now if you take a closer look at the form 1040 here one of the first things you're probably going to notice that right here is that there
FAQ
How do you fill out a 1040EZ tax form?

The instructions are available here 1040EZ (2014)

How do you fill out line 5 on a 1040EZ tax form?

I suspect the question is related to knowing whether someone can claim you as a dependent, because otherwise line 5 itself is pretty clear.General answer: if you are under 19, or a full-time student under the age of 24, your parents can probably claim you as a dependent. If you are living with someone to whom you are not married and who is providing you with more than half of your support, that person can probably claim you as a dependent. If you are married and filing jointly, your spouse needs to answer the same questions.Note that whether those individuals actually do claim you as a dependent doesn't matter; the question is whether they can. It is not a choice.

How can I fill up my own 1040 tax forms?

The 1040 Instructions will provide step-by-step instructions on how to prepare the 1040. IRS Publication 17 is also an important resource to use while preparing your 1040 return. You can prepare it online through the IRS website or through a software program. You can also prepare it by hand and mail it in, or you can see a professional tax preparer to assist you with preparing and filing your return.

How do I fill out the NTSE form 2017- 2018 Jharkhand online?

You cannot gove NTSE online or at your own level you have to belong to a school which is conducting ntse. Then download the form online from the page of ntse, fill it and submit it to your school along with fee. If your school is not conducting ntse, sorry to say but you cannot give ntse. It can only be given through, no institutions are allowed to conduct thos exam.

How do I understand the 1040 U.S. tax form in terms of an equation instead of a ton of boxes to fill in and instructions to read?

First the 1040 is an exercise in sets:Gross Income - A collection and summation of all your income types.Adjustments - A collection of deductions the tax law allow you to deduct before reaching AGI. (AGI is used as a threshold for another set of deductions).ExemptionsDeductions - A collection of allowed deductions.Taxes - A Collection of Different collected along with Income TaxesCredits - A collection of allowed reductions in tax owed.Net Tax Owed or Refundable - Hopefully Self Explanatory.Now the formulas:[math]Gross Income - Adjustments = Adjusted Gross Income (AGI)[/math][math]AGI - Exemptions - Deductions = Taxable Income[/math][math]Tax Function (Taxable Income ) = Income Tax[/math][math]Taxes - Credits = Net Tax Owed or Refundable[/math]Please Note each set of lines is meant as a means to make collecting and summing the subsidiary information easier.It would probably be much easier to figure out if everyone wanted to pay more taxes instead of less.

Which forms do I fill out for taxes in California? I have a DBA/sole proprietorship company with less than $1000 in profit. How many forms do I fill out? This is really overwhelming. Do I need to fill the Form 1040-ES? Did the deadline pass?

You need to file two tax returns- one Federal Tax Form and another California State income law.My answer to your questions are for Tax Year 2018The limitation date for tax year 15.04.2018Federal Tax return for Individual is Form 1040 . Since you are carrying on proprietorship business, you will need to fill the Schedule C in Form 1040Form 1040 -ES , as the name suggests is for paying estimated tax for the current year. This is not the actual tax return form. Please note that while Form 1040, which is the return form for individuals, relates to the previous year, the estimated tax form (Form 1040-EZ ) calculates taxes for the current year.As far as , the tax return under tax laws of Californa State is concerned, the Schedule CA (540) Form is to be used for filing state income tax return . You use your federal information (forms 1040) to fill out your 540 FormPrashanthttp://irstaxapp.com
Related content Get and Sign form 1040 tax 2017-2018