Establishing secure connection…
Loading editor…
Preparing document…
Get And Sign Vehicle Incident Report Form
How It Works
Open form follow the instructions
Easily sign the form with your finger
Send filled & signed form or save
Rate form
Get And Sign Vehicle Incident Report Form
SignNow's web-based application is specially designed to simplify the arrangement of workflow and improve the whole process of competent document management. Use this step-by-step guideline to fill out the Vehicle incident report form promptly and with perfect precision.
How to fill out the Vehicle incident report form on the web:
To start the document, use the Fill & Sign Online button or tick the preview image of the blank.
The advanced tools of the editor will guide you through the editable PDF template.
Enter your official contact and identification details.
Apply a check mark to indicate the choice wherever needed.
Double check all the fillable fields to ensure full precision.
Utilize the Sign Tool to add and create your electronic signature to certify the Vehicle incident report form.
Press Done after you finish the document.
Now you'll be able to print, save, or share the form.
Address the Support section or contact our Support group in the event that you have any concerns.
By using SignNow's comprehensive platform, you're able to complete any necessary edits to Vehicle incident report form, make your customized digital signature within a couple quick actions, and streamline your workflow without leaving your browser.
Video instructions and help with filling out and completing Get and Sign vehicle incident report form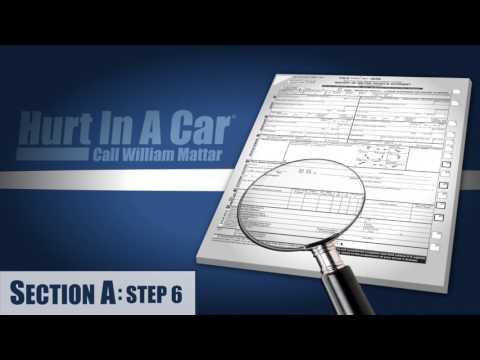 Instructions and Help about Get and Sign vehicle incident report form
you must report any accident occurring in New York State that costs a fatality personal injury or property damage for any person involved totaling more than one thousand dollars failure to do so within 10 days is a misdemeanor your license and/or registration may be suspended if you don't report the accident on time and according to the mv-104 form at the Law Offices of William Mattar we can walk you through the form and answer your questions the mv-104 form has two sections a and B to get started you will need a black ink pen your driver's license and vehicle registration it is also helpful if you have a copy of the police report while completing the form if any of the questions do not apply to your accident you should put a dash mark on the line if you don't know the correct answer you should put an X on the line the first step to completing the mv-104 form is reading the instructions provided on page 2 starting with section a labeled vehicle involvement then at the top of the form o
FAQ
Why do many people in the US have so much resentment about the meager governmental benefits that the poor receive?

I am one of the "poor".I wasn't for most of my life - I worked as a mechanical engineer and, according to the IRS, had paid taxes since I was 15 and a half and a lifetime's earnings that stretched into millions of dollars of income (again… that's income over my working life combined)… then I get hit by a truck and can no longer work. Yes, I have money in savings, but my monthly disability check is less than what I earned in three days of my work.During the beginning of me being on disability, I tried to give back to the community in any way I could - to make myself feel that I was not totally worthless.I volunteered at a local church food bank (two hours per month). The policy was one bag of food per month per person in the household. This food was bought by monies raised by donations to the church and donations from local grocery stores (day-old bread and canned food with a little ding or dent, etc). It was all good food, not C-rations from Vietnam.On one day (it happened all the time, just not at this level), a woman comes in with the proper proof of family size… eleven children and her parents… so fourteen bags of food… she came late on the last day of the month (we had four hours twice a month). We had run low on many items we included in the bags of food.The way this operation worked was: people line up and we open at noon. As people stand in line, volunteers hand out "menu" slips to make sure people did not get food they were allergic to or could not eat (for Kosher/Halal reasons or even no hard food for people with no teeth). It was well-planned… but if we were out of items, we were out. It wasn't like we could call the grocery store and demand them to make an express delivery or anything…Back to this woman… she had her hair with a very nice weave. Long fingernails that had been expertly manicured and was definitely NOT wearing rags… as she received her bags of food (volunteers helped carry them to her fairly new Mercedes SUV), she complained that her kids do not eat green beans! Why green beans? Last month she got green peas that her kids like, but they won't eat green beans! She demanded we go out to the store and BUY peas right now.BTW, before we could even offer to take the bags to her vehicle (it was our policy to do it anyway), she blurts out that she is disabled and in now way can carry even ONE bag by herself… I had also overheard her boasting to another person in line about how she gets welfare for each of her dependents (11 kids and her two parents)… for those outside the US, that's about $10,000 per month in "meager government assistance".… and she wants the FREE food to be swapped out for something else?Another incident happened at the "Social Services" office.I was there to get a form to fill out regarding my disability… a woman behind the counter had brought in THREE trays of cookies for the people in line.This woman was in front of me. She sees the cookies and asks the woman behind the counter if they are free. The woman says "Yes" and then they go about filling out the forms she was there for… as she leaves, she again asks, "These are free?" the clerk nods and says "Yep, I bring in cookies every day for the people in line". Without hesitation, the woman in front of me picks up all three trays and dumps every cookie into her large purse as she says "My kids will LOVE these treats"… and walks away.Why do people have a low opinion of those in the US who receive "meager" benefits? There are people who use the system to get everything they can and abuse the generosity of taxpaying citizens.I have a couple more similar stories, one even worse than the two above combined, but I cannot type anymore.People see these stories of those who game the system for additional benefits, or outright cheat the system… demanding a food bank provide peas and not green beans when it's free food… and you drive a MERCEDES?Taxpayers pay into the system that provides these "meager" benefits, and when they see how the people receiving those benefits cheat and scam the system ending up making MORE than the people being taxed to pay for their aid, it garners some resentment… "Why should I work my butt off, lose a third of my income to taxes, and these people who benefit from my work (via taxes) live better than I do? Why should I work at all?""If they can afford bi-weekly hair weaves, top-end manicures and drive luxury cars, why do they need money from those working hard every day?"Not everyone games the system, but many do and get away with it. When caught, it makes news… therefore, the regular working "Joe or Jane" only sees the people getting benefits who are nothing but cheaters… the news does nt report about the normal welfare recipient or disabled person, they only report the schemers… and that is the only thing regular Americans see, so the resentment is justified in a way.If the regular American saw how MOST benefit recipients lived, they would see it in a completely different light.

What tax forms do I need to fill out for reporting bitcoin gains and loses?

IRS1040 and 1099 forms."For instance, there is no long-term capital gains tax to pay if you are in the lower two tax brackets (less than $36,900 single income or less than $73,800 married income). The capital gains rate is only 15% for other tax brackets (less than $405,100 single income) with 20% for the final bracket."Reference: Filing Bitcoin Taxes Capital Gains Losses 1040 Schedule DOther References:IRS Virtual Currency Guidance : Virtual Currency Is Treated as Property for U.S. Federal Tax Purposes; General Rules for Property Transactions ApplyHow do I report taxes?Filing Bitcoin Taxes Capital Gains Losses 1040 Schedule Dhttps://www.irs.gov/pub/irs-drop...

Do military members have to pay any fee for leave or fiancee forms?

NOOOOOOO. You are talking to a military romance scammer. I received an email from the US Army that directly answers your question that is pasted below please keep reading.I believe you are the victim of a military Romance Scam whereas the person you are talking to is a foreign national posing as an American Soldier claiming to be stationed overseas on a peacekeeping mission. That's the key to the scam they always claim to be on a peacekeeping mission.Part of their scam is saying that they have no access to their money that their mission is highly dangerous.If your boyfriend girlfriend/future husband/wife is asking you to do the following or has exhibited this behavior, it is a most likely a scam:Moves to private messaging site immediately after meeting you on Facebook or SnapChat or Instagram or some dating or social media site. Often times they delete the site you met them on right after they asked you to move to a more private messaging siteProfesses love to you very quickly & seems to quote poems and song lyrics along with using their own sort of broken language, as they profess their love and devotion quickly. They also showed concern for your health and love for your family.Promises marriage as soon as he/she gets to state for leave that they asked you to pay for.They Requests money (wire transfers) and Amazon, iTune ,Verizon, etc gift cards, for medicine, religious practices, and leaves to come home, internet access, complete job assignments, help sick friend, get him out of trouble, or anything that sounds fishy.The military does provide all the soldier needs including food medical Care and transportation for leave. Trust me, I lived it, you are probably being scammed. I am just trying to show you examples that you are most likely being connned.Below is an email response I received after I sent an inquiry to the US government when I discovered I was scammed. I received this wonderful response back with lots of useful links on how to find and report your scammer. And how to learn more about Romance Scams.Right now you can also copy the picture he gave you and do a google image search and you will hopefully see the pictures of the real person he is impersonating. this doesn't always work and take some digging. if you find the real person you can direct message them and alert them that their image is being used for scamming.Good Luck to you and I'm sorry this may be happening to you. please continue reading the government response I received below it's very informative.   You have contacted an email that is monitored by the U.S. Army Criminal Investigation Command. Unfortunately, this is a common concern. We assure you there is never any reason to send money to anyone claiming to be a Soldier online. If you have only spoken with this person online, it is likely they are not a U.S. Soldier at all. If this is a suspected imposter social media profile, we urge you to report it to that platform as soon as possible. Please continue reading for more resources and answers to other frequently asked questions:  How to report an imposter Facebook profile: Caution-https://www.facebook.com/help/16... < Caution-https://www.facebook.com/help/16... >   Answers to frequently asked questions:  - Soldiers and their loved ones are not charged money so that the Soldier can go on leave.  - Soldiers are not charged money for secure communications or leave.  - Soldiers do not need permission to get married.  - Soldiers emails are in this format: john.doe.mil@mail.mil < Caution-mailto: john.doe.mil@mail.mil > anything ending in .us or .com is not an official email account.  - Soldiers have medical insurance, which pays for their medical costs when treated at civilian health care facilities worldwide – family and friends do not need to pay their medical expenses.  - Military aircraft are not used to transport Privately Owned Vehicles.  - Army financial offices are not used to help Soldiers buy or sell items of any kind.  - Soldiers deployed to Combat Zones do not need to solicit money from the public to feed or house themselves or their troops.  - Deployed Soldiers do not find large unclaimed sums of money and need your help to get that money out of the country.  Anyone who tells you one of the above-listed conditions/circumstances is true is likely posing as a Soldier and trying to steal money from you.  We would urge you to immediately cease all contact with this individual.  For more information on avoiding online scams and to report this crime, please see the following sites and articles:   This article may help clarify some of the tricks social media scammers try to use to take advantage of people: Caution-https://www.army.mil/article/61432/< Caution-https://www.army.mil/article/61432/>   CID advises vigilance against 'romance scams,' scammers impersonating Soldiers  Caution-https://www.army.mil/article/180749 < Caution-https://www.army.mil/article/180749 >   FBI Internet Crime Complaint Center: Caution-http://www.ic3.gov/default.aspx< Caution-http://www.ic3.gov/default.aspx>   U.S. Army investigators warn public against romance scams: Caution-https://www.army.mil/article/130...< Caution-https://www.army.mil/article/130...>   DOD warns troops, families to be cybercrime smart -Caution-http://www.army.mil/article/1450...< Caution-http://www.army.mil/article/1450...>   Use caution with social networking  Caution-https://www.army.mil/article/146...< Caution-https://www.army.mil/article/146...>    Please see our frequently asked questions section under scams and legal issues. Caution-http://www.army.mil/faq/ < Caution-http://www.army.mil/faq/ > or visit Caution-http://www.cid.army.mil/ < Caution-http://www.cid.army.mil/ >.  The challenge with most scams is determining if an individual is a legitimate member of the US Army. Based on the Privacy Act of 1974, we cannot provide this information. If concerned about a scam you may contact the Better Business Bureau (if it involves a solicitation for money), or local law enforcement. If you're involved in a Facebook or dating site scam, you are free to contact us direct; (571) 305-4056.   If you have a social security number, you can find information about Soldiers online at Caution-https://www.dmdc.osd.mil/appj/sc... < Caution-https://www.dmdc.osd.mil/appj/sc... > . While this is a free search, it does not help you locate a retiree, but it can tell you if the Soldier is active duty or not.  If more information is needed such as current duty station or location, you can contact the Commander Soldier's Records Data Center (SRDC) by phone or mail and they will help you locate individuals on active duty only, not retirees. There is a fee of $3.50 for businesses to use this service. The check or money order must be made out to the U.S. Treasury. It is not refundable. The address is:  Commander Soldier's Records Data Center (SRDC) 8899 East 56th Street Indianapolis, IN 46249-5301 Phone: 1-866-771-6357  In addition, it is not possible to remove social networking site profiles without legitimate proof of identity theft or a scam. If you suspect fraud on this site, take a screenshot of any advances for money or impersonations and report the account on the social networking platform immediately.  Please submit all information you have on this incident to Caution-www.ic3.gov < Caution-http://www.ic3.gov > (FBI website, Internet Criminal Complaint Center), immediately stop contact with the scammer (you are potentially providing them more information which can be used to scam you), and learn how to protect yourself against these scams at Caution-http://www.ftc.gov < Caution-http://www.ftc.gov > (Federal Trade Commission's website)

While sitting parked in your car, a car next to you opens their door carelessly, hitting your car. What do you do?

Mine is a rather sad story. Quick, simple, and stupid, but the results were severe, maybe too severe.I had this happen while I was sitting in my brand new 2004 Toyota Prius. I had the car less than a month and was in our building's parking structure. The parking structure was the ramp type, so all of the spaces were on a slope except for the ends. I was parked in a spot designated for compact cars and I had backed into the space.* I was showing the features of my new car to a co-worker that was interested in the hybrid-electric technology. The car was on, but the engine was not running. The guy parked next to me was driving a full-sized Suburban (definitely not a compact car) and had wedged it into the compact space next to me, nose-in (so we were driver's door to driver's door). When he walked up, he just flipped the door handle and let the door swing out and bounce against my door. I rolled down the window and said "Jesus man, have some respect, will ya?" The guy whipped around, obviously unaware that I was in the car when he walked up. He said nothing and just got into his vehicle and fired it up. I tried to get out of my vehicle to look at the damage, but he started backing out, so I had to close my door so he wouldn't hit me. He hit my side mirror on the way out gouging a chunk of plastic out of the housing. As soon as he cleared, I jumped out of the vehicle and he was getting ready to drive away, so I screamed "I have your licence plate and a witness a$$hole!". I didn't have the plate number, but I was ready to chase him down the ramp to get it and my co-worker got out of the vehicle. The guy rolled down his window and proceeded to ask me why I was just sitting in my car like some psychopath. I asked him why he was some self-entitled prick that thought it was OK to beat up other people's cars like a douche bag. He let out a string of profanities and roared down the parking ramp. I got back into my car with my co-worker and we followed him down the ramp at a more than safe speed, when we got to the exit he went through the monthly pass line and I had to go through the attendant line and show my company ID to get out. He got away, but we got his plate number.When I got to the front of the attendant line, the parking manager was in the booth with the regular parking girl. He asked me to exit and come back into the structure to discuss my travel down the ramp. Crap. So, I came around and re-entered the garage to talk to the parking manager. He wanted to know why I was coming down the ramp like my arse was on fire, he had me on video and he intended on reporting me to my company. I and my co-worker explained what had happened with the guy in the Suburban. The egress of the guy in the Suburban wasn't lost on the manager either. Since there were two different incidents (the door and hitting the mirror), he had me fill out two different incident forms. He told me that the door ding was one thing, but hitting the mirror and leaving could be turned over to the police for hit and run, but since the manager could identify the guy because he has a monthly pass, he was going to refer it to the owner of the pass to talk about paying for damages. That said, my speeding was not excused and he was going to turn me into my company. I thought that was a bit unfair, but agreed and went on my way.The next day at work I was called down to HR expecting to get an earful about the speeding. It turned out that pass and the vehicle belonged to my company. They asked me to fill out another incident report regarding what they were calling an "Employee Altercation Incident". I was interviewed for about an hour and felt like I was being interrogated, especially about which way the vehicles were pulled in, who got there first, and who hit whom. I was later asked to sign a summary statement of the incident. I talked to the co-worker that was in my car and he had gotten the very same treatment. The driver was an engineering VP in our company and had provided a much different accounting of the events, basically saying that I was the one that hit and ran, but his story didn't add up. Not because I had a witness, but because they had the video from the parking structure showing that he exited down the ramp first.The final result? The company paid for all of the damages on my car, but I still got written up for a safety incident because I gave chase to the VP down the parking ramp. The VP did not fare so well. He was demoted to a Manager, loss of pay, and received other censures. I asked my HR Director what the whole deal was as it seemed extreme to me. I thought the guy was a class-A prick, but this was a career-crippling result. She couldn't elaborate on the specifics, but she said that hitting my door was a passable mistake, not backing in with a company vehicle was a low-level company safety incident, leaving the scene of an accident was high-level safety incident, but his largest mistake was when lied about the incident. That action was an Ethics and Integrity violation and an intolerable violation for any employee, much less a corporate officer. She said he was very lucky to have kept a job at all.I saw the guy around the office a few times, but he never said a word to me. Frankly, I felt a bit sorry for him. He left the company within a year as he was never going to be moving up in ours.Thinking back to this incident doesn't bring up feelings of anger, but just sadness. Such a stupid thing created so much damage.* Backing into spaces became a habit for me while working for the company as it was a safety requirement when driving a company vehicle. Some think tank somewhere had proven that most accidents happened while backing out of parking spaces, so our company made it mandatory. It is a practice I use to this day with my personal vehicles and I even back into my garage.

Can I fill out a police report online for a stolen vehicle so I don't have to go up to the police department here in Tulsa, Oklahoma?

No.Says who? The website for Tulsa PD that I found in a couple of seconds using Google.It says stolen vehicle reports will not be accepted online. It says to call the stated phone number to have an officer sent to your location. It does appear to be a pretty clear answer. See the link.Report a Crime OnlineI was a Police Officer in Oklahoma. We always required someone to come in, show ID and ownership documents if there was any question then sign the report. Why? If someone decided to lodge a report of a stolen vehicle as revenge or for any reason that was not legitimate, it could place someone in serious danger. If any law enforcement saw a vehicle entered into NCIC as stolen they must take precautions as if a dangerous person is in possession of it. The FBI maintains the NCIC system and their criteria must be met before a vehicle gets entered.National Crime Information Center (NCIC)This is not a boyfriend or roommate who borrowed it and is late coming back or a teen breaking a family rule situation, but reporting a stolen vehicle that could be with a real criminal who may have it to escape after a robbery, murder or anything else. A high risk stop will be done in most cases and multiple guns would be pointed at people. This is serious, life and death stuff. Mess around and make a false report and it won't simply be the local police on your case.Do you think taking an online report from someone who doesn't feel like making the effort to do a stolen vehicle report in person is a good idea? How can they ensure that the reporting party is the owner and not some trollish jerk who doesn't mind placing lives in danger to get his kicks? If it was you and your family at gunpoint in the dark being made to get prone in the street, would you be okay with that being done on the basis of an online report? I surely would not be okay with it.

Am I supposed to report income which is earned outside of the US? I have to fill the 1040NR form.

If you are a US citizen, resident(?), or company based within the US or its territories, you are required by the IRS to give them a part of whatever you made. I'm not going to go into specifics, but as they say, "the only difference between a tax man and a taxidermist is that the taxidermist leaves the skin" -Mark Twain

How do I fill out a 1120 tax report?

If you are not sophisticated with taxes, DON'T try this form. You can get yourself in a lot of trouble.  Get a good CPA or EA.  The time and effort it will take you to figure this thing out is not worth it. If you value your time at more than the minimum wage, you will save time and money by hiring a professional.
Related content Get and Sign vehicle incident report form