Establishing secure connection…
Loading editor…
Preparing document…
Get And Sign Wisconsin Form Application
How It Works
Open form follow the instructions
Easily sign the form with your finger
Send filled & signed form or save
Rate form
Get And Sign Wisconsin Form Application
SignNow's web-based service is specifically made to simplify the organization of workflow and improve the process of proficient document management. Use this step-by-step guideline to complete the Wisconsin form application quickly and with ideal accuracy.
How to complete the Wisconsin form application online:
To begin the blank, utilize the Fill & Sign Online button or tick the preview image of the blank.
The advanced tools of the editor will direct you through the editable PDF template.
Enter your official identification and contact details.
Use a check mark to point the answer wherever needed.
Double check all the fillable fields to ensure complete precision.
Make use of the Sign Tool to create and add your electronic signature to certify the Wisconsin form application.
Press Done after you fill out the document.
Now it is possible to print, save, or share the document.
Address the Support section or get in touch with our Support group in the event you have got any concerns.
By making use of SignNow's comprehensive platform, you're able to complete any important edits to Wisconsin form application, generate your personalized digital signature within a couple of quick steps, and streamline your workflow without leaving your browser.
Video instructions and help with filling out and completing Get and Sign wisconsin form application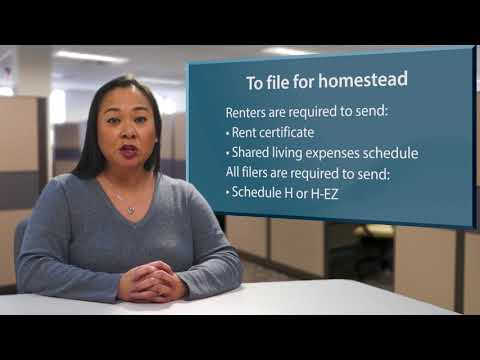 Instructions and Help about Get and Sign wisconsin form application
Music Wisconsin's homestead credit program is designed to help low-income taxpayers with their property taxes or rent the benefit may be an income tax credit or a direct refund the amount of a credit will vary depending on the amount of your household income and the rent or taxes you paid the maximum credit allowed is one thousand one hundred sixty eight dollars to qualify you must be at least 18 years old at the end of the tax year have less than twenty four thousand six hundred eighty dollars in household income rent or own a home or apartment that is subject to Wisconsin property taxes and be a legal resident of Wisconsin all year there are some new requirements that started for the 2017 tax year you or your spouse must meet one of the following either of you have not earned income during the year or either of you are disabled or either of you are 62 years or older at the end of the tax year you cannot be claimed as a dependent for the year on someone else's federal income tax retur
FAQ
How do I fill out an application form to open a bank account?

I want to believe that most banks nowadays have made the process of opening bank account, which used to be cumbersome, less cumbersome. All you need to do is to approach the bank, collect the form, and fill. However if you have any difficulty in filling it, you can always call on one of the banks rep to help you out.

How do I fill out the IIFT 2018 application form?

Hi!IIFT MBA (IB) Application Form 2018 – The last date to submit the Application Form of IIFT 2018 has been extended. As per the initial notice, the last date to submit the application form was September 08, 2017. However, now the candidates may submit it untill September 15, 2017. The exam date for IIFT 2018 has also been shifted to December 03, 2017. The candidates will only be issued the admit card, if they will submit IIFT application form and fee in the prescribed format. Before filling the IIFT application form, the candidates must check the eligibility criteria because ineligible candidates will not be granted admission. The application fee for candidates is Rs. 1550, however, the candidates belonging to SC/STPWD category only need to pay Rs. 775. Check procedure to submit IIFT Application Form 2018, fee details and more information from the article below.Latest – Last date to submit IIFT application form extended until September 15, 2017.IIFT 2018 Application FormThe application form of IIFT MBA 2018 has only be released online, on http://tedu.iift.ac.in. The candidates must submit it before the laps of the deadline, which can be checked from the table below.Application form released onJuly 25, 2017Last date to submit Application form(for national candidates)September 08, 2017 September 15, 2017Last date to submit the application form(by Foreign National and NRI)February 15, 2018IIFT MBA IB entrance exam will be held onNovember 26, 2017 December 03, 2017IIFT 2018 Application FeeThe candidates should take note of the application fee before submitting the application form. The fee amount is as given below and along with it, the medium to submit the fee are also mentioned.Fee amount for IIFT 2018 Application Form is as given below:General/OBC candidatesRs 1550SC/ST/PH candidatesRs 775Foreign National/NRI/Children of NRI candidatesUS$ 80 (INR Rs. 4500)The medium to submit the application fee of IIFT 2018 is as below:Credit CardsDebit Cards (VISA/Master)Demand Draft (DD)Candidates who will submit the application fee via Demand Draft will be required to submit a DD, in favour of Indian Institute of Foreign Trade, payable at New Delhi.Procedure to Submit IIFT MBA Application Form 2018Thank you & Have a nice day! :)

How do I fill the JEE (Main) application form?

This is a step by step guide to help you fill your JEE (Main) application form online brought to you by Toppr. We intend to help you save time and avoid mistakes so that you can sail through this whole process rather smoothly. In case you have any doubts, please talk to our counselors by first registering at Toppr. JEE Main Application Form is completely online and there is no offline component or downloadable application form. Here are some steps you need to follow:Step 1: Fill the Application FormEnter all the details while filling the Online Application Form and choose a strong password and security question with a relevant answer.After entering the data, an application number will be generated and it will be used to complete the remaining steps. Make sure your note down this number.Once you register, you can use this number and password for further logins. Do not share the login credentials with anyone but make sure you remember them.Step 2: Upload Scanned ImagesThe scanned images of photographs, thumb impression and signature should be in JPG/JPEG format only.While uploading the photograph, signature and thumb impression, please see its preview to check if they have been uploaded correctly.You will be able to modify/correct the particulars before the payment of fees.Step 3: Make The PaymentPayment of the Application Fees for JEE (Main) is through Debit card or Credit Card or E Challan.E-challan has to be downloaded while applying and the payment has to be made in cash at Canara Bank or Syndicate Bank or ICICI bank.After successful payment, you will be able to print the acknowledgment page. In case acknowledgment page is not generated after payment, then the transaction is cancelled and amount will be refunded.Step 4: Selection of Date/SlotIf you have opted for Computer Based Examination of Paper – 1, you should select the date/slot after payment of Examination Fee.If you do not select the date/slot, you will be allotted the date/slot on random basis depending upon availability.In case you feel you are ready to get started with filling the application form, pleaseclick here. Also, if you are in the final stages of your exam preparation process, you can brush up your concepts and solve difficult problems on Toppr.com to improve your accuracy and save time.

How do I fill out the CAT 2018 application form?

The procedure for filling up the CAT Application form is very simple. I'll try to explain it to you in simple words.I have provided a link below for CAT registration.See, first you have to register, then fill in details in the application form, upload images, pay the registration fee and finally submit the form.Now, to register online, you have to enter details such as your name, date of birth, email id, mobile number and choose your country. You must and must enter your own personal email id and mobile number, as you will receive latest updates on CAT exam through email and SMS only.Submit the registration details, after which an OTP will be sent to the registered email id and mobile number.Once the registration part is over, you will get the Login credentials.Next, you need to fill in your personal details, academic details, work experience details, etc.Upload scanned images of your photograph, and signature as per the specifications.Pay the registration fee, which is Rs. 950 for SC/ST/PWD category candidates and Rs. 1900 for all other categories by online mode (Credit Card/ Debit Card/ Net Banking).Final step - Submit the form and do not forget to take the print out of the application form. if not print out then atleast save it somewhere.CAT 2018 Registration (Started): Date, Fees, CAT 2018 Online Application iimcat.ac.in

I am 17, and my parents are going to kick me out on my 18th birthday in August to make me homeless. What do I do? I don't have a driver's license or a bank account. My parents say that I cannot find a job but that I am "free" to do so once I leave.

I am one of 3 sons, and we were all told from as young as I can remember, "You have until you're 18 to live here and eat my food and use my utilities. As long as you live here, you will obey my rules. My house, my things, my kids, my rules." This was not my parents' position just to "make me homeless". Homelessness was not their intent. Us boys achieving independence and self-reliance was the intent.My parents lived through the Great Depression and World War II. My Dad was a B-29 bombardier in the Korean War, but before that he was one of 14 children of a tobacco farmer (and moonshiner), and that meant that he had to work hard for every meal he ate. My Granddaddy was a little, wiry, freakishly strong, backbreaking worker of a man. Daddy always told us (and so did his siblings) that the young un's were Mama's until theywere big enough to hold a hoe and shovel, at which point they became Granddaddy's labor force. Granddaddy would often say he couldn't afford to hire help, so he just made it instead.My Mom is a first-generation American, the daughter of Itish immigrants who fled Ireland due to the depths of poverty and hopelessness turn-of-the-century Irishmen endured. Hours in Irish fields were just as long and hard as what my Dad grew up in, and my Mom's folks knew there was no future for them at home. Irish children died of hunger routinely or were basically sold off to various 'labour houses' to perform backbreaking manual labor for pennies a week. Upon arriving in the US in 1910, in Birmingham, Alabama, my grandparents found work of the same type as in Ireland: crop gathering, mining, menial household chores-type work wherever it could be found.Feeding a family in those conditions was a tribulation. It was very common for children to strike out on their own as young as 15. My Mom stayed at home with her folks until at 18, she met my Dad on leave in 1956 in Pensacola, Florida, where she was visiting cousins, picking strawberries and tomatoes for 2¢ a bushel. My Dad joined the Air Force by lying about his age to get in, in 1949 at the age of 15, to get off the farm and "make some real money"—the princely sum of $82 per month! And free medical and dental, and even paid vacation. Unheard-of in 1949 on the shale flats and hills of rural Tennessee tobacco country. By 1956, Daddy had gone from an Airman 2 to an O-1 bombardier from 1951–53 (battlefield promotion) and back down to WO-4 after the war when he reclassed as an Air Policeman, for which he was paid $399 per month. They married in 1959 after he got out of the Air Force. He took his GI Bill and went to flight school and electronics school, eventually becoming a commercial-rated pilot and an Electrical Engineer just as the Space Race shifted into warp drive. He landed at NASA and TRW Space Systems (from which he retired after 33 years).Mom had no education beyond high school and secretary school, working as a store clerk, a farmer's market secretary, a Ma Bell telephone operator, a doctor's receptionist, a medical bookkeeper, and even a Census taker, collections agent, and construction secretary. She finally fetched up at DCAA and retired as a Federal auditor.Even after such a life, my Daddy found himself to be restless—he often said he didn't know what to do with himself, living at 3113 Leftwich Street, Huntsville, Alabama in 1965. Their house had a small back yard, too small for livestock or gardening, so in 1969, he found a delapidated old farm in Lincoln, Tennessee, and that's where I lived until 1976, when I absconded to the military.Theirs was a rags-to-JCPenney-clothes story, and every chapter was written in sweat and tears. My brothers and I were raised on a feeder farm by hard-working, no-nonsense people who were themselves the children of hard-working, no-nonsense people.Being shown the door at NLT 18 may seem cruel to the modern generation (of Americans) who've never once had to scrape potatoes out of the earth with their bare hands (like me and my family did), or catch a cow that didn't want to be caught, or pluck chickens or gut fish, or scrub the bristles off a hog's hide just to have supper.My parents took me to the Lincoln County Health Department when I was 14 to get my work permit, and they found me my first job—minimum wage of $1.65 per hour (not $2.00, because it was a restaurant…an ice cream shop). I had to give every cent to them for room and board and gas to and from the Hyde Out. If I was lucky, I kept $2–3 for myself.I couldn't wait to be 18 and get the hell out of there! I mean, I literally couldn't wait—I joined the Navy at 17 (with Daddy's blessing and Mom's not knowing until it was too late to stop it).For many people of my generation, getting kicked out at 18 was a liberation. It was very hard to live at home with the endless labors of being a farmer's child.I vowed that my eventual children would not be raised so close to the dirt that they had to dig it out from under their fingernails every night. I vowed that my eventual kids would not have to go fishing after school to have meat for supper. Once I was finished with military service, I bought a place in the country to raise my kids on…but it is no farm—feeder, truck, commercial, or otherwise. Just some acreage 20 miles from my job where I can plant tomatoes, onions, and hot peppers, where I don't hear sirens every single day, or have neighbors 30 feet away, but guess what I told my kids?"You have until you're 18 to live here and eat my food and use my utilities. As long as you live here, you will obey my rules. My house, my things, my kids, my rules."I also told them, "You think I'm hard on you, but I never wake you up at 3:00AM to feed the cows, chickens, and hogs and bring in firewood and eggs before you go to school. I don't make you cut firewood or 12 rows of okra (okra cutting is torture), or bend your back picking bush beans. I never make you clean rabbits or deer for the freezer. I don't make you sit out back and shuck corn and shell peas for 10 hours. You two have got. It. Made. I make you mow the lawn and pick up your dirty clothes. I make you load the dishwasher. I make you brush your teeth. I make you bring the garbage cans up. I make you do your homework. I'm a bastard, aren't I?"I made them study and work hard on schooly things because I had already figured out that kids their ages would be adults left behind without college degrees. My hard work and theirs allowed both to attend and graduate the University of Alabama. They've done quite well for themselves, and I never have to give either one a cent. I went back to school myself, though not UA because of cost, taking 8 years of night school and correspondence courses to earn my own degrees).None of this was easy, not for any of us.Life is hard. It takes work.And you have to start young.Your parents are doing you a favor. They are not saying to you, "Get out, we hate your guts," they are saying to you, "Get out and make your own way, and you must start young."You must adopt the proper attitude: this is for your own good, and only you can see to your own good. Who stays with Mom and Dad til he's 30 has crippled his own independence and gumption. Get-up-and-go. Drive. Ambition.If you have none, you become a leech rather than a worker bee.

What is the procedure for filling out the CPT registration form online?

CHECK-LIST FOR FILLING-UP CPT JUNE - 2017 EXAMINATION APPLICATION FORM1 - BEFORE FILLING UP THE FORM, PLEASE DETERMINE YOUR ELIGIBILITY AS PER DETAILS GIVEN AT PARA 1.3 (IGNORE FILLING UP THE FORM IN CASE YOU DO NOT COMPLY WITH THE ELIGIBILITY REQUIREMENTS).2 - ENSURE THAT ALL COLUMNS OF THE FORM ARE FILLED UP/SELECTED CORRECTLY AND ARE CORRECTLY APPEARING IN THE PDF.3 - CENTRE IS SELECTED CORRECTLY AND IS CORRECTLY APPEARING IN THE PDF. (FOR REFERENCE SEE APPENDIX-A).4 - MEDIUM OF THE EXAMINATION IS SELECTED CORRECTLY AND IS CORRECTLY APPEARING IN THE PDF.5 - THE SCANNED COPY OF THE DECLARATION UPLOADED PERTAINS TO THE CURRENT EXAM CYCLE.6 - ENSURE THAT PHOTOGRAPHS AND SIGNATURES HAVE BEEN AFFIXED (If the same are not appearing in the pdf) AT APPROPRIATE COLUMNS OF THE PRINTOUT OF THE EXAM FORM.7 - ADDRESS HAS BEEN RECORDED CORRECTLY AND IS CORRECTLY APPEARING IN THE PDF.8 - IN CASE THE PDF IS NOT CONTAINING THE PHOTO/SIGNATURE THEN CANDIDATE HAS TO GET THE DECLARATION SIGNED AND PDF IS GOT ATTESTED.9 - RETAIN A COPY OF THE PDF/FILLED-IN FORM FOR YOUR FUTURE REFERENCE.10 - IN CASE THE PHOTO/SIGN IS NOT APPEARING IN THE PDF, PLEASE TAKE ATTESTATIONS AND SEND THE PDF (PRINT OUT) OF THE ONLINE SUMBITTED EXAMINATION APPLICATION BY SPEED POST/REGISTERED POST ONLY.11 - KEEP IN SAFE CUSTODY THE SPEED POST/REGISTERED POST RECEIPT ISSUED BY POSTAL AUTHORITY FOR SENDING THE PDF (PRINT OUT) OF THE ONLINE SUMBITTED EXAMINATION APPLICATION FORM TO THE INSTITUTE/ RECEIPT ISSUED BY ICAI IN CASE THE APPLICATION IS DEPOSITED BY HAND.Regards,Scholar For CA089773 13131Like us on facebookScholar for ca,cma,cs https://m.facebook.com/scholarca...Sambamurthy Nagar, 5th Street, Kakinada, Andhra Pradesh 533003https://g.co/kgs/VaK6g0

How do I fill out the Assam CEE application form?

The application form for Assam CEE 2018 has been released on 1st March 2018.The last date for submission of the same is 20th March 2018.Filling up the Application FormAll information submitted must be valid and as per the documents possessed by the candidates.Uploading of Scanned DocumentsThe documents have to be uploaded according to the specifications mentioned by the DTE.Submission of Filled Application FormThe e-challan will be generated after the application form is successfully submitted.Payment of Application FeesThe candidates will be able to pay the required application fees of Rs. 600 through online (net banking/credit card/debit card) or offline mode (e-challan).For more information, visit this site: Assam CEE 2018 Application Form Released - Apply Now!
Related content Get and Sign wisconsin form application