Establishing secure connection…
Loading editor…
Preparing document…
Get And Sign Presentence Report Form
How It Works
Open form follow the instructions
Easily sign the form with your finger
Send filled & signed form or save
Rate form
Get And Sign Presentence Report Form
SignNow's web-based program is specifically created to simplify the management of workflow and optimize the process of competent document management. Use this step-by-step guideline to complete the Presentence report form promptly and with perfect precision.
How to complete the Presentence report form on the web:
To begin the blank, utilize the Fill & Sign Online button or tick the preview image of the blank.
The advanced tools of the editor will guide you through the editable PDF template.
Enter your official contact and identification details.
Apply a check mark to indicate the answer where demanded.
Double check all the fillable fields to ensure full accuracy.
Make use of the Sign Tool to create and add your electronic signature to certify the Presentence report form.
Press Done after you complete the form.
Now you can print, save, or share the form.
Address the Support section or get in touch with our Support group in case you've got any questions.
By using SignNow's complete solution, you're able to complete any essential edits to Presentence report form, generate your customized electronic signature in a few fast actions, and streamline your workflow without leaving your browser.
Video instructions and help with filling out and completing Get and Sign presentence report form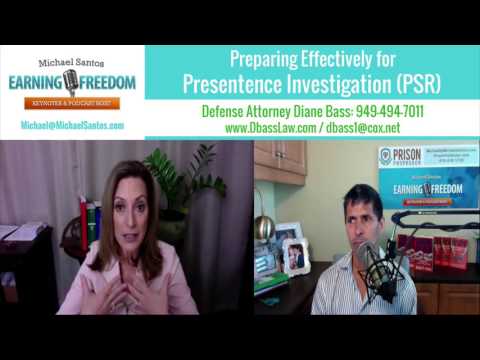 Instructions and Help about Get and Sign presentence report form
and in what ways that the finished document really influenced the judge at sentencing well it is the first document that the court seized prior to sentencing that contains information about the defendant so it really does have an influence now i pride myself on making very compelling arguments at sentencing so I like to say that the probation report really doesn't have that much impact but I may be in denial I think that it's certainly a very important document and again because it's the first thing that the judge sees but it is something that I almost regularly disregard as far as its recommendation if I disagree with it because it really hammers on the sentencing guidelines and I don't like the guidelines there are a lot of judges who don't like the guidelines I want the judge to do what's right I don't want the judge to be following just a chart when their sentencing my client who's a human being so you'd mentioned that the probation officer puts a lot of information in there about
FAQ
What's the worst school assembly you have ever experienced?

Okay. Grab a long-term food supply, a jar or container to store urine, a couple gallons of water, and a bag full of clothes, because man, have I got a story to tell.So way back (actually like one year ago) in eighth grade, our school was having some bullying issues. Honestly, it wasn't even that bad, but I feel like a bunch of parents must have blown it way out of proportion. So our school decided to have an assembly. (yaaay!)They hired this dude that was probably getting paid minimum wage, and trapped us in the auditorium for an hour and a half. This….this….atrocity of a person was wearing a neon wig. We were off to a bad start. They talked about hurting others feelings, and "muting" the bullies. Honestly, they tried to help, but actually all our school did was make it worse. Keep in mind, we were like, fourteen, and the dude was speaking to us like we were Kindergarteners.Honestly, it was probably the cringiest thing I've ever witnessed.So it all took a turn for the worst when the person asked for volunteer speakers. He asked the assembly what anti-bullying advice they'd like to share, and calls up two people.Now, the first guy goes up to the microphone, and shakily says something lame. Okay, that's what I would do if I were in his shoes.But then, the second one goes up to the microphone….….And starts hurling obscenities at the speaker. Yeah, If I told you the stuff he said, it would sound like freaking Morse code.Beep beep beepbeep beep beep beepbeep beepbeep beepbeepbeep…. You get the idea.Yeah, a bunch of teachers had to remove him from the auditorium, and I think he got in a ton of trouble.The speaker was a bit-okay, very much- shaken up, and did a horrible job after that. I hope he doesn't go back to that school this year.Poor guy :(Thanks for reading,Cira

How do I close a newly formed private limited company?

Under Companies Act 2013, a Company can be closed in two ways.Winding UpWinding up is a tedious process and can be done either voluntary by calling up a meeting of all stakeholders and passing a special resolution or can be done on the order of Court or Tribunal. Strike Off" mode was introduced by the MCA to give the opportunity to the defunct companies to get their names struck off from the Register of Companies. On 27th December 2016, MCA has notified new rules i.e. Companies (Removal of Names of Companies from the Register of Companies) Rules, 2016 prescribing rule for winding up or closure of private limited company under companies act 2013. By releasing the form STK 2, ministry of Corporate Affairs has brought the Section 248- 252 of 2013 act into force.Fast track ExitThis is the most awaited procedure, that got active again on 5thApril 2017. This procedure was introduced in Section 248 of Companies Act 2013.Fast Track exit can be done in two ways:Suo Moto by RegistrarThe registrar may strike off the name of Company on its own if:Company has failed to commence any business in a year of its incorporationCompany is not carrying out any business or Activity for preceding 2 financial years and has not sought the status of Dormant Company.The Registrar sends a notice (STK-1) of his intention to remove the name and seeks the representation of Company in 30 days.Note: Liability on the Directors of the company still exists. ROC can invoke penalty clauses anytime, and the penalty may range from INR 50K to INR 5Lakhs per director.Voluntary Removal of Name using Form STK 2Company can also move an application to Registrar of Companies for striking off the name by filing form STK-2 along with a fee of Rs 5000/-. Once form is filed, the Registrar has power and duty to satisfy him that all amount due by the company for the discharge of its liabilities and obligations has been realized. ROC can also issue a show cause notice in case of default in filing returns or other obligations.After above formalities, ROC issues a public notice and strike off the name of Company after its expiry.Note: The form is in approval route. Therefore, concerned ROC can ask for the completion of the fillings.Details Required:Incorporation CertificateDirector Identification NumberPending Litigation Proceedings if anyDocuments Required:Application in form STK-2Government filing fees: INR 5,000/-Copy of Board resolution authorizing the filing of this application;A statement of accounts showing the assets and liabilities of the Company made up to a day, not more than thirty days before the date of application and certified by a Chartered AccountantShareholder's approval by way of Special ResolutionIn the case of a company regulated by any other authority, approval of such authority shall also be required.Copy of relevant order for delisting, if any, from the concerned Stock Exchange;Indemnity bond [to be given individually or collectively by the director(s)] in Form No. STK-3;Affidavit in Form No. STK-4Note: This form must be signed by a practicing CA or CSCompanies that cannot file for voluntary strike-offA company cannot fill the form STK 2 at any time in the previous 3 months if the company hasHas changed its name or shifted its registered office from one State to another;Has made a disposal for value of property or rights held by it, immediatelyBefore cesser of trade or otherwise carrying on of business, for the purpose of disposal for gain in the normal course of trading or otherwise carrying on of business;Has engaged in any other activity except the one which is necessary or expedient for the purpose of making an application under that section, or deciding whether to do so or concluding the affairs of the company or complying with any statutory requirement;Has made an application to the Tribunal for the sanctioning of a compromise or arrangement and the matter has not been finally concluded; orIs being wound up under Chapter XX of Companies Act or under the Insolvency and Bankruptcy code, 2016Companies that cannot use Fast Track Exit option:Companies Registered Under Section 8Listed companies;Companies that have been delisted due to non-compliance of listing regulations or listing agreement or any other statutory laws;Vanishing companies;Companies where inspection or investigation is ordered and being carried out or actions on such order are yet to be taken up or were completed but prosecutions arising out of such inspection or investigation are pending in the Court;Companies where notices have been issued by the Registrar or Inspector (under Section 234 of the Companies Act, 1956 (old Act) or section 206 or section 207 of the Act)and reply thereto is pending;Companies against which any prosecution for an offense is pending in any court;Companies whose application for compounding is pending;Companies which have accepted public deposits which are either outstanding or the company is in default in repayment of the same;Companies having charges which are pending for satisfaction.,After you Strike off your company:As soon as the name of company is removed from Register, from the date mentioned in the notice under sub-section (5) of section 248 cease to operate as a company and the Certificate of Incorporation issued to it shall be deemed to have been cancelled from such date except for the purpose of realizing the amount due to the company and for the payment or discharge of the liabilities or obligations of the company.- See more at: Different ways to Close a Company in India - WazzeerFor any Legal and Accounting support, Happy to help you, let us talkPS: Wazzeer Loves entrepreneurs #GoGetItIn case, you are thinking of getting some free advise from an experienced Lawyer (and Accountant), checkout Counselapplication of Wazzeer.#WazzeerKACounsel**For any Legal and Accounting support, Happy to help you, let us talkPS: Wazzeer Loves entrepreneurs #GoGetIt

What is the best advice you can give a new teacher?

Lecturing: The results you get are directly proportional to the effort you put in. You will magically become a better lecturer if you put a lot of effort into preparing your lectures and write down most of what you will say in advance. (If you want to do an especially good job, rehearse your entire lecture at least once before presenting it.) But if you start writing your lecture the morning of the lecture, or get less than five hours of sleep the night before, you will probably do a shabby job.If your lecture is longer than an hour, it's good to have a break halfway through the lecture, since students get restless when they have to listen to you for too long. As a bonus, students might come to your desk and ask questions during the break, and then you'll know what people understood and what they didn't.Engagement: You will win the hearts of students if you clearly show that you care about them, and want them to have the best possible experience. Two ways you can do this are byActively soliciting feedback from the students. When I was teaching I offered students extra credit for filling out feedback forms every week, and actively changed my teaching style based on what people said in the feedback forms. This was an easy way to both improve my teaching and make people feel heard.Holding extra office hours on weeks when the material is particularly difficult. On some weeks I would hold six hours of office hours because the first students to fill out the feedback form were reporting that they spent longer than usual on the problem set.Backend stuff: Your TAs' performance is critical to the success of your class. You should of course try to hire TAs who have a solid understanding of the material, and have good teaching evaluations from previous quarters. But you should also set them up for success by making sure you have high-quality solution sets ready before the first office hours of the week. If you don't do this, many of the TAs will not know how to solve the problems, or will lead students to incorrect or conflicting solutions in office hours.(In general you should produce solution sets yourself instead of relying on TAs to generate them, because TAs will in general write solutions that are very brief and sometimes incorrect. The level of detail in the solution set should be the level of detail expected from the students; it shouldn't just be a "sketch" of the right answer.)

How can we fight against the NRA regarding gun control?

Are you sure that the NRA is the problem?Oh, I know that the media and the talking heads are all making them out to be some 500 lb gorilla and the reason psychos shoot up school yards, but have you ever bothered to look into the matter beyond the headlines?I'll give you an example. In 2017, the push was for a "Universal Background Check". The idea was to be sure that people buying guns were not criminals. Believe it or not, the NRA wholly supports this and in fact was involved with creating the current NICS (National Instant Check System) that is used.But the bill that was proposed was not what you heard in the media. First, it would not plug any "Gunshow Loophole" because there is no such thing. The only sales at a gun show that the bill covered was private sales. Of course, private sales can occur anywhere, not just gun shows.But the bill didn't make the NICS easier for private sales. They just required all private sales to be conducted through a licensed dealer. Had this actually passed, a gun show would be an ideal location for such sales as there would be access to many dealer. In effect, you would greatly increase the number of private sales at a gun show by this law.So, what is involved with a sale through a dealer? Well, the dealer would have to do the following:1) Record the transfer in their bound book. This is a book where all the transactions of a firearm is recorded via that dealer. The book is auditable by the BATF and many dealers have faced fines for poorly kept records, so many dealers go to great pains to keep their book neat and accurate.2) Fill out the federal form 4473. This is required by all dealer sales of both new and used guns. It asks for the buyer's name, address, the make and model of the gun, serial number, and then asks a bunch of questions. The dealer can get fined if the person fills out the form wrong. For example, answering a question with "Y" or "N" instead of "Yes" or "No" is a BATF violation. So the dealer has to carefully examine the form for errors and have the person fill out another if errors are found.3) The dealer then calls into the NICS. NICS can come back with a "Proceed", "Denied" or "Delay". A delay can take up to 3 days. Typically this is a name that appears similar to a Prohibited Person and requires some research. If this happens, the transfer is on hold. The dealer has no idea when the result of the research is likely to finish. If you are at a gun show, the show could be over before the approval is made.4) All this paperwork, verification, etc takes time. Time is money. So dealers charge for this service. It is typical for a dealer to charge $25-$40 per gun, but sometimes multiple guns get a discount because the dealer can process up to 4 on a single form, but when more than one gun is transferred, the dealer has to fill out Form 3310 which is supposed to help with gun trafficking.All of this is well and good if you are buying a gun from someone you don't know and many people will require sales be conducted at a dealer for the piece of mind such protections provide. But friends and family typically do not bother with the hassle and expense.One thing you need to realize is that to get a gun dealer license is not an easy process. Since the federal government cracked down on so called "kitchen table" dealers back in the 1980's, you now must show a commercially zoned storefront with posted business hours to qualify. Many communities don't want gun shops, and use zoning laws to make them difficult or unattractive. For example the city of Boston does not have any dealers. In fact, the nearest dealer is 3 towns away. Many rural areas don't have the traffic to keep a dealer in business and you'll find they are typically only open in the evening or on a Saturday as they work another full time job. Keep this in mind as we get into the next issue.But the bill didn't stop at sales. It stated that ALL transfers had to be done in this manner. No exceptions. So, two friends out on a hunt would need to go through the whole process listed above just to swap guns for the afternoon. Oh, and they would have to do it all again to give the gun back. It is very common on a range to try out other people's guns - such a thing would also require the full transfer and back process. Demo guns at a national event by manufacturers? Same thing.Basically any time a gun were to swap hands, the law would apply. There are private shooting clubs where guns are treated like library books and members take whatever they want. Families regularly swap guns. Heck, some shooting courses provide guns for students to use. All of these events would have been impacted by these new transfer requirements.The NRA balked at this. Essentially the rule would curtail many of the traditions and practices that are very common and virtually never result in any kind of criminal activity. In essence it would criminalize things that simply are not crimes.Not only would it create criminals where no criminal intent existed, but the cost to manage the volume of temporary transfers, the staffing needed to take the calls and do the checks would have cost millions each year. All money that would not go toward actually dealing with criminals.When the issue was brought up, many members of Congress agreed the requirements were too restrictive and the whole bill failed to pass. The supporters of the bill did not even attempt to listen to the complaints and work out a manageable fix.Did you hear any of that in the media?But what about catching criminals?Well, the bill didn't change anything in regards to enforcing the rules to make sure the people who should not own guns were properly entered into NICS. In fact, other than maybe getting fired, there is NO PENALTY for failing to report a person. We have laws that will jail a teacher or coach that fail to report bullies. We have laws that put priests in prison who fail to report potential inappropriate behaviors in other clergy. But we do not have any laws that punish law enforcement agents that fail to do their job and make sure that dangerous people are reported to the background system. And this bill made no effort to change that.NICS is not open to anyone but federally licensed gun dealers. The left are so worried that the system might be used to check people for things other than guns that they refuse to create a means to allow people to verify someone they are selling a gun to. It would be easy to create an app that takes a photo of the buyer and seller's ID (or just their faces and type in some data) and then return a simple "Proceed" or "Deny" with no other details. You'd have plenty of information to audit for illegal use. And if someone didn't have an ID, they could then use a dealer. Heck, you can't file taxes on-line without submitting some kind of ID, so this isn't anything unique.And yet, the bill did nothing to address the issue of accessing the NICS for easier private sales.Here is the thing. We have 20,000 gun laws in this country. On the federal side, a prohibited person touching a gun could see them in prison for a minimum of 5 years. And yet, we still see cities with high violent crime rates that have virtually no federal cases. Why isn't law enforcement using those stiff federal laws to get the violent people off the streets? Such a program called "Project Exile" worked wonders in Richmond, VA to reduce violent crime dramatically.OK, back to the "Universal Background Check" bill.I spent a lot of words above explaining what the bill would have required of people and why the situation would have been a nightmare. You never saw any of this in the news and the media pretty much ignored the issue.When the bill was defeated, it was never reported that a "terrible bill that would have cost millions and made criminals out of the innocent was defeated", instead, all you ever heard was"The NRA used its influence to defeat the Universal Background Check bill that would have closed the gunshow loophole"Almost everything about that statement is false.So, be careful what you want to "Fight Against". I suspect that most of what you think about the NRA is highly biased due to the way the organization is treated in the media. When you look at the actual facts, many times their concerns are quite valid. And, they have a lot of rank and file law enforcement on their side which helps them represent real world situations. I've found their positions in many cases very well presented. Most of the arguments you get on TV news are highly edited and taken out of context to promote an agenda, not facilitate a debate.Make sure you know what you are fighting for. You might be surprised.

What do Cornell admissions interviewers look for?

Think of the alumni interview this way.the school is using the alumnus to conduct personal-level branding/marketing to you. to make you feel warm and cuddly towards the school.the school has 99% made up their mind about you. They're ready with their decision and the big red ADMIT or DENY stamp is coming down on your app in their hand... almost there... but they're waiting on a quick word from the alumnus to give input on whether they were totally wrong about you (ie alumnus sees clearly you're a phony or a psycho. OR that you are actually a superstar and they didn't notice.)Alumni interviews CAN'T play a big factor in admissions decisions because schools try to be egalitarian about things and it wouldn't be fair to favor people who do interviews because that would be an unfair advantage for kids lucky/rich enough to live somewhere where an alumnus is accessible. Therefore, DON'T MAKE SUCH A BIG DEAL OUT OF THIS guys. Seriously. Everything in your app is wayyyyyy more important than this is. Unless you forgot to mention taking first place in the Intel Science Competition on your app, the chances of you saying/doing anything to make them love you more than any student ever are kinda weak.How to prepare for this then? RELAX. There's no need to be stressed out. Why? Because this really matters almost not at all. It's kind of like you've finished 99 out of 100 questions on a test, and you're feeling super good, and then the last one is a fill in the blank, and you suddenly get all insane about answering that one correctly. Cmon. Naw. Just do your best without writing some super insane stuff in that blank and you'll be fine.HOW TO RELAX? Dunno. Maybe knowing that you're prepared will help? HOW TO PREPARE? Simple, just do a couple hours of research and thinking and you're good to go. Expect them to ask you:WHAT ARE YOU INTO? TELL ME ABOUT YOURSELF. Tell them what you're excited about and interested in. Just be stoked about whatever it is. Deejaying? Yeah great. Doesn't matter just whatever you love and are knowledgeable and excited about. People like those conversations and you'll do well talking about that stuff. You won't do well talking about some academic thing that you don't actually care about and that you just THINK will impress them or something. Don't play a weird role. Be real.  Super good idea is to also tell them who you want to be in the future, however vague or weird or whatever. WHAT DO YOU WANT TO MAJOR IN? Again, just be real here. "I have no idea, I want to sample at the broad fruits of academic pursuits" or whatever, that's fine. But in that case just be prepared to say that you're super open and liberal artsy and all that, but have 2-3 tangible things that you are interested to pursue amidst every possible thing in the world. And, keep in mind that choosing a major is sort of choosing a direction in your life. If it seems like you put more thought into your wardrobe than your future self, because you have no good reasons for choosing, then that will be not cool. Be able to explain WHY - and try to connect that with who you see yourself being in the future. WHY CORNELL? If you seriously have no good reason for this then don't even show up to the interview, and just call Cornell and withdraw your application. If you have no better reasons than "diversity" or "great engineering program" or "can research as an undergrad" or "I can do a study abroad program" or "great reputation" or "has internships"... then you need to go hardcore on checking out the school's website and stuff, especially the academic department you're supposedly trying to enter, and find some actual UNIQUE things about how the school supports your pursuit of your future. None of those are unique. You could say the same thing for pretty much all schools. It's like if your bf/gf asks you why you love them, and you say "ten toes" or "you're popular." Those show you actually know nothing about them at all. Good job reading through this whole thingbecause as a bonus, here's some things from the actual documents Cornell uses to prep its alumni "interviewers" (they actually don't use the term "interview", they say "contact" and the thing the alumni send to the school is the "contact report")....CAAAN contacts are made for the purpose of putting a personal face on Cornell by enthusiastic, informed volunteers answering applicants' questions and providing them with information about the university."Get out there and make us look good to the kids who might come here."Contact reports are not intended to evaluate whether an applicant should or should not be admitted. Rather, the information reported on the Contact Report Form is useful to Admissions Committees as background and additional information to confirm and enhance the picture of the applicant already presented in her/his application. Feedback from admissions committees supports the usefulness of these reports. Told ya.We, as CAAAN volunteers, do not conduct evaluative 'interviews.' The best Contact Report Forms normally include observations from the contact meeting and any salient information about the applicant that might not appear on their application (such as a change in a family situation or an award received after an application was sent in). If there is nothing new or informative to report, it is perfectly acceptable to state on the Contact Report Form, "No additional information about this applicant arose during the course of the Contact Meeting."So pretty basic right? Chill out, do some research so you can chill out more, dress like you care what they think of you, be polite and friendly, be excited to talk to them about your life and future and how their school helps you with both. Need super individualized advice on college stuff? Drop me a note -M

How can I be a speaker at a TED talk event for sure?

ohhh… it's been a long journey for me to finally get that TeDx stage.Step 1: Filling the Self Nomination form in TeD WebsiteSomeone in Quora suggested that I can nominate myself to become a TeD speaker. But after waiting for 6 long months when I did not hear anything from any TeD organizers, I decided to take a leap forward.Step 2: Requesting Family and Friends to Nominate me.I Requested all my followers in Facebook/Twitter/LinkedIn/ ResearchGate - Share and discover research / Academia.edu - Share research to fill nomination for me. I thought maybe a larger number of nomination will help me to get recognized by the TeD organizers."DID NOT WORK"Step 3: Doing the Ground WorkStarted working with ADORE INDIA , Abhyuday IITB,Teach for India.Delivered free lectures. Conducted free of cost student interaction's across INDIA. Started offline personal counseling firm "White Matter"Even gave a 35 minutes long webinar for ADOREPresented in Many Engineering and Architectural College across INDIA.At the end of the presentation, as a feedback , I requested all student to fill the TeD nomination for meReached out to students in cities like Raipur, Jabalpur, Mumbai, Bhopal.As the ultimate aim was to speak at TeD, it was important to show the TeD curators that i am capable of handling public speaking. Created a fusion of Inspirational and technical talks in the lectures.Speaking wasn't enough. I had to record my lectures as a proof and to share it with the organizers as and when needed. So made a series of you-tube videos.Step 4: Approach the Curators directly.Visited the TeD website and shortlisted upcoming TeD events. Then one by one started sending Emails, Messages , Friend Requests to the TeD Curators. ( Even got blocked by few )Curator 1:Curator 2:Curator 3:Curator 4:Curator 5:Curator 6:Curator 7:Curator 8:The Email which was sent to almost all the curators :Step 5: Skype Interview for TeDi was interviewed by 2 curators. unfortunately the theme of the event did not match with my idea and i never received a call back from the curators. But i did not get disheartened and i continued my pursuit to reach more and more curators.Step 6: The successTheme : "Rethink the approach towards you"Title : " At 18, why I chose Academics over being a Bully "…………………………………………………………………….The journey towards your dream is a road that you alone can take, it is paved with silver as well as stones. There is no stopping now. You must work incessantly and persistently towards your dream and persevere to the outcome you desire.June 17th- 2017, will be the most important day of my life and is approaching very fast. I really don't know whether i am capable of sharing the stage with such magnanimous personalities or not . But i will do justice to the stage.Through TeD platform I will tell the world that;" If a 11th class failure can do this, then anyone can do this?Stay active, be bold, energetic and keep holding the beautiful flower of positive attitude.God Bless you and Love You AllPS: In case i have violated any of the Quora policies in the answer, please don't report it to Quora. Nobody gains anything writing here but it is just out of curiosity we share our experience.

How do I fill out the MHT-CET MBA exam application form in detail?

DTE Maharashtra has discharged MHT CET 2018 application form as on January 18 in online mode, can be filled by competitors by following the means said in how to fill MHT CET application frame 2018. Applicants who need to enlist themselves for the selection test should take after the means as given in how to fill MHT CET 2018 application form to maintain a strategic distance from oversights and entire method to go smooth and bother free. The means to fill the application type of MHT CET 2018 incorporates enlistment, filling of required subtle elements, transferring of filtered reports, instalment and affirmation page download. Hopefuls are required to fill the application type of MHT CET 2018 painstakingly to stay away from dismissal by the specialists. It is essential to take the application shape filling methodology of MHT CET genuinely on the grounds that exclusive those hopefuls who will present their structures effectively will get concede cards. Such applicants who will have legitimate MHT CET 2018 concede cards will be permitted to show up in the exam.Competitors must read the means offered underneath to fill and submit MHT CET 2018 application frame in a sorted-out way:Stage 1 – RegistrationApplicants should enrol themselves and give the required details. Candidate should concur whether he or she is an Indian resident or not.Proceeding onward, they will be required to fill the accompanying individual subtle elements:Full name (as showing up on the announcement of characteristics of SSC tenth or proportional exam), Father's name, Mother's first name, Last name, Gender, Contact Information, Address for correspondence, House No/Street, Area Name, Town/City , State, District, Pin code, Country, Mobile Number, Primary Email Id (Email will be sent to this email ID), Alternate Email Id (Parent's Email ID, if accessible), Contact Telephone No. (with STD Code), Permanent Residence in Village/Town/City, Domicile of Maharashtra/Disputed Maharashtra Karnataka Border (MKB)/Outside Maharashtra, Reservation, Category of competitor (Caste perceived in Maharashtra state), Candidates having a place with SC, ST, VJ(A), NT(B), NT(C), NT(D), OBC and SBC classes must have their individual standing authentications, Candidates having a place with Non Creamy Layer (NCL) should create substantial testament upto March 31, 2019, Other DetailsRegardless of whether the candidate has a place with – PWD class or not (competitors qualified who are qualified under this classification ought to have under 40% incapacity), visually impaired, low vision. Orthopedically debilitated and competitors influenced with Cerebral Palsy and Dyslexia, who are not in a situation to compose, can benefit a copyist/author for the MHT-CET 2018 examRegardless of whether the applicant is a J&K vagrant or notReligionOther placement tests that applicant has enrolled for (JEE Main/NEET/None)Add up to Annual Family IncomeAadhaar NumberFinancial balance DetailsName of the record holder according to Bank recordName of the BankName of the Bank BranchKind of Account (Savings/Current)Financial balance NumberIFSC CodePoints of interest of HSC (twelfth/Equivalent Examination)Regardless of whether hopeful has passed/showed up for confirmation in Pharmacy (just for Biology applicants)Place from where hopeful has finished HSC (twelfth)/proportional exam showing up/Passed from school/Jr. School arranged (Maharashtra/Outside Maharashtra)Subtle elements required for MHT-CET 2018Subjects for CET examination (Physics, Chemistry, Mathematics, Biology)Dialect for the exam (English, Marathi, Urdu)Enter secret keyCompetitors should make a secret word (least 8 and most extreme 15 characters and should have one capitalized, one lower case and one numeric)In the wake of entering the secret key, competitors should affirm it. This secret word will be utilized for future logins.Statement by the hopefulApplicants should read the revelation composed and after that tap on "I Agree"Applicants need to enter the security key as gave and after that tap on "Next" catchStage 2 – Confirmation and SubmissionIn the wake of filling the previously mentioned subtle elements, hopefuls will have the capacity to check the data filled and alter certain things in the application frame.Applicants can backpedal and change or alter the accompanying particulars (as noticeable in green shading) before accommodation:Exam focusSubjects pickedDialect of the examIndividual with handicap choiceIn any case, there are particulars (as unmistakable in blue shading) that can't be altered at this stage once submitted:Father's nameLast nameDate of birthVersatile numberEmail IDSubsequent to rolling out the improvements, if required, hopefuls should present the shape.Stage 3 – Application number gotApplicants will get a message on the screen in regards to effective enlistment for MHT CET 2018 with their application number. A similar number will be sent to them gave email ID. Competitors can see and check their entered data in this progression.Stage 4 – Edit and Upload photo and markApplicants will have the capacity to alter the points of interest they have filled in the application frame. In any case, regardless they won't have the capacity to alter their full name, father's name, last name, date of birth, versatile number and email ID. In the event that candidates would prefer not to alter any points of interest, they can move to the subsequent stage of transferring their photo and mark in the arrangement recommended by the experts.Stage 5 – Uploading photo and markApplicants should transfer their current identification estimate shading photo and mark in the configuration given in the table underneath. On the off chance that, applicants are not ready to transfer the right photographs/marks, they should reload the right records and afterward transfer.Stage 6 – VerificationCompetitors will get a message on their screens with respect to fruitful transferring of photo and mark. They will likewise have the capacity to see a connection saying " Click here to make payment ". Applicants should tap on the connection to enter the instalment entryway.Stage 7 – Payment gatewayHopefuls will have the capacity to see every one of the subtle elements filled by them alongside their transferred photo and mark on their screens. The application expense sum will likewise be noticeable in this progression, which they should pay in the wake of perusing the revelation. It is to noticed that competitors will have the capacity to change their subjects they are applying for.Applicants will have the capacity to influence application to charge payment through credit/check card, net saving money, plastic (ATM PIN), wallets and then some. They should influence instalment of the application to sum with comfort charge and expense.After instalment of utilisation charge, competitors will have the capacity to see a message on their screen with respect to accomplishment of exchange. Applicants must remove a print from this page.Stage 8 – Acknowledgment pageCompetitors must take a print from the affirmation page and keep it securely for some time later.Hope this Helps!!

How can I apply for an internship at IIT Bombay?

Full-scale guide to internship ahead. It will take 3 minutes.During my sophomore year( 2nd Year) of studies I did a lot of research on Internships, how to secure it and how to get a sure-shot success.I have compiled all the questions and how to work on themWhy should I do an internship?Ans: No, you don't need to do one, internship are not burden that you should do. You can go and learn to play guitar, feel free to explore yourself during vacations.Internships are not only in Education, there are a heck lot of internships for Music, NGOs, Tutors, Dance(Yeah you heard it right). Now for all those in colleges( I mean study focused minded people), internships are a must ( yeah you heard me right, it is must- A recent update in rule suggested that you must have 3 internships).P.S. I have still done only one internship and still in search for 2 more (I completed my recent internship from France, CNRS).2. What internship should I do, I am confused?Ans: First of all you need to find your field of interest, it can be anything, yeah anything you like, it doesn't depend on your course/career but on your interest.I have interest in Machine Learning , Computer Vision and Embedded Systems and I am in Electronics Branch.So, once you know about your field of interest you are perfect to go ahead to search for an internship.How to find my field of interest? Refer here : "How do I find out what my actual area of interest is?"3. Where to search an Internship and how to proceed?Ans: GOOGLE , it's all.Nothing can help you more than google. Let me be clear, never go for sites like Internshala,Letsintern,InternXXX (I am not devoting this site, these sites have all startups and local companies and jobs that won't help your enrichment rather will prepare you for 9–5 jobs believe me, I have experience) before searching them on your own.4. What are per-requisites? What should I have? A good SOP? A good CV?Ans: I will focus on basic things to keep in Mind.a. A good balance between CGPA and Skills will help you a lot. Don't worry,if you don't have a good CGPA, you must be talented with so many things then( Guitar, Singing, Dance—- yeah buddy you are talented.)b. Your focus in career, I mean what you want to pursue further.Just make a list of 4–5 topics you want to pursue further.c. Compile a list of projects you have done until the time you are going to fill the form.Put all the details about the project, how it works, under whom you have done it, what is its benefit.Projects can be anything: Have you created an applications based on your interest, a cool DIY project, an electronic game, a computer program—it entirely depends on your choice.I created aa TIC TAC TOE game and I quote it in my CV.d. List of your training and online MOOCs, if you did anything.(I am a regular user of Coursera, udemy, udacity, and edx.I keep on learning new things).Just mention these MOOCs and training wherever you get space.If you have certificates, feel free to include their links.e. The workshops, seminars you have attended.Do you know- Your curricular labs may add a lot to your form, but how? Suppose you are interested in Digital Signal Processing, and you attended Digital Signal Processing lab and gained 10/10, Go on quote it in the form.f. A Good Statement of purpose, describing what is your interest.g. A resume for yourself (max 2 pages).5. What is a good Statement of Purpose and How to make it? How to make a good resume?Ans: Follow here: How to write a successful SOP , How to Write a Statement of PurposeRest you can post your questions in comment section for some-specific field in SOP, CV.6. When should I start to search for an Internship for Institute and Well-known Companies?Ans : When Should I Apply for Summer Internships?, Most of the interships application begin from late December till Feb beginning.For institute specific internships, there are two waya) Fill the application form of the Internship Advertisement.b) Mail the professor.The application form is different for different Institute, regarding the mailing procedure - I will like to quote an answer:( Source : Tuhin Kundu answer)While writing a mail to an IIT professor, some blueprints and strategies should be kept in mind:Show your proven academic record. Your chances increase manifold if your CGPA is >9.0 Not to lose hope if you haven't got it. Neither did I.Showcase the major projects you have undertaken in your undergrad till date.Share links everywhere in your resume and cover letter. Links to your LinkedIn, ResearchGate, Codechef, SPOJ, Github etc are pretty useful.Upload your project reports to a cloud storage such as Google Drive and share the links in your resume.The mail you are going to write is the most critical part and is usually known as a cover letter. Professors are only going to open and see your resume only if your cover letter is strong.Talk about the technologies you've learned, the projects you've done or are doing, the collaborations you have undertaken with professors at your own college in your cover letter. This section is the one that convinces the professor of your credibility.Avoid attaching your CV in your mail.Upload your CV in Google Drive and share the links. Emails from unknown sources usually end up in Junk folder of university emails.Make sure your email stays at top.Email professors late at night such that your email will be somewhere at the top when the professor logs in into his email account in the morning.Talk about your inclination and motivation to work under a certain area/domain. Convince the professor about why you want to work in that certain field.Repeatedly spamming a professor will be of no good.Filter out the professors who match your research interest. Mailing every single professor of the entire department may result into marking your email address as a spammer by the institute email filter.An example of mail to professor can be:( Source : Rahul Goradia Answer)Subject : Regarding Internship in Embedded SystemRespected Prof.____________Sir/Madam,I am ——- from ——— pursuing ___________ and willing to do internship under ______________ posted on website for duration _____.Sir/Ma'am, You are working in ________ domain and you have carried out ______ projects. You also take interns in embedded Systems.I am wish to start internship under our guidance. My curriculum includes ____ related subjects to embedded system. I have completed __________ projects. I will be available during whole internship and will be very sincere throughout internship. (You can add reference of your faculty as well.)It will be a great pleasure to work under you.Sincerely————.Now let us focus on my IIT Bombay Internship.Actually I received internship offer from IIT Bombay, IIT Gandhinagar and IIIT-Delhi in my 2nd Year.Focusing on IIT Bombay Internship.The IIT Bombay has two ways of internship1) Ekalavya Internship Program **EKALAVYA HOME Page (EKALAVYA HOME Page)2) By mailing to the professor of your field of interest.Let me describe both one by one and all things which you requireThe Ekalavy internship mentioned : Apply for the internship only if you are completing the 3rd year in April/May 2017. Students completing 2nd year, with exceptional academic performance and other achievements may also be considered.The procedure for ekalavya internship,a) Apply for the internship.b) If you get selected for the first round.Then wait my friend , there is one round more.c) The second round is an Online Test, I was guided a lot by my seniors for the test, they helped me a lot for the test preparation.d) If you clear the online test( which has medium difficulty), congo you got selected.In order to get an internship by emailing the professor, you can look on etiquettes on how to mail a prof., how to search for one, how to get in touch.I will add links to the mailing etiquettes soon.I will edit more details soon, rest you can comment on specific topics which you want to know about, I will be happy to help.I am a student majoring in Electronics and Communication branch.Also, let me add, your present college won't stop you from getting an Intern anywhere ( A motivation for you).Edit 1:The Art of Emailing Professors to Secure a Foreign Internship ( Source : Internshala )Email is the most under-rated, under-used tool for grabbing an internship abroad. Read all about how to utilize it effectively!There are two definitive ways to bag an internship-1. Apply to various internship programs such as MITACS, DAAD-WISE, etc. Fill up your application form in the fanciest way possible and leave the rest up to fate.OR2. Write an email to a professor as a prospective intern/student.The latter might sound easier than it reads.Being resilient: Professors are busy people. Do not lose hope if your first, second or even third email goes unanswered. You have to be resilient while contacting professors.Timing matters: The time you send out your mail matters more than you think. Never email a professor during the weekends or Friday night; that might be a convenient time for you to email the professor but it is also the professor's day off and your mail will get buried under the numerous other student's applications. Professors tend to check their mail during their office hours thus increasing chances of a reply if sent out at such a time.Whom not to contact: It is advisable not to contact more than one professor from the same department as, if found out, it will dampen your credibility in the eyes of both professors.Be specific: I cannot stress on this point enough. In the subject heading of email, be sure to include the specific area you want to intern in. The professor shouldn't have to scour through the email to search for what you want . If you want to do a research project under him/her, a subject line such as '2015 Prospective Research Intern for xyz subject area' would be ideal.Funding: Most professors are reluctant to provide funding and understandably so; you are an unknown candidate with only words to prove your credibility. Typing out a politely worded, technical email will help your chances. Make sure there are no grammatical errors. If you are good at academia with prior work experience pertaining to their field, then getting funded becomes much easier.The email is all about you being a student that the professor absolutely HAS to offer a position. The real question you should ask yourself is: What can I do to make the professor respond to my mail instead of ten dozen others lying in his/her inbox? Here's what-Start Early: Consider this. You contact professors in October for an internship that starts in January. Provided one responds, confirmation of a project takes time. There are official procedures to be considered, especially if it's a funded project. Then there might be a matter of VISA which needs a few weeks at the least. In the end, you might find yourself racing against time to get the confirmation.TIP: If you want an internship offer by January of next year, you should start with your research six months ahead. Keep in mind the vacation timings for the countries you are targeting because most professors will have their automatic vacation responders on during these months. By the time they read their mail, yours will be more than twenty thousand leagues under all other emails.Target the right country: If you desire an international internship, you have to be smart while choosing universities. Some professors just don't have the funds to admit you. So what's the point in setting up base camp there?TIP: At the outset, select countries which are known to provide funding to students. For example, news and statistics show that of late, Canada is an emerging tycoon in the education sector and is allocating massive funds to projects. So it could very well be your next destination.Spam emails: Most emails from unknown addresses are flagged as spam and don't even reach the inbox. Professors also can't be sure whether you are truly a student or a fake.TIP: One smart preventive measure would be to use your university email ID which identifies your first and last name and also has something like '@iitg' or some such credible ending. This validates both points at once.Bulk emails: A lot of students have a huge list of professors and play chance with their emails. Writing a bulk email with a set format to all professors will only result in immediate deletion from inbox.TIP: Spell the professor's name correctly. Get the honorifics right- Professors are usually 'Dr.'. Salutations such as 'Dear Dr.X' or simply 'Dr.X' should be used. Write about what interests you in their body of work.Do your homework: Professing interest in someone's work by saying 'I would be really enthused to work under you' has absolutely no bearing unless you give evidence to support it.TIP: Run through the body of work the professor has done, select one publication or project that overlaps with your interest and READ IT. Come up with some interesting insight or query about it. Don't be vague, use technical words. Try to add your own ideas. Nothing proves your interest more than actually doing your homework.I recently bagged my Latest 2018 Summer Internship in "France- Paris ,Lille".I will love to share it's detail along with 30+ Internships that a "first year student too can fill and achieve".Meanwhile, you can ping me on Facebook or ask your questions in the comment section for any help.(facebook : Animesh Srivastava ).Thanks for all the sources:https://blog.internshala.com/201...Tuhin KunduRahul GarodiaHappy to help you all ! Cheers for an amazing life.

What are some mind-blowing facts about social psychology?

If you ask someone a question and they only partially answer, then just wait. If you stay silent and maintain eye contact, they will usually continue talking.When a group of people laugh, people will instinctively look at the person they feel closest to in that group.Good way to know who wants to sleep with you, right?If you get yourself to be really happy and excited to see other people, they will react the same to you. It doesn't always happen the first time, but it will definitely happen next time.Chew gum when you're approaching a situation that would make you nervous like public speaking or bungee jumping. If we are 'eating' something, our brain trips and it reasons 'I would not be eating if I were danger. So I'm not in danger'.Pay attention to people's feet. If you approach two people in the middle of a conversation, and they only turn their torsos and not their feet, they don't want you to join in the conversation.Similarly if you are in a conversation with a coworker who you think is paying attention to you and their torso is turned towards you but their feet are facing in another direction, they want the conversation to end.When people are angry at you, if you stay calm it'll get them even angrier, and be ashamed about it after.False attribution of arousal. When you take somebody out on a first date, take them somewhere exciting that will get their heart beating. For instance—a roller coaster or horror film. This gets their adrenaline up. It makes them think they enjoy spending time with you rather than the activity.People will remember not what you said but how you made them feel. Also most people like talking about themselves so ask lots of questions about them.Always be honest so when you have to lie, people will believe you.If you make the biggest smile you can, you will automatically feel happier. Just don't do it while staring at somebody. Unless you want to come across as a creep.Refer to people you've just met by their name. People love being referred to by their name, and it will establish a sense of trust and friendship right away. Say your friend introduced you to John. After 5 minutes he decides to leave. Don't just say, "bye", but instead say "Bye John!"If you want to stare at someone unashamedly, look directly past them and wait for them to try and meet your eyes. When they fail to do that, they'll look around (usually nervously for a second) and won't look at you again for some time. This is your chance to straight up stare at this person for at least 45 seconds.When you're studying/learning something new, teach a friend how to do it. Let them ask questions. If you're able to teach something well, you understand it better.99 per cent of guys that don't fight often will instinctively throw a right hook when provoked.If you really want something from someone, frame it as an offer rather than a request. When Teddy Roosevelt was running for president, his campaign printed out 3 million leaflets with a picture of Teddy and a copy of a campaign speech. The campaign then realized that they didn't have the rights to the photo. Instead of explaining the situation to the photographer, which would have given him leverage to ask for a lot of money, the campaign made an offer that they would use the picture, giving the photographer lots of publicity if the studio paid them $250. The studio paid the money.People are extraordinarily aware of their sense of touch. If someone 'accidentally' rests their knee on yours, they may not act like they realize it, but they definitely know that it's there.Ask your interviewer as many questions about what they do for work and really listen. They will walk away from the interview in a good mood because they got to talk about themselves and they will then think that the interview went well.You have a much higher chance of success in a relationship if your parents and your friends like your romantic partner.You can judge the character of a person by how they treat people who can do absolutely nothing for them.You know how a joke ceases to be funny when you have to repeat it? Well use that to your benefit; if that asshole in the group is making jokes at your expense, act like you can't hear him and ask him to repeat it like 3 times. By the time he says it a 3rd or 4th time, no one's laughing.
Related content Get and Sign presentence report form