Establishing secure connection…
Loading editor…
Preparing document…
Get And Sign IRS Forms 433 A 2012-2018
How It Works
Open form follow the instructions
Easily sign the form with your finger
Send filled & signed form or save
Rate form
Get And Sign IRS Forms 433 A 2012-2018
When to Fill in IRS Form 433 A?
Sometimes a taxpayer may be in a situation when he/she doesn't have the immediate funds to make full and timely payments of taxes.
For this reason, the IRS has specified certain circumstances when a taxpayer may pay off any tax debt over a set period of time - instead of all at once during tax season. If you meet the requirements, you may turn to the Internal Revenue Service for the postponement of monetary obligations or duty debt.
The decision about any deferment payment plan made by the nation's taxes collection agency is based on the results of a comprehensive analysis of your IRS Form 433-A.
This form presents the taxpayer's financial details about all earnings and expenditures so that a revenue officer can analyze the data and appoint an appropriate plan of repayment.
You can request for an installment agreement due to certain money hardships or in relation to an offer in compromise.
How to Fill Out Your 433-A Tax Form?
This template consists of 8 pages which have 7 sections:
Personal information.
Employment records for wage earners.
Other related financial details. Here any copies of applicable documentation should be presented.
Personal asset denotations.
Month-long income and expenses.
Business information if self-employed.
Sole proprietorship records if self-employed.
Make sure you accurately fill in all sections of the template (except for 6 and 7 if you're working on the form by yourself).
Then set the date and e-signature in the appropriate fields. Keep in mind that you're signing the Form 433-A under penalties of perjury. So you need to be sure that everything in this document is as correct as possible before you file it.
Pay special attention to section 5. You can find the allowable expenses on the official website of the IRS. In the search bar, type in "National Standards" and it will bring you to the correct sets of data and amounts.
Line 50: the leftover of the net difference between income and expenditures is where the government agency will be looking for a payment procedure that you expect you will be able to adhere to.
SignNow's web-based program is specifically created to simplify the arrangement of workflow and enhance the whole process of proficient document management. Use this step-by-step guide to fill out the IRS Forms 433 A 2012-2018 promptly and with excellent precision.
How to fill out the IRS Forms 433 A 2012-2018 online:
To get started on the form, utilize the Fill & Sign Online button or tick the preview image of the document.
The advanced tools of the editor will direct you through the editable PDF template.
Enter your official identification and contact details.
Apply a check mark to point the answer wherever necessary.
Double check all the fillable fields to ensure total precision.
Use the Sign Tool to create and add your electronic signature to certify the IRS Forms 433 A 2012-2018.
Press Done after you fill out the form.
Now you may print, download, or share the form.
Address the Support section or get in touch with our Support team in the event that you have got any questions.
By making use of SignNow's comprehensive service, you're able to execute any needed edits to IRS Forms 433 A 2012-2018, make your personalized digital signature in a few quick actions, and streamline your workflow without the need of leaving your browser.
Video instructions and help with filling out and completing Get and Sign IRS Forms 433 A 2012-2018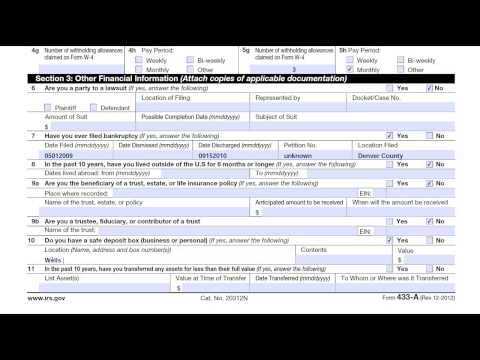 Instructions and Help about Get and Sign IRS Forms 433 A 2012-2018
hello Amanda Kendall with to resolve tax professionals coming to you today to walk you through how to fill out a form for 33a this is a collection information statement geared towards wage earners or self-employed individuals this form is going to be required to be used when you're dealing with the IRS and you have a revenue officer assigned to your account sometimes if you owe a large amount of money even if you're not dealing with the revenue officer this form may be a better form to fill you out because it has a little bit more information than the alternative which is a 4-3-3 F so we're going to walk through this form we're going to be filling this form out today for James and Amy Johnson now in this first section here we're only putting in the primary tax payers name which would be the first one listed on your tax return and in that case that is the husband for this instance James Johnson I'm going to enter his social security number and any employer identification number whether
FAQ
Which IRS forms do US expats need to fill out?

That would depend on their personal situation, but should they actually have a full financial life in another country including investments, pensions, mortgages, insurance policies, a small business, multiple bank accounts…The reporting alone can be bankrupting, and that is before you get on to actual taxes that are punitive toward foreign finances owned by a US citizen and god help you if you make mistake because penalties appear designed to bankrupt you.US citizens globally are renouncing citizenship for good reason.This is extracted from a letter sent by the James Bopp law firm to Chairman Mark Meadows of the subcommittee of government operations regarding the difficulty faced by US citizens who try to live else where." FATCA is forcing Americans abroad into a set of circumstances where they must renounce their U.S. citizenship to survive.For example, suppose you have a married couple living in Washington DC. One works as a lobbyist for an NGO and has a defined benefits pensions. The other is self employed in a lobby firm, working under an LLC. According to the IRS filing requirements, it would take about 15 hours and $280 to complete their yearly filings. Should they under report income, any penalties would be a percentage of their unreported tax burden. The worst case is a 20% civil fraud penalty.Compare the same couple with one different fact. They moved to Australia because the NGO reassigned the wife to Sydney. The husband, likewise, moves his business overseas. They open a bank account, contribute to the mandatory Australian retirement fund, purchase a house with a mortgage and get a life insurance policy on both of them.These are now their new filing requirements:• Form 8938• Form 3520-A• Form 3520• Form 5471 (to be filed by the husbands new Australian corporation where he is self employed)• Form 720 Excise Tax.• FinCEN Form 114The burden that was 15 hours now goes up to• 57.2 hours for Form 720,• 54.20 hours for Form 3520,• 61.22 Hours for Form 3520-A.• 50 hours estimate for Form 5471For a total of 226.99 hours (according to the IRS's own time estimates) not including time to file the FBAR.The penalties for innocent misfiling or non filings for the above foreign reporting forms for the couple are up to $50,000, per year. It is likely that the foreign income exclusion and foreign tax credit will negate any actual tax due to the IRS. So each year, there is a lurking $50,000 penalty for getting something technically wrong on a form, yet there would be no additional tax due to the US treasury."

Do military members have to pay any fee for leave or fiancee forms?

NOOOOOOO. You are talking to a military romance scammer. I received an email from the US Army that directly answers your question that is pasted below please keep reading.I believe you are the victim of a military Romance Scam whereas the person you are talking to is a foreign national posing as an American Soldier claiming to be stationed overseas on a peacekeeping mission. That's the key to the scam they always claim to be on a peacekeeping mission.Part of their scam is saying that they have no access to their money that their mission is highly dangerous.If your boyfriend girlfriend/future husband/wife is asking you to do the following or has exhibited this behavior, it is a most likely a scam:Moves to private messaging site immediately after meeting you on Facebook or SnapChat or Instagram or some dating or social media site. Often times they delete the site you met them on right after they asked you to move to a more private messaging siteProfesses love to you very quickly & seems to quote poems and song lyrics along with using their own sort of broken language, as they profess their love and devotion quickly. They also showed concern for your health and love for your family.Promises marriage as soon as he/she gets to state for leave that they asked you to pay for.They Requests money (wire transfers) and Amazon, iTune ,Verizon, etc gift cards, for medicine, religious practices, and leaves to come home, internet access, complete job assignments, help sick friend, get him out of trouble, or anything that sounds fishy.The military does provide all the soldier needs including food medical Care and transportation for leave. Trust me, I lived it, you are probably being scammed. I am just trying to show you examples that you are most likely being connned.Below is an email response I received after I sent an inquiry to the US government when I discovered I was scammed. I received this wonderful response back with lots of useful links on how to find and report your scammer. And how to learn more about Romance Scams.Right now you can also copy the picture he gave you and do a google image search and you will hopefully see the pictures of the real person he is impersonating. this doesn't always work and take some digging. if you find the real person you can direct message them and alert them that their image is being used for scamming.Good Luck to you and I'm sorry this may be happening to you. please continue reading the government response I received below it's very informative.   You have contacted an email that is monitored by the U.S. Army Criminal Investigation Command. Unfortunately, this is a common concern. We assure you there is never any reason to send money to anyone claiming to be a Soldier online. If you have only spoken with this person online, it is likely they are not a U.S. Soldier at all. If this is a suspected imposter social media profile, we urge you to report it to that platform as soon as possible. Please continue reading for more resources and answers to other frequently asked questions:  How to report an imposter Facebook profile: Caution-https://www.facebook.com/help/16... < Caution-https://www.facebook.com/help/16... >   Answers to frequently asked questions:  - Soldiers and their loved ones are not charged money so that the Soldier can go on leave.  - Soldiers are not charged money for secure communications or leave.  - Soldiers do not need permission to get married.  - Soldiers emails are in this format: john.doe.mil@mail.mil < Caution-mailto: john.doe.mil@mail.mil > anything ending in .us or .com is not an official email account.  - Soldiers have medical insurance, which pays for their medical costs when treated at civilian health care facilities worldwide – family and friends do not need to pay their medical expenses.  - Military aircraft are not used to transport Privately Owned Vehicles.  - Army financial offices are not used to help Soldiers buy or sell items of any kind.  - Soldiers deployed to Combat Zones do not need to solicit money from the public to feed or house themselves or their troops.  - Deployed Soldiers do not find large unclaimed sums of money and need your help to get that money out of the country.  Anyone who tells you one of the above-listed conditions/circumstances is true is likely posing as a Soldier and trying to steal money from you.  We would urge you to immediately cease all contact with this individual.  For more information on avoiding online scams and to report this crime, please see the following sites and articles:   This article may help clarify some of the tricks social media scammers try to use to take advantage of people: Caution-https://www.army.mil/article/61432/< Caution-https://www.army.mil/article/61432/>   CID advises vigilance against 'romance scams,' scammers impersonating Soldiers  Caution-https://www.army.mil/article/180749 < Caution-https://www.army.mil/article/180749 >   FBI Internet Crime Complaint Center: Caution-http://www.ic3.gov/default.aspx< Caution-http://www.ic3.gov/default.aspx>   U.S. Army investigators warn public against romance scams: Caution-https://www.army.mil/article/130...< Caution-https://www.army.mil/article/130...>   DOD warns troops, families to be cybercrime smart -Caution-http://www.army.mil/article/1450...< Caution-http://www.army.mil/article/1450...>   Use caution with social networking  Caution-https://www.army.mil/article/146...< Caution-https://www.army.mil/article/146...>    Please see our frequently asked questions section under scams and legal issues. Caution-http://www.army.mil/faq/ < Caution-http://www.army.mil/faq/ > or visit Caution-http://www.cid.army.mil/ < Caution-http://www.cid.army.mil/ >.  The challenge with most scams is determining if an individual is a legitimate member of the US Army. Based on the Privacy Act of 1974, we cannot provide this information. If concerned about a scam you may contact the Better Business Bureau (if it involves a solicitation for money), or local law enforcement. If you're involved in a Facebook or dating site scam, you are free to contact us direct; (571) 305-4056.   If you have a social security number, you can find information about Soldiers online at Caution-https://www.dmdc.osd.mil/appj/sc... < Caution-https://www.dmdc.osd.mil/appj/sc... > . While this is a free search, it does not help you locate a retiree, but it can tell you if the Soldier is active duty or not.  If more information is needed such as current duty station or location, you can contact the Commander Soldier's Records Data Center (SRDC) by phone or mail and they will help you locate individuals on active duty only, not retirees. There is a fee of $3.50 for businesses to use this service. The check or money order must be made out to the U.S. Treasury. It is not refundable. The address is:  Commander Soldier's Records Data Center (SRDC) 8899 East 56th Street Indianapolis, IN 46249-5301 Phone: 1-866-771-6357  In addition, it is not possible to remove social networking site profiles without legitimate proof of identity theft or a scam. If you suspect fraud on this site, take a screenshot of any advances for money or impersonations and report the account on the social networking platform immediately.  Please submit all information you have on this incident to Caution-www.ic3.gov < Caution-http://www.ic3.gov > (FBI website, Internet Criminal Complaint Center), immediately stop contact with the scammer (you are potentially providing them more information which can be used to scam you), and learn how to protect yourself against these scams at Caution-http://www.ftc.gov < Caution-http://www.ftc.gov > (Federal Trade Commission's website)

How can I fill out an IRS form 8379?

Form 8379, the Injured Spouse declaration, is used to ensure that a spouse's share of a refund from a joint tax return is not used by the IRS as an offset to pay a tax obligation of the other spouse.Before you file this, make sure that you know the difference between this and the Innocent Spouse declaration, Form 8857. You use Form 8379 when your spouse owes money for a legally enforeceable tax debt (such as a student loan which is in default) for which you are not jointly liable. You use Form 8857 when you want to be released from tax liability for an understatement of tax that resulted from actions taken by your spouse of which you had no knowledge, and had no reason to know.As the other answers have specified, you follow the Instructions for Form 8379 (11/2016) on the IRS Web site to actually fill it out.

For taxes, does one have to fill out a federal IRS form and a state IRS form?

No, taxes are handled separately between state and federal governments in the United States.The IRS (Internal Revenue Service) is a federal, not  state agency.You will be required to fill out the the necessary tax documentation for your federal income annually and submit them to the IRS by April 15th of that year. You can receive extensions for this; but you have to apply for those extensions.As far as state taxes go, 41 states require you to fill out an income tax return annually. They can either mail you those forms or they be downloaded from online. They are also available for free at various locations around the state.Nine states have no tax on personal income, so there is no need to fill out a state tax return unless you are a business owner.Reference:www.irs.gov

How do I fill out the IIFT 2018 application form?

Hi!IIFT MBA (IB) Application Form 2018 – The last date to submit the Application Form of IIFT 2018 has been extended. As per the initial notice, the last date to submit the application form was September 08, 2017. However, now the candidates may submit it untill September 15, 2017. The exam date for IIFT 2018 has also been shifted to December 03, 2017. The candidates will only be issued the admit card, if they will submit IIFT application form and fee in the prescribed format. Before filling the IIFT application form, the candidates must check the eligibility criteria because ineligible candidates will not be granted admission. The application fee for candidates is Rs. 1550, however, the candidates belonging to SC/STPWD category only need to pay Rs. 775. Check procedure to submit IIFT Application Form 2018, fee details and more information from the article below.Latest – Last date to submit IIFT application form extended until September 15, 2017.IIFT 2018 Application FormThe application form of IIFT MBA 2018 has only be released online, on http://tedu.iift.ac.in. The candidates must submit it before the laps of the deadline, which can be checked from the table below.Application form released onJuly 25, 2017Last date to submit Application form(for national candidates)September 08, 2017 September 15, 2017Last date to submit the application form(by Foreign National and NRI)February 15, 2018IIFT MBA IB entrance exam will be held onNovember 26, 2017 December 03, 2017IIFT 2018 Application FeeThe candidates should take note of the application fee before submitting the application form. The fee amount is as given below and along with it, the medium to submit the fee are also mentioned.Fee amount for IIFT 2018 Application Form is as given below:General/OBC candidatesRs 1550SC/ST/PH candidatesRs 775Foreign National/NRI/Children of NRI candidatesUS$ 80 (INR Rs. 4500)The medium to submit the application fee of IIFT 2018 is as below:Credit CardsDebit Cards (VISA/Master)Demand Draft (DD)Candidates who will submit the application fee via Demand Draft will be required to submit a DD, in favour of Indian Institute of Foreign Trade, payable at New Delhi.Procedure to Submit IIFT MBA Application Form 2018Thank you & Have a nice day! :)

How do I fill out the CAT 2018 application form?

The procedure for filling up the CAT Application form is very simple. I'll try to explain it to you in simple words.I have provided a link below for CAT registration.See, first you have to register, then fill in details in the application form, upload images, pay the registration fee and finally submit the form.Now, to register online, you have to enter details such as your name, date of birth, email id, mobile number and choose your country. You must and must enter your own personal email id and mobile number, as you will receive latest updates on CAT exam through email and SMS only.Submit the registration details, after which an OTP will be sent to the registered email id and mobile number.Once the registration part is over, you will get the Login credentials.Next, you need to fill in your personal details, academic details, work experience details, etc.Upload scanned images of your photograph, and signature as per the specifications.Pay the registration fee, which is Rs. 950 for SC/ST/PWD category candidates and Rs. 1900 for all other categories by online mode (Credit Card/ Debit Card/ Net Banking).Final step - Submit the form and do not forget to take the print out of the application form. if not print out then atleast save it somewhere.CAT 2018 Registration (Started): Date, Fees, CAT 2018 Online Application iimcat.ac.in

When dissolving an LLC do you need to fill out IRS Form 966?

The answer will be yes or no depending on how your entity is recognized for tax purposes. An LLC is not a recognized entity by the IRS. By default, a single-member LLC is organized for tax purposes as a sole proprietorship and a partnership for tax purposes if there is more than one member. However, you can make an election to be taxed as a C Corporation (i.e., an LLC for legal purposes that is taxed as a C Corporation for tax purposes).You must complete and file form 966 to dissolve your LLC if you have elected to be a C Corporation or a Cooperative (Coop) for tax purposes. S Corporations and tax-exempt non-profits are exempt from filing this form (see here).If you are organized for tax purposes as an S Corporation you would file your taxes via form 1120S for the last time and check the box indicating that your return is a "Final Return." Same is true for a Partnership, but with form 1065.On a state and local level, best practice is to check with your state and local agencies for requirements.For digestible information and tools for understanding how the tax landscape affects your business, visit Financial Telepathy
Related content Get and Sign IRS Forms 433 A 2012-2018