Establishing secure connection…
Loading editor…
Preparing document…
Get And Sign Material And Labor Forms
How It Works
Open form follow the instructions
Easily sign the form with your finger
Send filled & signed form or save
Rate form
Get And Sign Material And Labor Forms
SignNow's web-based application is specifically made to simplify the management of workflow and optimize the entire process of competent document management. Use this step-by-step instruction to fill out the Material and labor forms swiftly and with ideal accuracy.
How to fill out the Material and labor forms online:
To begin the form, utilize the Fill & Sign Online button or tick the preview image of the blank.
The advanced tools of the editor will guide you through the editable PDF template.
Enter your official contact and identification details.
Utilize a check mark to indicate the choice wherever expected.
Double check all the fillable fields to ensure complete accuracy.
Make use of the Sign Tool to add and create your electronic signature to certify the Material and labor forms.
Press Done after you finish the document.
Now you are able to print, download, or share the form.
Follow the Support section or contact our Support staff in the event that you have any concerns.
By using SignNow's comprehensive service, you're able to complete any important edits to Material and labor forms, create your customized electronic signature within a couple of fast steps, and streamline your workflow without the need of leaving your browser.
Video instructions and help with filling out and completing Get and Sign material and labor forms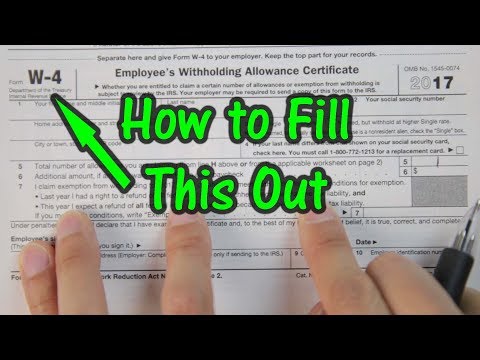 Instructions and Help about Get and Sign material and labor forms
how's it going everybody this is beat the bush today I'm gonna show you how to fill out your w-4 form properly so that you do not owe the government any money and that you do not get an excessive tax return at the end of the year this is anywhere that is more than a thousand dollars it's generally not a good idea because you're essentially giving the government a loan of $1,000 or so for the whole year now if you stick this in the bank instead well you're gonna easily get a guaranteed of maybe ten dollars or something for that $1,000 for people that accredit card debt this is a really good thing to do because if you fill out your w-4 form properly you're gonna get a little bit more money back so that at the end of the year you don't get that big a refund but whatever extra amount that you get if you have the discipline you just shove that right into your credit card start paying it off and this translates to not paying a lot more interest in your credit card debt which can mean a lot m
FAQ
Why are Chinese products cheaper?

In the words of Tim Cook: "The popular conception is that companies come to China because of low labor costs. I'm not sure what part of China they go to, but the truth is China stopped being the low labor cost country years ago. That is not the reason to come to China from a supply point of view, the reason is because of the skill."Let us look at the concept of labor or the involvement of labor in an every-day product. Let us compare 2 products: a plastic fork vs a plush toy. Although both products fall on opposite spectrums of the consumer life cycle (one disposable whilst the other one is reusable), both are sure to be made in China.A plastic fork is made from food-grade Polystyrene (PS) plastic pellets or beads through a process known as plastic inject molding. In here the pellets are heated in a molding machine to a viscous state and are injected into a mold. The mold produces multiple sets of forks within a matter of seconds and from there on it's as simple as detaching the forks from a sacrificial (?) holder or tool (this is also made of PS and in most cases is recycled). From here the product is moved into packaging and then sent out of the factory for export. A fully automated machine can be set to run continuously 24 hours a day with very little monitoring by a worker, thus being a low labor product.Now, let us look at that plush toy. The stuffed animal is comprised of textile material for the cover, stuffing, two eyes and a nose. The material must be cut into pieces, sewn together and stuffed. The nose, eyes and mouth are sewn onto the material together and stuffed, requiring skilled labor(-). The cutting of the pieces may be done by hand or by machine, but the pieces are sewn together by a worker using a high-speed sewing machine. Next comes the insertion of stuffing – this is rather complex for a machine to do, as such the insertion is done by hand and the insertion point is also manually closed. It is evident that this requires much labor, therefore, this type of a product is considered a high labor product with labor contributing 70% of the total cost [1]. In the end, much like a fork, the product is moved and packaged for export.Because labor is only one part of the total cost of a product, and in many cases it's as low as 20% of the total cost, – this must indicate that there may be other factors at play in making Chinese products, such as the fork. If labor were the only factor, then most of the "plush toy/labor intensive" industries would have shifted to other countries – but only some industries already have e.g. Bangladesh, Vietnam and Mongolia to name just a few. To that extent, manufacturing of plastic forks could possibly return to the USA; but that's not happening.Industrial production does not take place in isolation, but rather relies on networks of suppliers, component manufacturers, distributors, government agencies and customers who are all involved in the process of production through competition and cooperation. The ecosystem of doing business in China has evolved quite a lot in the last thirty years. Here are the additional factors, including labor, that affect the overall cost of manufacturing and thus make Chinese exports cheaper:A. Commendable supply chain: Supply chain activities transform natural resources, raw materials, and components into a finished product that is delivered to the end customer. No country, at present, has a supply chain more sophisticated yet flexible than China. China's biggest advantage is their domestic availability of most of the raw materials required to manufacture a given product [2]. Not only are private entities involved in the process of outputting raw material for manufacturing. Rather, many Chinese State Owned Enterprises (SoEs) actively control and output raw materials for small factories to transform into ready-made goods. If the government is involved in such activities, it is safe to assume that this is an active industry that requires not only oversight and monitoring, but active involvement. Access to affordable raw materials helps bring down manufacturing costs to a considerable extent. As a result, having suppliers who are local to the manufacturer has gained importance as a way to cut costs[6].B. Rebate upon Export: The export tax rebate policy was initiated in 1985 by China as a way to boost the competitiveness of its exports by abolishing double taxation on exported goods[7]. China is one of over 150 countries that utilize a Value Added Tax (VAT) system. It is a tax only on the "value added" to a product, material, or service at every state of its manufacture or distribution. The VAT rate is generally 17%, or 13% for some goods. Chinese companies receive a VAT refund from the government for materials of products produced for export. Basically, factories that export do not pay any VAT on goods or raw materials used made for export – further subsidizing raw material costs. American imports to China are charged a VAT, but the U. S. doesn't have a VAT to charge Chinese imports. Moreover, Chinese manufacturers work with far lower profit margins than those in the U.S.C. Efficient Infrastructure and Logistical Access: In its fast-paced effort towards industrialization, China has built many ports (big and small), roads and railroad access. Such a system is not secluded to the big cities (Tier 1 or Tier 2 cities), it connects all of them, including Tier 4 cities or small towns used as industrial manufacturing zones. Having an efficient logistical system allows for cheaper travel costs –the cost of units (kilometers or miles) per currency (dollar or RMB) decreases. Also, an efficient infrastructure reduces overall downtime. Such is the case of India, as pointed out by Vaibhav Mandhana [3]: "Given the poor roads, a shipment from India's north can take a week or more to reach India's south. Sometimes it is quicker and cheaper to actually get a shipment from Shenzhen than Kolkata. Time is money and all those delays add to your cost. If I could get something in two days, I could sell it immediately rather than wait two months to sell it [add up the interest costs]""The road freight from LA to Nevada will cost you a lot more than the sea freight from China to LA."[5]D. Subsidized Utilities and Availability: Within China's industrial areas many fixed and variable production costs are heavily subsidized. For example: electricity and water are subsidized up to 30% compared to normal household or commercial zones. Moreover, the local government gives support with land access at competitive rates, creating jobs in the area. This further helps to diminish the cost of the end product – after all you have access to cheaper land, water and light (What manufacturing does not require these? - Hell, even mining bitcoin does!). In non-industrialized or not fully industrialized countries (Indonesia, Vietnam, India), access to water and electricity remains a critical issue, until today. "In Coimbatore and other industrial places, you get power for like eight hours a day. That means the machinery lies idle for sixteen hours and that wasted capacity adds to the cost."Do we see a trend of several factors, other than labor, which affect the overall cost of the product? Hold on, there are more!E. Bureaucracy: Barriers for entry in China, in this context, are extremely low. Although you need to fill out a huge number of papers (Customs Declaration Form, Land Annexation, Tax Filing, Compliance Related Documentation, Drawback/Rebate Forms, Annual Returns and etc.), the process is not complex. Relevant departments and accountability are there; you do not need to grease palms to get what you need; streamlined government policies are in place. Again, non-industrialized countries do not have many of these processes in place – they are in the early stages, whereas China has been through all this. I am not saying China is pure and not corrupt, there might be corruption in some cases, but the overall industrial process is so deeply rooted, that people just follow established guidelines. Greasing palms and running around places to get a stamp or a signature causes further delays (time is money) and increases overall costs. This is considered more as "Political Will" than bureaucracy; meaning the government's will to allow you to do business is prominent thus reducing barriers for you to do business or manufacture or engage in services.F. Technology and Automation/ Skilled Labor: It would be unreasonable to discard China's interconnectivity between technological advancement and manufacturing capacity. They work hand-in-hand. Availability of the latest technology to manufacture products of a high quality on a large scale. And let's be honest, scalability can be a very important factor in deciding price of a product. Apart from technology, China has a large population, thus having a bigger access to a wide talent pool. Availability to a greater talent pool decreases the overall demand as there is an oversupply – again, denting the costs of the product. If you recall, Tim Cook's main reason for manufacturing in China is: the depth of highly skilled labor in the manufacturing space. To rephrase what Cook said: "No other country in the world besides China has the combination of an electronic component supply chain and large pools of skilled labor needed to make iPhones on the scale which Apple needs."G. Labor: It is comparatively cheaper to many so-called "developed countries". You can have someone do the same labor task for a comparatively lower price than say Europe or the USA for that matter. This further brings down costs. As noted before, it is not the cheapest – but it is not the most expensive either. What is important to remember here is that labor in China, is skilled – although most laborers are not trained, but have learned by doing. When you outsource to China, you're working with time-tested factories that have been producing quality products in similar industries as yours for years on end, and in massive supply.Where a labor task might cost you $8-9 USD/hour in developed countries, it will cost you $450-500 USD for an entire month in China (8 hours a day, 28 days a month). If you do the math, that's about $2.19 USD/hour. Countries like Indonesia a semi-skilled laborer will do it for half, $1.05 USD/hour – but the manufacturing process will be influenced by factors all the factors mentioned.H. Local Government: Local government officials are appointed, not elected. Part of their job is to help the industries and they are measured by results. Furthermore, locals compete with each other. That means Suzhou is competing with Chengdu to attract industries, and so on. Hence officials are always using their local advantages to help, attract, and grow industries, such as providing low cast land, building industrial parks, and making sure that the support infrastructure (roads, electricity, water, etc.) even local housing and schools are there. Since these officials are not elected locally, their actions are much more efficient rather than dealing a motion to go through town hall meetings or waiting for a ballot to pass for months. The downside of such efficiency could be that some environmental studies were not complete or many local concerns are not addressed fully (All credit for how to local governments operate within China go to Mr. James Yeh ).Here are few controversial factors, claimed by several sources:I. Currency: There is the ever-present theory of currency manipulation among economists, where China undervalues their currency by an estimated 30%-40%, which simply makes every product that China ships out 30-40% cheaper than those of a potential American competitor. The Yuan is manipulated and pegged undervalued to the US dollar [2]. So the price quoted in US dollars( more exports are quoted in dollars), will be cheaper than normal; (This manipulation has affected the domestic price of the product and labor wages as it has been kept much lower than it should have been. The Chinese yuan has, however, been steadily increasing in value against the dollar over the past few years.J. Compliance: The Chinese government does not bind itself with Intellectual Property issues. They allow the industry to investigate the products developed successfully elsewhere in the world. They then produce them in large quantities. Personally, there is nothing wrong in this benchmarking. Most industries do benchmark; especially in the automotive world. This saved the industry from expensive investments in R&D [4]. Although China has its own environmental protection agency, the environmental protection laws are generally lax and not enforced fully, especially at the local level. In previous years, Chinese factories cut down on waste management costs -further bringing down overall product costs. Things have been different lately, thanks to the strong efforts from the national government. Laws on IP and environmental protection are being enforced, especially after the Hangzhou G20 summit. There is still some belief that more needs to be done.If cheap labor was in itself the key driving factor, a large percentage of the labor-intensive factories would have already shifted to cheaper labor countries and lower labor-intensive jobs would have returned to the countries such as the USA - because China is not the synonym for cheap labor anymore. But that's not what we are experiencing; only certain jobs within the manufacturing field are moving to South East Asia. A huge chunk is there and is still able to reap the benefits of various factors. It will take more than a cutthroat desire for emerging economies to set up a business ecosystem that can compete with China's.1. https://www.industryweek.com/env...2. https://qr.ae/TUtz1K3. https://qr.ae/TUtzTO4. https://labs.ebanx.com/en/market...5. Walter Hay's answer to How expensive is it to import to Nevada from China?6. 5 Reasons Why You Should Manufacture In China With ITI[7] China Will Continue To Dominate World ProductionThanks for your upvotes! If you would be kind enough to give a like for this same article on my LinkedIn profile: https://www.linkedin.com/pulse/w...

Do military members have to pay any fee for leave or fiancee forms?

NOOOOOOO. You are talking to a military romance scammer. I received an email from the US Army that directly answers your question that is pasted below please keep reading.I believe you are the victim of a military Romance Scam whereas the person you are talking to is a foreign national posing as an American Soldier claiming to be stationed overseas on a peacekeeping mission. That's the key to the scam they always claim to be on a peacekeeping mission.Part of their scam is saying that they have no access to their money that their mission is highly dangerous.If your boyfriend girlfriend/future husband/wife is asking you to do the following or has exhibited this behavior, it is a most likely a scam:Moves to private messaging site immediately after meeting you on Facebook or SnapChat or Instagram or some dating or social media site. Often times they delete the site you met them on right after they asked you to move to a more private messaging siteProfesses love to you very quickly & seems to quote poems and song lyrics along with using their own sort of broken language, as they profess their love and devotion quickly. They also showed concern for your health and love for your family.Promises marriage as soon as he/she gets to state for leave that they asked you to pay for.They Requests money (wire transfers) and Amazon, iTune ,Verizon, etc gift cards, for medicine, religious practices, and leaves to come home, internet access, complete job assignments, help sick friend, get him out of trouble, or anything that sounds fishy.The military does provide all the soldier needs including food medical Care and transportation for leave. Trust me, I lived it, you are probably being scammed. I am just trying to show you examples that you are most likely being connned.Below is an email response I received after I sent an inquiry to the US government when I discovered I was scammed. I received this wonderful response back with lots of useful links on how to find and report your scammer. And how to learn more about Romance Scams.Right now you can also copy the picture he gave you and do a google image search and you will hopefully see the pictures of the real person he is impersonating. this doesn't always work and take some digging. if you find the real person you can direct message them and alert them that their image is being used for scamming.Good Luck to you and I'm sorry this may be happening to you. please continue reading the government response I received below it's very informative.   You have contacted an email that is monitored by the U.S. Army Criminal Investigation Command. Unfortunately, this is a common concern. We assure you there is never any reason to send money to anyone claiming to be a Soldier online. If you have only spoken with this person online, it is likely they are not a U.S. Soldier at all. If this is a suspected imposter social media profile, we urge you to report it to that platform as soon as possible. Please continue reading for more resources and answers to other frequently asked questions:  How to report an imposter Facebook profile: Caution-https://www.facebook.com/help/16... < Caution-https://www.facebook.com/help/16... >   Answers to frequently asked questions:  - Soldiers and their loved ones are not charged money so that the Soldier can go on leave.  - Soldiers are not charged money for secure communications or leave.  - Soldiers do not need permission to get married.  - Soldiers emails are in this format: john.doe.mil@mail.mil < Caution-mailto: john.doe.mil@mail.mil > anything ending in .us or .com is not an official email account.  - Soldiers have medical insurance, which pays for their medical costs when treated at civilian health care facilities worldwide – family and friends do not need to pay their medical expenses.  - Military aircraft are not used to transport Privately Owned Vehicles.  - Army financial offices are not used to help Soldiers buy or sell items of any kind.  - Soldiers deployed to Combat Zones do not need to solicit money from the public to feed or house themselves or their troops.  - Deployed Soldiers do not find large unclaimed sums of money and need your help to get that money out of the country.  Anyone who tells you one of the above-listed conditions/circumstances is true is likely posing as a Soldier and trying to steal money from you.  We would urge you to immediately cease all contact with this individual.  For more information on avoiding online scams and to report this crime, please see the following sites and articles:   This article may help clarify some of the tricks social media scammers try to use to take advantage of people: Caution-https://www.army.mil/article/61432/< Caution-https://www.army.mil/article/61432/>   CID advises vigilance against 'romance scams,' scammers impersonating Soldiers  Caution-https://www.army.mil/article/180749 < Caution-https://www.army.mil/article/180749 >   FBI Internet Crime Complaint Center: Caution-http://www.ic3.gov/default.aspx< Caution-http://www.ic3.gov/default.aspx>   U.S. Army investigators warn public against romance scams: Caution-https://www.army.mil/article/130...< Caution-https://www.army.mil/article/130...>   DOD warns troops, families to be cybercrime smart -Caution-http://www.army.mil/article/1450...< Caution-http://www.army.mil/article/1450...>   Use caution with social networking  Caution-https://www.army.mil/article/146...< Caution-https://www.army.mil/article/146...>    Please see our frequently asked questions section under scams and legal issues. Caution-http://www.army.mil/faq/ < Caution-http://www.army.mil/faq/ > or visit Caution-http://www.cid.army.mil/ < Caution-http://www.cid.army.mil/ >.  The challenge with most scams is determining if an individual is a legitimate member of the US Army. Based on the Privacy Act of 1974, we cannot provide this information. If concerned about a scam you may contact the Better Business Bureau (if it involves a solicitation for money), or local law enforcement. If you're involved in a Facebook or dating site scam, you are free to contact us direct; (571) 305-4056.   If you have a social security number, you can find information about Soldiers online at Caution-https://www.dmdc.osd.mil/appj/sc... < Caution-https://www.dmdc.osd.mil/appj/sc... > . While this is a free search, it does not help you locate a retiree, but it can tell you if the Soldier is active duty or not.  If more information is needed such as current duty station or location, you can contact the Commander Soldier's Records Data Center (SRDC) by phone or mail and they will help you locate individuals on active duty only, not retirees. There is a fee of $3.50 for businesses to use this service. The check or money order must be made out to the U.S. Treasury. It is not refundable. The address is:  Commander Soldier's Records Data Center (SRDC) 8899 East 56th Street Indianapolis, IN 46249-5301 Phone: 1-866-771-6357  In addition, it is not possible to remove social networking site profiles without legitimate proof of identity theft or a scam. If you suspect fraud on this site, take a screenshot of any advances for money or impersonations and report the account on the social networking platform immediately.  Please submit all information you have on this incident to Caution-www.ic3.gov < Caution-http://www.ic3.gov > (FBI website, Internet Criminal Complaint Center), immediately stop contact with the scammer (you are potentially providing them more information which can be used to scam you), and learn how to protect yourself against these scams at Caution-http://www.ftc.gov < Caution-http://www.ftc.gov > (Federal Trade Commission's website)

Why don't schools teach children about taxes and bills and things that they will definitely need to know as adults to get by in life?

Departments of education and school districts always have to make decisions about what to include in their curriculum.  There are a lot of life skills that people need that aren't taught in school.  The question is should those skills be taught in schools?I teach high school, so I'll talk about that.  The typical high school curriculum is supposed to give students a broad-based education that prepares them to be citizens in a democracy and to be able to think critically.  For a democracy to work, we need educated, discerning citizens with the ability to make good decisions based on evidence and objective thought.  In theory, people who are well informed about history, culture, science, mathematics, etc., and are capable of critical, unbiased thinking, will have the tools to participate in a democracy and make good decisions for themselves and for society at large.  In addition to that, they should be learning how to be learners, how to do effective, basic research, and collaborate with other people.  If that happens, figuring out how to do procedural tasks in real life should not provide much of a challenge.  We can't possibly teach every necessary life skill people need, but we can help students become better at knowing how to acquire the skills they need.  Should we teach them how to change a tire when they can easily consult a book or search the internet to find step by step instructions for that?  Should we teach them how to balance a check book or teach them how to think mathematically and make sense of problems so that the simple task of balancing a check book (which requires simple arithmetic and the ability to enter numbers and words in columns and rows in obvious ways) is easy for them to figure out.  If we teach them to be good at critical thinking and have some problem solving skills they will be able to apply those overarching skills to all sorts of every day tasks that shouldn't be difficult for someone with decent cognitive ability  to figure out.  It's analogous to asking why a culinary school didn't teach its students the steps and ingredients to a specific recipe.  The school taught them about more general food preparation and food science skills so that they can figure out how to make a lot of specific recipes without much trouble.  They're also able to create their own recipes.So, do we want citizens with very specific skill sets that they need to get through day to day life or do we want citizens with critical thinking, problem solving, and other overarching cognitive skills that will allow them to easily acquire ANY simple, procedural skill they may come to need at any point in their lives?

What happens to all of the paper forms you fill out for immigration and customs?

Years ago I worked at document management company.  There is cool software that can automate aspects of hand-written forms.  We had an airport as a customer - they scanned plenty and (as I said before) this was several years ago...On your airport customs forms, the "boxes" that you 'need' to write on - are basically invisible to the scanner - but are used because then us humans will tend to write neater and clearer which make sit easier to recognize with a computer.  Any characters with less than X% accuracy based on a recognition engine are flagged and shown as an image zoomed into the particular character so a human operator can then say "that is an "A".   This way, you can rapidly go through most forms and output it to say - an SQL database, complete with link to original image of the form you filled in.If you see "black boxes" at three corners of the document - it is likely set up for scanning (they help to identify and orient the page digitally).  If there is a unique barcode on the document somewhere I would theorize there is an even higher likelihood of it being scanned - the document is of enough value to be printed individually which costs more, which means it is likely going to be used on the capture side.   (I've noticed in the past in Bahamas and some other Caribbean islands they use these sorts of capture mechanisms, but they have far fewer people entering than the US does everyday)The real answer is: it depends.  Depending on each country and its policies and procedures.  Generally I would be surprised if they scanned and held onto the paper.   In the US, they proably file those for a set period of time then destroy them, perhaps mining them for some data about travellers. In the end,  I suspect the "paper-to-data capture" likelihood of customs forms ranges somewhere on a spectrum like this:Third world Customs Guy has paper to show he did his job, paper gets thrown out at end of shift. ------>  We keep all the papers! everything is scanned as you pass by customs and unique barcodes identify which flight/gate/area the form was handed out at, so we co-ordinate with cameras in the airport and have captured your image.  We also know exactly how much vodka you brought into the country. :)
Related content Get and Sign material and labor forms