Establishing secure connection…
Loading editor…
Preparing document…
Complete And Sign I-9 Form
How It Works
Open form follow the instructions
Easily sign the form with your finger
Send filled & signed form or save
Rate form
Complete And Sign I-9 Form
What is Form I-9?
All individuals hired for employment in the United States have to verify their identity with their employer. To that end, it is necessary to complete an I-9. Both employees and employers are involved in this matter and have to prepare the document according to the required criteria. By filling and signing in the blank, the employee confirms their employment eligibility.
In order to provide complete information, it is necessary to attach identifying documents. The list required documents can be found on the last page of the form.
The I-9 contains three sections:
The first section provides details regarding the employee's personal data, citizenship or immigration status. An individual has to sign i9 as well as the current date.
Section 2 has to be filled out by the employer to ensure that all sections are properly completed.
In the last section is used for reverification and rehires. At the end of the I-9, the employer is required to certify the blank.
The document must be retained by the superior for three years after the date of hire. It must be available to U.S. Government officials from the Department of Homeland Security, the Department of Labor or Department of Justice.
Cut hours from your workflow preparing the document online. Finding the form you need, filling it out and certifying it right from your device will take no more than a few minutes. An individual can instantly certify i9 electronically with the help of SignNow's intuitive tools.
Who Can Certify I-9?
The form has to be filled out no later than the first day of employment. The superior need only upload a file, invite the recipient to sign i9 online and indicate where to create a signature. The recipient may place a mark by typing, drawing or uploading it from any internet-connected device. The sender will receive a notification when the document has been certified. Thereafter, the employer has to review all provided data, complete the part intended for his/her notes and add a signature.
SignNow's web-based software is specially created to simplify the organization of workflow and enhance the entire process of proficient document management. Use this step-by-step guide to complete the I-9 Form quickly and with perfect accuracy.
How to complete the I-9 Form on the web:
To start the form, use the Fill & Sign Online button or tick the preview image of the form.
The advanced tools of the editor will direct you through the editable PDF template.
Enter your official contact and identification details.
Apply a check mark to point the choice where needed.
Double check all the fillable fields to ensure full precision.
Make use of the Sign Tool to add and create your electronic signature to certify the I-9 Form.
Press Done after you fill out the blank.
Now you can print, download, or share the form.
Follow the Support section or get in touch with our Support staff in case you have got any questions.
By using SignNow's comprehensive solution, you're able to execute any necessary edits to I-9 Form, make your customized electronic signature in a couple quick steps, and streamline your workflow without leaving your browser.
Video instructions and help with filling out and completing I-9 Form - Fill Out, Sign Online and Download in PDF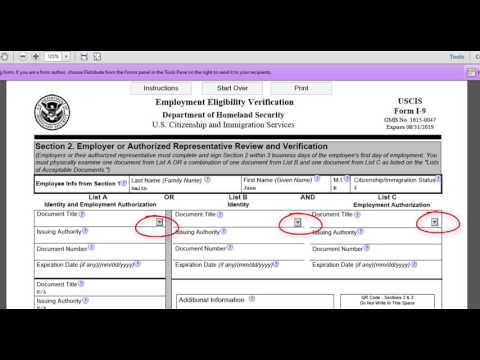 Instructions and Help about I-9 Form - Fill Out, Sign Online and Download in PDF
Music form i-9 is used for verifying the identity and employment authorization of individuals hired for employment in the United States all US employers must ensure proper completion of form i-9 for each individual a hire for employment the forum is equipped with drop-down menus and a help feature assigned to each field we will demonstrate how to use these options later in this video let's look at an example of how to complete the form in its entirety in the first row of section one the employee will enter their first and last name along with their middle initial if the employee has had a different last name such as a maiden name it should be entered in the last field of the first row if no other last names have been used they must enter an A the second row is for the address the employee can hover over the question mark for instructions on how to fill out the apartment number field if an apartment number is not applicable the employee must enter n/a the employee can use this help feat
FAQ
I received my late husband's W-9 form to fill out for what I believe were our stocks. How am I supposed to fill this out or am I even supposed to?

You do not sound as a person who handles intricasies of finances on daily basis, this is why you should redirect the qustion to your family's tax professional who does hte filings for you.The form itself, W-9 form, is a form created and approved by the IRS, if that's your only inquiry.Whether the form applies to you or to your husband's estate - that's something only a person familiar with the situation would tell you about; there is no generic answer to this.

I recently opened a Fidelity Roth IRA and it says my account is closed and I need to submit a W-9 form. Can anyone explain how this form relates to an IRA and why I need to fill it out?

Financial institutions are required to obtain tax ID numbers when opening an account, and the fact that it's an IRA doesn't exempt them from that requirement. They shouldn't have opened it without the W-9 in the first place, but apparently they did. So now they had to close it until they get the required documentation.

How do I fill out form i-9 if I don't reside in the US or if I'm not a US citizen? Is there an alternative form for this for non-US residents? I live in Kenya and I'm a Kenyan citizen.

Employees who do not work in the U.S. are not required to complete an I-9, nor are employers required to keep an I-9 on file for them.

How can I get admission in BHU for class 9?

I think you are asking for CHS admission. Yes, you can get admitted to Bhu -Central hindu boys/girls school by giving a CHS entrance.The form releases every year in March, if you want admission then start your preparation .

How can I get better at small talk?

5 Ways To Instantly Turn Small Talk Into BIG TALK:Let me preface this by presenting the following idea: nobody is boring. Whenever I hear colleagues or friends complain about small talk I always ask them "Did you make an effort to elevate the conversation?" Or did you just ask them the same jibber jabber questions that you do with 80% of the people in your life? Conversations may be a two way street but you always have the power to make it more dynamic and engaging. Ask boring questions and you'll receive boring answers. Simple as that.People can only show as much as you let them within the context of the conversation. Not everyone shines under the same light and it's your job as a social being to figure out how you can help them show off their dazzling personality. A classic conversational trap is asking people questions that you can easily anticipate the answers to.For instance you'll ask "How's your day?" and they'll respond with "Good." That's boring, uneventful and you feel like you're just going through the motions. In this article I'll explain how to morph those typical small talk questions into meaningful opportunities for relationship growth.1) What you normally ask: "How's your day?"What to ask instead: "What's the most surprising thing that happened to you recently?"--Doing this entices them to give better answers and actually reflect on the highs and lows of the past week. Giving them the opportunity to be insightful will compel them to open up and give intimate details about their life that they wouldn't normally share.2) What you normally ask: "What do you do for a living?"What to ask instead: "What gets you up in the morning? What are you most passionate about?"--Feeding people generic questions is only setting ourselves up to receive generic answers. Giving someone a positive and encouraging context to bring up their job, sets them up to talk about it with passion. Often times we worry about answering questions in an easily digestible way. This trend of thinking is toxic for those trying to maximize the output of daily interactions. Make people remember you by actively engaging with them. Become unforgettable and you'll move up on their mental list.3) What you normally ask: How are you holding up?What to ask instead: What's holding you up? What motivates you to keep moving forward?--This question is typically saved for someone going through a rough patch in their life. There's a line in the 2000 Danny Boyle movie The Beach that says, "Either get better or die. It's the hanging around in between that really pisses people off." Asking someone about their mental state when they're clearly in distress will only encourage them to lie and say everything's fine, so they can alleviate any discomfort.By focusing on the positive aspects of sadness such as hope and inspiration, you are subconsciously allowing that person to release their repressed feelings in a healthy and uplifting way. Hearing the thought process behind their coping strategies will give you insight into the severity of their issues without having to ask outright. They say the quickest way to a persons heart is through their stomach, but it's actually through subtlety.4. What you normally ask: How was ________? (Your date, your trip to New York, your hike up Torrey Pines)What to ask instead: If you had to do ________ all over again, what would you do differently?The broader your questions are, the less details people will give in return. Asking them about the overall quality of their experience will garner a common response ensuring that their time wasn't wasted. Answers like "It was good. I had tons of fun", are the ones you want to avoid. Ask poignant questions that will actually make them think. This thought train you send them on will make other stops organically along the way, providing you a better shot at finding out how_________ truly was for them.5. What you normally ask: Are you married?What to ask instead: Do you think life partners are over or underrated?The best way to get someone to talk about something specific is to bring up questions surrounding the central topic you secretly want them to elaborate on. If you want to know about their husband/wife, you have to get there incrementally by first talking about friendships, relationships, love etc. This question serves two functions: (a) it gives you their perspective on love and (b) personal values. Someone who puts a high premium on having someone by their side has a much different psychology than a person who is indifferent to the idea. Their answer to this is a natural transition into volunteering information about their own personal experiences.Getting information through the proverbial front door of someone's brain will always be underwhelming and overrated. Small talk is normally inconsequential and monotonous. But it doesn't have to be that way! Getting to know someone is like trying to break into a house. You can't just bust the door down right away. You need a plan of attack. Could you get in through the window? Maybe sneak into the garage? Going from small talk to big talk is allowing the other person to open up the doors for you. People want to be heard and understood. You just have to give them permission first.When life hands you small lemons, make big lemonade. Happy talking!Thomas

Do you need to fill I-9 form for 1099 contract?

There's no such thing as a "1099 employee." You are either an employee or you are not. The IRS rules are here Independent Contractor Self Employed or Employee and ICE uses a similar process to determine who is an employee and who is not.While it is illegal to retain a contractor whom you know to be working illegally, you are not required to connect Form I-9 from your independent contractors. You may do so if you wish.Who Needs Form I-9? Explains who must provide Form I-9.

Is there a Canadian equivalent to form I-9, which all US jobholders must fill out to prove legal residency in the US?

Thanks for the A2A, John.The question is: ""Is there a Canadian equivalent to the I-9, which all US jobholders must fill out to prove legal residency in the United States."Jeff provided a very good response. Everyone who is employed must have a SIN number. Everyone over the age of 18, and therefore legally obliged to file income taxes whether or not (s)he has an income, must have a SIN number. While there is no obligation for minors to have a SIN number, many parents will apply for SIN numbers for their children, especially if they have RESPs (Registered Education Savings Plan) because the federal goverment will also contribute to the savings in the child's RESP.Employers must ask for and record the SIN number of every employee. Employers must provide each employee with a statement of income that includes the SIN number.SIN numbers are only required by a few government agencies, and even fewer private organizations (e.g., banks) and then only (ultimately) for tax purposes.Canadians are discouraged from using their SIN number in any other context. The SIN number is considered a sensitive identifier and not to be used lightly. Indeed, most government agencies are not allowed to ask for a person's SIN number. See: Protecting your Social Insurance NumberYou must have a SIN number to be legally employed in Canada. In order to obtain a SIN number you must be a Canadian citizen, or a permanent resident, or a legal temporary resident (e.g., on a work visa). (See What documents do I need to apply for a Social Insurance Number (SIN)? )The upshot is that, once the employer knows you have a valid SIN number, it is assumed that you are legally entitled to work. The employer would know if your SIN is valid because (s)he has to submit payroll taxes and ensure that appropriate income taxes are paid on your behalf. If the SIN number is not valid, Revenue Canada will let your employer know pretty quickly!Edit: added "not": Indeed, most government agencies are NOT allowed to ask for a person's SIN number.

How can I download a free PDF of any book?
Related content I-9 Form - Fill Out, Sign Online and Download in PDF