Establishing secure connection…
Loading editor…
Preparing document…
Get And Sign IRS 1040 2017-2018 Form
How It Works
Open form follow the instructions
Easily sign the form with your finger
Send filled & signed form or save
Rate form
Get And Sign IRS 1040 2017-2018 Form
What is Form 1040?
IRS 1040 Form (and its other versions and schedules) is known as an income tax return, which every individual taxpayer is obligated to submit by the middle of April.
This blank provides information on all income received during the last tax period - as well all taxes, exempts, refunds and so on. This data creates a comprehensive report for the IRS of your financial flow within the year.
The latest update (made in 2019) of the document will replace forms 1040A, 1040EZ and numerous other schedules (unless the taxpayer has a more complicated situation with claims on credit or deductions and debts). In ordinary cases, individuals can submit this document from the previous tax period - which makes the furnishing procedure much easier.
How do I Complete 1040 Form?
The blank consists of two pages and has to include both the individual taxpayer's information and their spouse's (if you're filing jointly). In order to fill out the form, follow this sequence of steps:
Indicate the filing period.
Provide personal information and a social security number.
Choose the filing status.
Complete the table giving information on dependents.
Carefully enter the needed amounts of the relevant articles of income.
Provide adjusted gross income.
Fill out the section on tax and credits.
If there are any miscellaneous taxes, add this data in the Other Taxes section.
Complete all information on additional payments received and refunds.
Subtract line 74 from line 63 and indicate the owed sum.
Choose whether or not to give permission to a third party to discuss your return with the IRS. If yes, provide information about this person.
Add an electronic signature to make the document legally binding.
The last section has to be completed by the paid preparer (if available).
Upon the completion of Form 1040, submit it to the Internal Revenue Service no later than April 15. This date may change if it falls on a weekend or Federal holiday.
SignNow's web-based service is specifically created to simplify the organization of workflow and improve the whole process of qualified document management. Use this step-by-step instruction to fill out the IRS 1040 2017-2018 Form promptly and with ideal precision.
The way to fill out the IRS 1040 2017-2018 Form on the web:
To get started on the document, use the Fill & Sign Online button or tick the preview image of the form.
The advanced tools of the editor will direct you through the editable PDF template.
Enter your official identification and contact details.
Utilize a check mark to indicate the choice wherever necessary.
Double check all the fillable fields to ensure complete precision.
Utilize the Sign Tool to add and create your electronic signature to certify the IRS 1040 2017-2018 Form.
Press Done after you finish the form.
Now you can print, download, or share the form.
Refer to the Support section or contact our Support crew in the event that you've got any concerns.
By using SignNow's complete solution, you're able to perform any needed edits to IRS 1040 2017-2018 Form, make your customized electronic signature within a couple fast actions, and streamline your workflow without the need of leaving your browser.
Video instructions and help with filling out and completing Get and Sign IRS 1040 2017-2018 Form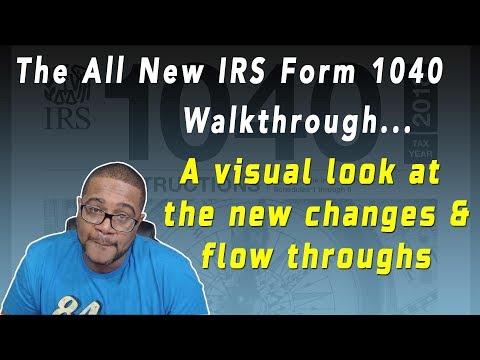 Instructions and Help about Get and Sign IRS 1040 2017-2018 Form
hey what's up family it is your favorite uncle cousin Tyrone Gregory the self-employed tax go back edit again but today's video I am going to be talking about the all-new 1040 you know 2019 is just a couple of days away and speaking of them and if I don't hear from you or speak to you between now and next year let me wish you your family your business a very prosperous new year 2019 should be the year to break in the dough okay that is what I want you to do in 2019 but I just want to come to you today real quick honor I don't want to be before you long I just want to talk about this new 1040 right so as some of you may know Ana may not have known back in September of 2017 there was this big talk about tax reform and how we're going to be able to file our taxes on a postcard and things like that and then in December the President signed the the new tax reform bill right the tax cuts and Jobs Act well not surprisingly they actually kept their promise we now have a new 1040 and it's not q
FAQ
How do I fill out the NTSE form 2017- 2018 Jharkhand online?

You cannot gove NTSE online or at your own level you have to belong to a school which is conducting ntse. Then download the form online from the page of ntse, fill it and submit it to your school along with fee. If your school is not conducting ntse, sorry to say but you cannot give ntse. It can only be given through, no institutions are allowed to conduct thos exam.

Does the IRS require filling in the "cents" fields on form 1040?

No, you are not required to show the cents, however, you should round up or down any cent amount.Computations:The following information may be useful in making the return easier to complete. Rounding off dollars: You can round off cents to whole dollars on your return and schedules. If you do round to whole dollars, you must round all amounts. To round, drop amounts under 50 cents and increase amounts from 50 to 99 cents to the next dollar.For example, $1.39 becomes $1 and $2.50 becomes $3. If you have to add two or more amounts to figure the amount to enter on a line, include cents when adding the amounts and round off only the total.Equal amounts: If you are asked to enter the smaller or larger of two equal amounts, enter that amount.Negative amounts: If you file a paper return and you need to enter a negative amount, put the amount in parentheses rather than using a minus sign. To combine positive and negative amounts, add all the positive amounts together and then subtract the negative amounts.You may find this and additional information on this website: https://www.irs.gov/pub/irs-pdf/... Page 12I hope this information is helpful.

What is the link of the official website to fill out the IBPS RRB 2017-2018 form?

Hello,The notification of IBPS RRB 2017–18 is soon going to be announce by the Officials.With this news, the candidates are now looking for the official links to apply for the IBPS RRB Exam and the complete Step by step procedure of how to apply online.The link of Official website to apply is given below:Welcome to IBPS ::Below are the steps to apply online for the exam.Firstly, visit the official link mentioned above.After click on the link 'CWE RRB' at the left side of the page.As soon as the official sources will release the IBPS RRB Notification 2017, the candidates will be able to see another link 'Common Written Examination – Regional Rural Banks Phase VI' on the page.After clicking on this link, you can start your IBPS RRB Online Application process.Enter all the required details and upload scanned photographs and signature to proceed with the registration process.After entering all these details, candidates will get a registration number and password through which they can login anytime and make changes in IBPS RRB Online Application.For the final submission, fee payment is required.Application Fee for Officer Scale (I, II & III) and Office Assistant – INR 100 for ST/SC/PWD Candidates and INR 600 for all others.The payment can be made by using Debit Cards (RuPay/ Visa/ MasterCard/ Maestro), Credit Cards, Internet Banking, IMPS, Cash Cards/ Mobile Wallets by providing information as asked on the screen.8. Check all the details before you finally submit the form.9. Take a print out of the form for future use.Hope the above information is useful for you!Thankyou!

How do you fill out a 1040EZ tax form?

The instructions are available here 1040EZ (2014)

Can we fill out the NEET application form (2018) in general after filling in SC (2017)?

Yes, you may do so. The details of the previous year shall not be carried forward in the current year. However, it can only be confirmed once the application form will be released.

Is it possible for me to fill out the CMA foundation form now for Dec 2017 and appear in June 2018?

Get full detail information about cma foundation registration from the following link. cma foundation registration process

How can I fill out an IRS form 8379?

Form 8379, the Injured Spouse declaration, is used to ensure that a spouse's share of a refund from a joint tax return is not used by the IRS as an offset to pay a tax obligation of the other spouse.Before you file this, make sure that you know the difference between this and the Innocent Spouse declaration, Form 8857. You use Form 8379 when your spouse owes money for a legally enforeceable tax debt (such as a student loan which is in default) for which you are not jointly liable. You use Form 8857 when you want to be released from tax liability for an understatement of tax that resulted from actions taken by your spouse of which you had no knowledge, and had no reason to know.As the other answers have specified, you follow the Instructions for Form 8379 (11/2016) on the IRS Web site to actually fill it out.
Related content Get and Sign IRS 1040 2017-2018 Form