Establishing secure connection…
Loading editor…
Preparing document…
Get And Sign Affidavit Of Identity Form
How It Works
Open form follow the instructions
Easily sign the form with your finger
Send filled & signed form or save
Rate form
Get And Sign Affidavit Of Identity Form
SignNow's web-based program is specially made to simplify the arrangement of workflow and optimize the process of qualified document management. Use this step-by-step guideline to fill out the Affidavit of identity form quickly and with perfect accuracy.
The way to fill out the Affidavit of identity form on the internet:
To get started on the blank, utilize the Fill & Sign Online button or tick the preview image of the blank.
The advanced tools of the editor will lead you through the editable PDF template.
Enter your official contact and identification details.
Apply a check mark to indicate the choice wherever required.
Double check all the fillable fields to ensure complete accuracy.
Use the Sign Tool to add and create your electronic signature to certify the Affidavit of identity form.
Press Done after you complete the form.
Now it is possible to print, download, or share the form.
Follow the Support section or contact our Support crew in case you've got any concerns.
By making use of SignNow's complete platform, you're able to perform any required edits to Affidavit of identity form, generate your personalized digital signature in a couple of fast actions, and streamline your workflow without the need of leaving your browser.
Video instructions and help with filling out and completing Get and Sign affidavit of identity form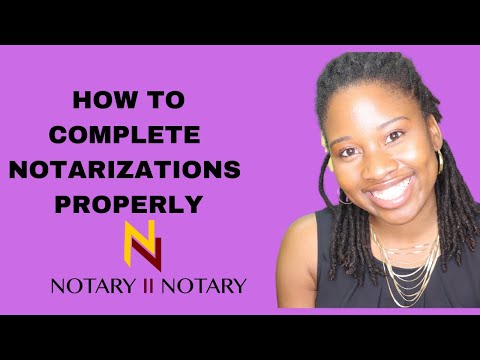 Instructions and Help about Get and Sign affidavit of identity form
hi everyone and thank you for tuning in to the whole package this video is going to show you how to complete the actual notarization to themselves the previous videos showed you how to get your notary license and also how to order your supplies but now we're gonna jump back right in so you have your supplies you have your license we're gonna go over how you complete these forms so this first one we're looking at there first of all they're all going to be different every single one you do for the most part you just have to read it and know what they're looking for so at the top where it says I and it's highlighted the attorney-in-fact named above hereby accept appointment and attorney-in-fact in accordance with the foregoing instrument that's the person that's signing so they're gonna print their name in that first line and then they're gonna sign where this attorney in fact signature that could say attorney in fact it could say principal I can say a fee I can say a number of different
FAQ
How do I fill out Form B under the Insolvency and Bankruptcy code? Does the affidavit require a stamp paper?

Affidavit is always on stamp paper

If someone gives the wrong date of birth while filling out the NDA form, can it be corrected at the time of SSB by an affidavit or something?

Yes bro it can be, but for that u have to request upsc for that. You have to send an email or you have to go personally there. But as per my experience they will not allow you to appear in sab.

How can I fill out Google's intern host matching form to optimize my chances of receiving a match?

I was selected for a summer internship 2016.I tried to be very open while filling the preference form: I choose many products as my favorite products and I said I'm open about the team I want to join.I even was very open in the  location and start date to get host matching interviews (I negotiated the start date in the interview until both me and my host were happy.) You could ask your recruiter to review your form (there are very cool and could help you a lot since they have a bigger experience).Do a search on the potential team.Before the interviews,  try to find smart question that you are going to ask for the potential host (do a search on the team  to find nice and deep questions to impress your host). Prepare well your resume.You are very likely not going to get algorithm/data structure questions like in the first round. It's going to be just some friendly chat if you are lucky. If your potential team is working on something like machine learning, expect that  they are going to ask you questions about machine learning, courses related to machine learning you have and relevant experience (projects, internship). Of course you have to study that before the interview. Take as long time as you need if you feel rusty. It takes some time to get ready for the host matching (it's less than the technical interview)  but it's worth it of course.

How do I fill out the form of DU CIC? I couldn't find the link to fill out the form.

Just register on the admission portal and during registration you will get an option for the entrance based course. Just register there. There is no separate form for DU CIC.

How is a search warrant and affidavit filled out by a peace officer?

The format of a search warrant is usually set by the court. In California it became a statewide thing. The front page is the actual warrant. It is a fill -in-the-blanks thing and may be available as a printed form or on the department report writing system as a Word template. The affidavit, which spells out the probable cause, may or may not be available as a template with headers and footers, or may just be a typed narrative. Then there is a statement of the officer's training and experience (hero sheet) which shows why he or she is competent to investigate that crime, reach their conclusions and know what must be searched for and seized.

How should a petitioner fill in Part 5 Household Size of the form I-864 Affidavit of support if he would like to sponsor 2 principal immigrants at the same time? Each family has 4 members.

Each principal beneficiary (and their family) is petitioned with a separate I-130 petition, and each I-130 petition has a separate I-864 Affidavit of Support. Each family's I-864 does not count the other family in the "family members" in Part 3 (note that it says "Do not include any relative listed on a separate visa petition.").If the two I-864s are filed at the same time for the two families, then each family's I-864's household size (Part 5) would just count the number of people immigrating in that family, which is 4 (item 1), the petitioner (item 2), and the petitioner's spouse (item 3), dependent children (item 4), and other tax dependents (item 5), if there are any. It would not count anyone from the other family.On the other hand, if one I-864 is filed for one family, and that family has already immigrated before the second I-864 is filed for the other family, then the first family's members will need to be counted in Part 5 item 6 (people sponsored on Form I-864 who are now lawful permanent residents) for the second family's I-864.
Related content Get and Sign affidavit of identity form